"I believe music is hearing. It's just what your ears find perfect," Magicsticks says to me while describing his self-taught adventure through music production and engineering in a grandiose Lekki apartment in Lagos State, Nigeria.
Echoes of a female vocalist recording in another room permeate the crowded apartment, and a handful of producers and songwriters mill around as we settle on a sofa for our interview. Magicsticks is clad in an all-black ensemble, accentuated by a gold Jesus neckpiece. The Nigerian-born producer has added color to all of Asake's songs—either through production or mixing and mastering—since his critically acclaimed 2021 single, "Mr. Money."
Raised in the desolate city of Ifo in nearby Ogun State, Kareem Olasunkanmi Temitayo's love for music was imbued by his father, who was once a DJ. "My dad used to play a lot of jazz music. It was my father who first told me about Fruity Loops Studio, although I was unable to get the software until two years later. When I wanted to learn music production, he took me to a producer in Abeokuta. The producer advised me to learn Computer Engineering first because he felt like when your computer starts having issues, you should be able to fix them."
A graduate of Computer Science from Lagos State Polytechnic (LASPOTECH), it was during his tertiary education that Magicsticks found the community that marked his entrance into the music industry. "After my final year in LASPOTECH, it was either I moved back to Ifo or I find a place on the Island in Lagos to lay my head," he says candidly. "It was then that I met a producer called JayPizzle through Rage, another producer. Jaypizzle liked my work, and he gave me my first studio speaker and my first roof on the island in Lagos."
---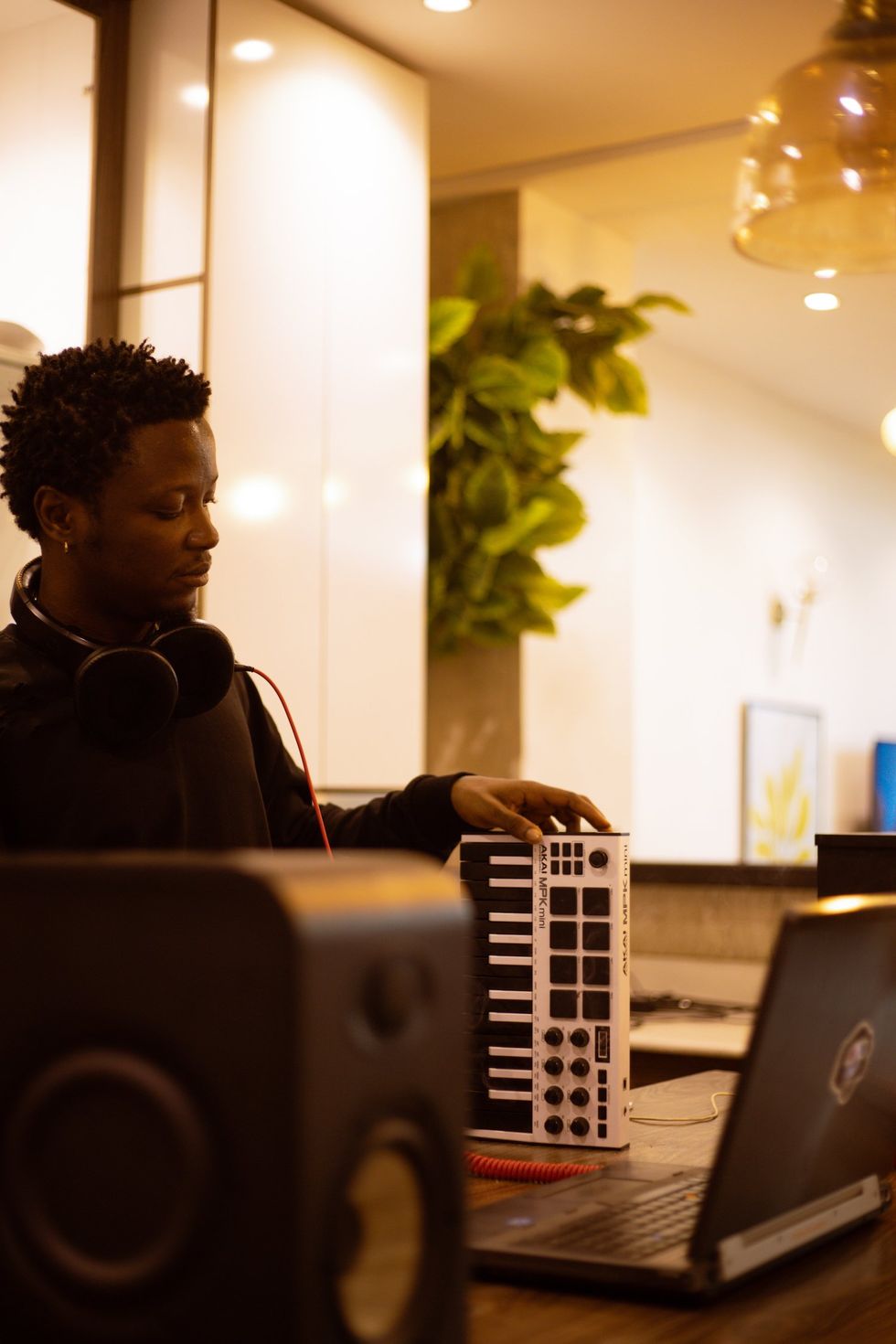 Magicsticks.Photo: Munachi Daniel.
Through a mutual acquaintance with Jaypizzle, Magicsticks created his signature tag, "tune in to the king of sound and blues," and at the behest of Jaypizzle, he found himself at an emPawa recording camp in 2020 where he made the Mr Eazi and Joeboy-assisted, DJ Neptune summer anthem, "Nobody," his first continentally-acclaimed record. "People don't know I was on Neptune's 2018 album, Greatness, it was a song called 'Secret Agenda' with Phyno and Davido. It's just that when it's God's time, it's God's time," he speaks reminiscently "For 'Nobody,' I just played the beat, and Mr. Eazi said I should keep the beat for Joeboy. Before any song drops, I just put in my best and ask that God blesses the record. "
When Magicsticks speaks, he does so with a a tender humility and awareness that his talents have been bestowed upon him by a higher being. He is quick to assert that he knows nothing about spirituality, but instead, he often listens to his gut and respects God. This conviction has influenced his career as a producer, mixer, and mastering engineer thus far. "I started producing by remixing people's stuff, trying to add more percussion to the music I downloaded off the internet. That is how I got the name, Magicsticks. It came from me being a drummer because the major thing in my production is the drums. I believe music is hearing. It's just what your ears find perfect. I don't really keep my hopes high, but I always pray for grace from God."
It's this percussion-heavy instrumentation, often fused with South-African-originated log drums and emotional choral vocals, that has characterized Asake's globe-trotting music. The iconic pair, Magicsticks and Asake, first met in 2020 through comedian Sydney Talker, who had asked Magicsticks for help with mastering Asake's song, "Lady." "'Mr. Money' was the first song we ever made together. I think it was the day or two days after 'Lady' that we made 'Mr. Money.' After we made 'Omo Ope,' that's when I felt like, yeah, God wants us to keep working."
Asake - Omo Ope (feat. Olamide) (Official Video)www.youtube.com
Since the release of "Omo Ope"—the launchpad of Asake's global dominance and a party-starter song that features YBNL head honcho Olamide, the label to which Asake is signed—Magicsticks has helmed the sonic direction of Asake's debut EP and his two albums, which have since established Asake as an unrivaled global maverick. "I think once an artist has clarity on what he wants, the rest is easy. One thing Asake has in abundance is clarity. From 'PBUY' to 'Yoga,' the process is easier when the artist has a clear direction." He speaks fondly of Asake's vision and the duo's nitpicking of samples to infuse within the music.
Since veering the Nigerian soundscape into log-drum heavy bass lines and choral-laden background vocals, the Asake and Magicsticks combination has often been likened by critics to Don Jazzy and D'banj's lethal producer-artist pairing that shaped the sound of Afrobeats in the early 2000s. "I'm just grateful," Magicsticks says. "We created something everyone wants to be a part of or identify with. It's something to be proud of; I just pray the Almighty keeps us long enough to do even more."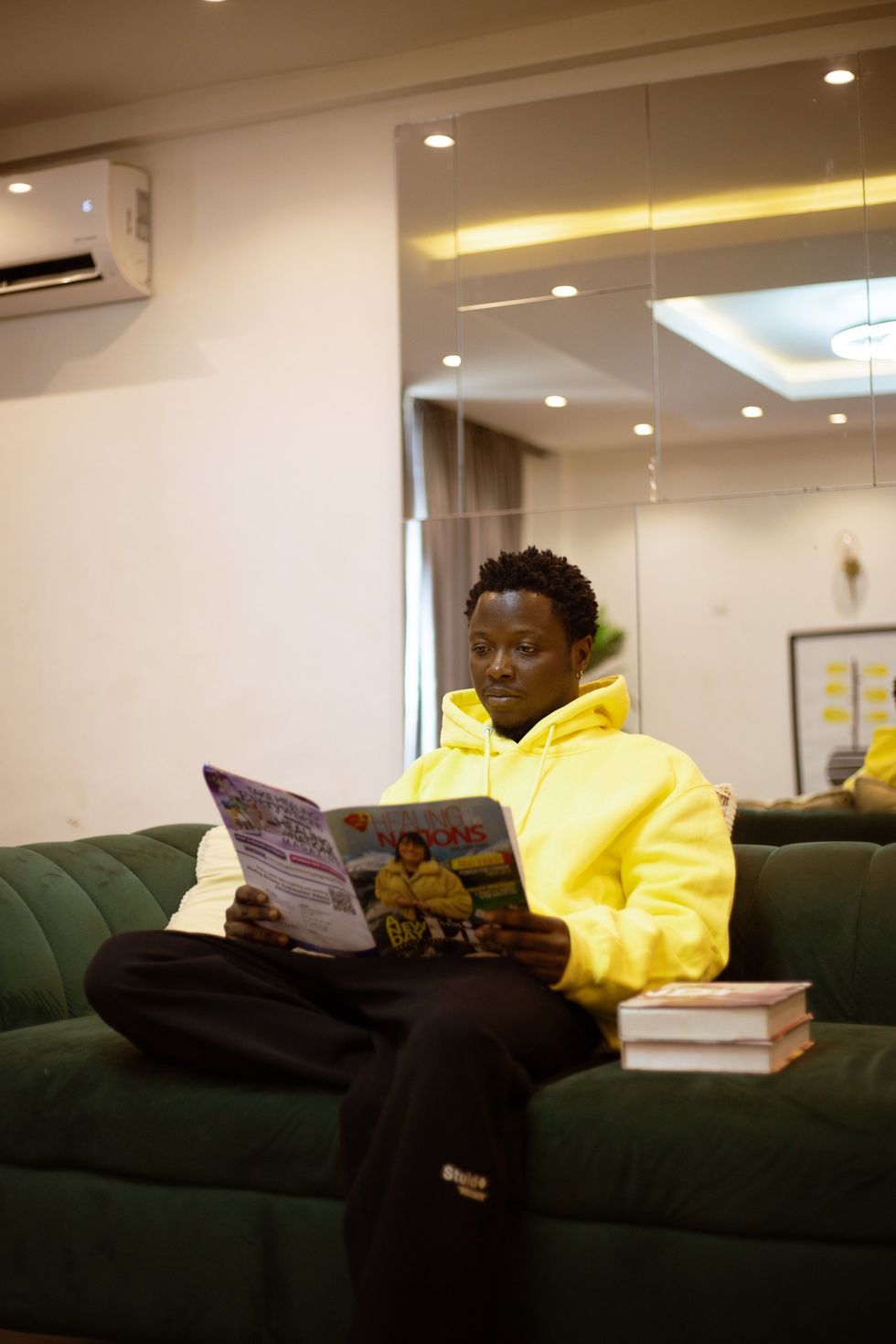 Magicsticks.Photo: Munachi Daniel.
I probe further about their partnership and question if the pressure of remaking a song such as "Joha," a cult classic during Asake's university days at Obafemi Awolowo University, can be overwhelming. "Personally, I don't like reproduction," he answers. We laugh for a minute about the irony, given that reproduction was how he got his head start as a producer "'Joha' was one of the songs that took a while to make. I made two different beats for 'Joha.' The first one was more like house music, and then the second one had a Fuji vibe. I had no idea the song existed before. It was the same with 'Organise,' it was after the Mr Money With The Vibe album dropped that I started seeing tweets about the original version." He says frankly with an even tone before adding that the song that took the longest on that album was "Terminator," "I think I made 'Terminator' about four times, four different versions of it."
A maestro in high-demand, Magicsticks has lent some of his midas touch to other artists, conjuring hit records for heavyweights such as Davido, Tiwa Savage, Olamide, BNXN, Ckay, and Young Jonn. Regardless of his widespread endorsement and fame, Magicsticks stays grounded and keeps the routine he had when he was a struggling producer. He wakes up at 4am, sets up shop at 6am and goes to bed at 9pm. On the days when he is in need of an outlet, he plays the role of a DJ during intimate house parties with his close circle of friends. His world unashamedly revolves around music, and he is simply grateful that his music keeps finding more ears and appreciation across the world. For my final question, I ask him about his legacy and if the world will ever witness his DJ side. "I DJ for myself but I make music for the world. I just want to be remembered for the beautiful music I make and its impact on society. I don't know how to do anything apart from music bro, it is either music or I get depressed."