No contemporary Nigerian artist has experienced the transformational leap Asake has. Since his 2022 icebreaker "Omo Ope"—which featured his label boss and veteran rapper, Olamide—Asake has been unstoppable.
Dominating the top spots of local charts and peering into international terrains with his euphoric choral harmonies and Fuji-layered blend of amapiano, Asake released a four-track eponymous EP and his record-breaking debut album, Mr. Money With The Vibe, within an eight-month span.
By December of the same year, the artist had sold out multiple dates in London and Lagos, earmarking his phenomenal ascendance. Unrelenting in his approach, Asake released his first single of 2023, "Yoga," in January.
Following the release of "2:30" in April, the Lagos-born artist announced a headline show at London's prestigious O2 Arena, and surprised fans by revealing a June release for his sophomore album, Work Of Art .
The album was released on Friday and the reaction has been overwhelmingly positive. We have also been sitting with the album. Here are the five takeaways we gathered.
The Era Of 'Fuji-Piano' has arrived
Asake's emphatic ascendance has been marked by his distinct blend of his native Fuji genre and South Africa originated amapiano. This fusion heralded the rise of Asake to the throes of pop culture and on Work Of Art, it is no different.
Characterized by log drums, Fuji-inspired melodies and Yoruba language, Work of Art is the constellation of Asake's legacy, charting a different but equally familiar course with his sonic choices and further solidifying the presence of "Fuji-Piano"
Close Circuit Of Collaborators
Since Asake's emergence in 2022, his collaborations have only been a handful. With only Burna Boy and American rapper Russ appearing on his debut album, Asake's keeps a close circuit of collaborators across artists and producers, and on Work of Art, Asake requires no assistance on the collaborative front.
Mr. Money With The Vibe was solely produced and engineered by longtime collaborator Magicsticks. On Work of Art, Asake employs the brilliance of Blaise Beats and P.Priime alongside Magicsticks.
However, Magicsticks still solely engineered the mixing and mastering of Work of Art, and earned production credits on twelve out of fourteen songs, lending credence to Asake's revered close community of collaborators.
A more introspective Asake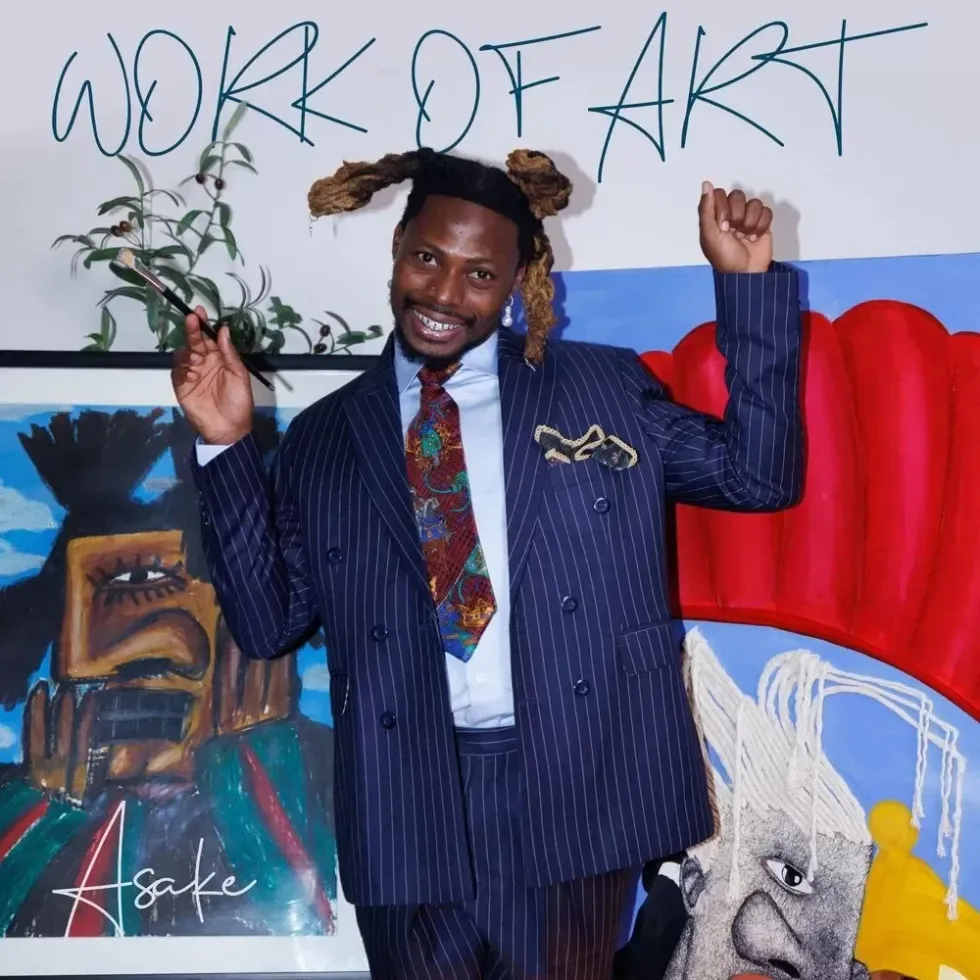 Work of Art opens with a humbling number that sees Asake cede all his glory to a greater. Although shepherded by his hedonistic preferences, Work of Art depicts a more introspective version of Asake on songs such as "Lonely At The Top" and "Awodi." Asake is now an artist aware of the privileges of his fame, thankful for it, but adamant that he desires to live life on his own terms
Asake embraces Street Smarts
Asake's music is filled with "lamba", a local parlance for street smarts, and this album bears it all. Either when he decides to serenade his lover, or when he is offering words of advice to his fans, Asake sprinkles lamba in between and all over the songs on Work of Art.
With lines such as "O fe lowo bi Dangote, o ni lati jagun" loosely translated as "You want money like Dangote, you have to go to war" on the Lighthouse-sampled "Sunshine," Work of Art is littered with several quotables and street smarts for a teeming audience with an understanding of Yoruba language
Pure Dance music
Regardless of the understanding of the Yoruba language, Asake's music is guaranteed to get you to dance. Punctuated by guitar strings and shakers and ceaseless log drums and talking drums, Work Of Art will get you moving regardless of the language barrier.