You know you're in for a ride when Babsy Konate appears out of a mirror on his album cover for Tounga in what look like '90s Microsoft graphics and slides into your brain like electric rainbows soaked in raw butter across the Sahara.
Intrinsic rhythms are plucked out on the album's woozy opener "Saya" as a voice pleads for constant love over sorrowful guitar solos. It sounds like Mali music, but psychedelic keyboards and a digital harpsichord also begin to appear. This is a different bubble. This is an artist taking you on his deconstructed and impulsive journey from the moment you press play.
I'm home alone when Babsy Kanoute's voice comes loud and true, pouring down the telephone: "Saya is a love song, I sing about love, I sing of crying and broken hearts. Everyone hurts because love is tough, but when it comes you can't stop it. Love won't ask your permission to arrive in your heart".
Babsy has made an off-kilter pop record of sorts. With jump-up beats hot as doughnut oil, it's a record that twists and turns, built on inspiration and the utter trance of repetition. There are also many ideas throughout the album that come only once and then leave, begging for it to be replayed, forcing you to go deeper. This is dancehall reduced to atoms.
---
Born in 1988, Babsy, like many of us, grew up with music in the house and had a grandfather who was a singer in his own right. Unlike many of us, he had a Malian superstar in Oumar Konate as his big brother: "My brother taught me how to program beats on Fruity Loops. He helped build my studio." Throughout the interview, his brother sits by his side in Bamako, occasionally laughing in the background. Compared to his grand frere, Babsy's music veers away from the traditional Songhai desert blues and tangles as man and machine instead. "The music I'm making is my style. If you ask me, I make soul music, that's what I make, I make SOUL—It's different from everyone else."

Babsy was born in Gao, a Northern Mali town on the Sahara's edge. This place has been under the occupation of jihadists in the past, which has impacted the artists' freedom of expression: "It's better than before; I make music to create harmony in myself with computers. That's how I do that. I love tradition, but this is me, and I am ready to show it to the world."
On the title track "Tounga" rhythms are the last dance, passionately wound up so tightly that when unleashed, they are forced to uncoil within you, creating only movement. The song moves like a beat that will accept no foolishness, grand and confident—a message from the artist to anyone leaving Mali to make a better life elsewhere. "Tounga means adventure," he says. "My advice is to have your adventure but don't forget your home because that's what's inside you. Your dreams of leaving should never be to leave yourself behind." It's a profound take on a common dream, even for himself as a musician, "to tour the world."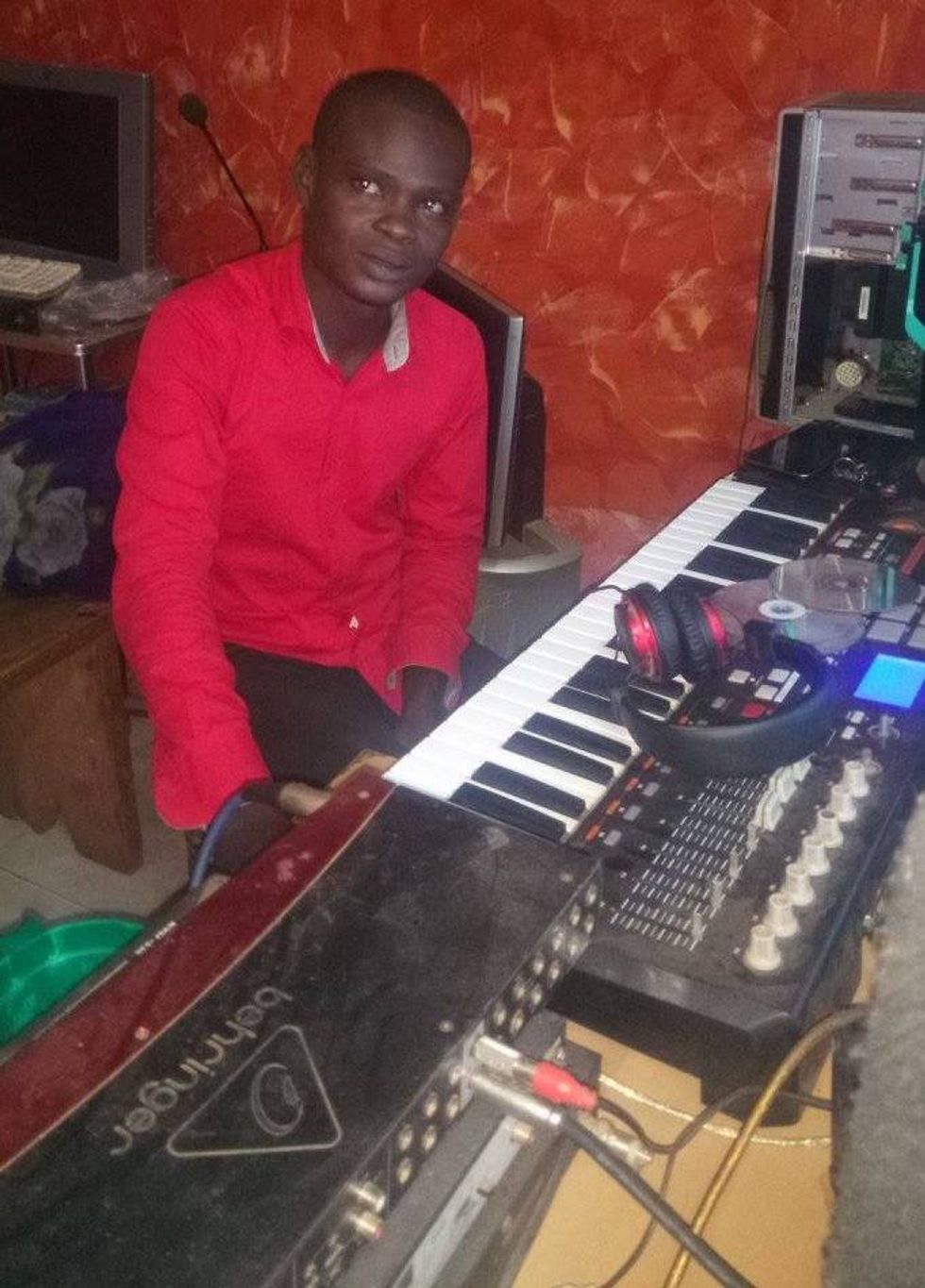 Babsy Konate in his studio.
Babsy's only foray out of Mali has been to Burkina Faso to play a concert with a friend. He was struck by small, rather than larger, differences: "I went to play a concert to help a friend. It's not so easy to describe the differences in players from somewhere else, but the ear and the heart just know it." Even though Babsy spends most of his time in Bamako nowadays, he often yearns to return home. "In Gao, there is only sun, and in the south, there are just loads of people everywhere. That is why every year I spend two months just to charge myself up with good energy."
This sentimentality seethes through the vocoder vocals on the thumping "Alhaye Masaye" that reach right in and pull you inside out over more psychotropic keyboards. The snare slaps as intricate keys dance from ear to ear.
"Djarabi" is hot to the point of indecent. A female voice bubbling over old-school hip-hop beats with echoes from across the sands. She gushes that a day without him is like bread without jam, a song without music, a night without stars. Babsy's response is to double down on his love for her, deep in the silent knowledge that his partner's feelings are dangerous, fearing that her yearning may eventually lead to complaint. It captures the moment before intense and passionate love peaks and then falls apart. Mystical stuff.
Musicians can earn their chops and get paid at weddings, and Babsy has played at many of these events where we all get to let go and celebrate as one, where the gathering is filled with hope. "Super Wedding" is a dance machine of kicks and snares at the perfect send-off. The album soars with its deep love for life, capturing this sacred moment.
I ask Babsy if love is an adventure: "I'm not married, I have been in love, and I have kids. I believe in love," the passion fizzes out of him. "There is love for your parents, there is love for your wife and your girlfriend, and nothing should come between these things. It's something to fight for." He laughs at the idea of writing a song called "Super Divorce." "I want this record to be heard. I've got things to say." And with that, the line cuts dead, and he is gone. Just me saying 'thank you' in French in an empty room again.