The Nigerian animation industry is on the rise. Much like Nollywood, its famous cinematic predecessor, animation has the potential to flourish as another Nigerian-owned and operated film industry—if given the proper resources, support and attention, of course.
That's where people like Roye Okupe, the co-founder and CEO of YouNeek Sudios come in. He's one of the forward-thinking creators working to transform Nigeria's steadily blossoming animation industry into a prime source of entertainment for audiences young and old. With his series, Malika, Warrior Queen, which is currently in development, Okupe is not only creating an animation series that is visually captivating, but one that ties in uniquely Nigerian stories, like that of Queen Amina of Zazzau (Zaria), the 15th century northern Nigerian ruler who inspired the superhero Malika.
We caught up with Okupe to discuss further about developing Malika, Warrior Queen into an animated series, the state of Nigeria's animation industry, female superheroes, and how you can get involved in bringing the series to life.
---
Image courtesy of Roye Okupe.
Damola Durosomo for OkayAfrica: Can you tell me more about how the idea for this animated project came about?
Everything we've achieved as a company and personally everything I've worked on since quitting my job 3 years ago (to found YouNeek Studios) has led to this. From the get-go, we had our eyes set on animation. But the plan was to release our stories as graphic novels first. The focus was to create compelling and extraordinary characters and stories inspired by African history and culture, put out there for the entire world and slowly build our fanbase. And when we felt the time was right, add animated stories based on the books to what we're already doing with the graphic novels. Now is that time.
What has the production process been like so far? Can you take us through what it's like to create these types of pieces?
Right now, we currently have a 2-minute animated teaser that's based on our hit graphic novel, Malika, Warrior Queen, a historical fantasy epic that takes place in a 15th-century West Africa. Malika is actually inspired by Queen Anima of Zazzau—a real warrior queen who lived in the 15th century.
Anyone who knows anything about animation knows just how time-consuming and expensive it can be, That's why it's tough for a lot of companies to get animation projects off the ground. But we've managed to use our own resources to produce something small for now.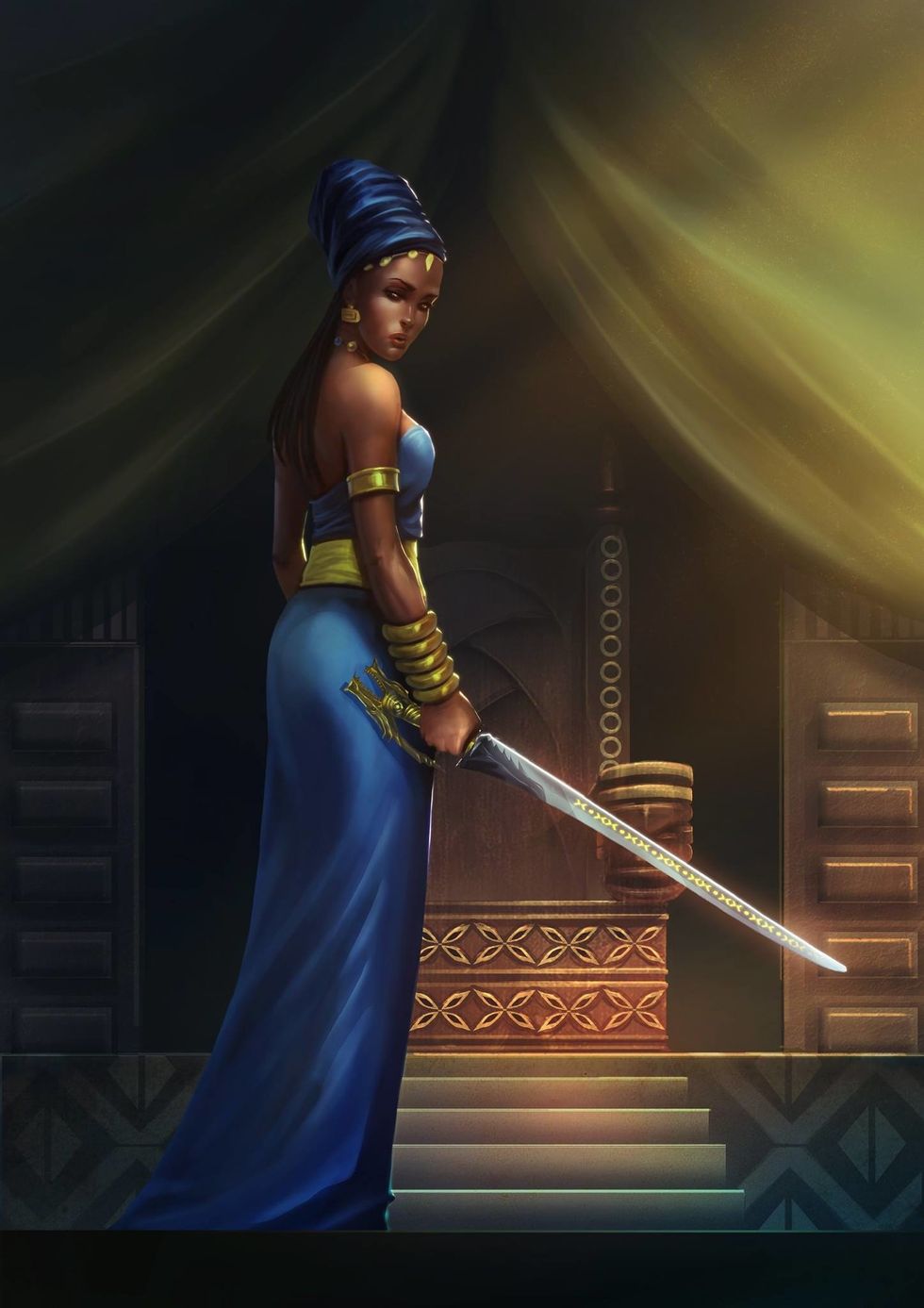 A poster of 'Malika' from the graphic novel. Image courtesy of Roye Okupe.
Why is it important to tell the story of a female hero, especially in a Nigerian context?
Representation truly matters. We're in the age where superheroes are very popular. It's extremely important to have diversity amongst them in all mediums. Comics, animation, video games, toys, etc. The best way I can explain it is to share a personal story a friend of mine told me. He said one day while grabbing my book in a comic book shop, he saw a young girl browsing the shelves. She stumbled upon my book Malika, Warrior Queen and her eyes lit up! Immediately, she started to call out to her father "Daddy! Daddy! come see," her father hurried to see what all the fuss was about. And when he got there she said to him "Look, daddy, she looks like me!" There are millions of boys, girls and adults around the world just like that girl. They want to see themselves in these larger than life fantasy and superhero stories. This stuff matters.
What is the current state of the Nigerian animation industry?
It's definitely a growing industry. But an industry with so much potential.

What does the future of Nigerian animation look like to you? Do you believe animation has the potential to become a more profitable industry in Nigeria?
People have been able to do so much with the little resources they have. I can only image what they can do when investors start taking note. I truly believe that Nigeria (and Africa as a whole) is strategically positioned for an economic boom as it pertains to comics, video games, and animation. Someone just has to light the match. The animation for the Malika teaser we produced was 100 percent made in Nigeria by an amazing company called Anthill Studios. These guys are so good at what they do.
What's the next stage of your project and how can people get involved to help support the project?
We need help producing episode one for Malika, Warrior Queen. As I mentioned, animation is very expensive. But we've been able to bring costs down by investing our own financial resources in the project first. Now we just need help getting across the finish line. We're currently running a Kickstarter to raise the money for episode one of Malika. You can check that out here. At the very least, just follow the link to see the 2-minute animated teaser. I promise you won't regret it!