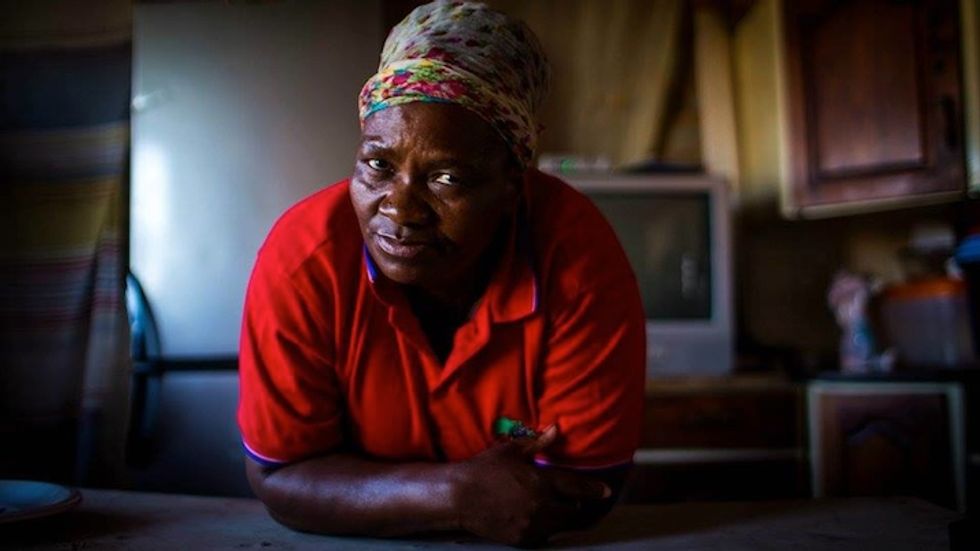 ---
On August 16th 2012, an elite unit of the South African police force opened fire on a group of protesting miners employed by the Lonmin Platinum Mine in Marikana, leaving thirty four dead, seventy eight wounded and over two hundred and fifty in police custody. These miners were taking part in a wildcat strike to protest poor wages and a history of unsatisfactory labor conditions at the lucrative mining operation. South African media outlets dubbed the incident the Marikana Massacre, as it was the largest use of lethal police force since the Sharpeville Massacre of 1960, and in the days following the mass murder, public outcry from the victim's families lamabasted the administration of President Jacob Zuma for its failure to account for those dead, wounded or incarcerated during the skirmishes. In addition to the initial disregard of the lives lost during the clashes, national media coverage ignored the rippling effect of the trauma among the women of Marikana who were left with no support from the media or government officials.
Mama Marikana, a forthcoming documentary from director Aliki Saragas as a part of her masters degree at the University of Cape Town, traces the mobilization of the mothers, wives, sisters, and daughters of the Marikana miners and their efforts to rebuild the ravaged community in the wake of the violent police attacks. The film, whose trailer we first spotted via We-Are-Awesome, seeks to give a voice to the voiceless by following five senior female members of the community over a two year period from August 16, 2012, to August 16, 2014, and chronicling their tireless social justice work through the Marikana women's group, Sikhala Sonke (We Cry Together).
Watch the film's melancholy trailer below, and read a statement from the filmmakers which sheds more light on the impulse behind the creation of the documentary :
Mama Marikana [...] is an exploration of the politics of voice, and who has a right to speak and who doesn't. It is also a story about the everyday, the small moments and the continuation of lives that are not in the media's spotlight. The film allows those who have been forgotten to speak and also seeks to re-humanise them in a way that society, government and their employers have not achieved. Although the media has highlighted the atrocities inflicted on the miners, the cries of the women, who continue to suffer, are not heard. This film deals with space as traumatic memory, and explores memory and identity in space. It deals with the archive as both a path into traumatic memory, as well as a reminder of how space carries scars. The film documents the growth and perseverance of the women of the community and Sikhala Sonke, and how they are a solid force, fighting for the benefit of their community and for the female voice to be heard.
H/T We-Are-Awesome