The 2023 Met Gala has come and gone. But it has left much to talk about, in terms of celebrity appearances, snubs, first-timers, fashion fails, and other buzzy moments. Held at the Metropolitan Museum of Art in New York, the annual event is considered fashion's biggest spectacle. It's a Superbowl-level kind of fanfare, created as a charity ball to raise funds for the Costume Institute since 1995.
Previous Met Galas have been concept-driven. Guests showed up in "gilded glamor" last year and we won't forget iconic looks from 2018's Heavenly Bodies. This time around, the gala honors the life and visionary career of late designer Karl Lagerfeld, who died in 2019.
A talented trailblazer in the world of fashion, Lagerfeld took Chanel to stratospheric success and designed for other houses like Balmain, Chloé, Fendi, and his namesake brand. Titled Karl Lagerfeld: A Line of Beauty, the museum exhibition unveiled over 150 pieces from the designer as well as his sketches.
"In honour of Karl" was the dress code. From archival Chanel moments, campy disasters, to quite literal cosplays of Lagerfeld himself, this year's gala saw many guests reinterpreting or reworking looks from the designer's repertoire. African celebrities weren't left out. Here's our best pick of them gracing the Met carpet or sauntering up the famed stairs.
Michaela Coel
Michaela Coel had foreshadowed she would wear Schiaparelli when seen in a stunning black velvet minidress from the house for a pre-Met dinner. As one of the co-chairs for this year's Met Gala—and given her show-stopping red carpet looks in the past—the Ghanaian-British actress rose to the occasion. The sheer brown bejeweled sheath gown was custom Schiaparelli, and was one of the interesting offerings of the night.
In Coel's own words, "there are 130,000 crystals, 26,000 mixed stones, and over 3,800 hours of work to make this dress." In a technical sense, the craftsmanship is beholden to Schiaparelli's obsessive gilded bijoux. Here, it features a galaxy-burst of gem stones in champagne, silver and gold. Lagerfeld loved to over-accessorize, and he would surely have approved of Coel's couture number.
Anok Yai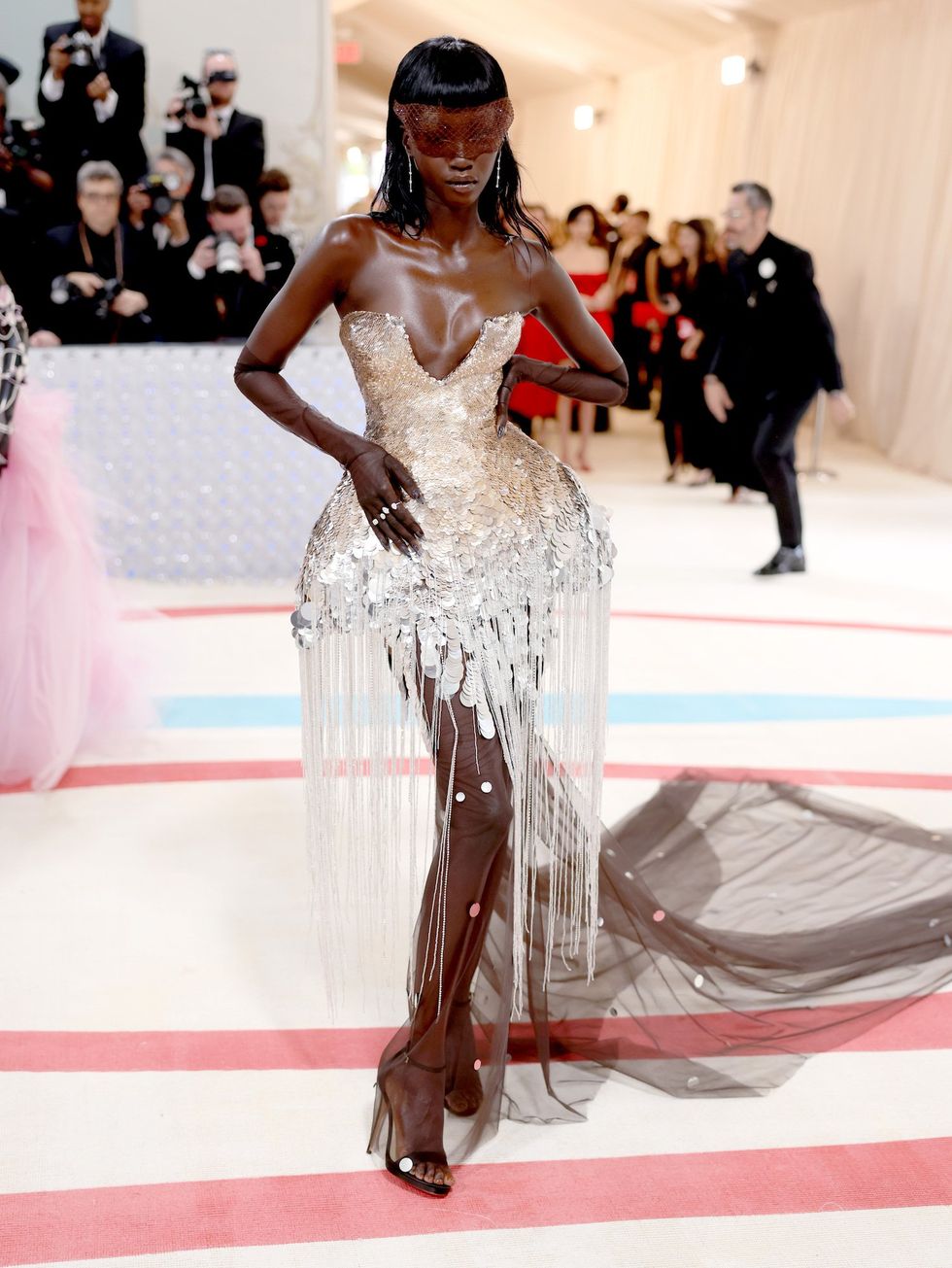 Photo by John Shearer/WireImage
The South Sudanese supermodel has come a long way since attending her first Met Gala in 2019. In the lead-up to this year's gala, she's a cover star for Vogue May issue, joining industry paragons like Naomi Campbell and Shalom Harlow to celebrate the models Lagerfeld loved the most.
She wears Prabal Gurung for her Met gala appearance, a shimmering, strapless minidress with pannier hips. Hand embroidered from degradé gold-and-silver sequin paillettes, the structured silhouette cascades into a silk, charcoal brown mermaid train. The brown face veil could be her way of channeling Lagerfeld in sunglasses. The brown opera gloves, cut out at the fingertips to expose polished black nails, have a feline quality that it won't be surprising if this was inspired by Lagerfeld' pet cat, Choupette.
Adut Akech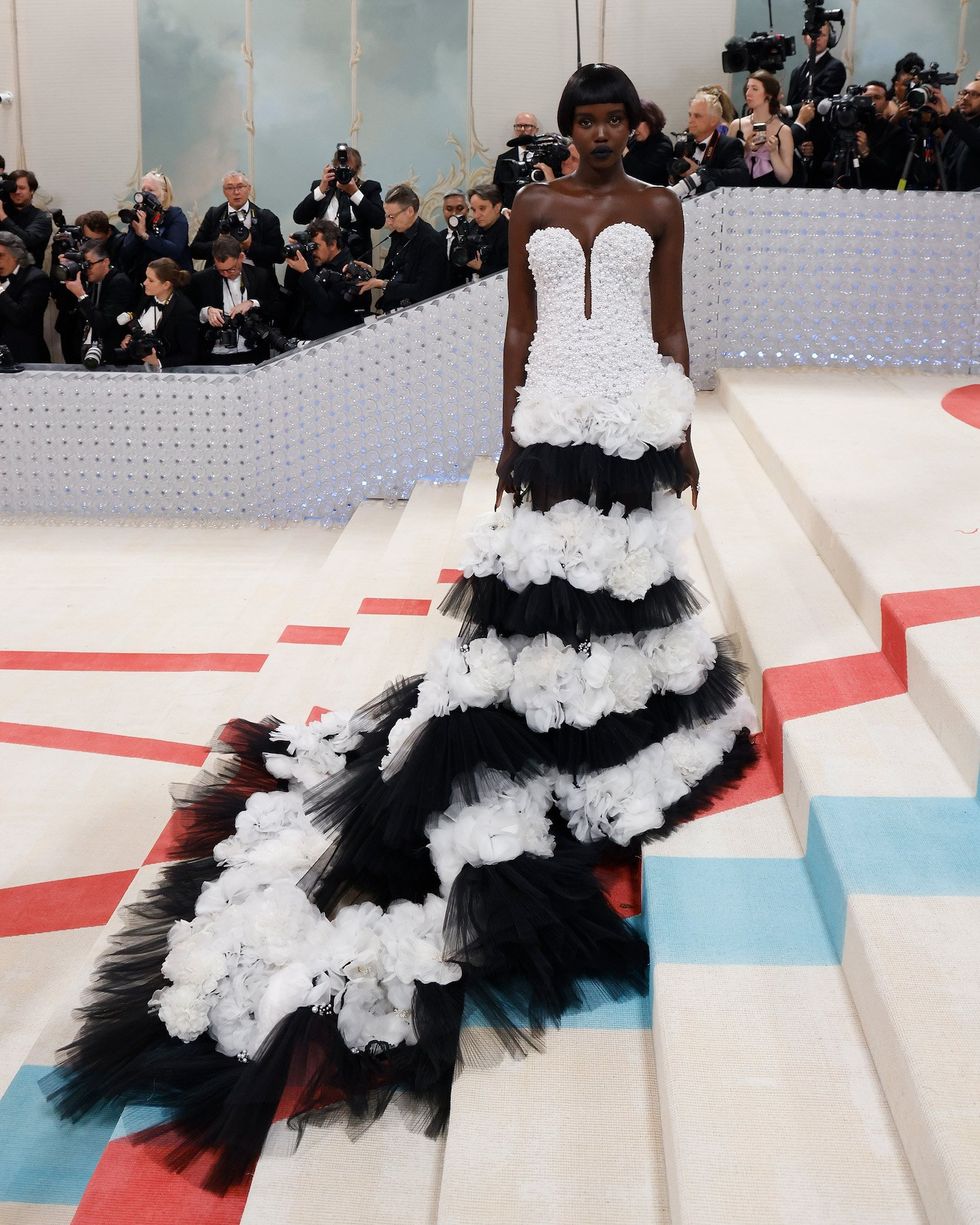 Photo by Taylor Hill/Getty Images
Not a stranger to attending the Met Gala, the South Sudanese supermodel turned to Carolina Herrera for a subverted take on Lagerfeld's austere black-and-white uniform. Accompanied by the brand's creative director, Wes Gordon, Akech posed in a tiered tulle monochromatic gown with a train.
The pearl and diamond embellishments on the strapless bodice winked at Lagerfeld's penchant for peals. A necklace won't have been too much. Still, you could tell she was taking the theme seriously. The sharp bob and dark matte lips is another play on Lagerfeld's carefully severe look.
Tems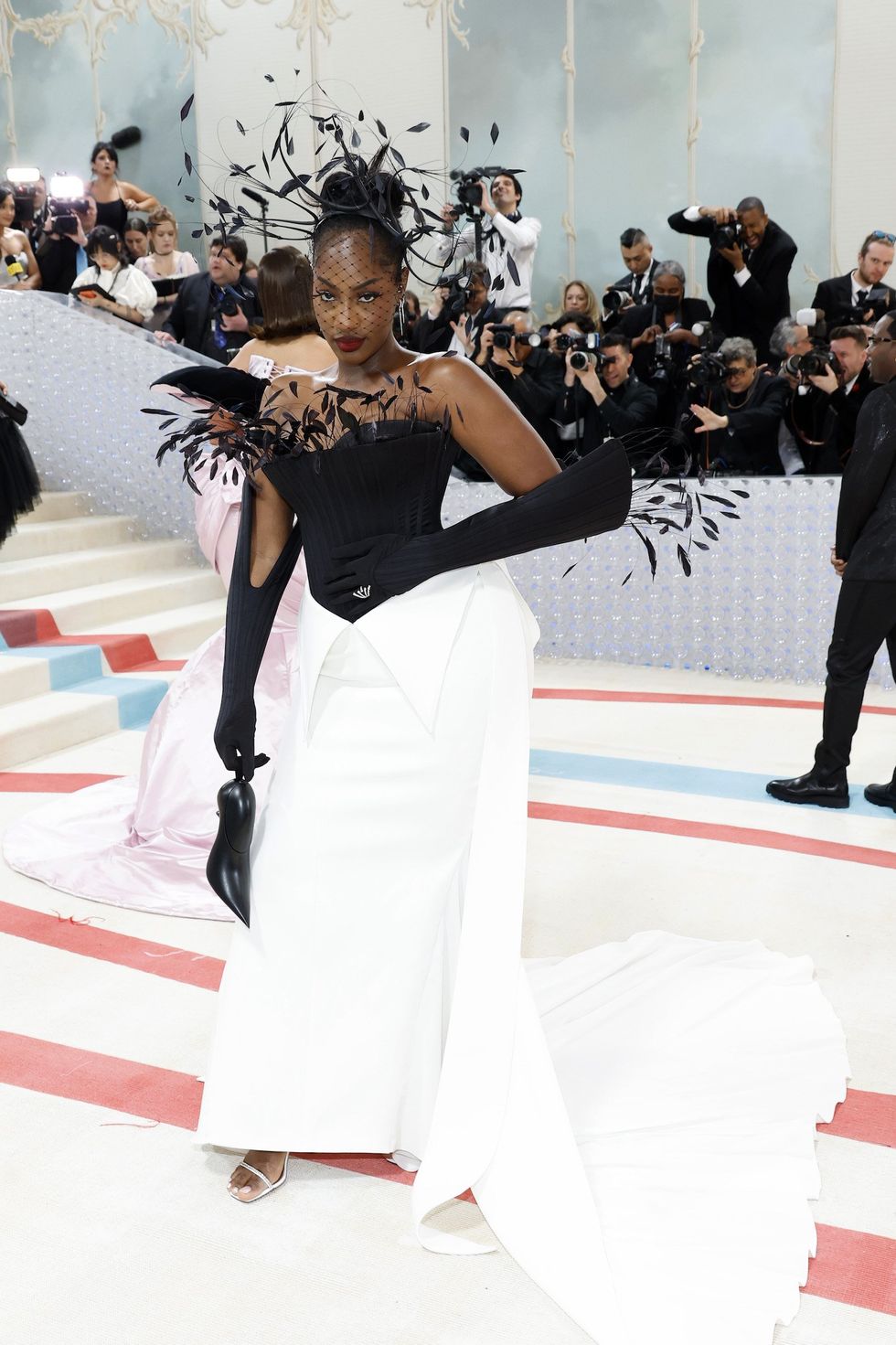 Photo by Mike Coppola/Getty Images
After wearing that pleated Robert Wun look for her 2022 London tour at KOKO, we had hoped that Tems would wear the brand again in the future. Now she has, and it's for her Met Gala debut. Who would have thought? Her stylist, Dunsin Wright, hasn't taken their foot off the pedal, putting the Nigerian alt-R&B superstar in high-end formalwear and creating viral moments.
Further, it has precipitated a mass appetite—and even anxiety—around what Tems would wear next. This time, the Grammy-winning star uses custom Robert Wun to Photo by Mike Coppola/Getty Images the Lagerfeld monochrome into her domain of femininity. A black bustier-corset is fringed with statement ostrich feathers, cushioned into a white deconstructed train skirt with oversize suiting collars.
The feathers also make up a plumed hat with a veil, slightly surrealist and entrancing in its form. The shoe-shaped bag Tems holds is just accessory perfection, and would have put a smile on Lagerfeld's face.
Burna Boy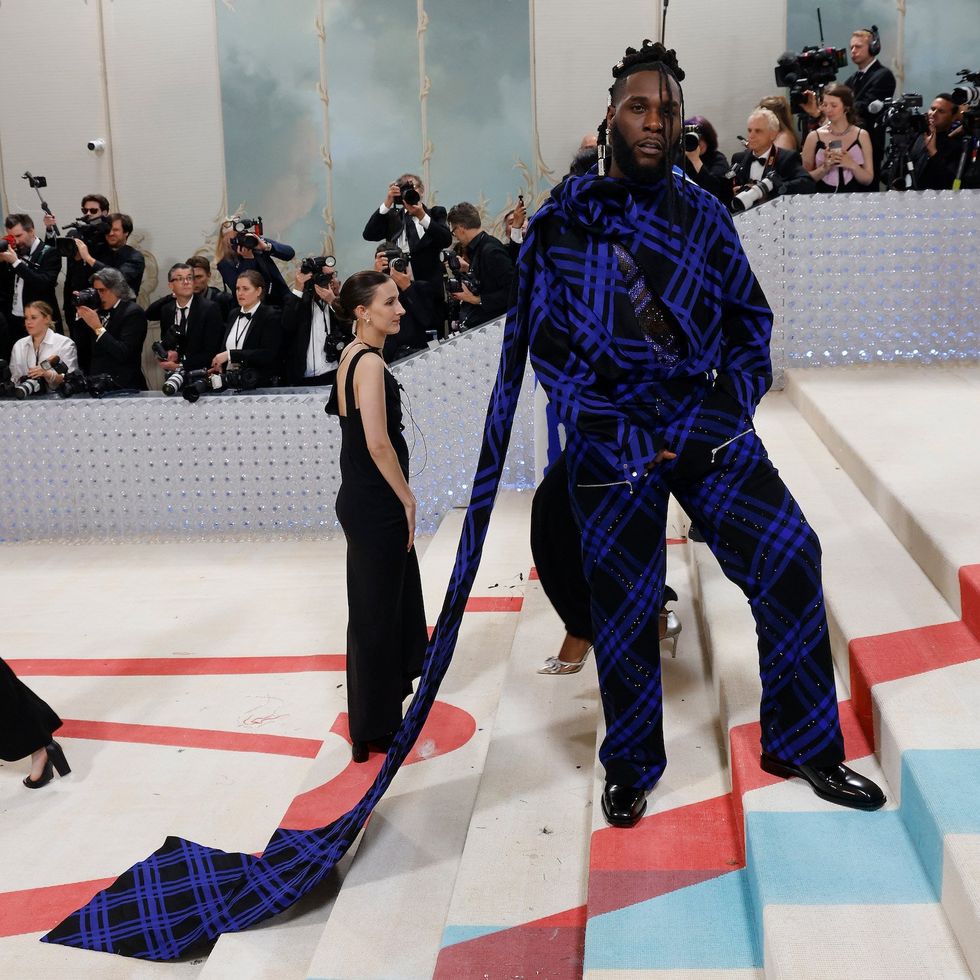 Photo by Taylor Hill/Getty Images
Even in elite circles, Burna Boy making his Met Gala debut showed that there's a first time for everything. Unlike his daring peer Tems, the Afrobeats star is comfortable decking out in the conservatism of Burberry. Under the new vision of Daniel Lee, who made a splashy debut for the British brand as creative director, Burna Boy sported a custom blue tartan set with a silver zipper detail.
In black dress shoes, the rosette nestled in the neckline and the train were unexpected touches, but worked all the same.