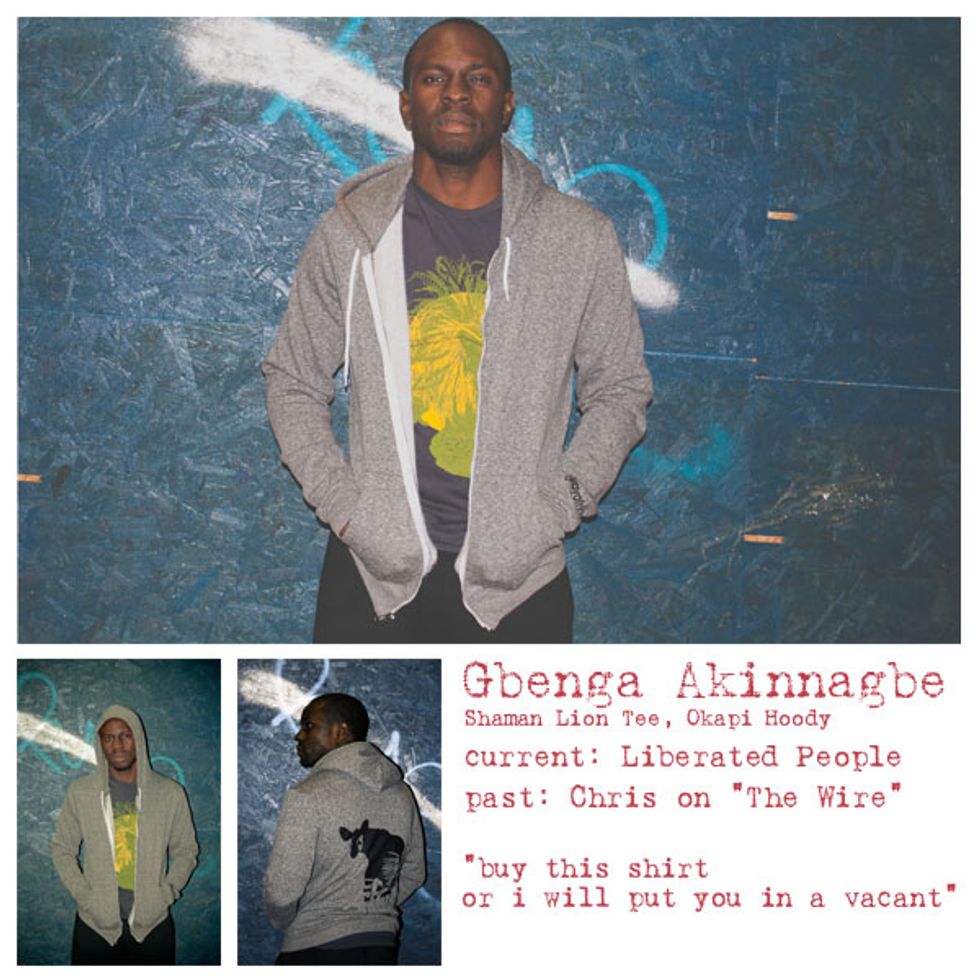 ---
Amid the recent transportation crisis in NYC ala Hurricane Sandy, we somehow got actor Gbenga Akinnagbe to ride his bike over to OKA Headquarters to model our new Okapi Hoody and Shaman Lion Tee. While he sweated in (and over) our merch, we asked him if he misses his "Chris" character from The Wire (he doesn't) and what he titled his personal scent.
OKA: You got style. How would you describe it in 3 words or less?
Gbenga: comfort chic. or I'd just say "Liberated Peoples" (stay tuned - my t-shirt line coming soon!)
OKA: You got a style icon?
Gbenga: not really, i like pieces of dfferent people's styles, none of whom come to mind right now, lol.
OKA: Tell us a story from your childhood. Is there one story that your parents or siblings tell that encapsulates what you were like as a kid?
Gbenga: my brother still holds it against me that i lifted a tricycle when i was three and tried to crush him with it when he was one. my aunt stopped me and still gets pleasure from the story. i don't remember any of it.
OKA: What's your favorite item of clothing?
Gbenga: i love hoodies, they hide me and show me at the same time.
OKA: What's your favorite item of clothing to remove from a female fan?
Gbenga: their hoodie
OKA: If you had your own cologne - let's  just say you bottled your body odor - what would you name it?
Gbenga: epileptic love
OKA: Name your spirit animal.
Gbenga: Liger.
OKA: What are you working on right now - what's exciting?
Gbenga: working on a cool show called Graceland. really good cast and crew. i get to play a "bad guy" again.
OKA: Do you miss working on The Wire - the cast + crew, etc.?
Gbenga: honestly, i dont miss the wire because it never really ended for me. i am in touch with cast and crew, we're friends still. the show is everywhere. watched more now than ever. i carry the wire with me from now on.
OKA: Ok, we've gotta ask... did Chris and Omar ever... ya know...?  I just kind of sensed a spark there.
Gbenga: re: Omar + Chris -- if they did, they could finally get married in maryland now, thank you Martin O'Malley!