This week, we published short profiles, essays and interviews on the theme of "Afrofutures". Together these stories were a deep dive into the way African and diaspora thinkers, technologists and artists view a future for Africans in the world and outside of it.
Take a look at our introduction to Afrofuturism here, with the second edition of the conversation here.
We've highlighted and celebrated young, leading talents who already put into practice what a future with black people look like through their work in the return of our profile series, 'NextGen.'
Nsimba Valene Lontanga is an art director, fashion designer, trend forecaster and entrepreneur hailing from the Democratic Republic of the Congo. The bombshell intriguingly holds many hats. She has launched a line based in Ghana, Libaya, lingala for 'women's top' and more recently, Fofa, "an online database offering an archive of trailblazers influencing the African narrative."
Lontanga's love of fashion unsurprisingly comes from a Congolese upbringing in which her parents placed a heavy emphasis on how they dressed and presented themselves. She was raised in the Netherlands and has always had a desire to create. Lontanga began painting to reflect an Africa she was proud of. Later, she studied trend research and concept design and decided to do a project related to trend forecasting on the African continent. It is through her research that she discovered creatives telling stories pertaining to the Africa she always imagined. Everything naturally progressed from here.
---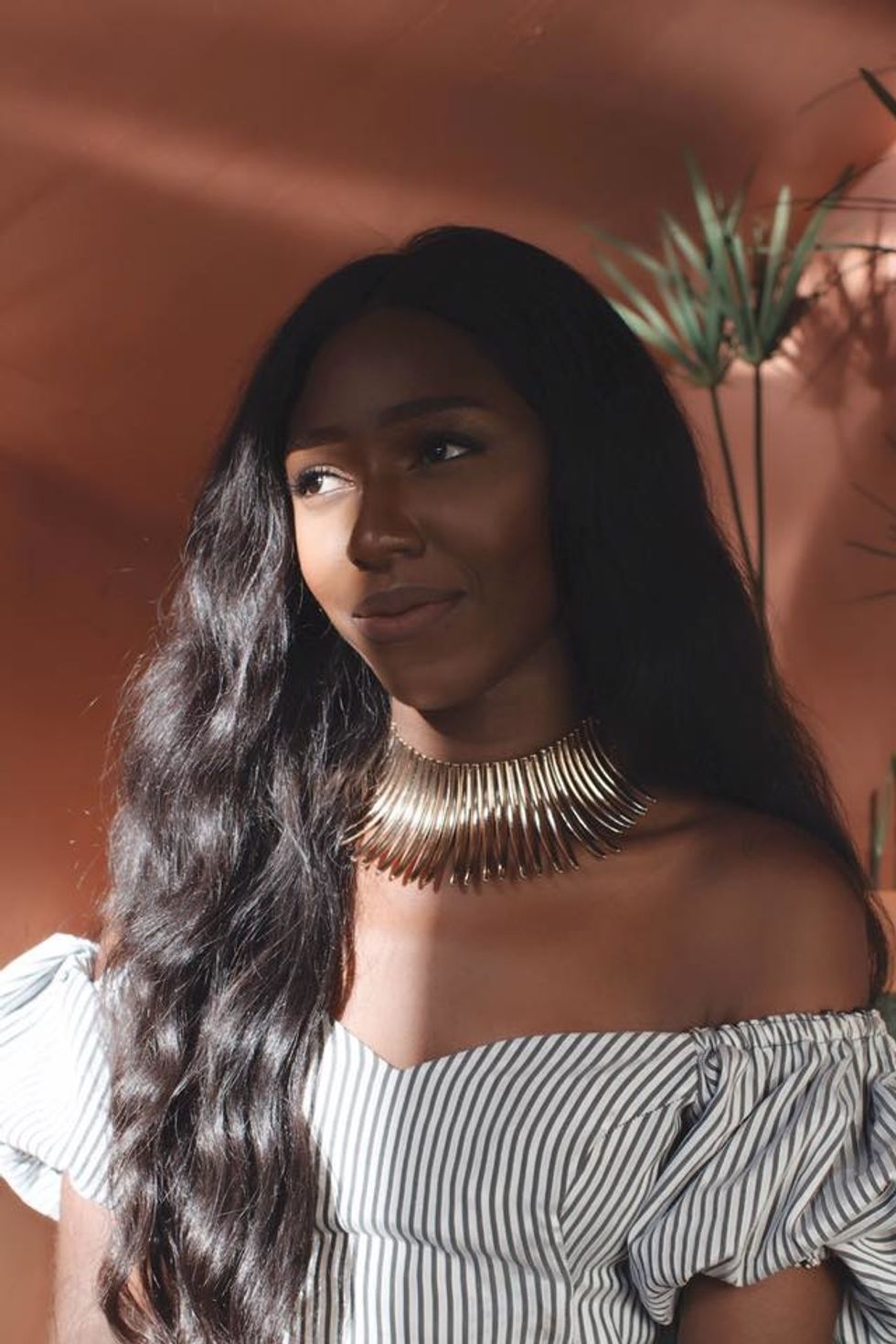 Nsimba Valene Lontanga. Photo courtesy of Nsimba Valene Lontanga.
"Libaya grew out of the need to show that African women are part of the book of style. When I picked up magazines, I only saw a Western viewpoint," she says. This viewpoint conflicted with Lontanga, as she grew up around African women who were very fashion forward and her source of inspiration. "African women have always been influential within the fashion industry," she states.
While going back and forth between Ghana and the Netherlands, she would make tailored clothing comprised of plain fabrics, polka dots and stripes and be asked where her pieces were from. Lontanga challenged the African aesthetic by creating a brand free of the prints the West is so used to attributing us with.
While working for Vlisco, notable dutch fabric producer, Nsimba was consistently asked whether or not the continent was home to people producing quality work within the fashion industry. It is due to this that Fofa was born. The platform is centered around showcasing a wave of creatives. "The time is now to connect and facilitate collaborations," Nsimba affirms. The established professionals displayed are global influencers who integrate powerful storytelling in their work. In its current phase, the site features faces you've certainly seen and heard of. The next step will be to scout new talents that are shaping the fashion industry in their countries.
"We have all the tools to create our own reality," Lontanga says. "I can't imagine not doing anything with those tools. It inspires me that we have access to everything; that I can be in the Netherlands and still feel connected to Ghana, to Nigeria, to Congo, to Senegal—just this global identity and connection that we are shaping and the power we have. The power is literally in our own hands."
For her, the future is as follows: "When I look at it, the more architects, poets, photographers and other leaders we have in the art realm, the more we can influence change. Artists have the skills to predict what the future can be. They literally create a new world we all want to be part of. It is a present where things are possible. The future of art related to Africa is really exciting because the art scene is creating the future for us," says Lontanga.
She continues:
"Afrofuturism shows that we can imagine our own futures. It forces us to restore our cultural heritage as the past is a way to predict the future. It reconnects us to untold stories; we can imagine how the future can be. You can't create a future without what has happened before."
She goes on to remind us of her favorite line, "The future is female and African." The African woman is carving her own lane in an industry where she has been underrepresented. She is igniting businesses despite a world in she is underestimated. She is challenging and changing stories about, "identity, traditions, beauty, and culture globally." Unbeknownst to her, Lontanga embodies the aforementioned.
Furthermore, she adds the "African landscape is influencing the new concept of luxury today."
Lontanga consistently conducts field research, shoots, styles, writes and graphic designs. She solely connects herself to things that feed her energy. She's forever learning and aiming to represent Africa as a whole despite a perspective that is limited in scope because of how diverse our continent is.
Keep up with Nsimba Valene Lontanga here.
Audrey Lang is an alumna of Northeastern University and a Boston-based site merchandiser. A surveyor of life who's enamored with all things fashion, art and Africa, keep up with her on Instagram and Tumblr.