Design Inaba brings to our attention Nigerian visual artist Fred Martins' latest collection of conscious art work.
---
Martins, who is currently in Lviv, Ukraine, turns to the iconic afro comb to illustrate portraits of African activists such as Marcus Garvey, Martin Luther King Jr., Nelson Mandela, Patrice Lumumba and Fela Kuti, all who were discredited for advocating for freedom and fairness for Africans. As you'll see the black Afro combs are laid out on a bold orange background, which is associated with the incarceration of the activists during their lifetimes.
The Afro comb dates back to pre-dynastic Egypt, though it became a provocative symbol in the 1970s when its iconography evolved into a black fist, referencing the spirit of the Civil Rights and Black Panther movements, becoming synonymous with black pride and identity. And according to History Workshop, the Afro comb of this era was originally patented by two black Americans, Samuel H. Bundles Jr., and Henry M. Childrey. However, many manifestations emerged during that period, including a folding comb. Some viewed the hair accessory as an inflammatory symbol, which contributed to police stopping and frisking Afro comb-wearers. It also came to represent cross-cultural exchange among people from the African diaspora as color variations were manufactured in Nigeria in the early 1980s.
So with these insights, Okayafrica reached out to Martins over email to discover the meaning and inspiration behind his newest project entitled "Orange, Black And Freedom." This interview has been edited and condensed.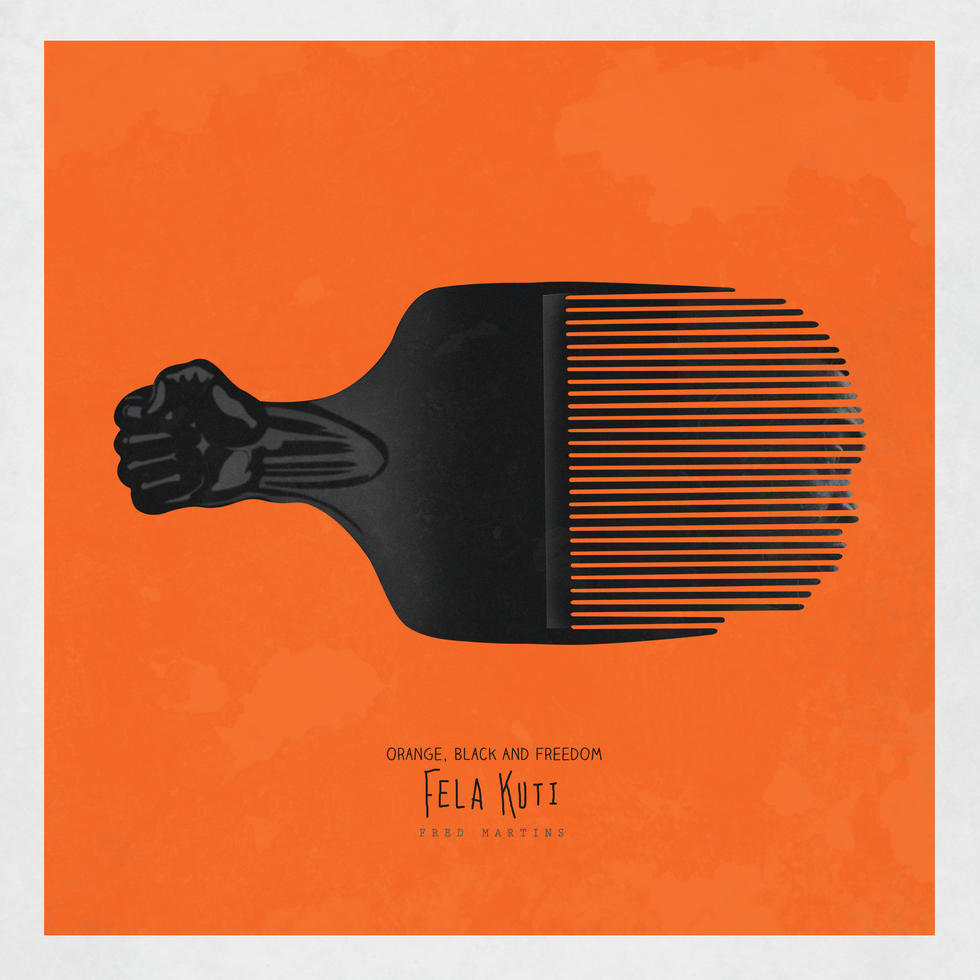 Could you tell me a bit about your background? How did you get into art and illustration?
I was born in Aggah-Egbema and lived in Omoku both in Rivers State, Nigeria. I started as a graphic designer in 2004 and later grew into visual art, concepting and directing surreal photography and short art videos aside making digital arts.
I noticed you're in the Ukraine, what brings you there?
Yes, I schooled here and am currently living in Lviv.
Afro HEAD Nelson Mandela, Courtesy of Fred Martins
Your previous work focused on climate change, so what made you decide to focus on African activists in your current work?
These current works were done in commemoration of Africa's past heroes and to portray the bigger story behind the image, which is about a culture and history. It is with regards to Africans ceaseless struggle for social justice and fairness.
How did you come up with the concept?
The idea was inspired by our traditional West African music. I have a lot of mojo from live analog music.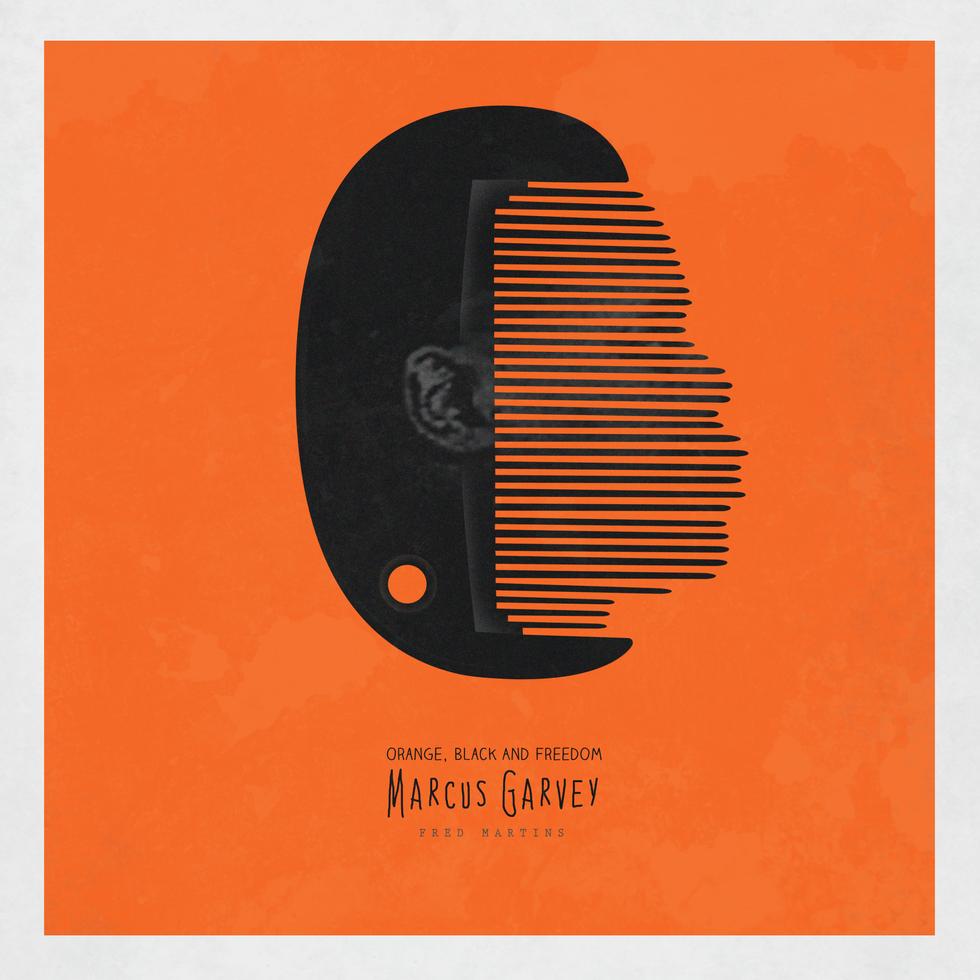 Afro HEAD Marcus Garvey, Courtesy of Fred Martins
Why did you choose the afrocomb as a symbol to celebrate African activists such as Marcus Garvey, Martin Luther King Jr., Nelson Mandela, Patrice Lumumba and Fela Kuti?
For the historical and cultural values. The afro-comb links Africans with their ancestors.
How did you narrow down which African activists you were going to highlight? If you had to choose one activist that you most identify with who would it be?
I research a lot about history and get as much information as I can get, not just about Africa but the general world. Those featured in my work are global luminaries. I admire Ruby Dee, as a woman and activist she is not only focused on African advocacy but stood for any other causes that is considered to be right. She had a life of artistry and activism.
Fred Martins via Facebook
How have these activists personally impacted you and the art you create?
Their stories have influenced not only my art but lifestyle, addressing issues of concern that people tend to shy away from. Especially with Fela, he influenced my fashion, culture loving and forthrightness. I had once shared a slide of him briefing his story while talking in a TEDx conference.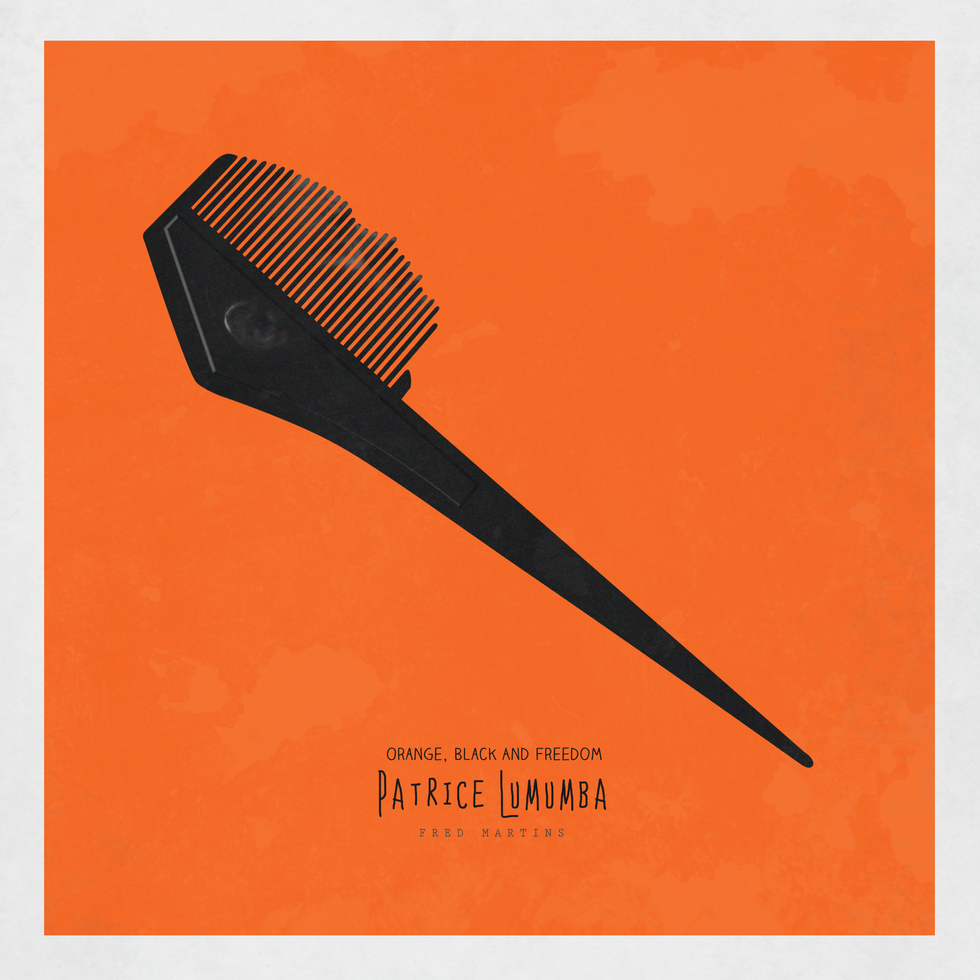 Afro HEAD Patrice Lumumba, Courtesy of Fred Martins
What message or feeling do you want people who view this series to walk away with?
For young Africans to know more about our history and guide it through time, and for African leaders to champion good leadership.
What are you working on next?
On a surreal photography project about Ukrainian culture mixed with architecture. And then, completing my photo-book of West-African masquerades called 'Memoir - Of Gods, Masquerades and Men.'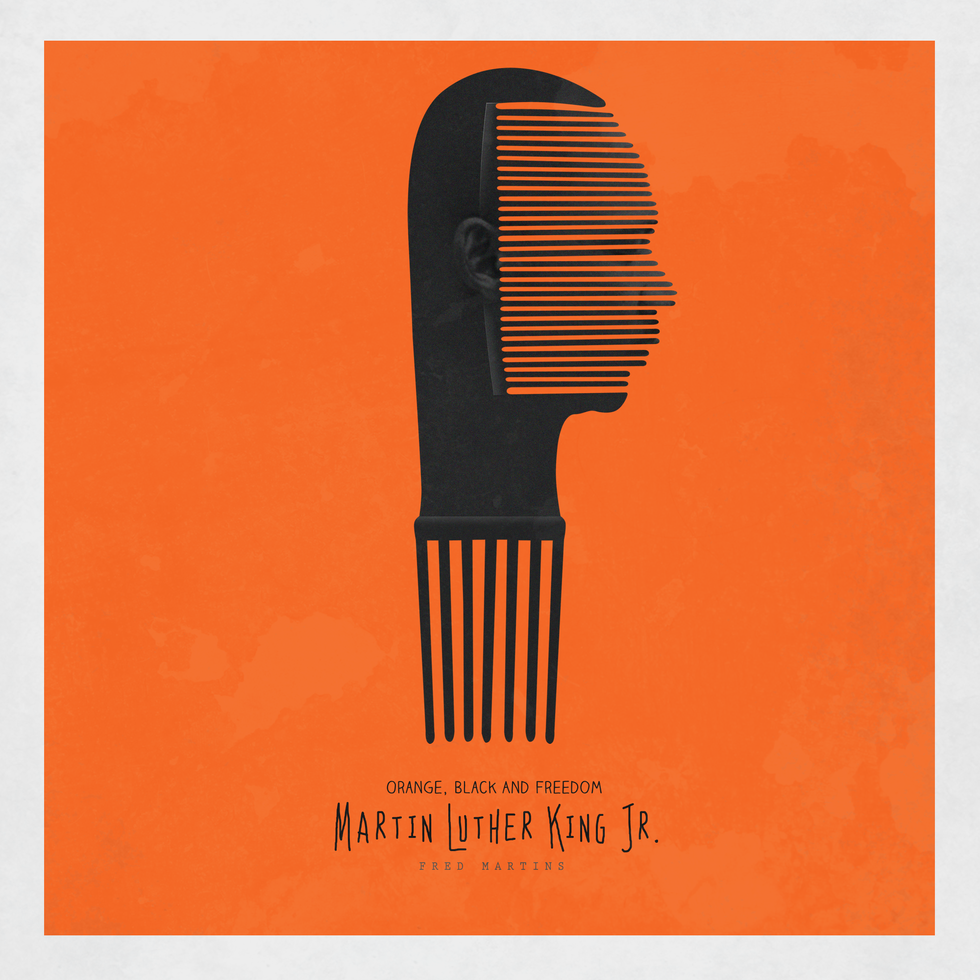 Afro HEAD Martin Luther Jr., Courtesy of Fred Martins