Atlanta based Afrosoul/Afrofolk singer and actress Tosin Taiwo, aka Tosinger, is dedicated to continuing the traditions of oral and visual storytelling. The Nigerian artist's latest human art installation project, #We3Queens, is a beautiful expression of gratitude to the strong female African leaders we so rarely learn about. The project sees Tosinger engage in three separate performances where she embodies and transforms into the three queens before audiences at The African Textile Museum in Stonecrest, Georgia. The project centers around Queen Mother Idia of the Benin Kingdom (now Southwest Nigeria), Queen Nzinga of Ndongo and Matamba (now Northern Angola), and Queen Yaa Asantewaa of the Ashanti Tribe (present day Ghana). All three queens are known for the political smarts, unwavering fearlessness and for being legendary soldiers of war.
---
Tosinger releasing her project during Black History month is intentional. "African history is also African American history", the 45-year-old performer insists. #We3Queens is intended to bring both Africans and African Americans closer to their history and their roots, as so many stories are whitewashed or completely destroyed. The three queens in the performance are known for their hard work and anti-slavery efforts, and educating the masses on African history is simply Tosinger's jam. From the way the folklore storyteller dresses, speaks, and creates, her African pride beams through and her eagerness to share is simply admirable.
We spoke with the singer, actress, and storyteller about her journey from Nigeria to Atlanta, the power or storytelling, and her dream of connecting Africans within the diaspora to their roots.
Answers have been edited for length and clarity.
You grew up in Ogun State, Nigeria, and life took you to London, Oklahoma, and now Atlanta. Tell us about your creative journey through all of these life changes?
It may look like I've done a lot, but I guess that would be a testament to my age. I'm 45, so I've gone through a lot of self-discovery, trying to find my place and my calling, but I've always known that I'm an artist by heart. I was born in Nigeria and only traveled out as a full-grown adult. I moved to London in my early 20s to get my Masters at Nottingham University. While there, I studied International Relations, but still had the pull towards the creative side. At that point, the closest I had been to a creative outlet was music, when I sang in the church choir. I knew that I wanted more and so after my Masters, I looked for a creative art school. There, I honed in my skills musically, learned how to be on stage, learned how to build my confidence. We had to learn an instrument and that's when I learned how to play the guitar, read music, and also wet my feet in Broadway and singing. At the time, I was singing from behind the curtain as vocal ensemble, while the actors on stage mouthed along. I didn't mind because it was all training, and I'm so grateful for it.
You have to start slowly. In this day and age, everything is 'microwaved' -- people just want to get famous overnight. We see it with social media and "The Instagram celebrity". That's how people think great things happen. But, when things are what I call "oven-ated", and you cook slowly and well, you enjoy it more. That's how my life has been. I don't mind calling myself a late bloomer because when you bloom fully, you bloom beautifully.
Tell us about your move to the USA.
I met my husband while I lived in London, and he's a Nigerian-born, American citizen. so I left the UK to join him in Oklahoma, US.
You know, in Nigeria, we watch American movies and we think that everywhere is like New York. You have the Fresh Prince of Bel-Air so that's the image we all have of America. Then, I moved to Oklahoma and I'm like, "What is this?" It's dry, cold and the people were not nice -- almost racist. I was buzzing coming from a city like London and was excited to get into the creative arts. I found one theatre company through Google and when my friend and I arrived the first and only thing they said to me — after huddling in a corner and whispering about us — was, "I'm sorry, but we don't have color-specific roles here." This was in 2002. I was shocked. We had not even told them why we were there.
After that experience, I looked up favorable places for Black creators in the USA, and Atlanta and New York came up. Atlanta's history interested me more so I applied to a creative art school there just hoping to get in somewhere. I got into a prestigious school for art administration and I've been in Atlanta since 2011. Anything to do with Africa and music -- I'm there. I started performing in small spaces and started acting, too.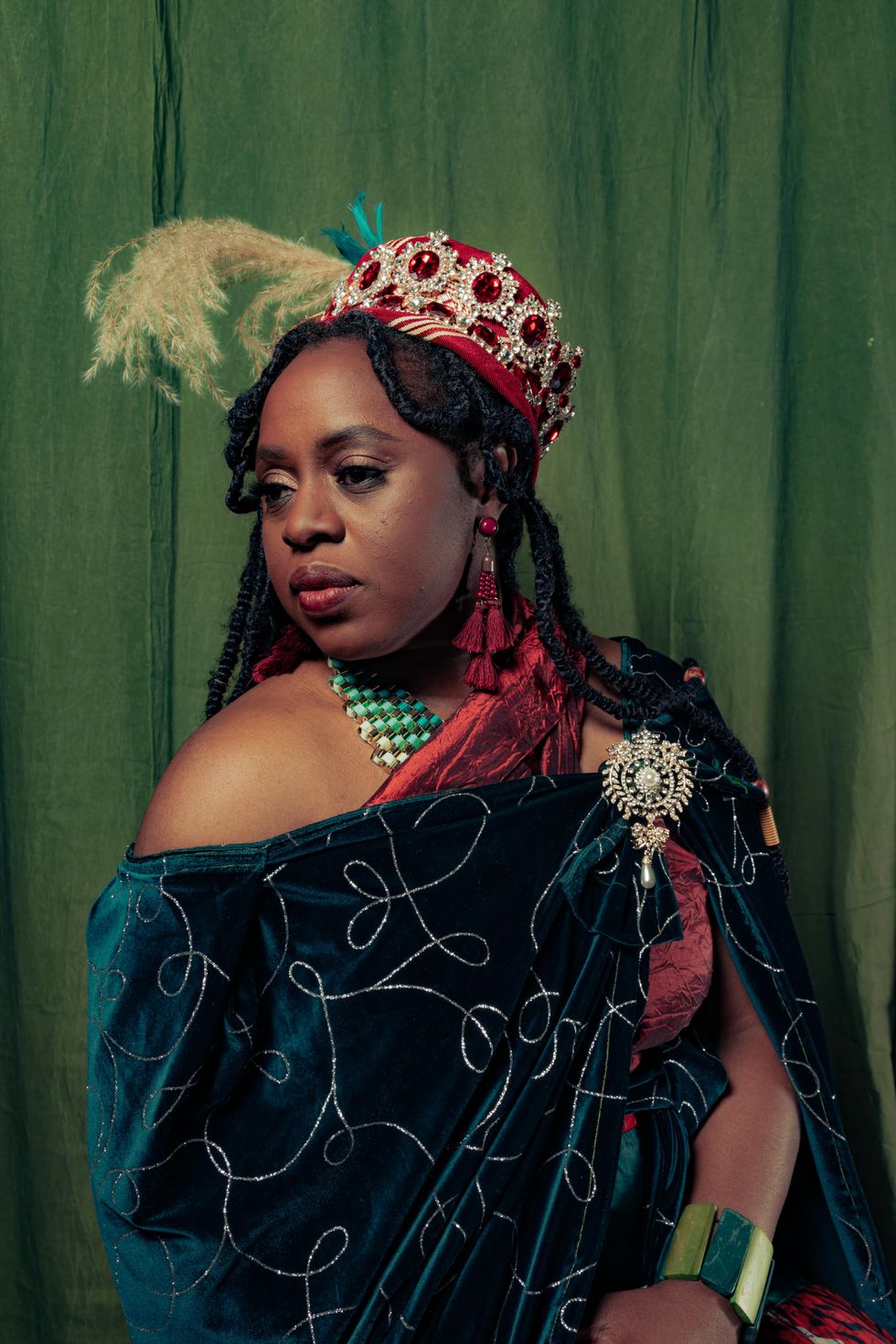 Nigerian artist Tosinger as Queen Nzinga as part of her #We3Queens human art installation projectPhoto courtesy of Tosinger
How have you stayed close to your roots and your community?
It's funny because there's this unspoken friction between African Americans and Africans. But, I come from a place of love -- they're my cousins, brothers, and sisters. And so I think I'm here on a mission to encourage African Americans to visit any country on the continent. I've been embracing those spaces and they know me. I still express African, in the way I present, my appearance, and in my art. And that's how you express culture -- through food, clothing, language, and art. Those are ways I stay connected. I incorporate a lot of Yoruba into my music, and my 'Tales with Tosinger' online show carries on the traditions of oral storytelling. I created it because we're losing it. That's how great grandmas and grandpas passed down stories, as we sat at their feet.
Also with social media, people do not have an excuse to not stay rooted -- everything is globalized.
Let's talk about your latest project, #We3Queens.
If I just tell stories through speech, they may not hit. But, by translating stories through art, costumes, and photography, people go "wow". And, while you are wowing, you're reading the description. You're reading the card. You're learning about someone who many people haven't heard of -- these #We3Queens.

The idea came to me during isolation, and just started meeting the right people -- you never know how they will become handy years down the line. I was at an African music concert, speaking Yoruba with my friend when the costume designer I worked within the project came up to us. She was like, "You guys are Nigerian? So am I." Through conversation, I learned that she's a costume designer for Hollywood movies, and so we followed each other on Instagram. That was almost three years ago. When the idea popped into my head, I knew that I had the right clothing because my mom brings me so many African garments, I just needed someone to put it all together. So I thought, "Costumes? Check. Photographers? There are so many in my network — check." I thought of a few people who could help creatively — check and check. I had to invest my own money in it, too, and also made it a free community event because education is supposed to be free. I know the money will come back in other ways, though I don't want it to seem like the Queen is begging for money — of course, Queens don't do that.
I put this team together, put the plan in motion, and the response has been good so far.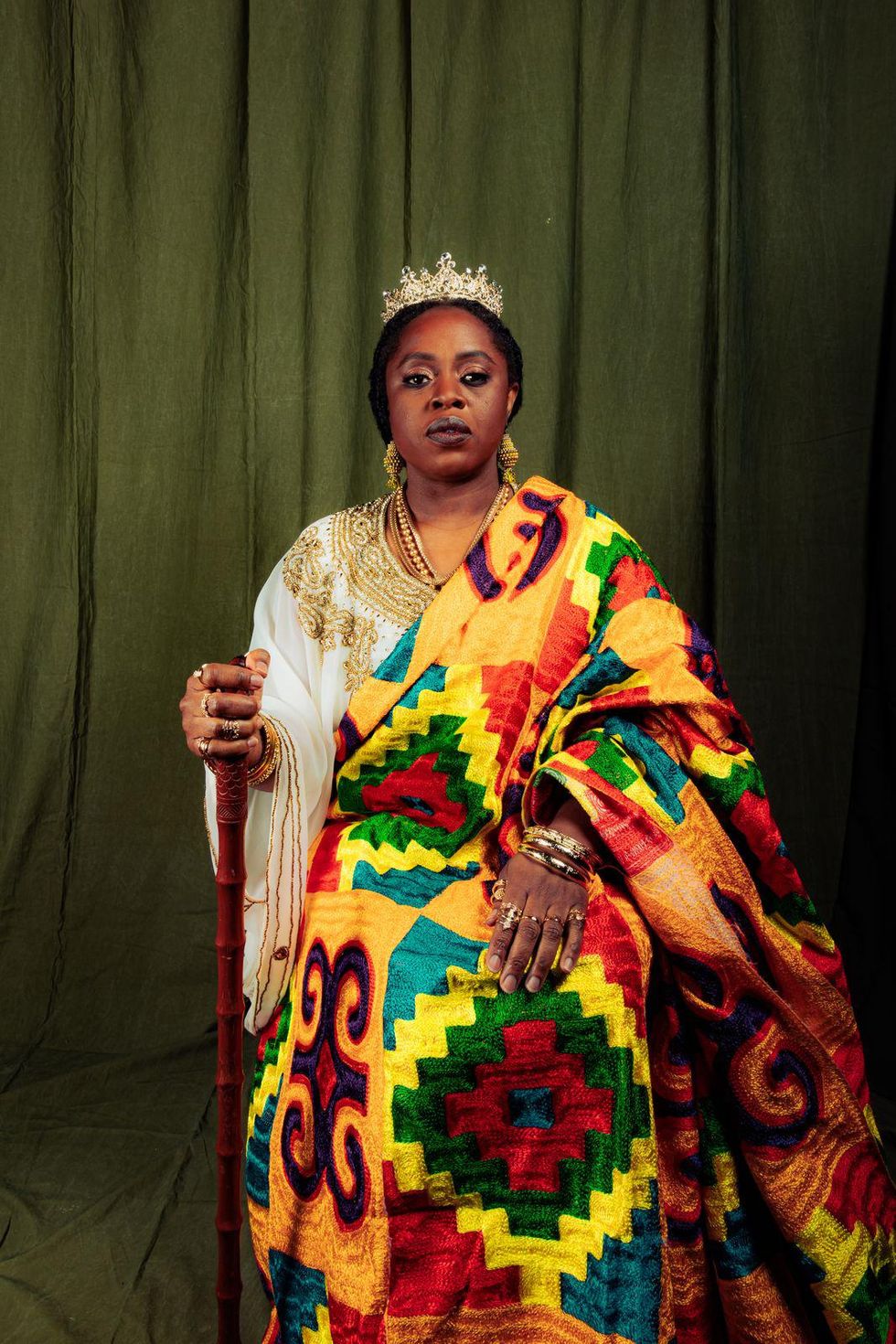 Nigerian artist Tosinger as Queen Idia as part of her #We3Queens human art installation projectPhoto courtesy of Tosinger
How did you choose these three queens: Queen Idia, Queen Nzinga, and Queen Yaa Asantewaa?
I chose those three queens because of their stories and their role when the white colonial masters came. How strong they were, how they were fighters. Queen Nzinga in particular, was a gangster. She was a gangster queen. She adopted the Portuguese way of life, even adopted Christianity to try and infiltrate their culture. She changed her name and the way she dressed, all so that she could negotiate with them. When she eventually met with the Portuguese trade master, he wouldn't give her a seat and so she sat on one of her servants - a savage move, but she's known for being very intelligent and diplomatic. Queen Yaa and her woman-led army are known for defending the sacred stool of the Ashanti Kingdom of Ghana. It was a golden stool that was almost stolen for the British Queen and when the men were too scared to protect it, the women fighters won it back. All of their stories jumped out at me, but a lot of factors went into me choosing these three queens.
Do you hope to turn #We3Queens into a series? What are your dreams for the project?
That's the whole idea, I might change up the queens over time. I don't know if I want to do it as a Black History Month thing, it depends on the request for it. I can add other elements that will make it more interesting, I could turn it into a theatrical piece also, a one-woman show. Things like that. It's definitely not the last of it, it could evolve. The format could evolve. It can definitely involve other queens, too.
The #We3Queens human art installation is on display from Friday, February 18th to Sunday, February 20th. Tickets are available here.