Popular
'I'm More American Than Him,' Says Nigerian UFC Champion Kamaru Usman After Crushing MAGA-Supporting Opponent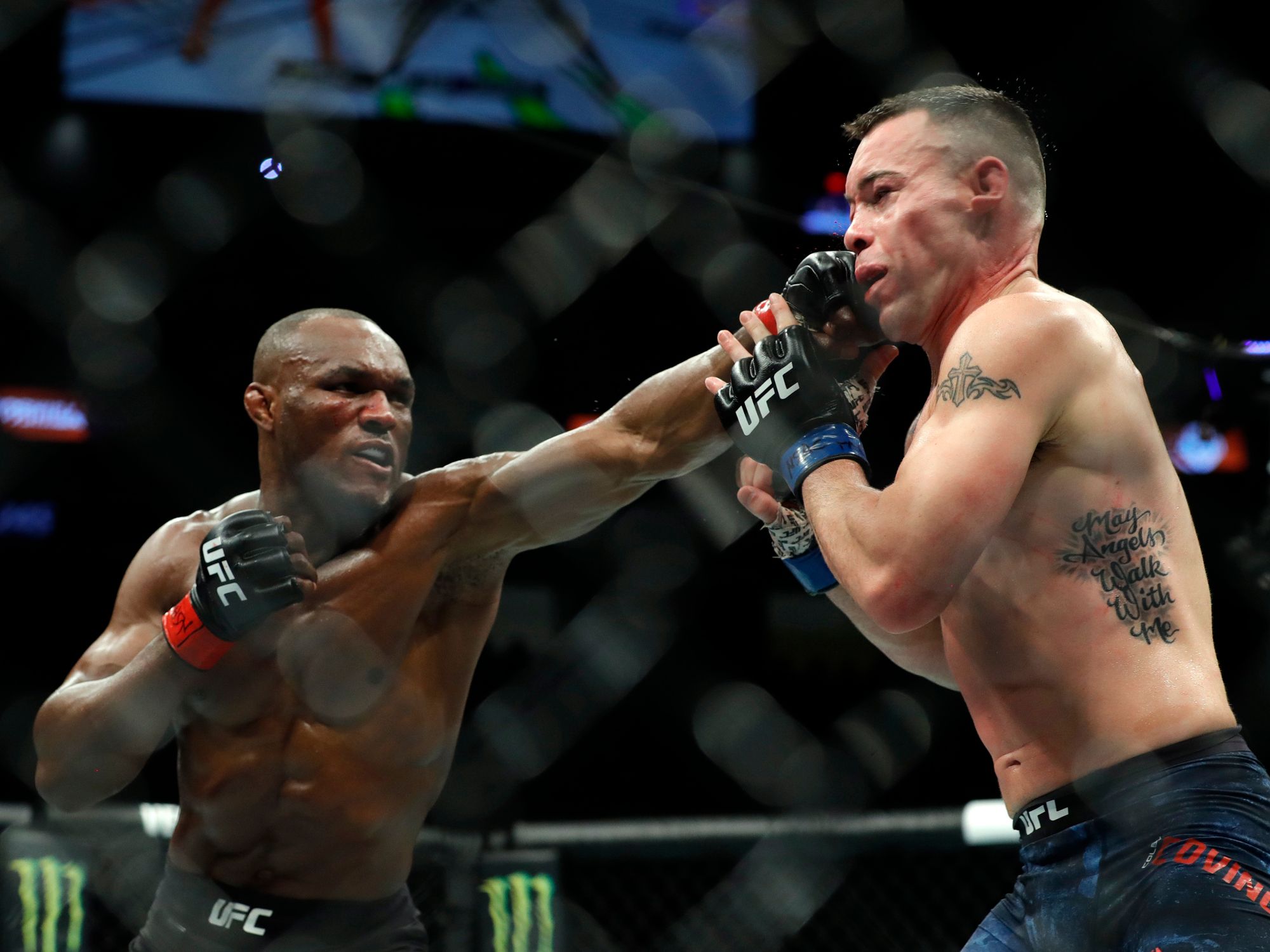 LAS VEGAS, NEVADA - DECEMBER 14: UFC welterweight champion Kamaru Usman (L) punches Colby Covington in their welterweight title fight during UFC 245 at T-Mobile Arena on December 14, 2019 in Las Vegas, Nevada. Usman retained his title with a fifth-round TKO. (Photo by Steve Marcus/Getty Images)
Ahead of the match, Usman promised to make his opponent feel "the wrath of every immigrant in this country," and he delivered.
On Saturday, Nigerian-born fighterKamaru Usman, also known as "The Nigerian Nightmare," won the the UFC (Ultimate Fighting Championship) welterweight title after he dealt a crushing blow to his MAGA-supporting opponent Colby Covington.
Covington, an over-confident Trump devotee, went as far as to tell the president that he would deliver the champion belt to the White House in his honor. He sported the infamous red cap to press appearances and on the day of the match, and even poked fun at Usman's Nigerian heritage, asking "What has [Usman's] family ever done for America beside serve in the Federal penitentiary?" Unsurprisingly, the fighter garnered the full support of the president and his white supremacist following.
Usman, however, got both the last word and the last blow—which he delivered directly to Covington's jaw—during the UFC 245 match. Following his knockout win at the 4:10 mark of the fifth round, Usman sat down for a post-fight interview, in which he addressed Covington's bigoted behavior as well as the white nationalists in attendance who chanted "USA! USA!" as his opponent walked into the ring. Usman stated that the cheers were actually meant for him, as he was the one who displayed what it meant to be a real American:
---
Let's be honest. I've said it time and time again: I'm more American than him. I am what it means to be an American. I'm an immigrant that came here and worked my ass off tirelessly to get to the top, and I'm still prevailing. So that's what it means to be an American.

It's not necessarily just because you're born here, you feel privileged is what it means to be an American. No. I told you none of these guys work harder than me. That's what it means to be an American. I work my ass off, and I'm going to continue to work my ass off and obviously with good integrity.

I don't have to walk around like a punk and say these certain things that are going to abuse the whole country or abuse the whole world and talk about people and religions — things like that. I don't have to. I'm going to walk with integrity because at the end of the day, I want everyone that's watching me, every eye that's on me, to look at me and say, 'You know what, that's what we want to be, that's the example that we like.' And so, I'm more American than him. So, when they were chanting 'USA,' you damn sure better believe that was because of me.
Kamaru Usman's response to the "USA chants" at the #UFC245 post fight press conference is FIRE!🔥#Usman https://t.co/GN0oEtD69z

— Andres Cabrera (@Andres Cabrera) 1576403047.0
Ahead of the game, Usman stated in an interview that his intention once he was in the ring with Covington, was to make him feel "the wrath of every immigrant" in the US during the fight.
Covington—who has been hilariously nicknamed "The Great White Nope" by The Root'sMichael Harriot—wasof course a sore loser andunable to accept his loss. He blamed referees, despite the evidence of his defeat literally showing on his face (his jaw was wired shut after the fight). The white nationalist fighter has also been the internet's "punching bag" since he was served his "L." Check out some humorous responses below, and congrats again to The Nigerian Nightmare for displaying poise and securing his glorious win.
Seeing Usman break Covington's jaw & then win by TKO #UFC245 https://t.co/cTMnigWmSV

— Cassidy✨ (@Cassidy✨) 1576393086.0
Kamaru Usman really beat up Colby Covington and said it was for the whole world. Our champion. https://t.co/bYvwgVRakV

— Grant Goldberg (@Grant Goldberg) 1576392930.0
What Colby Covington's hat shouldve said after that Usman beatdown https://t.co/GYdv4fIe3d

— kylo (@kylo) 1576393621.0
My Nigerian brother Kamaru Usman knocked out MAGA ass Covington's jaw and won the fight, shutting up these racist a… https://t.co/6tcSlNmHEv

— Ladi A (@Ladi A) 1576392699.0
He called Kamaru Usman all sorts of names. Insulted his family and used racist words on him before the fight. He ev… https://t.co/0WlQIWWg2v

— Buhari's Prodigal Daughter (@Buhari's Prodigal Daughter) 1576452524.0
I'm so happy that Kamaru Usman broke Colby Covington jaw 😂😂😂🙌👏 #UFC245 https://t.co/UDqrXySQkG

— Professor X (@Professor X) 1576391930.0
Kamaru Usman got up on Joe Rogan's podcast and promised he'd beat Colby Covington on behalf of every immigrant in t… https://t.co/4D0axPAGvm

— jon osterman (@jon osterman) 1576393870.0