The south got something to say. Actually, in the sprawling world of Nigerian pop, it has been speaking for a while now, with the likes of Rema, Omah Lay and Ajebo Hustlers riding on the region's genre-fluid practices to popular acclaim. Another name in that conversation isIdahams, a producer and musician who recently released his debut album, Truth, Love & Confessions. It was a quiet Saturday when OkayAfrica recently spoke with him, discussing stories far broader than the thirteen songs which make up TLC.

"I wanted it to be a different one," he says about his vision for the project. "Not like what we've heard before, you know, something people can always go back to when they want to be inspired, when they want to be emotional, something that can stand the test of time. I didn't want the sound to be what we've heard in the past couple of years, so I took my time."
Being a producer allows Idahams creative license, and he's much involved in the sound of Trust, Love & Confessions, too. He usually sends sound frames of what he needs to his collaborating producers, and they work around that vision. "I'm always intentional when it comes to making a song," he says, placing his potential listeners somewhere in that radar.
A shimmering emotional presence lies at the core of TLC. With its title preceding the ambition, the records are inspired by both true and fictional experiences, all rendered purposefully by Idahams' fine knowledge of sound. From the glorious opener "Gratitude" which utilizes a church choir to the descriptions of a toxic relationship laden in "Hate That I Love," the album's themes follow a progressive path. The production is minimal and exquisite, carrying the personal convictions of Idahams with light, almost watery ease.
---
Perhaps that informs the choice of blue on the album cover, one in which Idahams gazes downwards introspectively. It's the look of a man who has endured countless opposition on his trajectory to destiny. That man finds a microphone, and suddenly everything is possible. He's able to do this: create an album which compresses almost a decade of adulthood into songs, and yet align that with stories of the many who share those same experiences.
When Idahams moved to Lagos in 2017, he planned to meet some prospective partners who'd invest in his album. "It didn't work out," he says now without any tinge of regret, further sharing how the event spurred him to learn production. A friend taught him to produce and he taught them how to play the keyboard, an instrument he's played since starting out in the church's choir.
He started a studio when he returned to Port Harcourt, producing and writing for others, and sparingly putting out his own records. A number of songs he wrote became regional hits, and after convinced he'd "paid [his] dues," he sought a career as an artist, recording a five-track demo and sending it to labels country-wide. Idahams was later signed onto Grafton Records, the foremost record label operating in Port Harcourt. When the call from its CEO came through, the musician was still mourning his beloved mother—thus his imminent signing was like a dove flying bright over a streak of dark clouds.
Going down memory lane, Idahams recounts how his parents had funded his entry into professional music, encouraging him to explore his creative talents. "I'm a destined child," he says with a bright tone, "Right from back then, when I was still at home, the love I got from my parents I knew that yeah, I was destined for greatness. Sometimes you're trying to build something for yourself and it's not coming through, and miraculously it just happens when you've lost hope, so God did."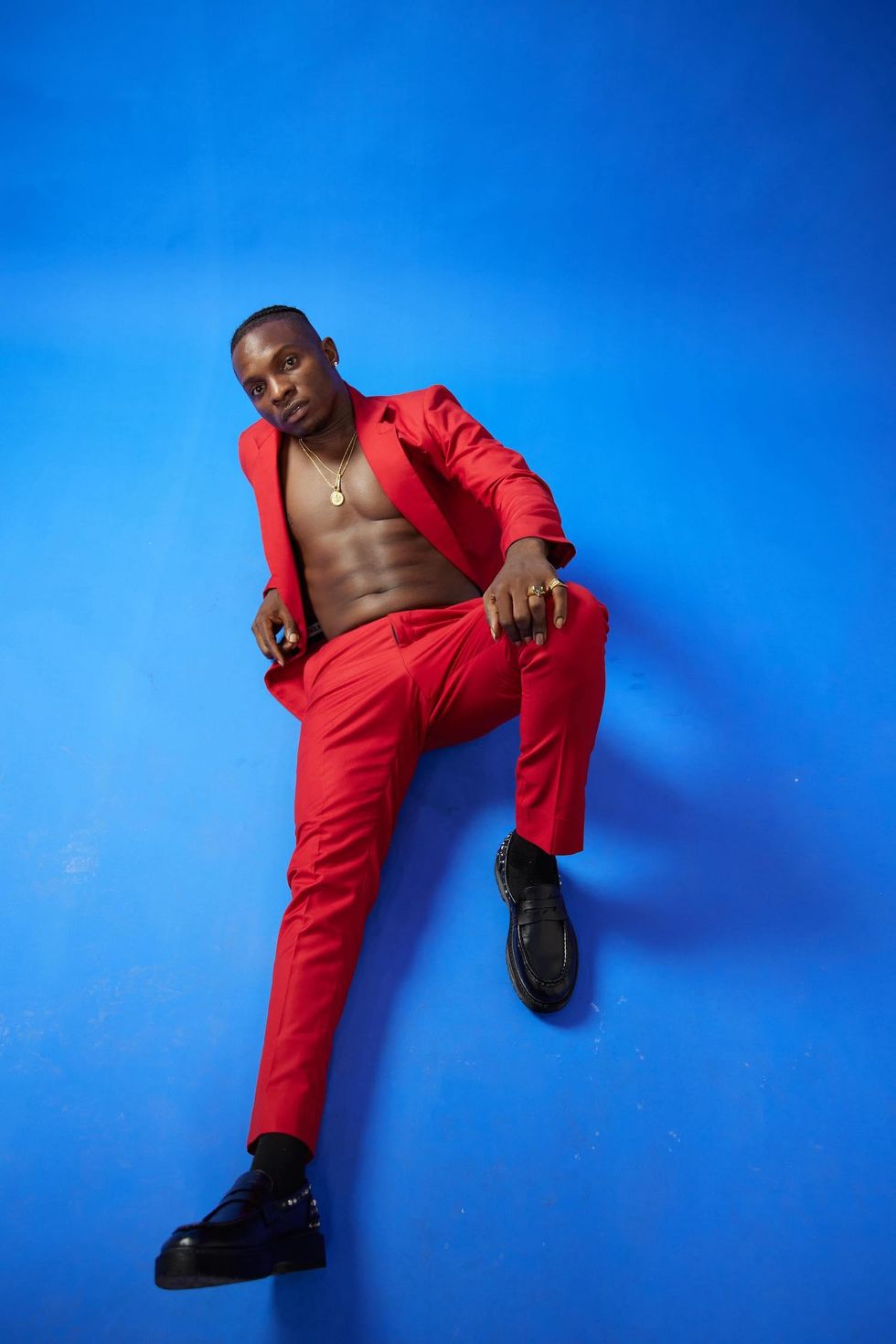 Idahams.
Photo courtesy of the artist.
Idahams always had acumen for entertainment, and was social prefect in secondary school. Even in conversation, he's very in-tune with the ebbs of his journey, relaying the stories and nuances with the flair of a natural. Stretching even deeper into his roots, you'll see he's an indigene of Bonny Island, a part of Port Harcourt that's more famous for its oil corporations than music artists. He was able to create from that scene, and afterwards stitched the colorful grandeur of highlife—which was all he ever heard his father play—into his early tapes.
The duo of Amayanabo (which translates to King) and Man on Fire, released in 2019 and 2020 respectively, were adequate points for Idahams to experiment with his artistry. He's very much matured in Truth, Love & Confessions, paring down the south-style drums for evocative strings and synths, arriving at a modern debut album.
"I love things to go well for my people," says Idahams somewhere in the middle of our conversation. We're discussing his Southern roots and how it informs his identity. About two years ago, Idahams was among the few celebrities who spoke against the menace of sea piracy, which was at the time rife on the waters which led in and out of the Bonny Island.
He lost a friend, and that's why on records like "Kpofire" and "Where I'm From" you hear that closely lingering emotion of angst. In the former, he sings on the chorus, "my people dey die, pollution dey kpai, even fish dey die," his vocals eerily contemplative over the mid-tempo production. The latter closes out the album, drawn from the southern tradition of protest songs, with an interpolation of Original Stereoman's "E Dey Pain" bringing even more local texture to Idahams' soulful singing.
"A whole lot of youths look up to me," he tells me now, underlining why it's important for his music to have truth. "If not for where I come from, I don't think I'll be so inspired to make such amazing music."
Moving ahead, we arrive at love's door. Of course, the theme has an elevated space in Afropop and on Truth, Love & Confessions, there are a number of songs cut from the richness of its material. "I expect the unexpected," he cheekily responds when I ask how he perceives love. "Whatever you see, just take it. You don't have to kill yourself".
Well, there's more wisdom to be found in the songs and speaking of the confessions, Idahams describes some of his real life experiences on wax. The one he shares with me is probably too personal, but a close listen to the records will reveal some standout moments throughout his life. To bring his vision into life, Idahams was very intentional with his collaborations as well. Along with the assistance of his A&R, he presents a pan-African vision for the body of work, and sometimes transcends those borders for truer representation.
From recording the lead single "Bad Girl" at the Lagos home of his "brothers" Ajebo Hustlers, he moved eastwards, working with Kenyan musicians Xenia Manasseh and Muthaka on "Hate That I Love" and "Somebody's Daughter" respectively. On "Pressure," he calls up the duo of underground UK rapper Tugga Skii and Metha4our, both lining incredible rap verses on the record. Canadian artist Zach Zoya features on "Lovina (Remix)," which is one of my favorites from the album.
More than thirty minutes gone, Idahams and I approach the end of what has been a refreshing discussion. It's obvious when an artist is deeply involved in their creative process, and Idahams is one such artist. When I ask him what Truth, Love & Confessions represents for him in the still-ongoing motions of his career, he wastes no time in responding.
"TLC is what it's about," he responds almost immediately with an air of accomplishment. "I want people to learn from my stories, learn from my challenges, give them hope, you know. People are going through a whole lot, yeah? So I didn't do this album because I just wanted to drop an album. They're millions of people out there with similar stories that want to give up; one thing they should always know is that, nobody has life figured out. We're just fighting our battles."
Listen to Idahams' TLC below.