Meet Naomi Doras, aka NomesDee, a young Zambian visual artist navigating the ether of Black Girl Magic and beyond.
---
NomesDee's reel of graphic illustrations unravel digital personalities and transplants them into an ethereal realm. Reimaging her muses as virtual illustrations, she produces stunning portraits that she hopes will inspire others to create and express themselves freely.
Her artworks reflect the deepness of Zambia's spiritual waters and a multiplicity of hybrid postcolonial cyber personalities.
"I am inspired by afrofuturism, anime as well as nature. I aim to combine these worlds in a way that is accessible to everyone" she tells Okayafrica over email.
Having studied film in Australia for five years, NomesDee is currently based in Lusaka, where she spends her time tapping into social media's unconventional beauty types. Dabbling in video and paint, she's been honing her graphic arts craft since her high school days in Lusaka.
NomesDee revels in the beauty of the internet. "It allows us to connect with people that we find interesting but would not necessarily have the chance to meet IRL" she says, adding that she's always been interested in the way people portray themselves on social media.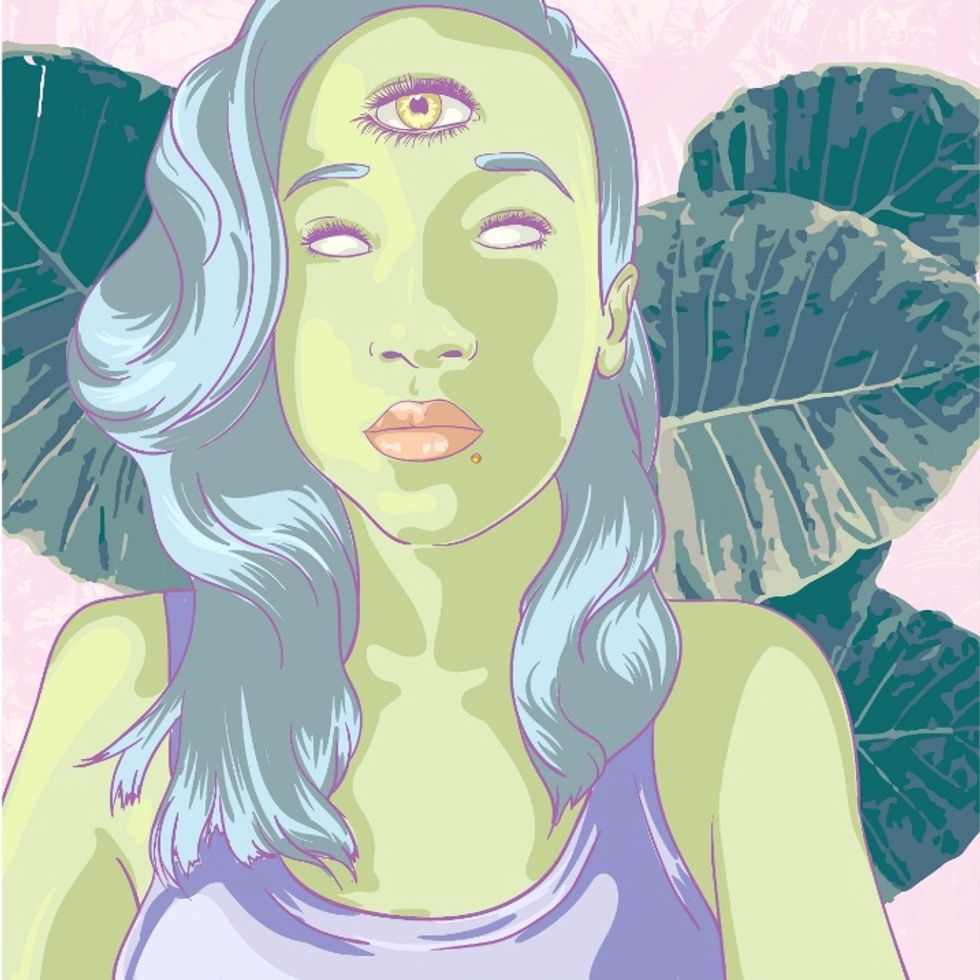 Nomes. Courtesy of NomesDee
The #BlackGirlMagic mission is clear. "My series aims to highlight this carefree agency, while adding whimsical elements that I feel represent themselves and my own projections on them" NomesDee says. "I feel that we have a lot to say about our experience and art is a great way to express this to others" she tells me of her particular interest in collaborating with other female artists.
Los Angeles-based illustrator Markus Prime and the Art Hoe Collective are a few of the artists that inspire NomesDee in terms of how they represent online identities and how the digital diaspora navigates these spaces. "I am influenced by the ways in which their appropriation of popular superheroes puts people of colour in positions of power" she says. When it comes to aesthetic inspiration, Petra Collins is a huge source of inspiration. "[She's] an absolute G when it comes to her portraiture and depictions of women and their personal portrayals online" NomesDee says of the Toronto-based artist and photographer.
If you're in Lusaka next month be sure to check out NomesDee's exhibition of portraiture and still life at Henry Tayali, opening on the 9th of July.
You can explore NomesDee's psychedelic world on Instagram and Facebook.
Chaze has got Zambian roots and is currently making the most out of a polyamorous relationship between poetry, photography and documentary filmmaking in Cape Town.