Controversial
Omarosa Was on a Panel About Police Brutality and Needless to Say it Went Off the Rails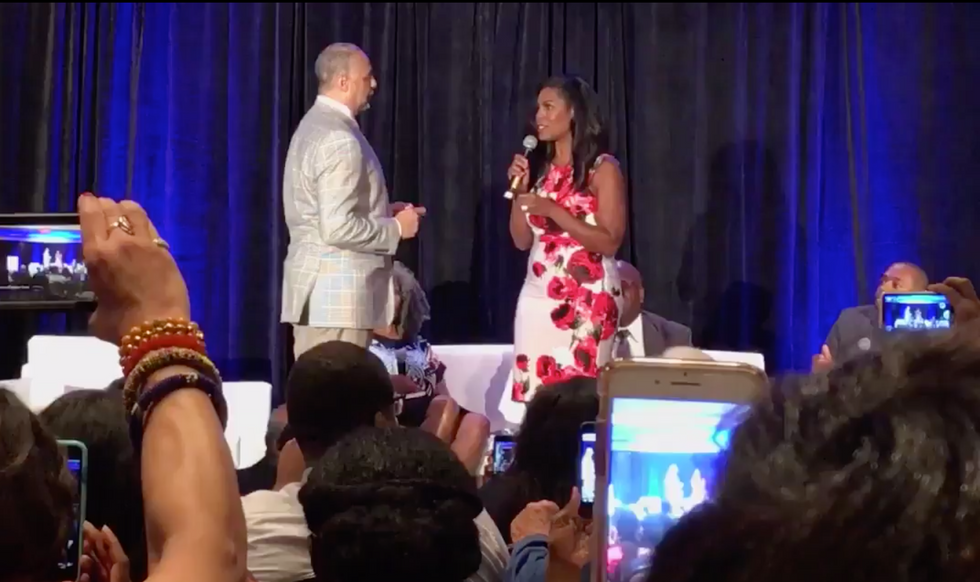 There was little love for Omarosa Manigault at this year's National Association of Black Journalism Conference as attendees turned their backs and a panel on police brutality descended into chaos.
We've written about Omarosa Manigault before in not so flattering terms. That was one writer's opinion though.
---
Today she's causing an uproar in the American media sphere due to a panel appearance at the National Association of Black Journalist's Conference in New Orleans that people in the audience are calling everything from "tense" to "31 minutes of pure insanity."
The drama started when Omarosa, a White House political aide and Trump associate, was added to a panel on police brutality at the last minute causing everyone from the moderator—the New Yorker's Jelani Cobb—and another panelist—New York Times' Nikole Hannah-Jones—to pull out citing opposition to her last minute inclusion. Understandably, the journalists might be wary of a member of an administration that's show open hostility to working journalists and has issued some less than stellar rhetoric around police brutality.
An unnamed source told Page Six, "The majority there don't want her involved. It's heavy drama —even the moderator is refusing. Everyone sees it as extremely offensive."
Here's a short clip of what you missed by not going to this years National Association of Black Journalist's Conference in New Orleans plus some of the better reactions to the drama, below.
Omarosa and Ed are on their feet, giving every single journalist in this room what they came for - drama. #NABJ17 https://t.co/ZBmE502V1F

— maya king (@maya king) 1502483850.0
this omarosa appearance is beneath NABJ

— Wesley Lowery (@Wesley Lowery) 1502483132.0
"I fight on the front lines every day," Omarosa tells packed room at NABJ, to groans.

— Lydia Polgreen (@Lydia Polgreen) 1502483034.0
Attendees are standing and turning their backs to Omarosa Manigault's #NABJ17 panel participation. Others are walki… https://t.co/IL7K3peuDJ

— Suzette Hackney (@Suzette Hackney) 1502483968.0
Omarosa just told this moderator, "Shame on you." His response literally included, "so here's what you're not gonna do..." #NABJ17

— Sam Sanders (@Sam Sanders) 1502484517.0
Omarosa literally just ran out. #NABJ17

— Zerlina Maxwell (@Zerlina Maxwell) 1502484732.0
Omarosa Manigault has left the stage. That was 31 minutes of pure insanity.

— Yamiche Alcindor (@Yamiche Alcindor) 1502484734.0
Not everyone was annoyed though:
THIS @OMAROSA DRAMA AT #NABJ17 COULD HAVE BEEN AVOIDED BUT IM GLAD IT HAPPENED BC I LOVE DRAMA https://t.co/YJL1S2dn9b

— awkward connoisseur (@awkward connoisseur) 1502486957.0