A little over a decade ago, Eswatini's hip-hop scene was essentially non-existent. Today, however, the genre is one of the most prominent in the country. This growth has produced many talented rappers who are contributing tirelessly to keeping the genre alive in the country.
One such artist is Oriiginelle, an emcee who has had a busy few years. In 2016, she bagged the Best Female Artist accolade at the Swaziland Hip Hop Awards. That same year, her hit single "Emadloti" caught The Game's attention and she opened for Rick Ross during a New Year's Eve show in Botswana.
Oriiginelle had already introduced herself to the scene with a cover of Desiigner's "Panda", which featured childhood friend and fellow musician Milkiee. The song would later worm its way onto Eswatini's radio charts after gaining popularity online. She went on to release her debut EP August Dreams in 2017.
Between then and now, the 24-year-old emcee has consistently released singles — for instance, "Who Dis" and "Crooks". Be it through an appearance on the 2019 Yo! MTV Raps Africa Cypher or releasing notable singles such as "Emadloti", Oriiginelle is a cog in the machine.
---
Oriiginelle, who usually raps in English surprised many with effortless siSwati bars and impressive rhyme schemes on "Emadloti". On the track, she alludes to being so talented that, even, the ancestors ("emadloti") are vibing to her music. In the second part of the hook, she smartly plays around with "Makhosi", a phrase commonly used to refer to ancestors and references her government name Makhosazana.
"Emadloti" is the lead single in her latest project "Phazed". The six-track, self-produced EP features rappers Spykie Mashele, Mozaik the Producer, CoKayn, Pharoo, VenusRaps, Sigcino Mwelase and Wordsmith Felix.
Phazed is a reflection of a phase in Oriiginelle's life where she was fazed by the girls, ego-stroking and partying. In the second verse of "Head Please", she speaks about her rocky relationship with her dad and her disregard for some people's emotions because she, too, was emotionless during that period. She also delves into how she has come to terms with losing people, and that she is working hard at being remembered as a great rapper. On the track "Estar Tranquila", where she ponders on lost platonic relationships that hurt her deeply, she raps: "Shit is different every day/ Gotta pave the way/to be great/Lord is my witness things fade/ People come and go/and that's okay". These heavy topics are packaged and delivered in a cool manner that makes it seem like she was unfazed.
In the interview below, Oriiginelle speaks on her achievements, breaks down "Phazed" and how Africans have always had the key to their own success — among other topics.
NB: This interview has been slightly edited for clarity and length.
How did your moniker come about?
Oriiginelle came at a time when I was stuck between who I am, who I knew I could be and who I was supposed to be. All three scenarios were spread across three different industries so it was a matter of using those paths to get to one I'd be satisfied with when all was said and done — hence the three "i"s in my name.
I also wanted something original hence the homophone. I also didn't want to leave out my femininity because judging by my look, one would think I desperately want to be a boy when that's not the case. I'm just more masculine than feminine, but I do put my feminine side on the highest pedestal — hence the "Elle" at the end of my moniker which means "she" in French.
Emadloti (feat. Mozaik The Producer)www.youtube.com
Why did you drop your previous moniker Kay T?
My state of mind and the goals I wanted to achieve weren't aligned with that name, and I'm big on meanings behind names. I even take my government name very seriously. So, it's very important for me to have a name that aligns with the journey of reaching the unattainable. I'm a lowkey chakra hun (chuckles) — kidding.
Take us through the meaning of your album title "Phazed".
"Phazed" was a musical phase that I went through — being so caught up on girls, the partying, the ego-stroking that I wasn't necessarily allowed to look into when I was working with my previous team.
I'm all about expressing every stage of my life through music, so I knew it was a phase I wanted to express at some point — regardless of me being over that life stage. I needed to express it the only way I knew how, than to wait around for the perfect state of mind or perfect sound. More than anything, it's important to always take that step because how else will I grow with my audience if I don't show them my starting point?
A series of events inspired the EP. I'd like to assume that most artists create in accordance with their experiences, which was the case for me as well. I was feeling cocky, confident, quite the savage and living it up — so I wanted to put it out there.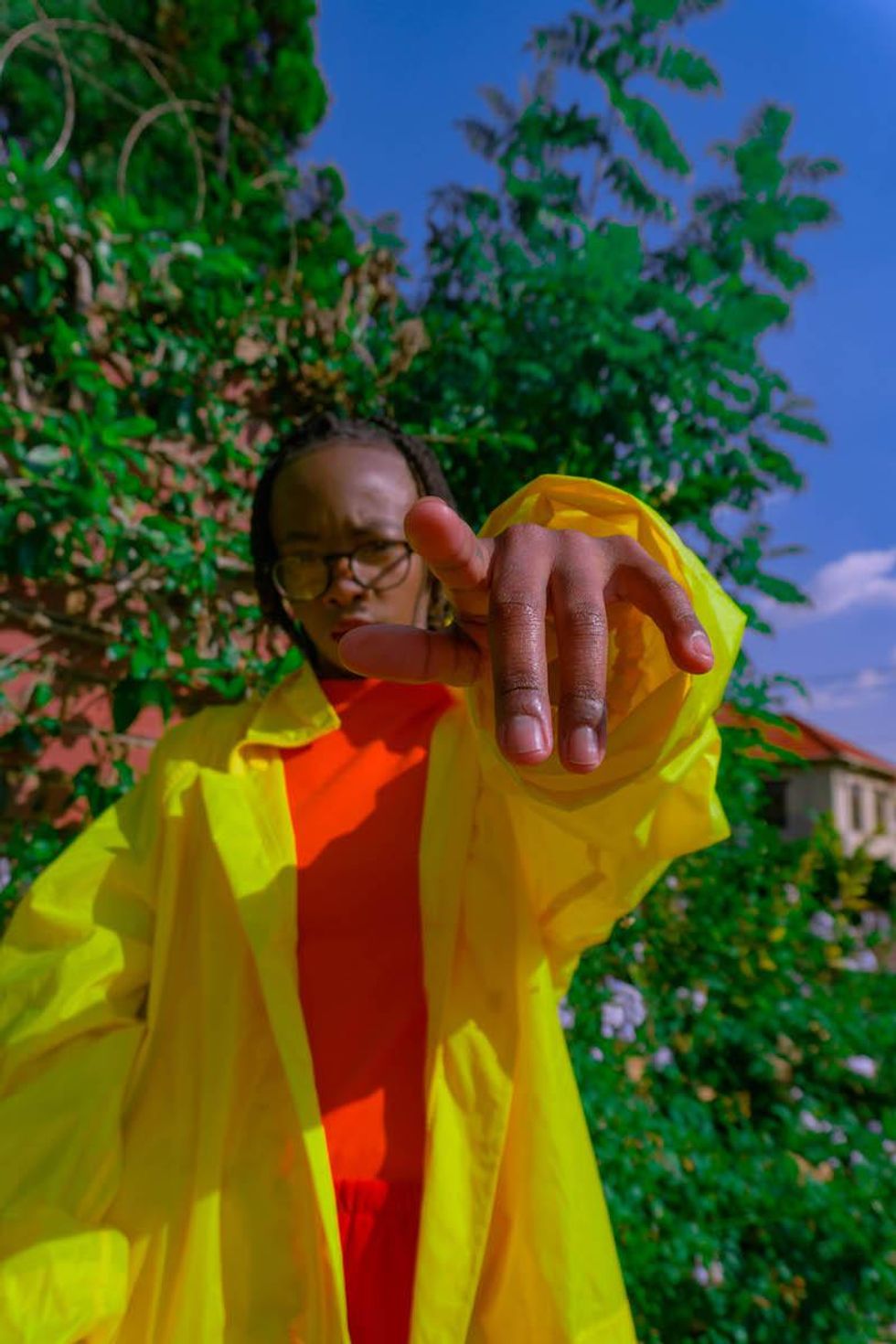 Oriiginelle. Image courtesy of artist.
Briefly share about the experience of opening up for Rick Ross?
That was a crazy hey! It was one experience that got me out of my comfort zone and taught me what it meant to be a performer for real. I'd always been comfortable with the Swazi and South African crowds and knew what to expect from them. But Botswana and Rick Ross?
I was nervous and scared that I'd be booed off stage because they didn't know my songs. I was such a mess! Everything went well though — the crowd was amazing and the vibes top tier! Rick Ross even gave us a blunt which turned my night into a big blur [chuckles]. Honestly, it was one of the best things I'd ever experienced.
Your single "Emadloti" got a nod from The Game. Did that mean anything to you?
It means a lot. Not just for me though, but the eSwatini music industry as a whole. The way I took this recognition was that even us who never necessarily get recognised because Eswatini is such a small country, and music isn't a go-to career for many, can get recognised by global stars. And to top it off, it wasn't an American-influenced song that got us that recognition. That really opened my eyes to the fact that we as Africans have always had the key. We just hadn't realised it but I think we do now. Our culture is too rich to be ignored.
In "Emadloti", you rap seamlessly in siSwati. What inspired this direction?
The topic alone is strong and needed a strong character to bring it to the fore. I am at my strongest when I am myself — myself being an individual born and raised in Eswatini. The goal was authenticity. I actually finished it in 2018 but decided to release it two years later because, prior to the release, I hadn't fully acknowledged my roots and who I truly am. Just two years ago, I wasn't so fluent in my mother tongue due to Western influences. In those two years, I transitioned from who I was to who I knew I could be.
What is your most memorable career moment?
Too many. I've had too many firsts and they are all just unbelievable! The call from MTV Base for the cypher, The Game DMing me, producing "Phazed," Scoop Makhathini posting about me, opening for Rick Ross, headlining a gig in my country, working with MTN, doing the SWAMA medley, getting my first paycheque from music. It's endless and wild — just mentioning all these achievements is shocking me. I'm not too shabby after all [chuckles].
Stream "Phazed" on Apple Music and Spotify.
Follow Oriiginelle on Twitter, Instagram, SoundCloud and Facebook.