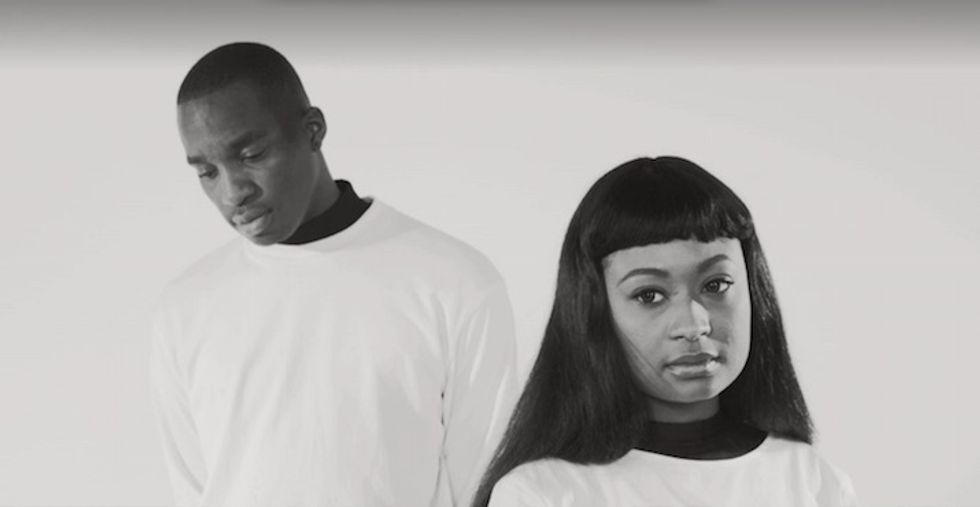 Watch the minimalist, black-and-white video for South African noirwave producer Petite Noir's "The Fall."
---
South African producer Yannick Illunga aka Petite Noir explores the push-and-pull of a relationship in the minimalist, black-and-white visuals for "The Fall," his sparse electronic single off The King Of Anxiety EP. The music video, directed by and starring Illunga alongside his girlfriend Rochelle Nembhard, is inspired by performance artist Marina Abramovic's 2010 MoMA show The Artist Is Present. "The video is based on my real relationship, but it's overexaggerated," Illunga tells T Magazine, "[it] shows what a relationship in general is: our attempt to lose selfness and achieve unity. When we fall, we fall together."
In addition, Petite Noir expanded on the term 'noirwave,' which he coined. "The term 'African music' is so overused," he mentions to T Magazine, "to the point that when some people say it, it just sounds cheesy. Noirwave was always meant to include clothing, art, photography, music obviously — all types of things. It's taking the Africa that we know, turning it upside down and bringing people a new black. Solange is super Noirwave. So is Beyoncé. Noirwave is pop culture — it's coming, but right now it's just boiling."
"The Fall" is the fourth single off Petite Noir's new EP and follows "Chess,""Till We Ghosts" ft. Yasiin Bey, and "Shadows." Watch the music video for "The Fall" below, The King Of Anxiety is out now via Domino Records.