Joy is a theme that Reekado Banks keeps returning towards. In an arduous year additionally defined by landmark movements across the world, the 26-year-old musician born Ayoleyi Hanniel Solomon has managed to find pockets of happiness wherever he can. It has not always been easy to maintain that perspective in a year such as this.

After opening the 2020 at full speed with a series of tour dates, determined to kick off the second part of his career properly, COVID-19 struck. And with Nigerian borders closed for a while, the musician had to stay put in Gabon for much of lockdown and its immediate aftermath. "That time was a period for me to grow personally and I really took my time to do that," he shares during our Zoom call.
Much of his growth, as a person and musician, is trackable on Off The Record, the recently released seven-song extended play that has been a little over a year in the works. "Off The Record was conceived in 2019," he admits. The result of all those months of tweaking and delays is a delightful display of Reekado Banks' new-found penchant for minimalist production that accentuates the range of his serene vocals, giving way to stellar collaborations with Tiwa Savage on "Speak To Me," and Harmonize on "Mama."
Still, Reekado is quick to warn that he's only getting started, making mention of the stash of music that he still has to choose from even as he continues to write more songs. The aim is to come for everything he has always wanted. "Right now, I really just want more and the hunger is crazier," he says with all seriousness at the tail-end of our conversation.
Below, we talk about 2020, life, Off The Record, and what his aims are.
---
Image courtesy of Reekado Banks.
How has your year been?

It's been an eventful year for me. I've been in positions I didn't think I was ever going to be in. I was away (from Nigeria) for like six months, and until I left, it was indefinite when I was going to come back; so, it was a crazy mental space. But I've been back thankfully. I did shows earlier in the year. I had a recording camp in Atlanta earlier in the year. I had a tour in the United Kingdom. This year has really been so many things that don't even correlate but I'm happy to be here and happy to be putting out a project that is really dear to me. It's my second project and it's coming after four years, it coming this year just sums up how eventful the year has been.
I'm curious about you being in Gabon for that long during the year, what was that experience like for you?
It was crazy, not even just for me, but for people across the world, but I was in a good environment. Gabon is really beautiful and I lived by the beach. I had a really great time with nature and peace and connecting with myself. That time was a period for me to grow personally and I really took my time to do that. I also worked out a lot. I just felt like I had to take that time to grow up. Also, the indefinite timing of not knowing when I could come back made me really productive because I had to keep doing stuff regardless of knowing when I was going to come back to Nigeria.
It's been four years since your debut album, Spotlight, why has it taken four years to get another Reekado Banks project out?
Between 2016, when I dropped Spotlight, and now, I've left Mavin Records, I have gone on to establish my own label, and I've also changed management. They've all been big steps in my career that needed so much time and detail. I thought it was going to be possible to mix up the music with the back-end but it really wasn't as easy as I envisaged. So, I needed to focus on what was more important which was the back-end. Now that all of that is sorted and properly structured, the music is ready to come out, and I can't wait to give back-to-back music.
You mentioned leaving Mavin and navigating the process of establishing your own label, what lessons have you taken from that career move?
It's a constant learning process to be honest. I'm looking at people who have taken these steps ahead of me and done things. Like I said, I switched management, and it was all part of the process of emulating people who have taken steps ahead of me; but I'm still learning, it's a process. What I have taken on-board the most is to be open to re-education and learning.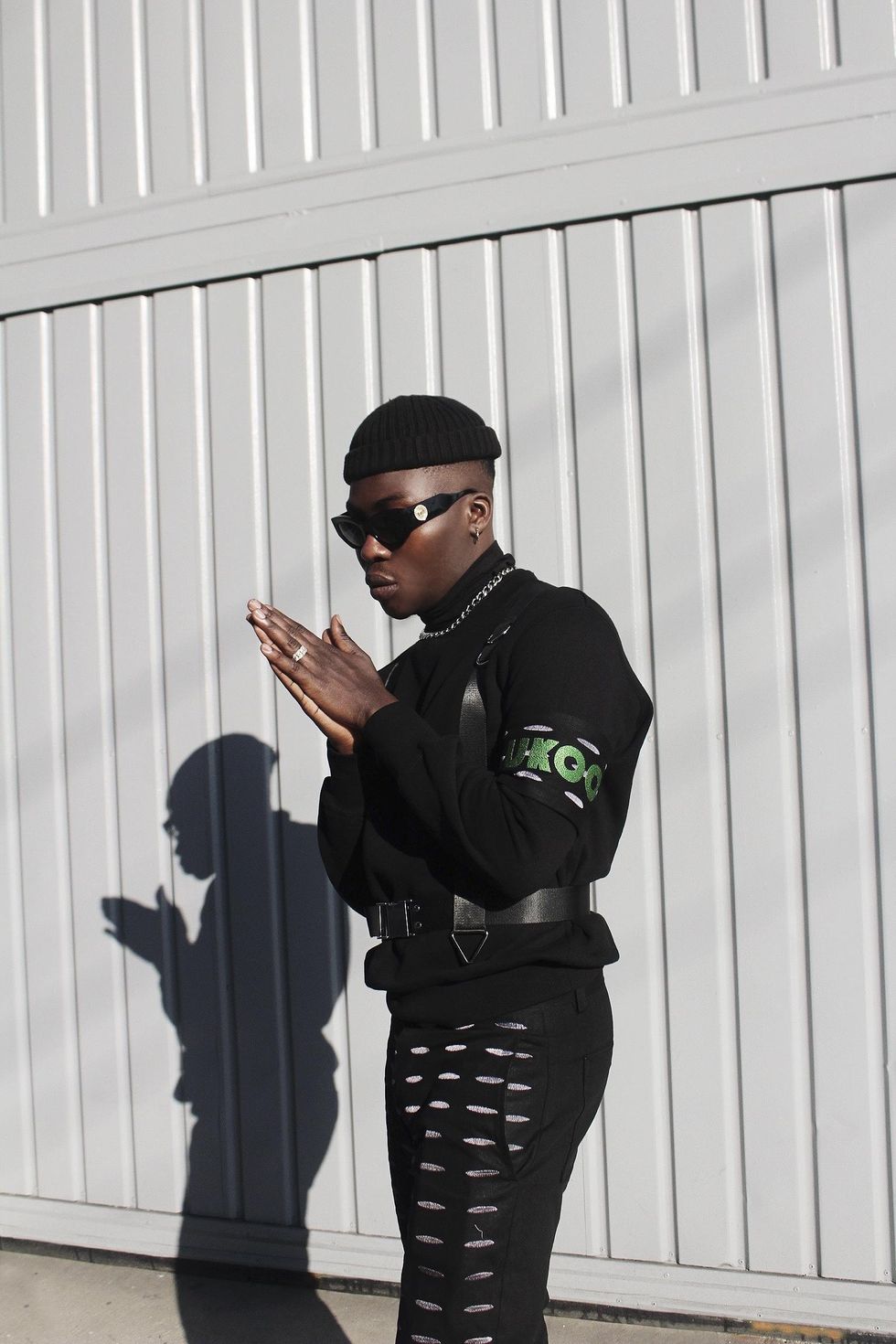 Image courtesy of Reekado Banks.
When did the idea for Off The Record start to form for you?

Off The Record was conceived in 2019. I had a recording camp in Lagos and we had a bunch of songs recorded and considering how many songs I already had, my management thought we should put out little bodies of work to give the fans stuff to listen to asides from an album or other bigger projects. We came up with the name, Off The Record, for one of those projects that we intended to give out to fans and that's how it all came about.
While making this project, did any studio session stand out for you?
Every session is memorable to me, considering the fact that I take my music seriously. It's not just vibes all the time. Many times, there's a process to what I'm doing. The way I make my music, I try to make all the songs have stories or a topic that it's touching on. So, every time in the studio is memorable.
For much of the last two years, the music you've made has perfected this thing of slowing down the pace of the music but still being rhythmically on-point , is that a conscious thing in your creative process?
My working process is to try and go with how I'm feeling at the moment. Also, I like to work with amazing producers, they're talented people that can do and undo stuff. I'm also big on trying new things, so, when I'm in the studio, I want to be free. At the end, it doesn't always have the same process or be the same beat, I just need to be sure of the message I'm trying to pass or what I'm talking about really.
The project has been postponed a number of times, how has that process been for you, having to wait?
Man, it's been hard. But I believe patience is a virtue and I know the project is coming out at the best time, so I'm happy about that.
You were pretty involved with the #EndSARS protests in offline and online capacities, what was that like for you?
It was a great sight. I was so happy to be a part of that and more happy to have contributed to the feeding of young people in the Lekki and Ikeja area. It was a good time because the youths came together with one voice and stayed united regardless of the fact that we weren't being listened to. But, at least, the government heard us and continuing from now, I'll be very consciously involved in helping people understand the importance of voting and staying involved in the political process as well as everything that concerns Nigeria because we can't run away from the country in the end.
What do you think has changed about the Reekado Banks that released Spotlight and the one that made Off The Record?
Reekado Banks dropped "Katapot" in 2015, my career kicked off in 2014, and 2020 makes it six years since I've been here. So, I think it's really nice to have been here for this long and sometimes I don't believe that I'm the one that's here getting all the respect and love I desired. But right now, I really just want more and the hunger is crazier; and that's the difference between the Reekado Banks of then and now. The hunger is prime. I'm coming for everything and more.