"Surfers in Senegal are one big extended family," Khadijou Sambe, one of Senegal's first and only female surfers, says. In the conservative, predominantly Muslim country, Sambe is an anomaly in a sport on Dakar's beaches.
---
Since the premiere of the 1960s surf cult classic, Endless Summer, Senegal's swells attracted a growing number of surfers. Similar to other growing surf hotspots like Côte d'Ivoire, expatriates and tourists dominate Senegal's surf community. In recent years, however, more locals are hitting the waves. Now, Sambe and Walid Moukadem, owner of the newly launched MCXNboards, are partnering to change the face of Senegalese surf through an inclusive, homegrown model.
While Senegalese women may watch surfers from the shore, they rarely take to the water themselves because of cultural taboos. Sambe grew up in Lebou, a fishing village in N'Gor, a tiny island made famous through Endless Summer. She started surfing after she met surf instructor Pape Sambe Ndiaye.
"When I told him that I wanted to learn to surf, he looked at me a bit strangely and asked if my family knew what I was doing," Sambe says to Okayafrica. "He asked me to have my parents fill out a registration form and told me I could start to learn as soon as they signed the completed form. I knew that my family would disapprove—they didn't think that surfing was for girls—so I took the form home and filled it out myself."
Ndiaye offered free lessons to Sambe and some other local teenagers, but the girls in the small class were soon forced to give up surfing due to familial pressure. Sambe managed to fly under her own family's radar for years by sneaking out of her window to go to the beach—until she got caught.
After giving up surfing briefly in 2013 to keep the peace at home, she decided to return to the water and joined the team at Malika Surf Camp, one of Senegal's top surf schools, first as the manager of the surfboard rental shop and now as an instructor.
At Malika, Sambe met Moukadem, a Lebanese-Senegalese businessman-turned-entrepreneur. Moukadem began surfing at 2014 at the encouragement of his wife, Katie, and immediately fell in love with the sport, but plateaued in development without access to better boards.
Walid Moukadem, owner of MCXNboards and Khadijou Sambe, surfer and brand ambassador. Photo courtesy of MCXNboards.
"When you a surf with a board that is adapted to your size, level and local surf conditions, you can progress much faster," he says. "Unfortunately, there weren't any shapers in Dakar at that time. So, I had to buy an imported board. I've seen many other people who end up using or buying boards that are not well-suited for them, and they often become frustrated that they don't progress in their surfing. Having the right board can make all the difference."
At first, Moukadem only repaired his own boards, but eventually learned to shape boards himself—even painting designs on them. In 2015, he trained with Alvaro Fernandez, founder of RodiRide boards, to further develop his skills. After his training, he came back to Senegal, turned his garage into a fully equipped professional shaping room, and launched MCXNboards only a few months later.
MCXN produces Senegal's only locally-made foam/polyester/epoxy boards. While some local Senegalese surfers have experimented with locally-made wooden boards, they generally have limited performance in the water. They all are custom-made, and take into account the person's weight, height, surfing level, fitness level, and surfing environment. According to Moukadem, "It's kind of like having a suit or dress custom-made by a tailor rather than buying a readymade suit or dress. The final product is a board that is tailor made for your individual needs and preferences."
The brand's name stands for Mouk's Connection. The name derives from Moukadem's surname and stands for the owner's goal of celebrating Senegal's vibrant and diverse surf community. Through MCXNboards, Moukadem hopes to grow Senegal's surf culture on the international stage, and build more connections between surfers across West Africa.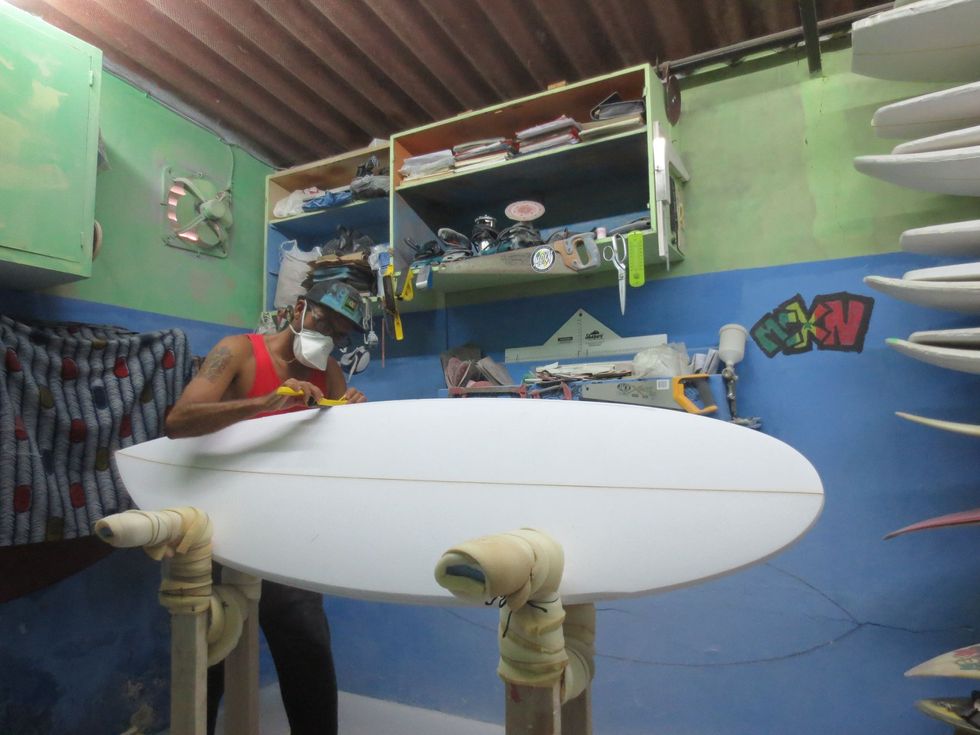 Photo courtesy of MCXNboards.
Moukadem hopes these surfers won't be limited to men. Sambe, Moukadem's former surf instructor turned close friend, serves as MCXN's brand ambassador in an effort to promote the company's social development mission. Through working with Sambe, MCXN hopes to develop strategies to tackle gender inequality and to encourage other young women to pursue their passions.
"Before MCXNboards started-up, I had never owned my own surfboard," Sambe says. "Having my own board has helped me to find the courage to keep doing what I love. I hope that, in the future, more Senegalese women will surf."
MCXN also has plans to expand its social mission to include projects focused on protecting the sea and supporting local artisans. Tapping into Dakar's vibrant urban arts scene, Moukadem is in talks with local graffiti collectives to produce joint artwork for their boards. Through creating more avenues for artistic expression, he hopes that MCXN can positively contribute to Senegal's social and economic development.
"Surfing has an amazing ability to bring people together, to empower people to reach their potential and to bring people closer to nature," Moukadem says. "I truly believe that a home-grown surf culture has the potential to contribute to wider social and economic development in Senegal."