As the conversation around the restitution of stolen art and treasures from Africa continues, some action has taken place that has shaken up the museum world.
The Senegalese government has demanded that all of their art in French museums should be returned, as the country will soon open the new Museum of Black Civilizations in Dakar, BBCreports.
This news comes in lieu of "The Restitution of African Cultural Heritage: Toward a New Relational Ethics" report that was released last week by economist Felwine Sarr and art historian Bénédicte Savoy; commissioned by France's President Emmanuel Macron. You can download the full report in French and English here. The report highly urges that stolen African artifacts must be returned to their countries of origin permanently.
---
Abdou Latif Coulibaly, Senegal's culture minister, tells the BBC that they've already asked the French government to return more than 100 artifacts. He also welcomes the report as "every piece from Senegal is in France."
"We've read it and we consider it's a positive report," Coulibaly continues, "it's legitimate and follows the course of history."
Prior to this news, Macron as also called on 26 Benin bronze artifacts to be returned to their country of origin "without delay," based on a proposal from the Quai Museum and the French ministry of culture, Artnet Newsreports. He also asked French museums to establish African partners to begin organizing returns and the development of an online inventory of museums' African collections.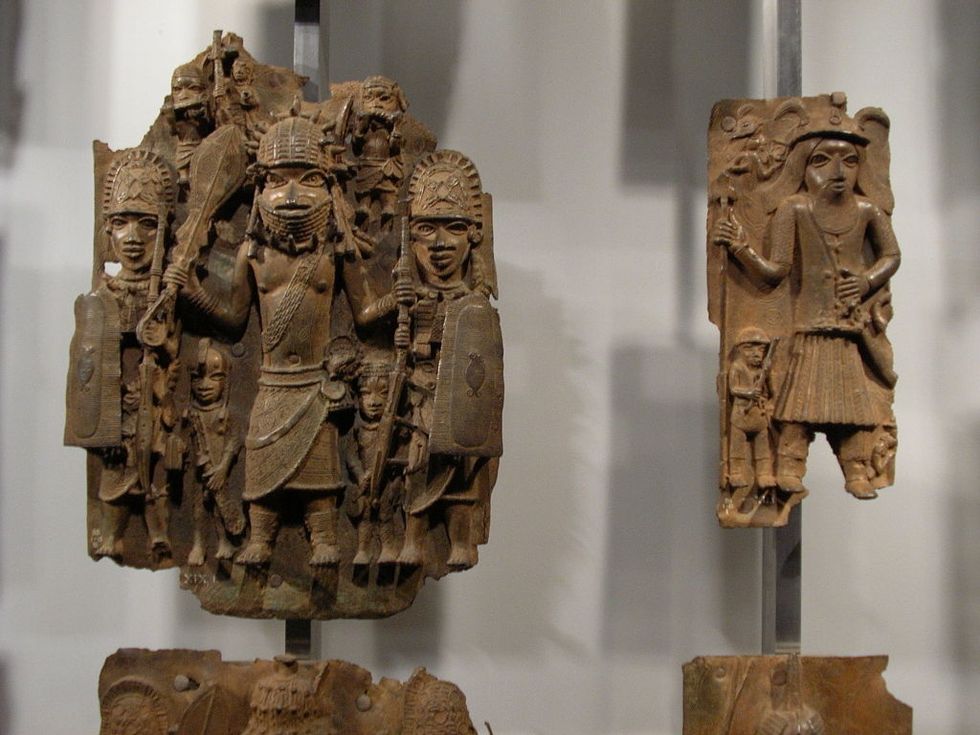 Benin Bronzes. Victoria & Albert Museum. Photo via Wikimedia Commons.
Among the artifacts that will be returned include three statues of the kings of Abomey, thrones, ornamental doors and a statue of the god Gou. Artnet adds that these items were stolen during General Dodd's bloody siege on the Béhanzin palace in 1892. There are plans for these artifacts to be made available to the public in Benin.

Prince Kum'a Ndumbe III, who represents the Duala people in Cameroon, tells The New York Times that such a commitment displayed in the report has been long overdue since French-speaking African countries gained independence from France in 1960.
"This is not just about the return of African art," he says. "When someone's stolen your soul, it's very difficult to survive as a people."
Last month, the Benin Dialogue Group has been in conversations with European museums about the repatriation of their stolen art, and plans to do so are continuing moving forward—starting with the British Museum, CNNadds. The caveat with these negotiations remain that this agreement would allow these museums to place these artifacts on loan to their country of origin.
"We are grateful these steps are being taken but we hope they are only the first steps," Crusoe Osagie, spokesman for the Governor of Edo State, says to CNN. "If you have stolen property, you have to give it back."