Popular
A Stolen 18th Century Ethiopian Crown Has Been Returned from The Netherlands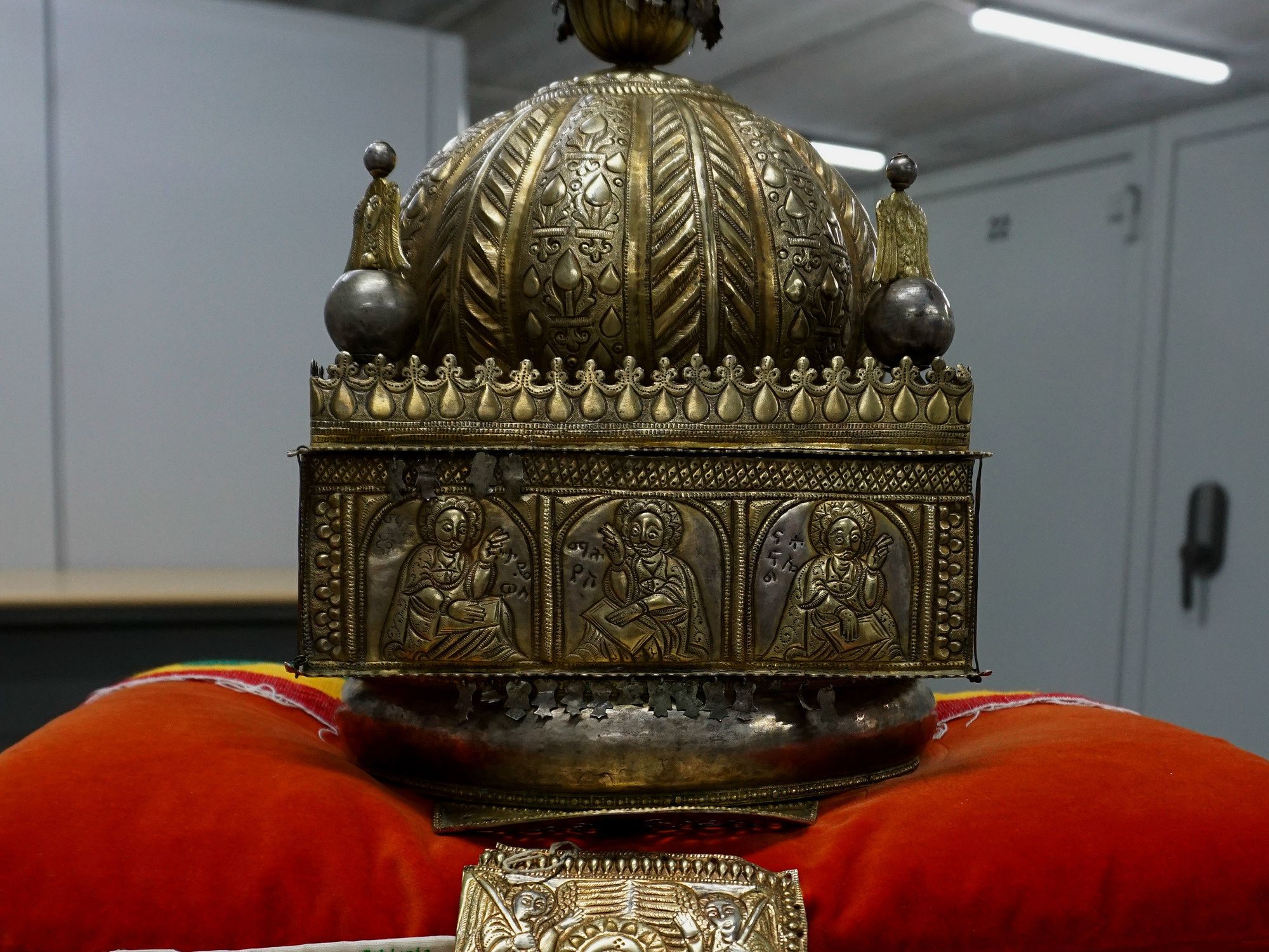 The ornate gilded copper headgear, which features images of Jesus Christ and the Twelve Apostles, was unearthed after refugee-turned-Dutch-citizen Sirak Asfaw contacted Dutch 'art detective' Arthur Brand. (Photo by Jan HENNOP/AFP) (Photo by JAN HENNOP/AFP via Getty Images)
The crown had been hidden in a Dutch apartment for 20 years.
In one of the latest developments around art repatriation, a stolen 18th century Ethiopian crown that was discovered decades ago in the Netherlands, has been sent back home.
Sirak Asfaw, an Ethiopian who fled to The Netherlands in the '70s, first found the relic in the suitcase of a visitor in 1998, reports BBC Africa. He reportedly protected the item for two decades, before informing Dutch "art crime investigator" Arthur Brandand authorities about his discovery last year.
The crown is one of only 20 in existence and features intricate Biblical depictions of Jesus, God and the Holy Spirit. Historians believe it was given to the church by the warlord Welde Sellase several centuries ago.
---
Ethiopia's Nobel Peace Prize-winning President Abiy Ahmed received the crown on Thursday. "Today Ethiopia receives a precious crown stolen several years ago and taken to the Netherlands," wrote the president on Twitter. "I am grateful to Sirak Asfaw and the Netherlands government for facilitating its return."
Today #Ethiopia receives a precious crown stolen several years ago and taken to the #Netherlands. I am grateful to… https://t.co/pQM8GTZcDr

— Abiy Ahmed Ali 🇪🇹 (@Abiy Ahmed Ali 🇪🇹) 1582185353.0
The crown is just one of hundreds of thousand reportedly looted African cultural relics believed to be housed in Western institutions and by private owners abroad. In 2018 Britain's Victoria and Albert Museum infamously offered to return treasures stolen form the empire of Emperor Tewodros II "on long-term loan."
In 2018, France's President Emmanuel Macron vowed to return 26 looted treasures to Benin, which it had previously colonized, however a 2019 report from The New York Times, suggests that not much additional progress has been made since.
Last year, we spoke with curator and art expert, Niama Sandy about what it would take to bring Africa's stolen treasures home. "I can't help but see irony in European institutions fighting to hold on to the very history it has claimed we do not have," said Sandy.
Other items recently returned include a 15th century Namibian stone cross that was stolen by German invaders in the 17th century, and a 19th century sword that was returned to Senegal from France last November.