Shay Lia might be one of the most humble and refreshing artists the game has seen in a long time. While the world may only recognize from Kaytranada records, it's time for the artist, born Shanice Dileita Mohamed, to shift gears and put her alias at the forefront.
Shay Lia was born in France before relocating to Djibouti, a country at the cusp of the Red Sea, at the age of four. It wasn't until she was 18-years-old that she moved to Canada, where the singer-songwriter discovered she could write songs while attending UQAM University in Montreal, a place she currently calls home.
Her signature sound lies in the melodies, whose ideas are often inspired by R&B, funk, and soul. When it comes to the beat, she just needs a good bass and something to dance too. Juggling between three cultures, Shay Lia accepts her diverse identity and the wide array of influences absorbed from each. At two to three years old, she picked up her "American" ways from watching videos on Youtube, something she doesn't even notice when she sings.
---
Fast forward to 2018, Shay is featured on Kaytranada's new single "Chances" and unleashing her own record "The Cycle" produced by Sango, OkayAfrica caught up with Shay in between a busy day of studio sessions, taking full advantage of her time in sunny Los Angeles.

For those who don't know, who is Shay Lia?
Shay Lia is a R&B/soul singer-songwriter based in Montreal. I'm from East Africa, that's where I grew up. I was born in France, so I am mixed. I'm Franco-Djibouti. Raised and spent all my life in Djibouti from 4 years old to 18. Montreal has been 6 years. I moved there to go to University, but that's also where I started. I wrote my first songs. I always loved music but that's where I discovered I really could write songs. It changed everything for me pretty much.
How would you describe your own sound?
It's really hard to describe my own sound. As a songwriter, the melodies are definitely R&B and soul-inspired. Now, I can work on a beat that would be more urban pop, like the song I just released, "The Cycle," produced by Sango. The beat is different from the other stuff I did before, the slow stuff or even the single with Kaytranada. I would say the signature is in the melodies... I love a groove so no matter the type of music, I need good bass, like the groovy shit. I love dancing too. I would say R&B because you can put everything into that category. Even when it comes to Kaytranada, he does EDM but not EDM electronic. It's more pop electronic, R&B electronic. What I've been doing the most lately is R&B, soul, and funk for sure, with a pop twist. That's pretty much what I have been focused on, those upbeat songs that are more funky.
Shay Lia. Image courtesy of the artist.
Tell us about your upbringing in Djibouti.

I don't know anyone famous from that country, if it's not in the political world. No one comes from Djibouti. It feels really lonely sometimes because I'm the only one. I'm not from Nigeria or South Africa where everything is going on. There is no music business there. There's no industry, they're not even trying. It's more like tribal music, you have a little percussion. I can't say you can hear any of my Djiboutian culture in my music, but it contributed to my identity and being okay with being different.
I learned that very young because when I go back to France, I'm the black one in my white French family. When I'm in Djibouti, I'm not totally from there but at the same time, I grew up there. I'm always really in between. I'm here now in LA and the vibe is so different from what I know. I try to find ways to connect with people and find that little thing that will make the connection. There's Shanice as a person, so European-African, then there's Shay Lia, which is pretty much something I created from my fantasies and just hearing songs in English. YouTube saved my life for sure, because I didn't have a community in Djibouti to ask "have you heard that new song from...?" I had friends in schools, but they weren't into my music that I loved so much.
It's something I kept for myself for a long time, nobody knew I could sing. The first time I released a song was through SoundCloud. It was on purpose because I wanted to make sure people could hear my accent. Make sure it was credible and the song was well-written. The day I realized I could, I was like "whoa, I could be anything basically." That's the message, even though it sounds corny. I didn't grow up having any of this around me. It was really different.
How often do you go back to Djibouti?

Usually once a year, but I haven't been in 5 years. Because my nuclear family (parents, sisters, brothers) don't live there anymore. They live in West Africa, Ivory Coast, which is very interesting because it's so different from Djibouti. People don't realize how countries are different in Africa. Musically, the culture, the people, it's bigger. I love it too, I can still feel Africa. I've been to North Africa, East, West, so I know I'm in Africa. I can tell.
It really depends on the country. I've never been to Ethiopia, but I know it's very green there. They have their own culture. Nothing's based on the Western Countries. You can feel it, because their culture is very strong. They're very proud of it. My country's closer to Somalia. It's Muslim. There's a lot of different people from all over the world because of where it's based. It's really at the Horn of Africa. When it comes to business, they are all there. We have a military presence for sure.
Now the beauty of the country—some places like Jamaica or south of France, it's just the beach—you can find that somewhere else. There's a bit of that in Djibouti, but it's mainly super dry and brown. You have landscapes that you won't find anywhere else in the world, the origin of humankind is there. Also you know the crack, like Africa is gonna separate in a million of years? What's funny is that when I was younger, the teacher was like "okay we're gonna go outside and see whatever." What we used to see was crazy. People from America and scientists come to Djibouti to study everything. We have a lake full of salt and it's under the level of sea, which is weird. We have landscapes that look like you're on the moon, for real. I'm gonna go back there for visuals, but not yet. If I can show another part of Africa, if I can present something else, then I'll do it.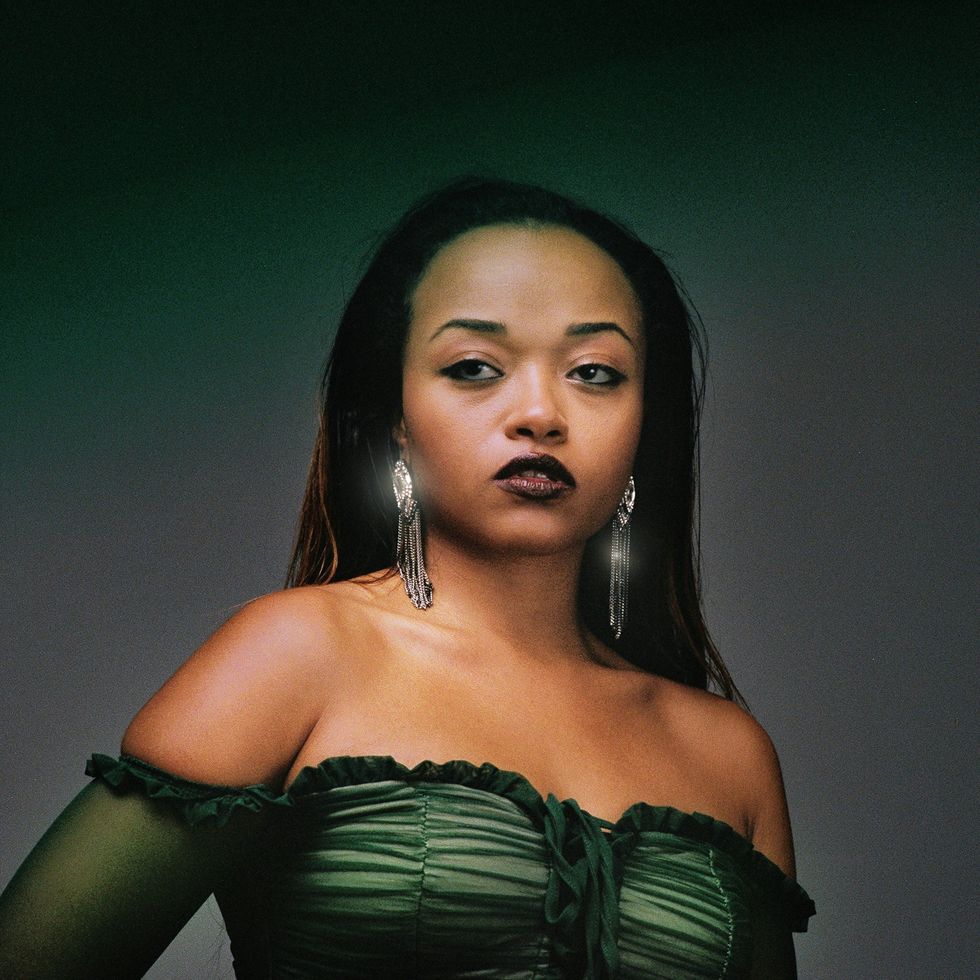 Shay Lia. Image courtesy of the artist.
Who are you biggest musical influences from Djibouti?

From there? I don't have one. When I listen to the music there, it reminds me of my family. We have a very famous artist named Abdallah Lee, but he's famous in our community. You won't even find him on Apple Music. His music is tribal for weddings, it's that different. It's older music for sure. It sounds Moroccan. In Djibouti, you create a song for a wedding usually, for celebration, but it kept that vibe. They play American music on TV. I went on YouTube and discovered new things 'cause I had to. We don't have that. In Ivory Coast, they have it. That's where I go to see my family in West Africa, it's a French speaking country too.
Who are your music influences now?
Janet Jackson, Sade, Aaliyah, Stevie Wonder. I am a huge fan of Marvin Gaye. All genres. The young ones, I love Kali Uchis. Buddy, I love his music. I love Masego, I met him. Kehlani's amazing. Just their vibe, they seem to be nice people and I love their music. I don't like to just name all the older ones. [laughs] We often don't talk about it as new artists because it's like competition or whatever, but they inspire me for real.
What was your household like growing up?
My mom contributed a lot to my artistry. She used to dance ballet, she still does. She introduced me to Janet, Sade. My mom is a free spirit and my father is more traditional. He likes straight, pure genres: reggae like Bob Marley or jazz like Miles Davis. My mom likes R&B and the new stuff. The other day, she sent me the Bruno Mars single. She knows my music and stuff. Both contributed, but my mom 100%.
They are still together. I am the oldest of four. I have a younger brother and two little sisters. I am very far from them. I only see them twice a year, but we are very, very close. It was a bit hard to convince them I wanted to do this 'cause sometimes, you just have to convince yourself first. I need proof. I need experience. Especially after "Leave Me Alone" with Kaytranada, I wrote the whole song myself in my bedroom. When I saw everybody liking it, I was like "okay there's something there, I might be able to this."
KAYTRANADA - Leave Me Alone (ft. Shay Lia)www.youtube.com
How did you and Kaytranada first link?

I arrived in Montreal in 2012. The community there was very small, maybe smaller than today. There was more unity. Piu Piu was electronic music that they had created themselves. All these guys were together and I used to go out by myself because I love dancing. People know me from the Boiler Room video with Kaytranada. They recognize me because I was in the front and there's hella views. [laughs] I used to go out and dance because I didn't know anyone. I would check on Facebook for the right venues or whatever looked cool for R&B and hip-hop. I missed that all my life, having people enjoying this with me.
One day, one of guys from the crew invited me to a Jazzy Jeff show in Montreal, and Kaytra was there. Back then, he was called Kaytradamus. He was super talented already, I was already a fan, but it was more about remixes, beat making, samples, etc. It was the golden age of SoundCloud. He was looking for singers 'cause he didn't have that many original songs. I posted a video on Facebook of me singing to my cousin, he loved it. He was like, "Yo I saw the video, do you write songs?" It was a cover of "Man Down" by Rihanna. I'm like, "Yeah sure I write songs, I do that often." It was a lie. I didn't know if I could, especially in English.
I had to say yes because I felt like it was an opportunity. He sent me a beat that's actually my first solo single, "3 Months." I have so many beats from him. I practice most of my songwriting to his beats and then a lot from STWO. I like to balance between those two producers because with Kaytra, there are a lot of sounds. It's very easy for me to find melodies because we have a similar vibe. It's the complete opposite with STWO. There is a lot of room. You wait, there is a beautiful chorus and it's very tasteful. You're like "oh I can do anything to this." It's definitely helped me.

What's the dynamic in the studio like?
We spent all this time working via Dropbox. Even though we were in the same city, it was the beginning of his career. He was getting all this attention, he went on tour like crazy, he works so so hard. We didn't have time to go to the studio but we were so confident in our chemistry that he would send me all these beats and I would send him back. "Leave Me Alone" was made like that. He sent me the beat and I did the whole melody. He validated it, I did lyrics and recorded. He wasn't even there. Sometimes, people don't realize it. They're like "oh you're Kaytranada's artist." I'm like "yeah, I wrote the whole fucking song," and he knows it. Otherwise he wouldn't work with me again, if I was just a voice. But no, we really do this together.
What was your reaction when you saw your name on his album?
It was crazy. I spent all this time in Montreal having to finish my studies. It was depressing to be honest. I would see all those clicks and likes and articles. I've always been super supportive. I've never been jealous, even though I wished I could go with them. Now I can, but I don't think I realized how famous he got or the amount of attention the song got. When I went to Coachella to perform, the people went crazy on stage when the song started. I was like "oh they know the song already, that much. This is big." I still don't realize how famous that song or album is. We talk often so it's hard to see how big he is now.
Kaytranada - Chances (feat. Shay Lia)youtu.be
Tell us about being featured on the first single, "Chances," from his new album.

First of all, it was the first time we ever wrote or created a song in the studio from scratch. It was very fun. I also wrote the song with someone else, Tony Stone, so it's a different type of process. I love it, it's new. I can't wait to actually make this an advantage for me, because I was so busy with Uni and all those exams to even to make it something that was also an opportunity for me. Now anywhere I'm gonna be, whatever show if he needs me to perform, I'll be there for sure. It's gonna help the beginning of my career, hopefully.
I try not to have too many expectations, especially in this business. [laughs] You never know what's gonna happen, but I'm excited. It shows me how loyal he is. It shows me that he's a still a fan after all these years. The song is different than "Leave Me Alone," definitely more of a 90's vibe than afrobeat. It's not just about the song, it's what's gonna come with it.
Can we expect a project in 2019?
2019, it's gonna be all about the EP. I don't know when the first single is gonna be out for sure, but we can expect the first project around March.
This is your first project?
This is my first project ever, so there are songs that are two years old and ones that three months old. It's amazing because the first project, you have all the time. The pressure comes after when you have to keep it going. I don't know how the second one is gonna sound, it's pretty much why I am here in LA. I work with several artists. I want to keep it moving and going 'cause I am so excited to be free. The universe has been very kind to me.
What is it you want fans to get from your story?
Where I'm from, my identity, my story. How basic it is, which is the whole university thing. Everyone goes through it, searching for who you are. You know who you are when you are young, but then we tend to shut it down. Because maybe you feel like you don't belong or you belong somewhere else, but it's so far from what you know that you actually don't want to admit it. Slowly, I just got closer to this world and here I am now.
3 things you need in the studio?
Tea for sure. Slippers, I love being comfortable in the studio. And someone to be your hype man. It can be the engineer but sometimes, I realize I don't like having too many people in the studio. That one person that gets it and goes crazy with you when you find the right idea. As a creator, it gives more life to what you do and you have more fun. So the hype man (or hype woman), tea for my voice, and slippers for comfort.
Dream collab?
I love Sade and I would love to work with her but at the same time, I respect Sade too much to know she doesn't do features. Do you know of one feature with Sade? There's none. Stevie Wonder, just to meet him. He would be amazing. Amy Winehouse, but she passed away. Marvin Gaye.
What about someone alive, so we can make it happen.
I love Anderson.Paak, Daniel Caesar, but it's not a dream. The dream is to wonder, there's levels. I can do background vocals for Beyonce anytime. [laughs]
Anything else you want to let us know?
Just to keep an eye on me!