Skales isn't a new name in the Nigerian music industry. Since his official debut in 2011 as one of the pioneer signees of Banky W-led label Empire Mates Entertainment, Skales has been a solid staple in the global afrobeats scene, having dropped six projects and several chart topping afrobeats singles over the span of his decade-plus long career.

It's been four years since Skales' last full-length project, the 17-track Mr Love, which was released in July 2018. Now he's finally ready and pumped to release his fourth studio album, Sweet Distractions.Sweet Distractions marks Skales' complete return to active participation in the music industry, and it's a robust body of work. Boasting 14 tracks with features from the likes of Blaqbonez, indigenous rapper Zoro, afrobeats superstar Davido, Ghanaian afro-dancehall singer Stonebwoy, American singer Rotimi, Nigerian comic choir Kabusa Oriental Choir and more, the album is a well-rounded representation of where Skales is at in life and musically.
Hopping out from the middle of a spirited studio session to take our call, the heavy bass comes to a muffled silence as the studio door closes behind him. His demeanor seems contented and optimistic, and you can tell he's excited about the body of work he's about to put out. "I was discovering myself again," he says. "I probably cancelled this album so many times and started again. Just because I felt like what I put out next should be special, and I believe this is special".
---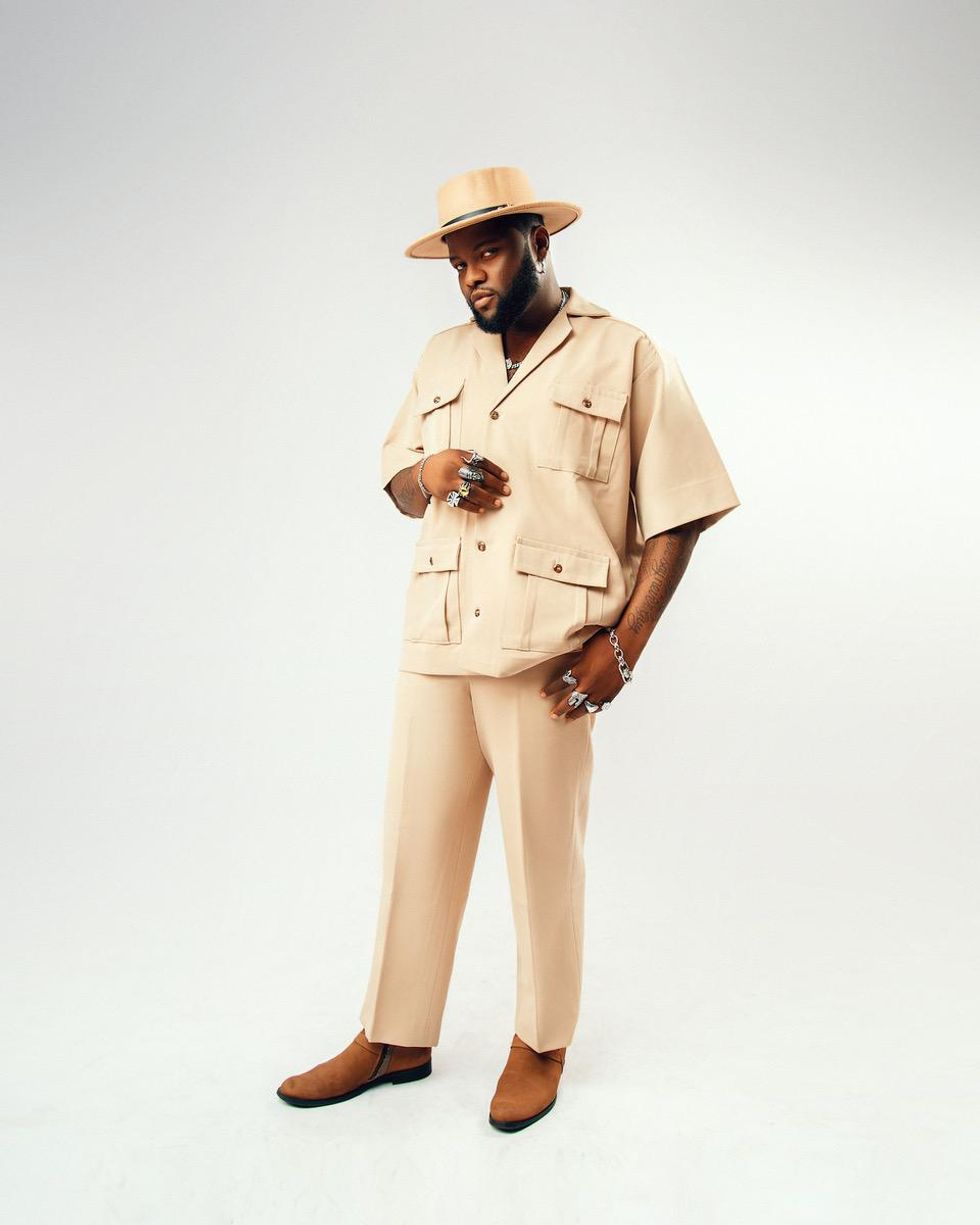 Image courtesy of Skales.
Sweet Distractions opens with "Hope, Freedom & Love" a rap single that sees Skales narrate his current ambitions and his past struggles in candid detail. After the passionate intro, the album runs through 13 more tracks of various blends of afrobeats, amapiano, and rap. One of the standout tracks on the album is "This Your Body" a sweetly infectious tune hosting a guest verse from an anointed hitmaker, Davido. The singer flexes his skills as usual on the mellifluous dance tune, blessing his fellow seasoned afropop star's song with floaty melodies, catchy lines, and his signature ad-libs, making for a solid earworm of a song. Davido has the gift of turning any song he's present on into an instant hit, and on "This Your Body" OBO's Midas touch is on full display.
American singer Rotimi, actor of Power fame who fluidly doubles as a contemporary R&B singer, also made an appearance on the album on "Rosa," with him exuding seductive charm all through his impassioned verse. "Rotimi is someone that has been like a longtime friend to me." Skales explains. "He's been on two of my albums already. We recorded the song in 2020. It was 2020 and we were just checking up on each other to see how each of us were doing, and I was like hey I have this song, I want you to be on it. Two or three days after he sent his verse back to me, and that's how that record happened".
Skales - N2S (Nobody To Somebody) [Official Video]youtu.be
The closing track "As Always" features the Kabusa Oriental Choir, which Skales tells me an interesting story behind. He drops a knowledge bomb—the Kabusa Oriential Choir may be a group of people, but as far as the laying of background vocals goes, it's a one-man army. It's a single voice on the tracks of the famed comic group who have amassed millions of views on their content. He did every single vocal track on "As Always" on his own, close to 100 of them. Skales was astounded and excited at the same time, and immediately asked him to work on more records. "It's still unbelievable till now, whenever I play the records".
Looking at what he's achieved in his career so far, Skales has a grateful disposition. "For me it's just been one very very amazing story. I feel like in a short period of time a lot of things were done, from being I believe one of the pioneers of the new afrobeats sound, to being internationally recognized, getting nods from people I used to dreamed of working with, people I grew up listening to. So it's really been a grass to grace story." Sweet Distractions represents a fresh career run for Skales, consolidating on past achievements and looking ahead to the vast potential of the future.
All in all, Skales is satisfied with his new body of work. "This is the first time that I'm putting in a lot of work for a long time on just one project. Honestly I won't lie to you, it's usually from like two to five or six months that I work on a record and say hey let's put this out. But for real I took my time with this one. Most of the songs are special, and I feel like people are gonna love it."