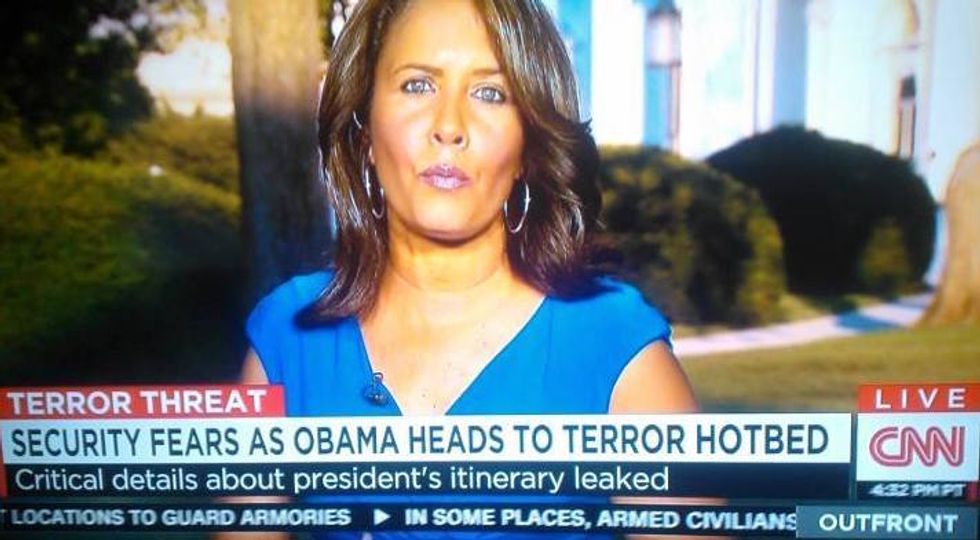 ---
After a few weeks of anticipation, President Barack Obama is headed to Kenya this week for the Global Entrepreneurship Summit in Nairobi. The trip marks the President's first time visiting his father's country of origin since coming into office.
CNN set off a national conversation amongst Kenyans on Twitter (#KOT) today when they referred to the country as a "hotbed of terror." "President Barack Obama is not just heading to his father's homeland, but to a hotbed of terror," a CNN web report read (that opening line has since been edited to say "a region that's a hotbed of terror"). The report went on to quote Rand Corporation security analyst Seth Jones, who suggested that although an Al-Shabaab attack on the President himself was unlikely, the group would look for more vulnerable "soft targets." Said Jones, "What's most likely is not an attack against a U.S. government official like the President, but an attack that happens while the President is there."
Using the hashtag #SomeoneTellCNN, Kenyans have been using their 120 characters to mobilize against the network. In addition to the wave of tweets from around #KOT, Kenya's Interior Cabinet Secretary Joseph Nkaissery referred to the broadcast as a "sustained campaign" to portray Kenya in bad light, according to Daily Nation. "This announcement is based on lies. It demonstrates heightened irresponsibility by the media network and smacks of arrogance," he told journalists at Harambee House in Nairobi.
The Real Nairobi vs how CNN sees Nairobi #SomeoneTellCNN pic.twitter.com/U1ElT6rX4g

— Masaku (@masaku_) July 23, 2015
#SomeoneTellCNN the only thing that will be 'terrorising' @POTUS is the sweet taste of nyama choma in his mouth! pic.twitter.com/A19jEPPBgd — EatOut (@EatOutKenya) July 23, 2015
#SomeoneTellCNN If you have to do negative stories start with your own pic.twitter.com/1OK06XZeiD

— Joe Ndungu (@AnchoredCloud) July 23, 2015
Dear @CNN if u cannot make proper research on African countries;please spare us ur ignorance #SomeoneTellCNN @camanpour @BeckyCNN @ErrolCNN — lizzie ntonjira (@lizzientonjira) July 23, 2015
#SomeoneTellCNN that I have security concerns when I travel to the US as a black man.

— chief entrepreneur (@Jorammwinamo) July 23, 2015
CNN should drop the extra letter N on their name, CN for Cartoon News fits them really well #SomeoneTellCNN

— President Gitz (@iGitz_) July 23, 2015
#SomeoneTellCNN that we can smell them from veeeeery far! pic.twitter.com/z0H9eHywzK — Francis Gachuri (@Fchurii) July 23, 2015
U want CNN to change. Stop Watching. They do this every time. U scream on twitter every time. They don't reply. They know who they work 4. — Binyavanga Wainaina (@BinyavangaW) July 23, 2015
#SomeoneTellCNN they need to change their strapline. Poor in storytelling..extremely poor in Geography! pic.twitter.com/XzA01KKqtl — Jimmi Gathu (@JimmiGathu) July 23, 2015
#SomeoneTellCNN they have their own agenda in bringing Africa down.If you have nothing to report we'll help you.You won't derail our vision — Chris Kirubi (@CKirubi) July 23, 2015
Nairobi. Capital of @CNN's 'hotbed of terror'! #SomeoneTellCNN pic.twitter.com/gvFVifyy6G — KENYA PICS (@KENYAPICS) July 23, 2015
#SomeoneTellCNN that there more killings in one day in NYC than the whole year in Nairobi, and our Police don't kill blacks for sport! — Donald B Kipkorir (@DBK017) July 23, 2015
#SomeoneTellCNN I dont need to look too hard to spot the hotbed of terror pic.twitter.com/UC1RDVyn5p — lucy mwangi (@lnmwangi) July 23, 2015
#SomeoneTellCNN they need to change their strapline. Poor in storytelling..extremely poor in Geography! pic.twitter.com/XzA01KKqtl — Jimmi Gathu (@JimmiGathu) July 23, 2015
Dear CNN, It would be prudent to note that we are not a backward banana republic but a highly informed & analytical nation. #SomeoneTellCNN — Julie Gichuru (@JulieGichuru) July 23, 2015