Nasty C was the fourth South African emcee to grace Sway In The Morning last week.
---
He preceded Cassper Nyovest, AKA and Kwesta—and we hope that many more SA rappers will be making appearances on the show shortly.
Below, we pick 10 South African rappers with skills on the mic that would ensure the country's hip-hop scene is well represented. These artists would also have interesting stories that would make for great interviews.
Read ahead for our South African Rappers We Would Love To See On Sway In The Morning list.
Stogie T
Stogie T Photo: Sabelo Mkhabela
Who better than one of the most versatile and skilled emcees to come out the continent would represent South Africa? The rapper's longevity and consistency would make for a great interview. His travels, his success in Europe, his transition from fronting a band as Tumi Molekane to Stogie T, as he is known now, would make for great talking points. He's highly opinionated in the hip-hop scene, politics, race and gender. He's also one of the most vicious on the mic, and his freestyle would no doubt be memorable.
ProVerb
Photo: Sabelo Mkhabela
'Verb is a virtuoso on the mic, and knows how to play with words better than your fave. He came up in the game as a backpacker and has managed to grow with his audience, as his music is autobiographical. He's one of the most prolific hustlers in the game, and in his interview, he could share a thing or two about being a great businessman while still managing to stay true to your brand. His freestyle would also be great, as his punchlines and metaphors are out of this world.
Kanyi
Kanyi. Photo by Sabelo Mkhabela.
Kanyi Mavi is a lyrical diviner. You don't have to understand her lyrics, which are mostly delivered in IsiXhosa, to catch the Holy Ghost when she raps. Her wordplay and cadence are unmatchable. She takes advantage of the clicks in her language to drop one tongue-twister after another, in a way only she knows how. Her freestyle would make time stop, as Sway and his co-hosts' faces contort in disbelief at the rapper's ability to play with words and rhyme bars. She's already shared the stage with Lauryn Hill and got a major co-sign from Yasiin Bey, who listed her as one of his favorites in South Africa. Kanyi has an interesting story, as she's a spiritual being, and is in touch with the ancestors. That also shows in her music. Among other things, breaking down that complexity would make for an engaging interview.
Jitsvinger
Jitsvinger raps in Afrikaaps–the Cape Flats version of Afrikaans, a language that's always associated with apartheid and colonialism. Jits' conscious rhymes tell the tales of what it's like being brown in South Africa. Artists like Jitsvinger are important in that they give South African hip-hop variety–not everyone can be a trapper. Jits also performs with an acoustic guitar, alongside his producer Arsenic who plays beats live on an MPD. They always give a memorable show, which would surely make for a great freestyle session on Sway.
A-Reece
A-Reece Photo: Sabelo Mkhabela
At 19, A-Reece's career has been eventful to say the least. Earlier this year, the rapper, among some of his then-labelmates, broke the internet and made headlines when he left Ambitiouz Ent, the imprint which put him on the map. He revealed contractual complications and other in-house mishaps as his reasons for leaving, which left fans shocked. A-Reece has seen both sides of the game. He's also made transitions in his music, going from a boom-bap rhyme slayer to a swaggering trapper who still has potent bars. His freestyle would be another great sight to behold–the man has skills for days, and the way he mixes English and Pretoria slang is impressive.
Priddy Ugly
Priddy Ugly Photo: Sabelo Mkhabela
Priddy Ugly is one of the most unique rappers out in South Africa at the moment. His delivery is unorthodox, but not so outlandish that it isolates the listener. Priddy Ugly has bars, charisma, personality and an entertaining way of presenting his rhymes. He's also from the East Rand, a Joburg township that is home to notable lyricists such as Reason and Shane Eagle. Having been independent for a while, and being anti-record label, Priddy Ugly signed with Ambitiouz Ent a few months ago. He would give a great insight into the difficulties of being an independent rapper in a South African setting.
YoungstaCPT
YoungstaCPT Photo: Sabelo Mkhabela
Where to begin? YoungstaCPT is the most prolific emcee in the game, with more than 20 mixtapes under his belt. This year alone, he has already released two albums. And he still hasn't run out of raps. YoungstaCPT's story is also interesting in that his being a Cape Coloured has a complex history and puts him at an awkward place in South Africa's music industry (In his own words "I haven't blown up because I'm not black enough"). He is vocal about the challenges his people face in post-Apartheid South Africa, and that's a conversation still worth having. His skill on the mic... phew! Let's just say ask any rapper who has featured him on a song, if they're still alive to tell the tale, that is. The man is vicious, wears his Cape Coloured accent with pride, and the whole country loves him for it.
Godessa
Two thirds of Godessa (Shameema and Burni Aman) Photo: Sabelo Mkhabela
Even though South Africa's most successful all-women trio hasn't performed together in a while, they stay a very important part of South African hip-hop, and still continue to perform as solo artists. Last year they bagged an honorary award at the South African Hip Hop Awards for their definitive run which consists of a classic album, Spillage, socially conscious lyrical content, and success abroad. Goddessa took over where crews like Prophets of da City and Black Noise left off and used hip-hop as a tool to drive for social change. The three ladies are different individually yet they gel perfectly together. Their appearance on Sway would be indeed memorable and a reminder of how powerful hip-hop can be if used to challenge social ills.
Reason
Reason Photo: Sabelo Mkhabela
One of the most potent on the mic, Reason never runs dry–from guest features, mixtape, albums and singles, Reazus always delivers impressive bars. His transition from a backpack rapper, who was well known in the Joburg battle circuit, to being one of South Africa's top mainstream rappers, would also make for an insightful interview that would paint a clear story of South African hip-hop, as he's the best of both worlds. Reason can spit both off the dome and written scripts. At times it's hard to tell the difference as he's always on point from delivery to lyrical content.
Khuli Chana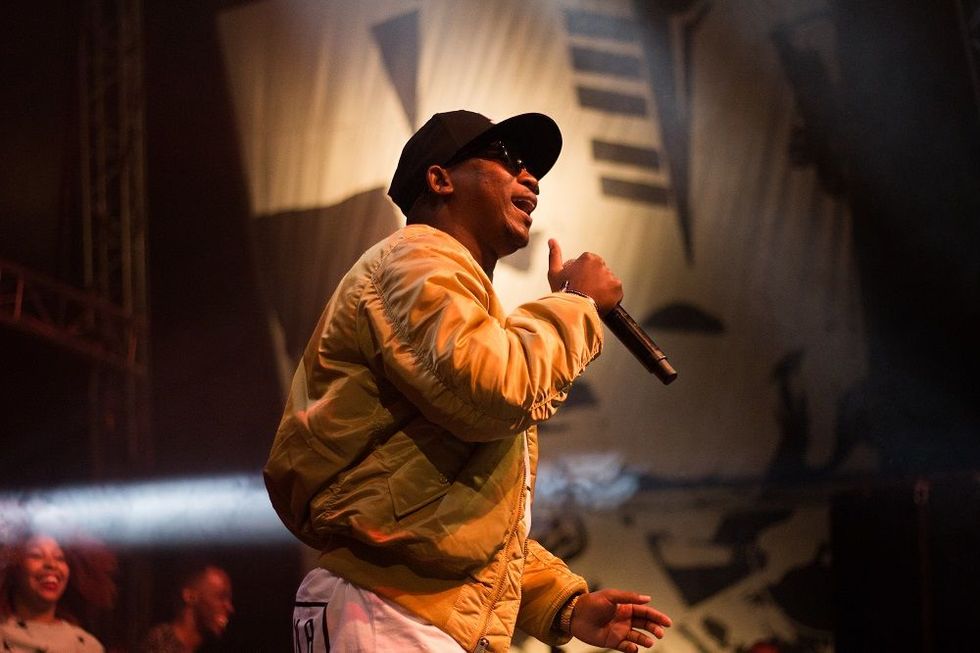 Khuli Chana. Photo by Sabelo Mkhabela
Khuli is a beast of note–he has flows for days. His delivery is precise and exhibits an emcee who has been working on his skills for years. While technically correct, Khuli still spits rhymes that are accessible, making him a favorite to both casual listeners and hip-hop heads. Khuli Chana is a pioneer of the successful hip-hop sub-genre motswako, which has given birth to some of the country's biggest hip-hop stars such as HHP and Cassper Nyovest. Him detailing his journey starting from the small town of Mafikeng to being a continental star would shed some light on his work ethic and tell the story of how he conquered odds and became an icon of note.