When South Africa was put under a hard lockdown in 2020,Stogie T started Freestyle Friday to "make SA rap again." Freestyle Friday, hosted on Instagram, saw a different cohort of rappers each rap over the same beat picked by the veteran rapper. From niche and emerging rappers to some of the most notable names in South African hip-hop—the likes of AKA, Focalistic, Ginger Trill and several others all participated.
In the last few weeks, however, Freestyle Friday has found its way to cable TV. The show airs every Friday on Channel O, one of the continent's longest-running music TV channels. Freestyle Friday as a TV programme isn't just about freestyles, it's about the art of rapping and the music business, particularly SA hip-hop. Guests range from lyricists to record executives and other personalities aligned with the scene—Ninel Musson and Ms Cosmo for instance.
But Freestyle Friday is only the first media product Stogie T is working on as he is in the process of starting a podcast network, a venture in which he is collaborating with Culture Capital. In the Q&A below, Stogie T breaks down the relationship with Culture Capital, how the show moved from the internet to TV, why it's a revolutionary idea, touches on his venture into media and his future plans.
This interview has been edited for clarity and length.
---
How has the experience of making Freestyle Friday been?
It's been really dope, man. Years ago, when we were still doing our thing post-Le Club, I remember someone saying to me, "One day we're going to get to a point where all these boardrooms that we want to be in are going to look like people like us." I never really understood that, because all my career I've always bumped into one or two people who were [hip-hop] heads in a boardroom. But you're noticing now, obviously because hip-hop has been a staple for so many decades, that there are people in certain positions of influence who now understand what it is we're saying and are able to translate what we mean. You can have all that and not have the market. It's that, coupled with there's now a market. The idea of hip-hop television has exceeded. I don't think it's a revolutionary thing. I think what is revolutionary about Freestyle Friday is the nature of how organic it was, and then also the content, what it deals with. We're asking kids to come as they are. We're not going to dress them up, give them a script or media-train them. We're actually saying, "yo, this is the beat, just face the camera.'"That lends a certain level of authenticity and, when someone is watching, and they look like who's rapping to them on TV, it resonates.
So, in that regard, it's very crazy that Channel O has people like Kabelo and David, who understand hip-hop, who understand the culture, who themselves have been a part of the culture, and who are able to translate these things in boardroom talk. So, for them to say something like, "Yo, do your thing, we're not going to tell you what to do. You guys know what you're doing." And then they'll get in where they fit in as far as what things to avoid. It's been pretty seamless and pretty dope in that sense. And we still retained the team that I did Freestyle Friday with.
"I think what is revolutionary about Freestyle Friday is the nature of how organic it was, and then also the content, what it deals with. We're asking kids to come as they are."
Did you approach Channel O, or did they approach you?
They approached me. Initially, there was some interest from brands because it was initially looked at as online content. We were always thinking of clever ways to find a home for [Freestyle Friday]. Maybe it's just part of hip-hop being, especially in South Africa, so not mainstream, and not front and centre. Our particular type of hip-hop, you feel me?
Cats have been rapping on [Shiz Niz/ShizLive], One Mic and all these different platforms. I know that, but this is something that it came from... Like yo, this is if everything ends and we can't make money anymore from rap, we can't buy cars from rap, we would still be rapping. If all of us have to go get jobs and work at the sawmill, on weekends, we'll be still all standing together, rapping. Because that's what the fuckin' we love. I think that because it's that kind of content, Channel O to me seemed a lot more of an important move, a historic and iconic move to just put it on TV and say, "Look, man, look. Look at it, bro, it's that thing that we do with those guys that we love," you know what I mean? Because I've been obsessed with it, man, ever since I was a kid and they were trying to sell us other things as hip-hop. And we were like, "But that ain't it."
There's this influx of artists who are getting into media. Why would you say that's happening?

One of the earliest things you learn when you're rapping is, because hip-hop is such a disruptive genre, you learn to kind of colour outside the boxes. You learn to adapt. You learn to figure your way out. So, you might come in as an emcee and, on the other end, you're a motivational speaker and you're doing prison talks, or on the other end you're a multi-billionaire who's selling weed legally now. That's the transformative nature of hip-hop, particularly its practitioners.
And then obviously COVID, first to adapt. We've always lived in the marketplace—hip-hop has been a pioneer in the digital space globally. And even locally, minus monetisation. If you think of DataFileHost and all these little… we were always at the forefront of little technological habits and what not. But minus the arguments and, "How do we monetize this? How do we make this out? How do we control it?"
Now we're realising there's a way to control this thing. I think the next step for all of us is just transplanting our skills into different industries now. In the next 10 years you'll start to see that guys, particularly corporate people realised that, "Oh shit, what Kwesta did here was actually called..." I don't know... "parallel marketing. And we need this dude to do this and that." You know what I'm saying? Particularly, if we continue to upskill ourselves. We can't just rely on some hip-hop knowledge, but if we continue to upskill ourselves, you'll find that we'll be very valuable to the economy and to various industries.
You are essentially, I would say, new to this space. How would you say you are finding this whole foray into media?
It is daunting. I had a six-hour session with a business developer that just basically told me in no uncertain terms that I don't know what the fuck I'm doing, but it's exciting, and I must do it. And I love that. And that this is what I need to do. That's really interesting. That's amazing. That's dope. But I think more than anything, man, it really feels like it's an extension of what I've been doing already. So, for me writing a play about my family is still an extension of what I do. Producing content where I'm getting emcees to show their skill, that's what I do. It's just now we're finding the proper avenues, the proper spaces for these things that I do.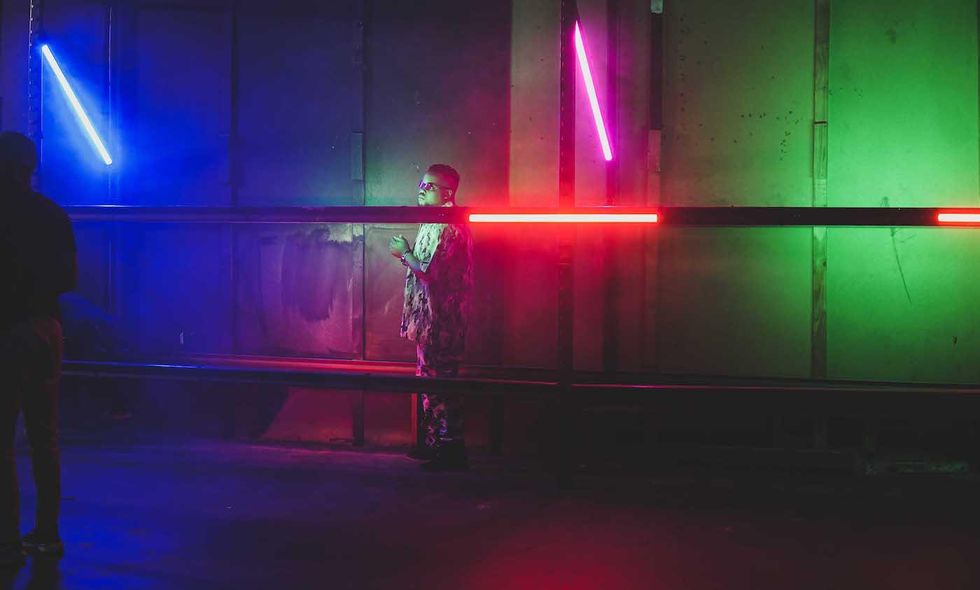 Emerging rapper Huge Da Oracle on set.Image supplied.
Beyond Freestyle Friday, what else do you have planned in media?

Culture Capital Network, man, that's where my eye is at. All my intellectual media interests sit with Culture Capital Network, which is a partnership between me and some VC people in the US and here. I'm planning to do a podcast network, and create content, and work towards that, and help grow that, and go heavy into the podcast space. We are launching our first podcast on the 15th of March, which is the Triple Distilled Podcast, which I do with Steve Bussa and Azizzar the Pristine Queen from Massiv Metro. And then some other things. I'm trying to convince journalists to become content creators, and I'm trying to convince articulate celebrities to tell their stories. So, I'm on a hunt for it, man.
I'm glad that you took it there. With artist-owned media, and speaking as a person who works in media, the main advantage that we don't have that you guys do is access. It can be difficult for us to get to interview artists sometimes. But you look at Slikour and AKA, and now yourself, you guys can pretty much get anybody. What can you say about that dynamic?
That's a great observation. I think there are two things that I take from your question. One is that okay yeah, you're right about access. Access, that's a practical function. You're right, I have everyone's number, and if I don't have them, I can get them. I get you. But here's the thing; it's not just the access. It's also trust because if I call Focalistic and say, "Yo, I want to interview you for something," I think Focalistic trusts that I won't waste his time, it won't be nonsense, because I'm an artist, I understand what it is to be an artist. And he has a level of respect for me. So, I think it's also trust on that front.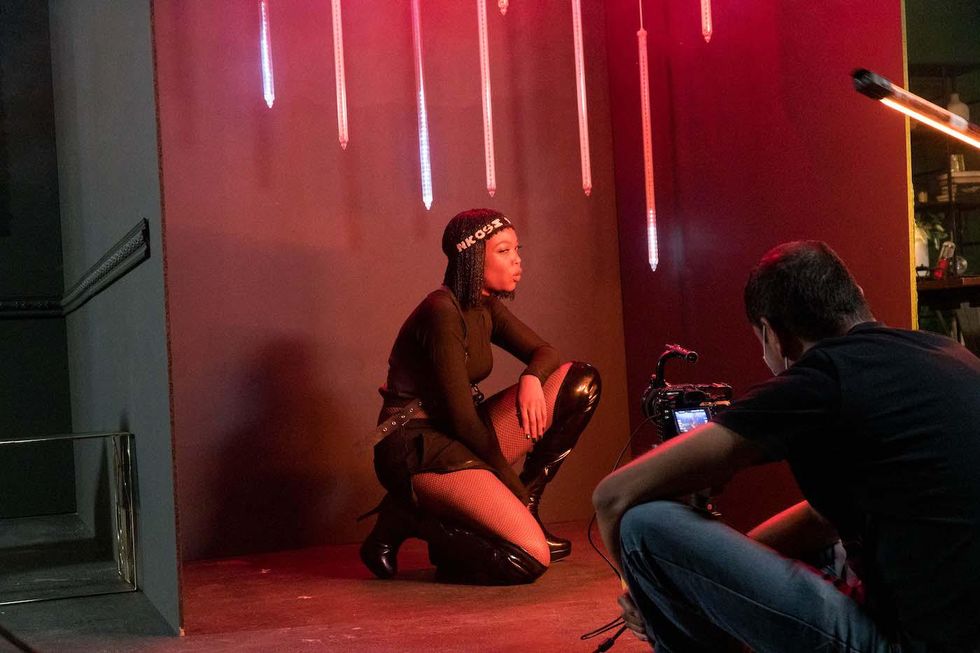 Ms Qba. Image supplied.
You also did work with Slikour on his website Slikour On Life presenting the show Verse of the Month. What would you say you took away from that? What were your impressions, just in how he's working?

Oh, man, I learned so much from Slikour. Slikour, first of all, was cool enough to demystify the game for me. He was like, "Look, this shit ain't that deep, T. These motherfuckers [are] trying to make it sound like it's really complicated. It ain't that deep, man." I've come to appreciate that lesson. Very, very important lesson I'd pay for years to learn. I'd pay for years in the States to learn something where now I realise that, "Okay, so I'll just pay this person. It will fucking break my bank, but I'll just pay this person for two months, and I know that thing, and my systems are in place." Now I'm not going to have that problem, bro. And if it does arise, I'll know how to deal with it. I've become like, "Okay, now I'm learning, this is how you manage a thing. This is how you go beyond just yourself. This is how you scale. This is how you..." You know what I mean?
Yeah. We had previously done Verse Of The Year, Verse of the Month with him, and we kind of went our separate ways because I wanted to put it on Culture Capital Network. That's something I want to do now. And yeah, man, just invaluable lessons. So, [I have] nothing but great things to say about the experience as well. The kind of people over the years that I watched come and go through his office, and upskill themselves, and become content creators themselves... he's making a valuable contribution to the culture.
Freestyle Friday airs every Friday on Channel O at 17:00 SAST.