Lorraine O'Grady (b. 1934). "Art Is (Girlfriends Times Two)," 1983/2009. Courtesy of the artist and Alexander Gray Associates, New York.
This Striking Exhibition Shows How Black Artists Contributed to the Black Power Movement
A review of Tate Modern's 'Soul of a Nation'—an exhibition that is giving African American artists their long overdue recognition.
Martin Puryear's Self will forever be a wonder. It is sculpted from wood with a rich black luster and is said to be hollow inside. The temptation to touch and feel it was to resist. At a glance its shape is that of a thumb. Move one step to the left or right and its precise shape changes. Move another step and it changes again.
The amorphous nature of Puryear's creation gives it fluidity in character and meaning. Is the "self" of the title referring to one's inner state as whole in form and colour but also constantly changing? Or is it a vision of "blackness" as a reality shared by multitudes no two of whom are the same in the same way no two viewpoints of the sculpture are the same? Or not.
The ambiguity adds to the fascination and to what in total is a most exhilarating exhibition of works by African Americans by Tate Modern called Soul of a Nation.
---
This is the first time a major survey of works by African American artists are shown in the UK and only covers 20 years from 1963, the year of the great March on Washington led by Dr. Martin Luther King, Jr.
Curators Zoe Whitely and Mark Godfrey subdivided a mass of 150 works from as many as 60 to occupy 12 rooms at the gallery. They also set an austere tone for the exhibition, as if to prepare the visitor's mind, placing five screens at the entrance with each one playing, on a loop, speeches any luminaries including King, Malcolm X and James Baldwin.
The eloquence and gravity each speaker brings to topics on black life and struggles is able to prime the mind and awaken emotions for an experience that excites as well as it depresses and could dampen the spirit as well as it reaffirms life, if not the necessity of art.
The first room is dedicated to Spiral, a collective formed in 1963 in New York by a group of artists who tasked themselves with figuring out their place and by extension that of the "black artist" in American society.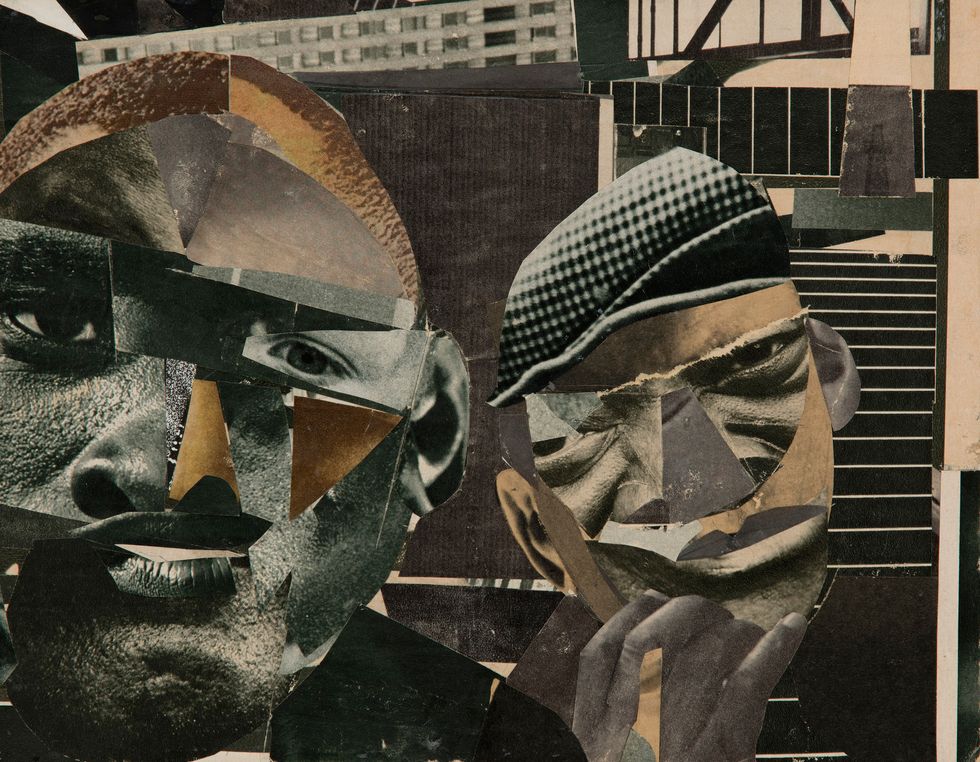 Roy DeCarava. "Couple Walking," 1979. ©Courtesy Sherry DeCarava and the DeCarava Archives.
The photography section is dominated by the work of Kamoinge, a collective of photographers who in the 1970s published four volumes of The Black Photographers Annual and has become the most significant publication for African American photographers of that era.
Helmed by Joe Crawford, each of the four volumes featured works by, at the time, newcomers like Ming Smith and Elaine Tomlin as well as portfolios by established names which included James VanDerZee, Roy DeCarava and Moneta Sleet whose photograph of Coretta Scott King taken at Dr. King's funeral earned him a Pulitzer in 1969.
Toni Morrison, Gordon Parks and John A. Williams each wrote magisterial introductions to the volumes of Annual as did Baldwin who closed his own essay as if speaking from a pulpit:
"We have been through the fire and we know it and we have been tempered by it, in order to endure a day that is coming, and in order to raise up future generations: even as we were raised up. Nothing lasts forever, not even our suffering, and we have everything to celebrate: ourselves."
Decades of systematic discrimination from white run galleries, much of which is discussed in the exhibition catalogue, have kept many of the artists and their works from important galleries that would have deservedly raised their profiles and value in the marketplace—making Soul Of a Nation a much needed corrective.
Even more, its success could inspire substantial solo exhibitions by the featured artists at Tate and other watchful galleries, giving the artists wider and overdue recognition.
That's the hope.
Take a look at more selections from Soul of a Nation, courtesy of Tate, in the gallery below.
Barkley L. Hendricks. "Icon for My man Superman (Superman Never Saved and Black People—Bobby Seale)," 1969. Collection of Liz and Eric Lefkofsky.
©Barkley L. Hendricks. Courtesy of the artist and Jack Shainman Gallery, New York.