In our
Spotlight
series, we highlight the work of photographers, visual artists, multimedia artists and more who are producing vibrant, original work. In our latest piece, we spotlight Johannesburg-based visual artist, researcher and archivist Tshepiso Moropa. Her collage work aims to reimagine the archive and create alternate worlds while exploring themes around sisterhood, matriarchy and expressions of blackness. The 25-year-old holds a Bachelor of Arts in Psychology and Linguistics. Moropa not only works in the digital space, but does illustration and painting as an extension of her expression.
---
You have a very minimalistic approach to collage-making. What informs this decision?
One thing about minimalism that I adore is that it is an extreme form of abstract art. It can be seen as extending the abstract idea that art should have its own reality, and not be an imitation of some other thing. Collages typically tend to look somewhat chaotic and disorganised at times. However, together with minimalism, my work looks neat, sharp, balanced and aesthetically pleasing. It shapes, forms and restructures everything into one and I am absolutely comfortable with that look.
What is your obsession with the square shape?

(Chuckles) I would not call it an obsession but I do have a deep attachment to it because it allows me to create without any limitation. It is a two-dimensional shape with four equal sides. I think that it is important that I mention that the spiritual significance or symbolism of the shape represents balance and harmony, which is ironic because those are typically the themes that are associated with minimalism. In essence, minimalism is the gift that keeps on giving, I suppose!
In your work, you are always going through archival images. What are you searching for in particular?
Any archived image of a Black woman is of huge interest to me, of course. For the longest time, I have always been drawn to vintage black and white images. There's always a feeling of nostalgia and reminiscence when looking at them. By using the archived image, I strive to capture that impression into my work, so that the viewer or audience is able to experience it as well.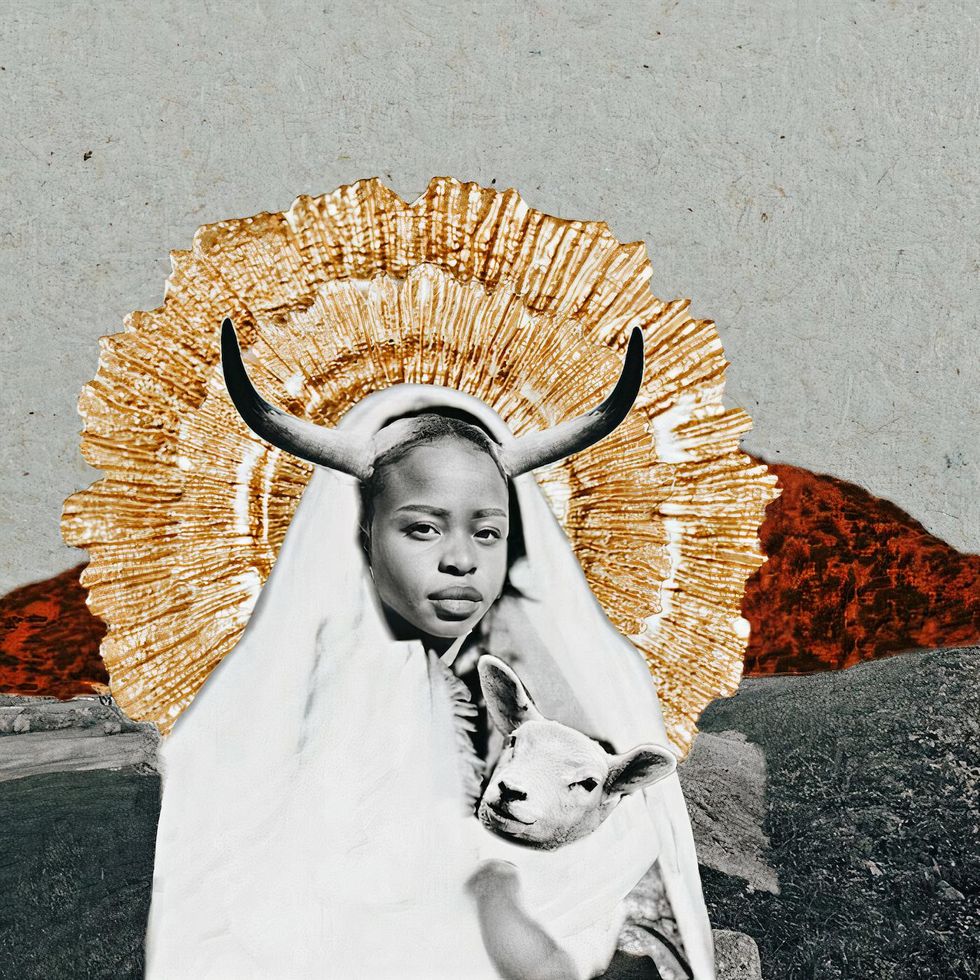 Please take us through your latest Instagram post which is a collage with three women sitting.
I named collage "With Love". This is a truly special and personal series to me. It is about nostalgia and yearning for the people who are not present with us at the moment. The people who have passed on. The images you see are archived images of women who were alive at some point. Similarly, the collage is part of an ongoing work in progress called "Wish You Were Here", which features not only archival images but archival images of my own family members as well — my aunt and my father so far. I am quite pleased about this body of work because it spotlights archival images of my own family members — even some members that I have not met before which makes it meaningful to me. I have always wanted to create this for the longest time, so I am glad that I somehow had a head start.

How much research goes into your work?

Researching takes hours and hours on end but I don't mind it at all. I do the research because I love learning about new things, especially if they pertain to art and literature. Also as a side note, I get the majority of my research and information from online university libraries/portals. To be quite frank, researching on a specific topic or theme has upped my artistic potential quite a bit because my work is now stronger and significant. My work has intention now which has, in turn, made me even more confident about talking about my work. I went from just creating to creating with a purpose. In retrospect, apart from the academic perspective, I've also learned of some astounding visual artists that I didn't know existed before I researched them.
The digital space is very competitive. How do you make your work stand out?

I try to create work that is true to my aesthetic. I make sure that if you ever see my work, whether it's in a gallery space or an Instagram post, the viewer will always recognise instantly. My collages are pretty standard; they have a minimalistic approach to them, they always have a textured background and the subjects and symbols are always centred. I try not to compare my work to anyone else's, or vice-versa, because I think it shows signs of having no confidence in yourself and, most importantly, your work. As an artist, you have to be able to showcase your work without feeling like you're in a competition with another artist. I believe we can all coexist with each other without competition. It's more fun that way.
Your Sister Act series, which came out in 2020, is centred around the concept of sisterhood. It is a recurring theme in your works too. Why is it so close to your heart?
I guess it is a whole nature versus nurture environmental aspect of things. I grew up in a household of women; my two sisters and my mother, who was and still is, the matriarch of the family. Seeing the steadfast courage my mother had while I was growing up, probably inspired me subconsciously. I have a huge amount of respect for women and admire the support and admiration that women have towards each other. The bond that keeps women together inspired the Sister Act series. I just hope that I was able to capture that spirit.
You were part of a group exhibition called The Shape of Blackness. Please tell us more about your involvement in the project.

The Shape of Blackness is an art exhibition which was on show virtually through Oakstop, an art gallery in Oakland California, with ten participants showcasing their work. Five participants from South Africa and the other five from the USA. The show highlights expressions of blackness as envisioned by the artists. I was fortunate enough to be contacted by the curator of the show Odysseus, who asked if I could be part of the show and of course I agreed. I showcased my three-part series called "The Less I Know, The Better". The show opened in mid January and ends on April 30, which is quite sad because I really enjoyed it — and meeting everyone who participated was very humbling. We've been working on this exhibition since last November.
Does your degree in Psychology play itself out in your artworks? Do those two worlds ever meet?
It always does, and it is important that it sometimes interlinks with my work. I like exploring themes surrounding the potential of the subconscious and conscious. I like to compare the self to the idea of self. I like to question what is real and what is not. On the other hand, my work only shows the surface level of the fundamentals of psychology though because I do not want to complicate an already complicated art piece (chuckles). However, I am glad that both themes are able to co-occur without conflict because ultimately, one cannot exist without the other.
What is next for you?
I have a whole lot of projects that I would love to showcase by the end of June, so I have been busy with that lately. One involves a medium that I have not used before. It's nerve-wracking and a little intimidating. It's all new to me. I'm literally free-climbing at this point but it has taught me that there's growth when you step out of your comfort zone. Don't be boring. What's life without a little risk?
Follow Tshepiso Moropa on Instagram.