The tagline for the film is enticing: A young pregnant woman finds emancipation as aliens land in Morocco. And yet, Animalia is more than what you would expect from or think of a movie about extraterrestrials. Through the film, director Sofia Alaoui uses elements of allegory to pick at social norms between men and women, the class divide and human destruction of nature.
---
Born in Morocco, Alaoui studied cinema in Paris and moved back home to start her own production company, Jiango Films. Developing her style in fiction and documentary, she made a number of short films that have screened at festivals over the past few years. But it's her short, So What If the Goats Die, that has drawn her the most attention. It won the Grand Jury Prize at the Sundance Film Festival in 2020, and France's César for best short fiction film in 2021.
That film allowed Alaoui to explore shooting in the Atlas Mountains in Morocco, and to work with non-professional actors, something she develops further in Animalia, her first full-length film. She's back at Sundance this year, where the film is premiering. It tells the story of Itto, a young woman from a rural background who marries into a wealthy family and is waiting to have a baby when the country is thrown into disarray by some sort of otherwordly event. She co-produced the film with Margaux Lorier and Toufik Ayadi and Christophe Barral, who also produced Saint Omerand Les Misérables.
OkayAfrica spoke to Alaoui about aliens, shooting in Morocco and overcoming doubts as a filmmaker.
Interview has been edited for length and clarity.
Can you take me back to your first experience at Sundance, with So What If the Goats Die, which went on to win a coveted prize?
It was an amazing experience to have my short film selected for Sundance three years ago. I was completely crazy when I heard that we'd been selected to and then to win the prize, it was a life changer because everything went so quickly, thanks to Sundance and everything that happened around the short film. It allowed me to go deeper into the kind of film that I really wanted to make, to take a documentary narrative approach. There's a lot of documentary [aspects] in this feature; there's 80% of non-professional actors – the people in the bars and hotel are real, the furniture is from the place, the settings in the mountains. Also there is a little VFX and it's a fictional story, but this mix of film has been possible because of the success of the short and because of Sundance, of course.
What was it like for you to make the leap into a full-length film - what was the biggest challenge?
Actually, it's more stressful because when you're making a short film you're not in the industry, really. With Animalia, I co-produced the film and I really wanted to still be able to try new stuff. But there's this stress, because we're in the industry and this is the first feature, and how do you be completely free creatively with the stress? [chuckles] Fortunately, I had this amazing producer [Margaux Lorier] who permitted me to go deeper in a universe that I could not maybe have gone into without confidence.
It's a great premise for a film: aliens landing in Morocco, even though it's about more than that. Where did that idea come from?
Yeah, pitching the story like this is, of course, exciting, but also the film is not exactly like this because it's complicated and if people are waiting only for aliens that could be really disappointing. The idea came up when I came back to Morocco after traveling and living abroad for a very long time. And when I came back, I was confronted with the weight of dogma, the religious dogma, and how its infused in society. The place of women, the place of men, how to be a good woman? How to be a good man? It was really complicated for me, because I used to live abroad and in a different society, and was also seeing a different way of thinking. So when I came back there and I needed to accept this is how to be a woman, and how to follow the rules, it was really complicated.
I was questioning about how to question my society deeply, but in a different way that also can be accepted in my country. Because I don't want to make films from Europe, I want also to make films from my society. After I had this idea of aliens and science fiction, it was the beginning of creating a mix that [would allow me to] question my society. The short film was a trial, and I think that with a movie, you can say many things that could be accepted. So this idea of the film -- to preach in my society to let people to travel in a universe, and little by little, try to question themselves.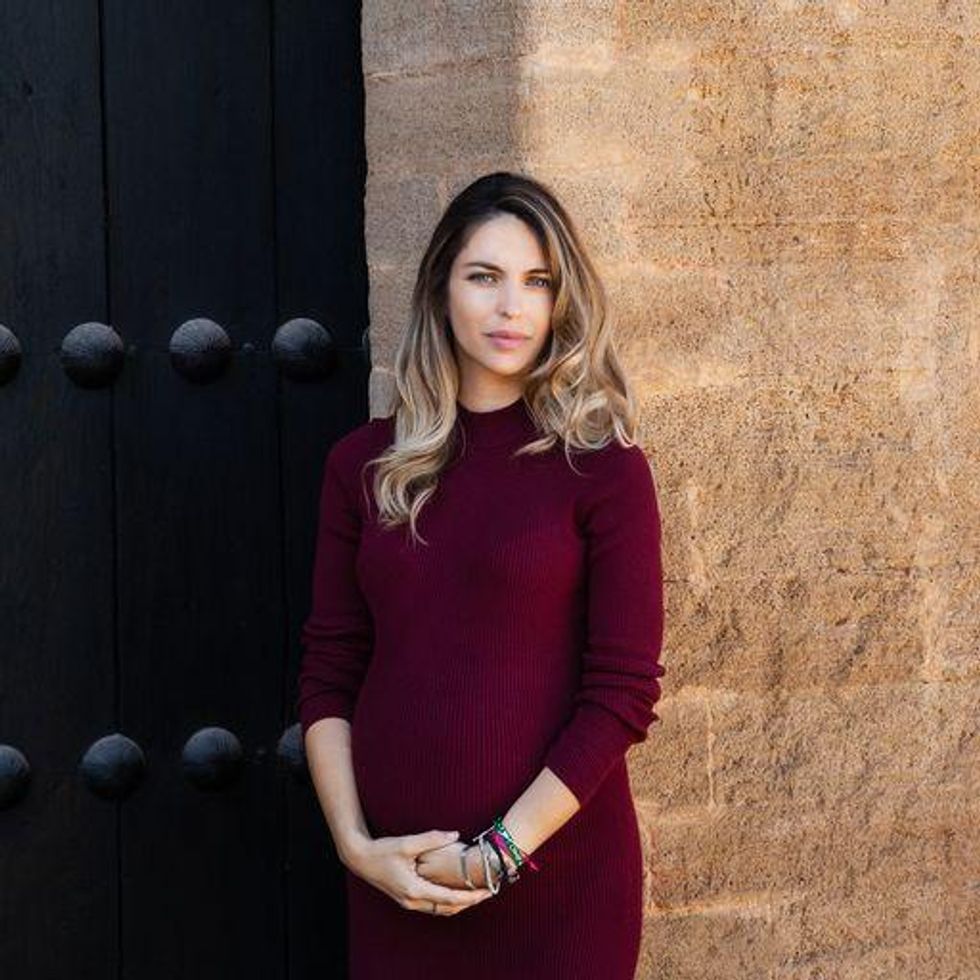 French Moroccan filmmaker Sofia Alaoui uses documentary elements in her fictional narrative stories, like her award-winning short 'So What If The Goats Die,' and her feature-length debut, 'Animalia.'
Photo: Sundance Film Institute
You filmed it in Morocco and the land looks so incredible, almost like the surface of the moon. What was the challenge in finding the right place?
A few years ago, when I was looking for a place to shoot my short film, I really wanted to find a place where the landscape can make you imagine that you are on another planet. I really wanted to find that "lunar landscape." So for the short, I was scouting for maybe a year, and I heard about this village, and so I used it for the feature, too, because I knew the place. It's far away from the main city so it could be really complicated, but it was an amazing adventure also for the team because you are disconnected from the main city. So, you are a part of an experience. Sometimes you get to the set and it's still dark. You are experiencing something really deep during the shooting of this kind of film.
For budding filmmakers who see what you've been doing, what would you offer as advice to them?
The advice would be like in life, actually. In life, sometimes people want you to do something, and they are waiting for you to act and to do something. The idea of the film is to be who you are, to be connected to yourself. It's so hard to do a film nowadays. As a filmmaker, you have a lot of doubts, but it's important to be connected to who you are, who you want to be as a filmmaker. Why do you want to do it? And never do something because someone wants you to do it. Even if you may fail. You will be okay because it will be true to you. I'm really sincere in my work, and so if people watch it or not, I am okay because I didn't try to be someone else. I think it's better to accept the failure than to try be someone else.