Sungi Mlengeya has spent the better years of her artistic life refining her visual aesthetic. Opting for minimalism and monochromatic colors, the Dar es Salaam-born artist tries to celebrate the women in her life, exploring every lived moment she shared with them and illuminating the powerful roles of these women to the growth of their societies. Her work often features women in movement, capturing acrobatic poses.
A career in the arts wasn't always apparent for Mlengeya, who is self-taught. After studying finance in university and graduating from Catholic University of Eastern Africa in 2013, she started a career in banking, while selling pieces of her artwork on the side. In 2018, she started working with a gallery and she has been a full time artist ever since.
In her new exhibition, titled (Un)choreographed, Mlengeya explores the essence of dance and the several ways it serves not just as an expression for women but as a means for women's liberation. Speaking to OkayAfrica, Mlengeya discusses stylistic choices in her art, women as her muse, and her exhibition in The Africa Centre, London, which opened earlier this month and runs until July 24th.
Login • Instagram
You switched from working in the bank to an artist. What motivated you to pursue art as a career?

I have always wanted to be an artist but I didn't know how and when. It was just a pipe dream. I chose to study finance because I thought it would be a general knowledge I could apply in my personal affairs whether it was an art related business or any business or I could either get employed with it. I just felt it was general because I didn't want something specific like an account which would limit me to a certain career choice.
As a child, were you so drawn to art?
Yes. I remember in kindergarten, we were made to draw people in our homes, and I drew my mother and my Aunty who was living with us, and I rushed home to show them the painting and my mother jokingly said, "this isn't me." I remember having this feeling which was so warm and it made me think I captured their essence in a way, even though it didn't completely look like them, I just felt like it would be a drawing I would always remember. Over the years, from Dar es Salaam, we relocated to Serengeti — which is one of the largest national parks in Tanzania — my parents were wildlife veterinarians so we lived in the park for about 10 years.
There were no electric poles because of conservation purposes so we only had generator power at night so the days were so long because we couldn't watch TV. We had to come up with other ways to fulfill the days. My mother had these magazines and they had craft sections, so my sister and I will always make crafts from those magazines. Everyday we would make something new from paper or just from cutting and fixing things together and in the evening, we would try out recipes. Most of my childhood was about creating things and I think that has contributed a lot to me becoming an artist because I find so much joy in doing all those things.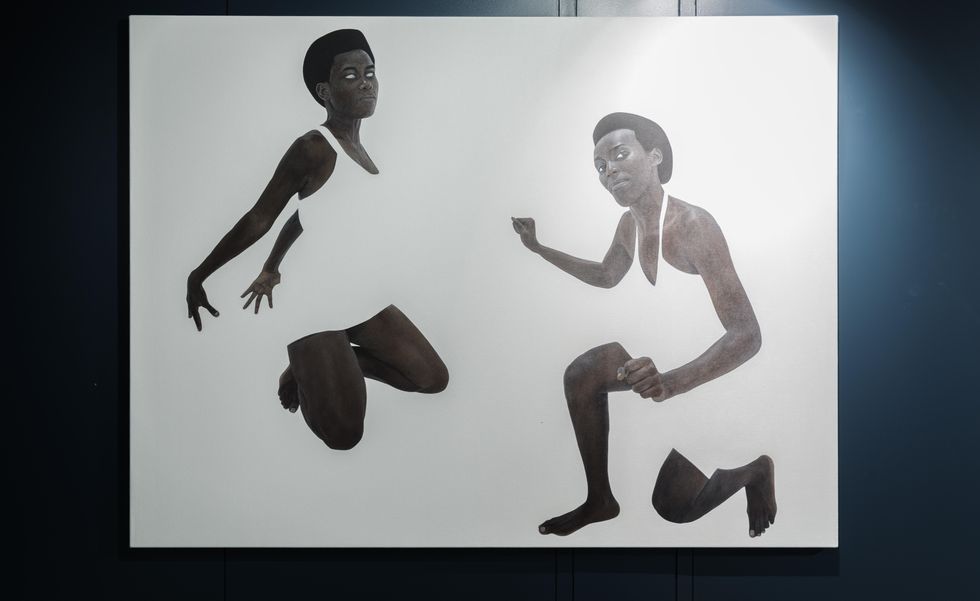 Photo Credit: Nigel Glasgow
In your work, you're always keen to document the lives of black and Tanzanian women? Tell me about it.
When I started painting, women were my first muse. I didn't know why, it was a random decision. I decided to continue painting women as a way of celebrating the women in my life. I usually paint them with strong expressions because I want to inspire a feeling of strength, power and freedom to the women that I'm representing. These are Tanzanian and Ugandan women because these are the places I have a lived experience of and I'm so familiar with those around me which gives me the power to paint the women that I know.
When did you relocate to Uganda?
It was when my gallery invited me in mid 2019. In Uganda I decided to persist with using black and white color in my work. Back in Tanzania I also used the black and white color but I was also exploring other things. But in Uganda, I moved with consistency and my scale of work increased. I think that consistency could have happened anywhere. I'm not trying to insinuate that because of the change of environment. I mean it's a journey, I keep experimenting with new directions and my art has progressed as well.
Is there any difference between the art scene in Tanzania and that of Uganda
I think it's more vibrant in Uganda, the galleries here, like mine, are taking part in the global art scene, inviting artists and doing international exhibitions. For my country's art scene, there is growth. It's still budding and I'm keen on seeing the several amazing things they do.
Was your minimalist approach to monochromatic colors very intentional?
No, it was not. When I started I wanted to make a painting with a perfect background and I had no clue on what the background would be. So I started painting the face first and, when I finished, I really loved how it looked. There was a contrast of the dark skin against the white background and that was beautiful. It made the painting stand out. But overtime, I have come to attach meaning to it. For me, space means freedom because just deciding to continue to do that meant it was liberating to me as an artist. It helped me focus on what I cared about, which was the women in my art and I really didn't care much about the background. I was just allowing myself to do what was liberating, and also the women I paint are also in a space where they are free to go about life doing things they want to do, be their true self without the limitations and cultural norms that hinder from pursuing a certain type of life they want.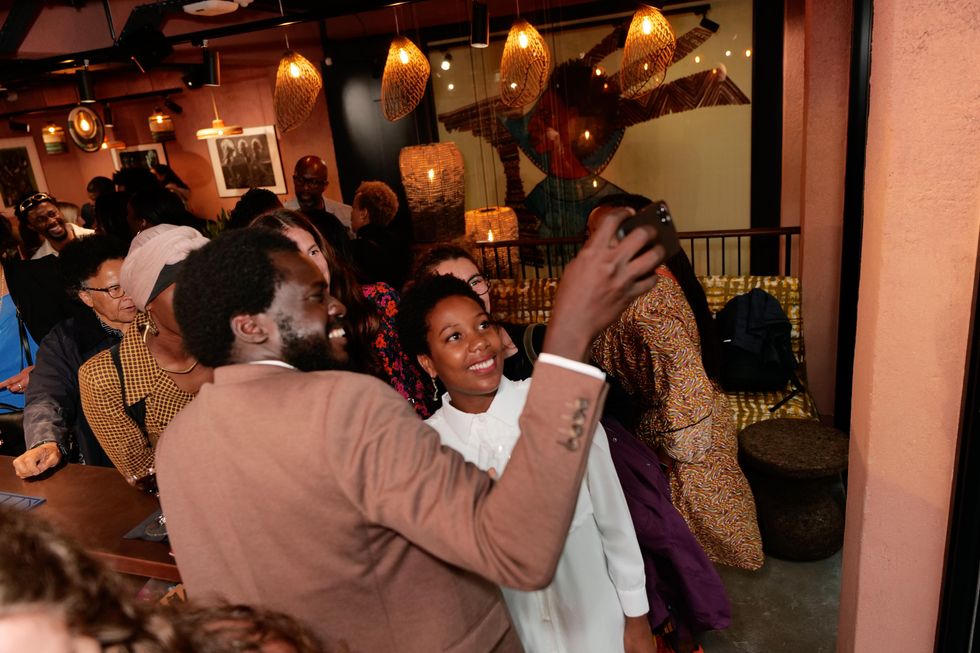 Photo Credit: Nigel Glasgow

Tell me about your artistic process?
My process is quite explorative, it begins with taking photographs of models. I tell them to pose a certain way or sometimes we get random poses and then I use the photographs to reference. Sometimes I play around with the photograph to add some trick here and there, so that the process is sort of playful. Before it was just turning the photographs into painting but now I play around with the photos so I can put more of myself into the creative process. After that, I use manipulated images for the paintings. Yeah, I think I'm embracing more playfulness because I feel art should be fun. Most times, I don't plan each painting, I don't always get the theme but in the process I just relate more meanings to it.
Is your art keen on liberating women in Tanzania against social norms?
When I began, that wasn't the motivation. It was just creating and expressing myself freely but I guess that is one of the things that adds on how people perceive my work. And that has a bit influenced me to continue focusing on women because I'm so keen on seeing a society where women are treated better. Being able to use my art to speak out that message is very apparent for women, it's a lovely thing but it's a secondary reason.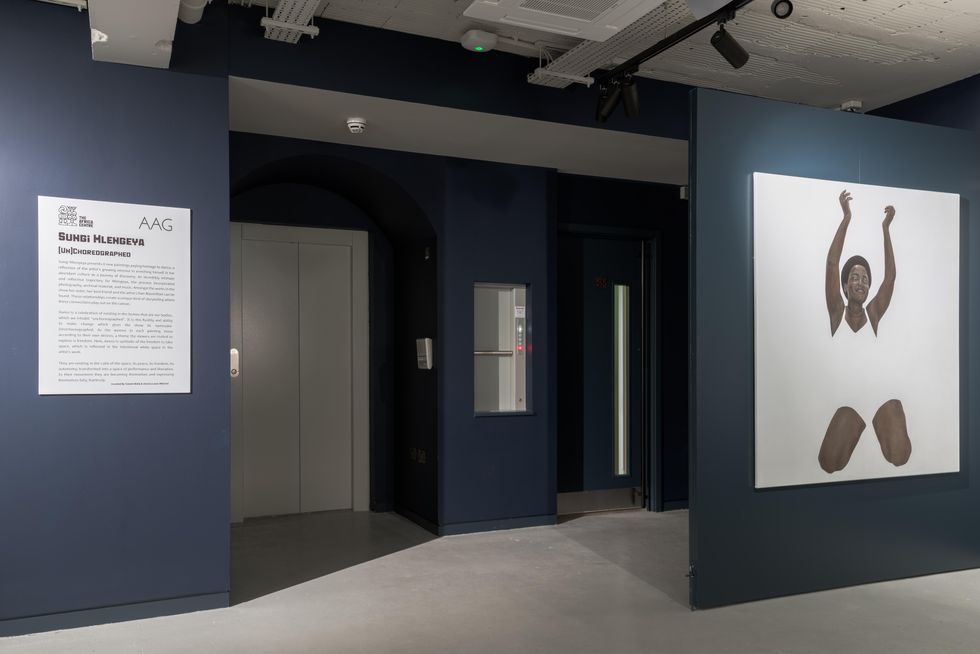 Photo Credit: Nigel Glasgow
Tell me about your exhibition '(Un)choreographed'
So I love to dance. I feel so good when I dance. I feel like I'm always dancing because when a good song comes up, I will be the first person to stand even though in nature I'm a bit shy and quiet. I have been doing several photoshoots for various works but in every shoot, I end up having some dance poses. I was looking for a theme and a friend of mine told me, "Why don't you do something about dance, you are always dancing anyway" and it sounded like a good idea. So I brought together all those photographs from previous years and then did some shoot relating to dance and made several paintings from these photographs.
The exhibition is acknowledging the dance moments in my life and then hoping to inspire the viewers to take a moment to celebrate life with dance. I can also relate to dance in real life because my dancing take up spaces and in life we need space for ourselves, space for autonomy to make our decision and I think it's a basic right. I also relate the movement in dance to a movement in life, taking actions in whatever that you think is important like being committed to your steps despite society. Yeah— so I think I relate those things to dance. Also, there is an idea that a super woman should take care of children, have a job, have a side hustle to make money, do domestic work and all these things but you know, we also need to relax, so it's a reminder for women to be calm and enjoy life.