Featured
May. 19, 2023 06:13PM EST
Photo by Pius Utomi Ekpei via Getty Images
Now acclaimed for her record attempt, we spoke to the Nigerian chef Hilda Baci on what it took to prepare, almost giving up, and the sweeping support that saw her to the finish line.
Hilda Baci has had a finger on Nigeria's culinary pulse for years.
She won the inaugural Jollof Face Off contest in 2021, has hosted cooking shows, organized cooking tutorials, and opened My Food by Hilda—the first outlet of her restaurant—in Lagos in 2022.
But last weekend, the 27-year-old chef, whose full name is Hilda Effiong Bassey, embarked on her most ambitious culinary feat yet: to break the Guinness World Record for longest cooking marathon. (Baci had originally set April 28 to kick off the cooking marathon; but it landed a new date on May 11 to allow for more attendees.)
Inside Lekki's Amore Gardens in Lagos, her cooking station was a makeshift enclosed structure the size of a mobile home. With a see-through glass front, there was floor-standing air conditioning to chase out the heat. Beyond that space, tents, canopies, and recreational fixtures such as a snooker table took up space for the public.
India's Lata Tandon held the Guinness World record for the longest cooking time (87 hours and 45 minutes) since 2019, and Baci was determined to break it. A modest crowd descended on Amore Gardens on the first day, and a live stream reached thousands of eyeballs online. After 24 hours, the crowd doubled.
Phones were out recording and live images and videos sent social media ablaze. The hashtag #hildacookathon found massive online support from Nigerians, including those who have never heard of her before. Preparing meal after meal, which was served to the venue attendees, Baci was egged on to smash the record.
By Monday, she had taken over Tandon's record time but she didn't stop. Ninety-six hours in, an afternoon announcement via her Instagram said she was pushing for 100 hours. The gigantic timer with red digits loomed at the venue until she reached her quest. The buzz of victory was infectious. Baci had made over 100 recipes, taking an accumulative hour-long break every 12 hours.
She's already in talks with Guinness World Records, who had reached out via direct messages on social media and emails. "We are currently in the process of uploading the evidence," Baci told OkayAfrica in a virtual interview. "It's taking a bit of time because it's a huge file. We are uploading the entire 100 hours, witness statements, all the cooking methods I used and several others."
It will take five days for Guinness World Records to review the evidence and return with a final decision. In the meantime, Baci hopes to open a bigger restaurant, launch a cookware line, go on food tours to propagate Nigerian cuisine and work with brands and investors.
A Lifestyle Change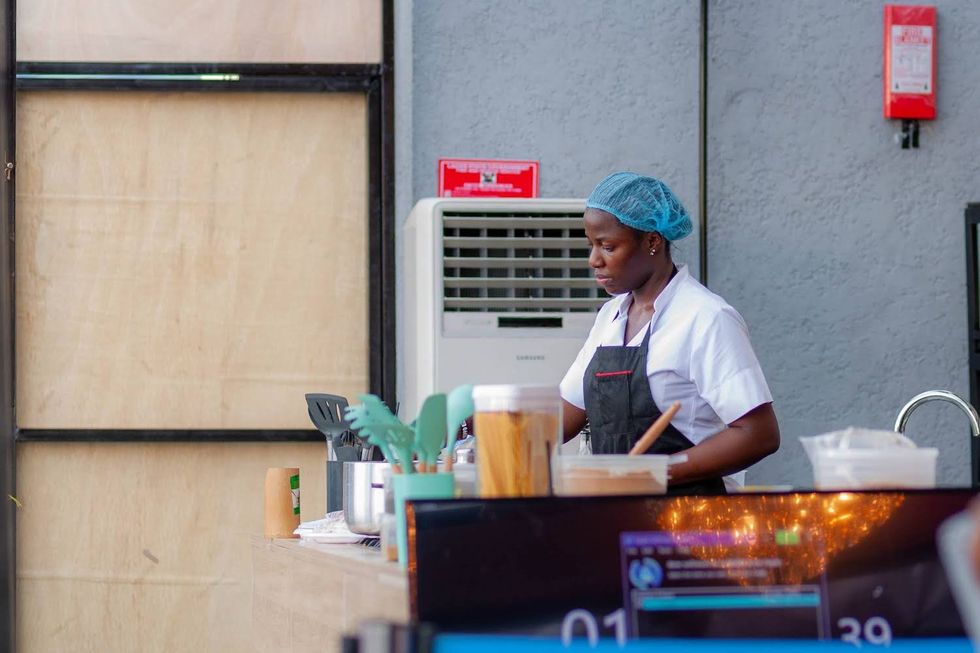 Photo Credit: Blanche Aigle PR
The journey to break the Guinness World Record for the longest cooking time was years in the making. "Five years ago, I didn't have a brand, couldn't afford certain things and I didn't know the people that I know today," Baci said. "I felt like I had to change some aspects of my life so that I could make this dream possible."
Days into the cook-a-thon, an old video of Baci surfaced online that showed her in contrasting sizes. She had embarked on a weight loss journey that saw her drop from 110kg to 8okg in two years. The revelation stirred controversy online, granting ammunition to a pocket of internet users to be fatphobic to other women.
"I didn't delete old images of myself online so anyone can see that I used to be much bigger before now," Baci said. "The cook-a-thon wasn't the only reason I decided to lose weight. I just didn't like certain aspects of my appearance and I intended to be a lot more active. But again, I knew that if I was going to be embarking on this feat, I need to do a much more intentional job about my fitness,"
She hired celebrity fitness trainer Kemen to keep her in shape, and to build mental and physical stamina. "During each break in the cook-a-thon, my vitals were taken by the health experts on ground in the caravan, including my father who's a medical doctor," Baci said. "My pee was tested each time I took a leak and I was also on my cycle at the time, and it was imperative that I took a shower. Then I ensured I took a 10-minute power nap even though my body refused to shut down."
A Rousing Public Support, Online and offline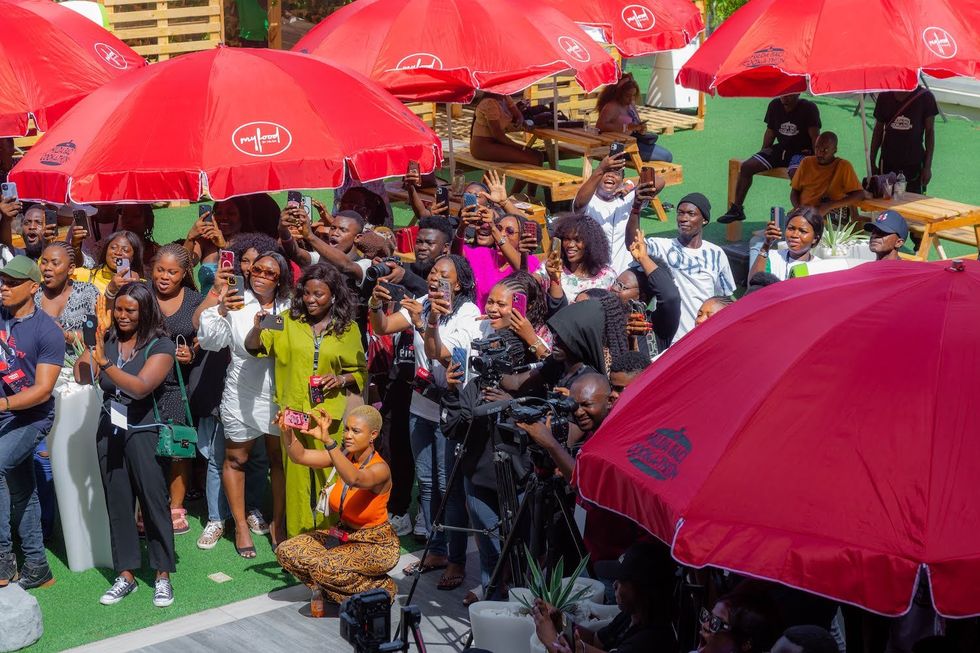 Photo Credit: Blanche Aigle PR
While Baci did her part to get to the finish line, public support helped her get there, from the physical crowd cheering her on loudly to the staunch movement on social media. One of the first personalities to spearhead on-ground support was beauty and lifestyle influencer Enioluwa Adeoluwa.
Adeoluwa, who has posted videos of himself eating food on Instagram and TikTok, was a perfect presence. So were food bloggers like Gina Ojo and Ify Mojekwu. In a surprise turn of events, comic actor and hypeman Charles Okocha stormed the venue, working the crowd in support of Baci. "We are waiting for you to break that record," tweeted Burna Boy on Sunday. Superstars like Wizkid and Tiwa Savage joined in, the former posting emojis on the live feed while the latter was there in person.
"I was expecting some form of support but I didn't anticipate this magnitude from Nigerians and from those across the world," Baci said. "I was told about the online support because, at the time, I didn't have access to my phone and had no idea of what was happening. At the venue, I saw people stand in uncomfortable positions because the place was already full to capacity, still cheering and chanting their support. It was all mind blowing, every single one."
Kaffy, the celebrity dancer and choreographer who set the Guinness World Record for "Longest Dance Party" in 2009 came around to show support. A group of Efik dancers thrilled in traditional costume, winking at Baci as an Akwa Ibom native. Over time, Nigerians have proved they can be relied on for support where it matters, and Baci's historic cook-a-thon was no different.
A couple of politicians provided motivation for Baci to continue her cook-a-thon. One of such is present governor of Lagos Babajide Sanwo-Olu, who arrived at the location on Sunday. Viral videos of the governor tasting her food gave way to more political involvement. Former governor of Akwa Ibom, Godswill Akpabio, appeared himself in solidarity for the resilient chef. Vice President Yemi Osinbajo, who couldn't make it to the venue, called Baci on the phone with cheering words.
Support from Baci's assistant chef, Sunday Okwe
While Baci remains the woman of the hour, an under-the radar figure who deserves honorable mention is Sunny Okwe, her assistant chef. In most clips or images of the cooking marathon, Chef sunny, as he's also known, can be seen hovering around Baci and ensuring she had supplies at a reachable distance.
More importantly, he can also be seen standing close to her, encouraging in moments when she appears visibly exhausted. A handful of Nigerians online have drawn attention to their dynamic, hoping his role won't be forgotten.
"The images of us were all profound, even when he appeared sapped out, he was still supportive to the end. I had two kitchen assistants and alternated between him and Lola. Sunny was the first chef I employed when I opened my restaurant. And I guess it's just a matter of familiarity between us and how I like things to be done," Baci said. "They were so willing to stay longer and it meant a lot to me. When I almost gave up, what kept me going was them, thinking of the time and effort they have put into the marathon because I had to make it worth something."