Teck-Zilla Shares 'Audio Chemistry: 1st Period' LP ft. Canibus & Rapper Big Pooh
Nigeria-born, Montreal-based rapper/producer Teck-Zilla releases his latest album 'Audio Chemistry' LP.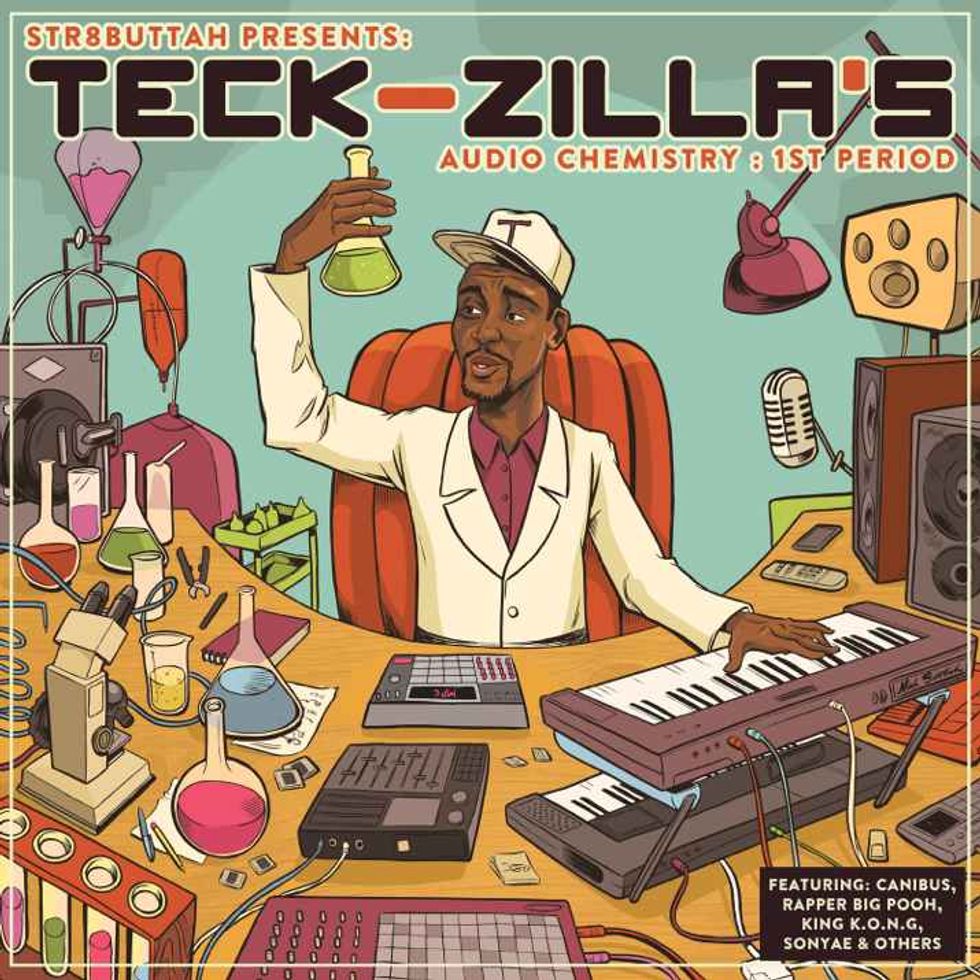 ---
A few months after releasing his afro funk-inspired remix collection Teck Afro Bootlegs, Nigeria-born, Montreal-based producer Teck-Zilla hits us with his new album Audio Chemistry: 1st Period. The bouncy, percussion-heavy LP flows seamlessly from track-to-track, displaying the Str8Buttah member's warm and gritty production while spotlighting inventive wordplay from the many featured MCs. There's the loopy "L.O.V.E." featuring Raleigh rapper Sonyae spitting, "Even when that fruit was forbidden/I was bitten," and "Breaks & Rhymes" with Ontario hip-hop act Sleepy Hollows, as well as contributions from Str8Buttah emcee Mister Rae and Nigerian rapper Modenine. However, the most noteworthy features on the album come from lyrical heavyweight Canibus and former Little Brother member Rapper Big Pooh. Ending with a reference to Nas' classic album in the closing track "Billmatic," Teck-Zilla's Audio Chemistry: 1st Period is ultimately an irresistible nod to that golden era 90s boom-bap. Stream our premiere of the album below and grab it on iTunes/ Google Play/ Bandcamp. For more, listen to Teck-Zilla's Teck Afro Bootlegs and his Sade-sampling instrumental tape.
Teck-Zilla's Audible Chemistry Tracklist:
01. Intro
02. Line For Line (feat. Mister Rae)
03. The Hard Way (feat. King K.O.N.G.)
04. Super Human (feat. Canibus, Modenine & Mark Deez)
05. Don't Sleep (feat. AQ)
06. L.O.V.E. (feat. Sonyae)
07. Paradise (The Fusionist & Emily Coy)
08. Breaks & Rhymes (feat. Sleepy Hollows)
09. Like A Spark (feat. Hua Li)
10. Let The Horns Go (feat. Str8Buttah,Fahrenheit, & Rapper Big Pooh)
11. RockSteady  (Funky '97) [feat. MLKK RDD]
12. Billmatic (feat. Avyn)