Back in high school, Sylvester Ndhlovu used to design his own T-shirts. But it wasn't your regular send-off-to-the-printer kind of designs. "It was just a white tee and a sharpie — I'd draw on it or write on it," the Harare-born entrepreneur shares. "I used to play soccer, and I would sometimes wear the T-shirt under my jersey, so that if I scored, I could just take the soccer jersey off and show off my own T-shirt design."
Today, as a result of the pandemic, Ndhlovu's soccer-playing days are sporadic. However, he's still designing, now on a much greater scale. As the founder of RuvaAfricWear, Ndhlovu has spent the past six years building a proudly African fashion brand that celebrates the continent through items that make everyday activities such as walking, running, swimming and dancing fashionable. On June 19 last month, Ndhlovu opened a store in his adopted home of Minnesota, where he's been residing since moving to the US to study Business and Economics at Concordia College in Moorhead after high school. He currently shares his home with his wife and two daughters.
---
The store, he says, is a space that both elevates his hopes for RuvaAfricWear — Ruva means 'flower' in Shona and is also one of his daughters' name — and the community that buys his clothing. "Part of the drive to open the store was due to what was happening in Minneapolis over the past year, with George Floyd and also Dante Wright. There was so much tension between people. I wanted to see if I could contribute in any way — to create a place where people could come together and celebrate, and do dance workouts and yoga," he says.
At age 12, Ndhlovu moved from Zimbabwe to Ghana when his mother died, and attended the SOS Hermann Gmeiner International College. It was at this school that his passion for uplifting the continent was fostered. He came to the US on a scholarship.
He opens up about the journey to getting RuvaAfricWear off the ground...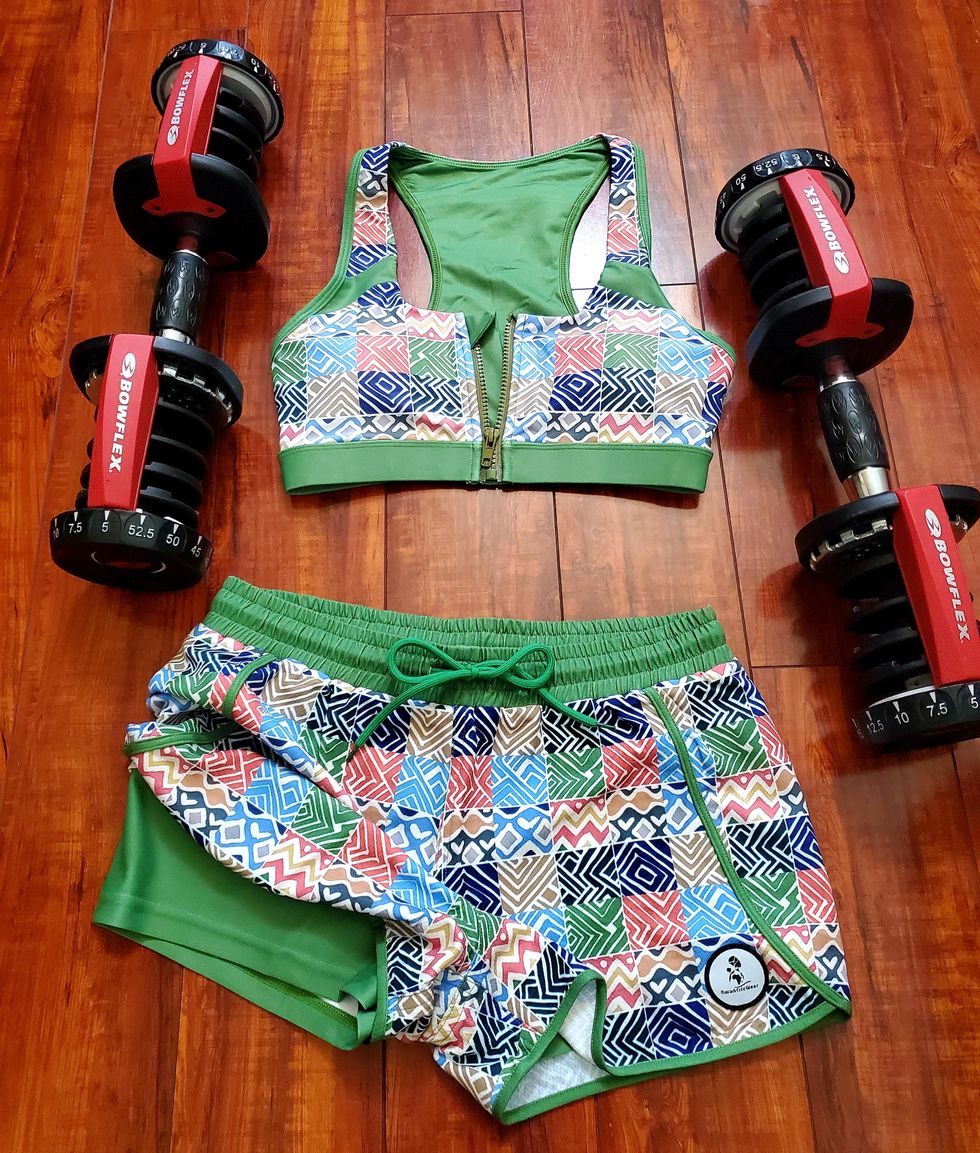 RuvaAfricWear two-pieceSupplied
How did you get into design?

I started designing T-shirts for me and my friends, for fun, in high school. At the time, I was really into designer labels. But then I got to a point where the labels really didn't mean anything to me. So that's where the idea to create something significant and that celebrated my identity came from. I was on a work visa, meaning I could start the label but not make money from it. Once I got my Green Card in 2015, I formalised the brand. The idea had always been there.
You design everything for RuvaAfricWear, except for a few of the accessories that you sell in-store. What inspires you?
I started with blazers — that was one of the first collections. I realised that there were all these amazing African designers doing great work, but they were producing items that could only be worn on the red carpet. They weren't, at all, practical or for everyday wear! For some reason, people always reserve African attire for church, weddings or funerals. My niche was to create something that would be functional daily, that people could wear to the gym, work or when swimming.
"For some reason, people always reserve African attire for church, weddings or funerals. My niche was to create something that would be functional daily..."
What was the biggest challenge you faced when you started?
Living in Minnesota, the challenge to get discovered as a brand and have people appreciate what I was doing was harder. In the early days, I used to do pop-ups and fashion shows outside of Minnesota. To this day, the brand is mostly popular outside of Minnesota. And like with any other small business, the challenge is always securing funding so you can be able to scale.
Why open a store?
For the past five years, I never actually wanted to open a store. My focus was on getting the brand into retail stores. I desperately wanted it to be mainstream. The main challenge, however, was contacts — knowing the right people and understanding retail business at that level. I even pitched to the likes of Nike and Under Armour. In hindsight, I'm glad all of that didn't work out. I prefer having my own store and building a direct relationship with my customers. That way, I get to control the brand story better.
What about the extra costs that come with running an actual store?
Rent is not cheap! But I was at the point where the brand was becoming too big for me to continue playing small. I had been building the brand for five years and not taking any risks because I still had my day job, amongst other things. I felt like I was not living up to the full potential of the brand. The foot traffic and constant eyes on the brand at the mall are really going to pay off — that's for sure!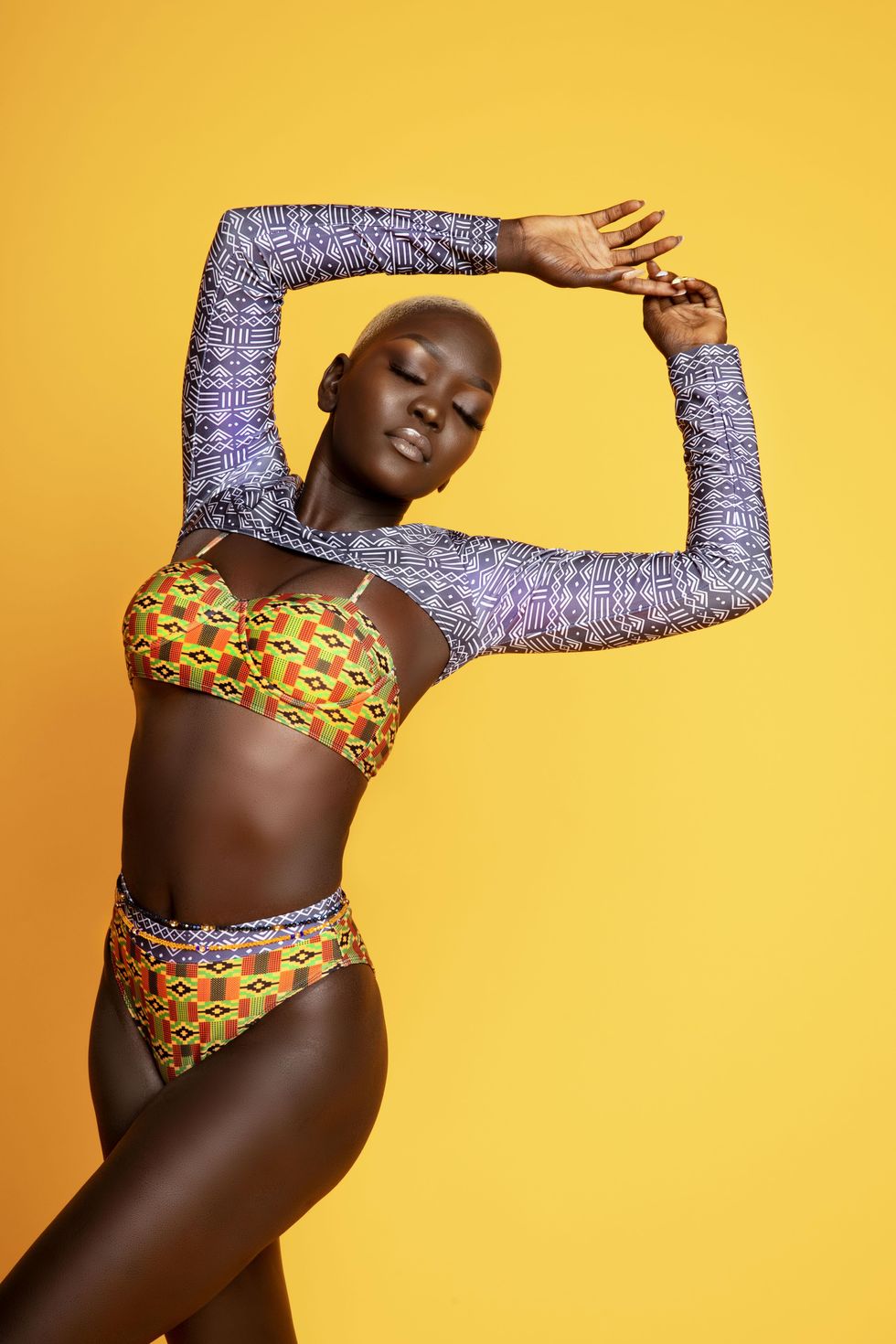 RuvaAfricWear swimwearSupplied
How do you feel about opening one of the very few African stores in Minnesota, at a mall as big and prominent as the Mall of America?

The focus was always to have the brand go mainstream and to prove that we can wear our own brands and still look good. The high school I went to in Ghana really instilled the value of what it means to be African and contributing to growing the continent. A lot of my schoolmates have done the same thing — whether they've gone back or not — we've prioritised how we can put Africa on the map or contribute in some positive way.
Some of the items have a reputation for selling out quickly. How do you create the collections?
The brand promotes fitness. I fuse fashion with fabric from different African countries. Covid-19, however, delayed that goal. So far, we've done a Zulu beads collection and used a lot of Kente material. It all depends, too, on how quickly things sell out. We try to put out three to four collections in one year. Now with the shop open, we will definitely be increasing the number of annual collections. We have a high customer return rate, so we want them to always find something new when they come back.
"...I was at the point where the brand was becoming too big for me to continue playing small..."
How do you personally stay fit and active — do you still play soccer?
I still enjoy playing soccer even though I haven't done so in a long time, thanks to Covid-19. I've been doing some home workouts and also enjoy the evening dance workouts that we offer at the store.
What's the biggest lesson you've learnt through RuvaAfricWear?
Being resilient. And that an idea or a dream will remain that until you act on it. You could spend years putting together a business plan but until you put some action to it, it's going to continue living on paper. I learnt that putting my ideas into action is key!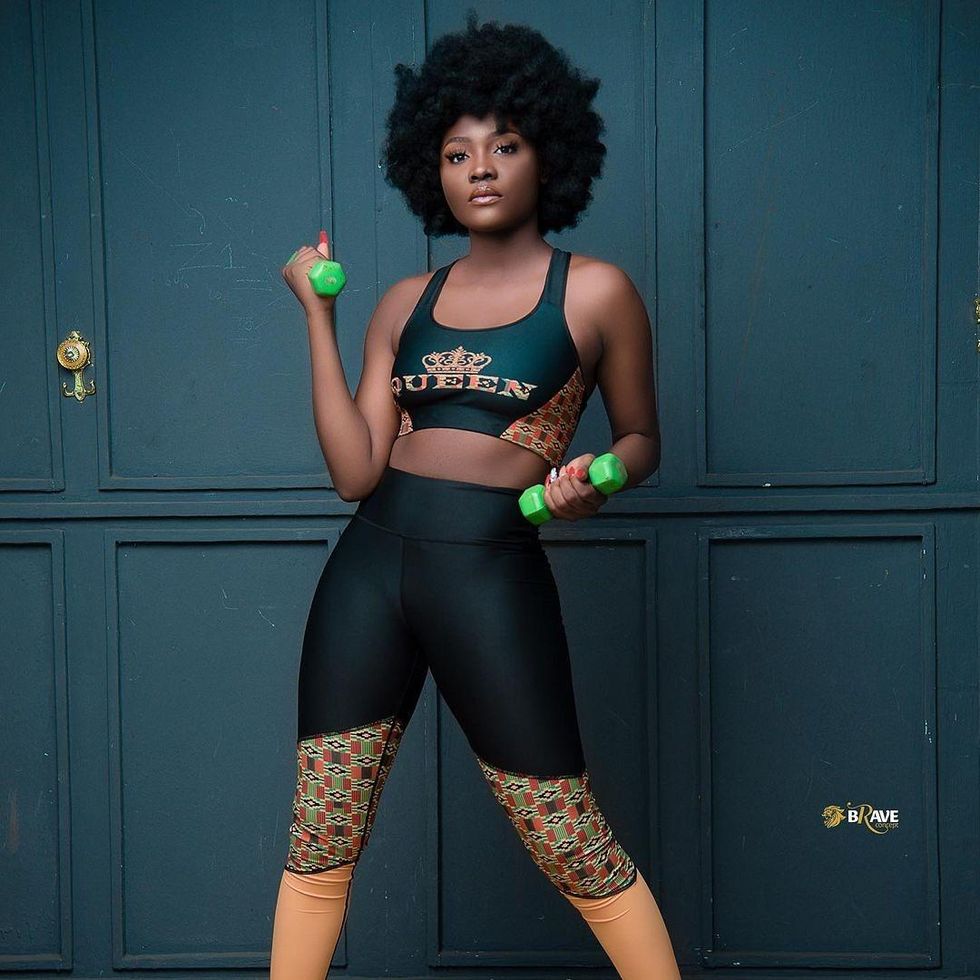 Another RuvaAfricWear two-piece for those who are serious about asserting their African identity daily. Supplied