October 2015 was an explosive moment for South Africa in which the country's youth, disillusioned with Rainbow Nation rhetoric, rose up in revolution. For fiction filmmaker and young Cape Town creative, Jabu Nadia Newman, #FeesMustFall sparked the forthcoming web series, The Foxy Five.
---
The Foxy Five is a squad of five young South African femmes who are plotting the revolution ––Unity Bond played by Duduza Mchunu, Prolly Plebs played by Qiniso van Damme, Blaq Beauty played by Tatenda Wekwatenzi, Femme Fatale played by Qondiswa James and Womxn We played by Nala Xaba. You can expect the team to deliver a humorous yet thoughtful concoction of race, class, gender and sexuality.
"Fees Must Fall was a time when I was feeling very helpless and unable to process how I was feeling," Nadia Newman tells Okayafrica from her lounge in Woodstock, Cape Town, the creative and restorative melting pot for The Foxy Five. It was also when she felt the most creative. "I was learning about so many new concepts that I'd never understood or heard before, and I was hearing it from people who were my age and who looked like me."
Duduza Mchunu as Unity Bond. Photo: Jabu Nadia Newman
The show aims to provide a semi-autobiographical lens on intersectional feminism in a post-apartheid context, with a 70s styling edge. "You often see YouTube videos of amazing black feminists explaining things, but I wanted to relay that into a story that people could relate to and understand," says Nadia Newman.
The cast and crew hope the series' portrayal of complex identities of black women will resonate with black women in the audience. "We can't all be one thing, but you realise that [the characters] were written as these archetypes so you can identify those specific elements," Xaba tells me.
Nadia Newman welcomes collaboration from the digital diaspora. "We're trying to make the production team solely women and predominantly women of colour, even if you just want to work on one episode or get something on your show reel, come through." Another way you can support is through crowfunding.
Nala Xaba as Womxn We. Photo: Jabu Nadia Newman
While filming the first episode of the series, the squad was confronted with an actual instance of catcalling during the shoot. "The levels of irony were insane," says Xaba. "Catcalling is one small thing that supports this whole other system that, yho, really hurts as black women the most. We're the people whose bodies the world in general feels entitled to do with as they please." The cast, almost as if an extension of their characters, responded by chasing the man down street.
"South African women and their internal feminism can add so much more to the rest of the world," says Nadia Newman. "There are real issues that we are dealing with here besides wanting to show our underarm hair."
"On so many levels, South African feminism is a lot more radical than African-American feminism," adds Xaba. "And yet when we go online and want to learn about intersectional feminism, we have to follow the vloggers who are African-American."
Tatenda WekwaTenzi as Blaq Beauty. Photo: Jabu Nadia Newman
The team is in agreement that there's an undervaluing of how radical African feminism is. They see their work as an authentic South African building block to be added to black feminist discourse such as Beyoncé's Lemonade. "I know 'Formation'—that's it. I'm not even trying to throw shade, because Beyoncé is amazing, she's so amazing, she's just not African," says Wekwatenzi. "I'm all about Lemonade and what it speaks about, but also she is just jumping on the bandwagon, because black consciousness is cool and it's a trend and it's cool to be woke and it's cool to be one with your African-ness now," adds Mchunu. "We are critical thinkers. And there is nothing wrong with admiring something and critiquing it, because that is what intersectionality is," explains Nadia Newman.
Two of the cast members were not present for the interview, but that didn't stop the rest of the team from praising them for their contribution to the discourse of intersectional feminism. "There is something so overtly black feminist about the energy [Qiniso] brings," says Xaba of her Foxy Five comrade. The sentiment of black women celebrating one another is ubiquitous amongst the five. "[Jabu] brings out this gift in me, my inner Queen," says Mchunu.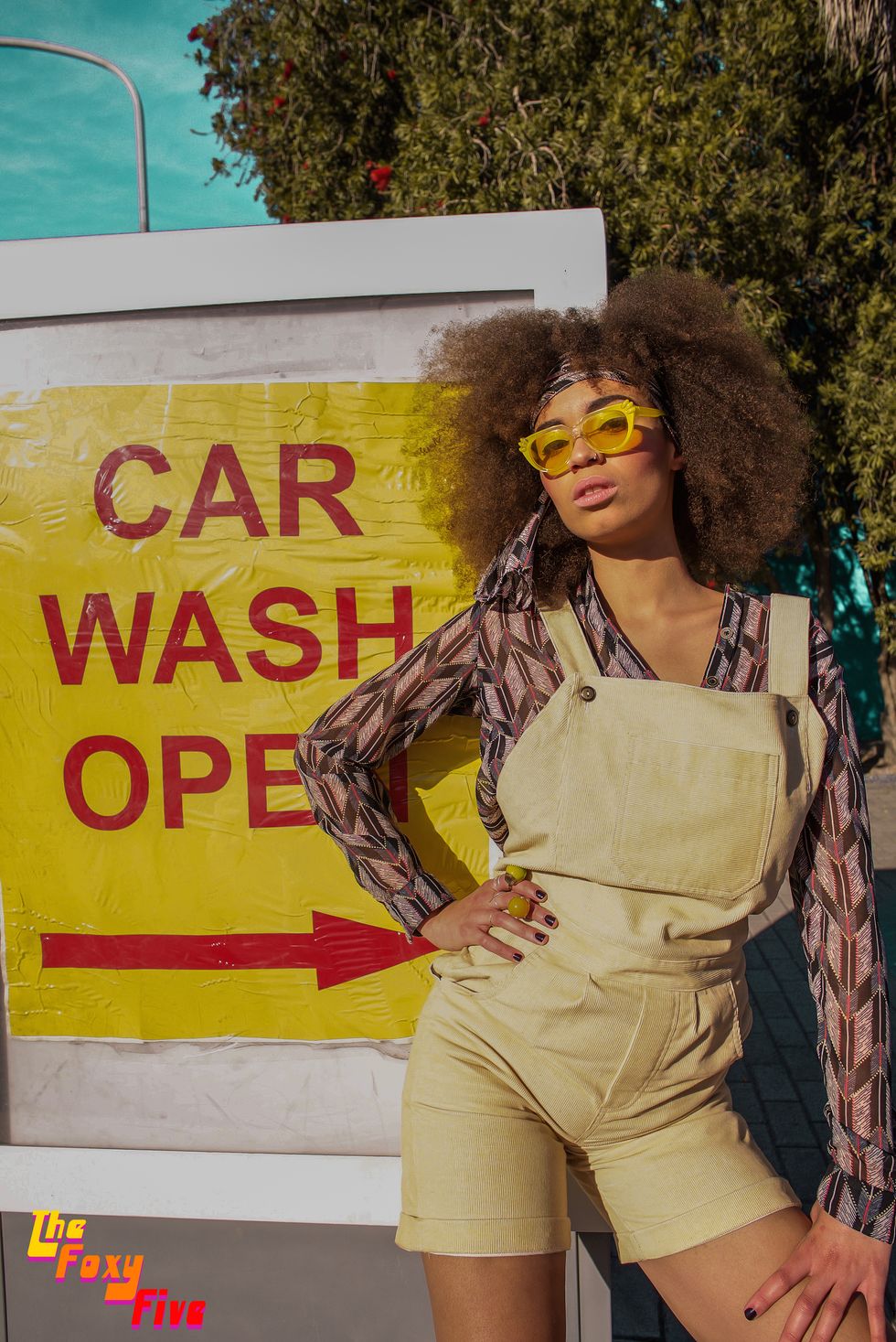 Qiniso Van Damme as Prolly Plebs. Photo: Jabu Nadia Newman
"[One day] we were driving to one of the locations and I started crying because I was like, I'm healing, being a black woman amongst black woman, and being a dark black woman," shares Mchunu. "I felt like wow, for the first time I'm in a safe space, and I'm in this creative group and making work for other women to feel that too."
"The only way that this shoot was a success was because of black women," concurs Nadia Newman.
Check out our exclusive premiere of the pilot episode of The Foxy Five, "I'll Catcall If I Wanna Catcall!" above. Keep up with the series on Facebook, Twitter and Instagram and find out how you can support via the show's crowdfunding page.
Qondiswa James as Femme Fatale. Photo: Jabu Nadia Newman
Photo Credits
Photography: Jabu Nadia Newman
Styling: Grace de Kroon
Custom Designs: Micah-Leigh Richards
Makeup: Mehnaaz Alex
Chaze has got Zambian roots and is currently making the most out of a polyamorous relationship between poetry, photography and documentary filmmaking in Cape Town.