Director João Paulo Miranda Maria's Memory House (Casa de Antiguidades) opens with the creepily white and sterile confines of a dairy factory. Cristovam (Antônio Pitanga) emerges from a white outfit that resembles a spacesuit to find himself being called into the boss' office. There, he learns via corporate-speak that after decades of employment at the company, he'll be getting a reduction in pay.
As an Indigenous-Black man, Cristovam comes from the north of Brazil, a rural area. His situation represents the many Afro-Brazilians who ventured south for employment and opportunity. For thirty years, he found it in a small town in the south, where Austrians have taken over both the main source of employment and the town itself. Austrian pop music blares from the speakers at the local bar, and down to the smallest children, the Europeans openly disdain the locals.
Antônio Pitanga is striking in the role. Pitanga (aka Antônio Luiz Sampaio) is a veteran of the Brazilian film industry. He was a notable figure, and reached international recognition, for his roles in several films from the so-called Cinema Novo movement of the 1960s. In 1962, he was in The Payer of Promises, (O Pagador de Promessas) which won the coveted Golden Palme award at Cannes in 1962 – the first Brazilian film to do so.
The Cinema Novo movement represented a wave of films that looked at issues of social equity in Brazilian society, and emphasized an intellectual approach. It's a movement and philosophy that resonated with Maria, along with the actor himself.
Director João Paulo Miranda Maria grew up in a rural area of the mid-south of Brazil, not unlike that depicted in the movie. "It's not exactly the same region," he explains. He describes the environment as very conservative and Catholic. "I was the weird one in the family," he laughs.
Although it's not entirely similar, details from his life did creep into the script. "It's about the people I knew in the past," he says. While an ultra-conservative thread always existed in Brazilian society, he says that in recent years, the situation has changed. "They now have the courage to express their point of view," he explains – and that includes the systemic discrimination against Afro-Brazilians that is the heart of his film. "We have a very bad situation in Brazil."
During a trip to the south of Brazil, Maria says he discovered a city that was an Austrian colony, formed in the 1940s by Nazis fleeing Europe after the Second World War. The titular Memory House of the film is part of that village where many retain their German and Austrian roots. "It's a real house," he explains, "owned by an ex-police officer."
Making a film centered on the Afro-Brazilian experience is his way of responding to the deteriorating situation in his country. When he was developing the story, his choice for the starring role was clear. "I always had him in mind," he says. "I grew up seeing Cinema Novelo films. I always remembered his energy and power."
Photo courtesy of TIFF
In a script that gives him few lines, Pitanga embodies the character physically, saying more with his face and body than words could provide. He wears the oppression in his taut shoulders and the rigid set of his jaw. When he finds an abandoned house in the woods full of artifacts of the old Afro-Brazilian religion, and begins to immerse himself its traditions, his posture and whole body changes.

For Pitanga, the role was much more than a character on film. He commented via a translator. "Living Cristovam brings me many memories, for what I have seen this character is real. He is Brazilian, like me; he is from the NorthEast, like me; he is Black, like me; he suffers from all types of invisibility, racism, suffers for being from the NorthEast. There are so many Cristovams in this country of more than 200 million people. Cristovam's hands built this country but no one can see him. He got cold, like many others workers of this country. He has a scream locked inside him. He carries in his skin, in his soul, a great desire to be accepted, but he can't belong. This character gave me the opportunity to revisit so many NorthEastern Brazilians like me, with this suffocated scream inside. The day all Cristovams finally shout out for sure it will be very painful."
"When I wrote the film, I always imagined him as the character," Maria says.
Photo courtesy of TIFF
While his career was notable and productive, Pitanga had actually never taken a lead role in a film until Maria offered him the part just before the actor's 81st birthday. "I think that only you can be this character," Maria remembers telling Pitanga. His producers, Maria recalls, were initially aghast at the idea of offering the lead in his film to an octogenarian.

He managed to convince them eventually. In a story where the silence says more than the dialogue, and is told in a minimalist mode, Maria says he also counted on Pitanga's smarts. "I want the actor's intelligence," he says. "For me, it's the gift."
Pitanga saw the role itself as a gift. "For me, with more than 60 years of career, more than 80 films, I took this film as a special opportunity. Like I had with Glauber Rocha and Cinema Novo. João Paulo Miranda Maria gave me this character as a gift! After working in films that won the Palme D'Or, after working on films that fought dictatorship, facing it, I see in this film a sparkle that made me capable of playing such a difficult delicate character. I feel I have been waiting for 60 years for this character. Cristovam and I have the same hidden screams, the same will to win. It's a speech that comes from Malcolm X, Martin Luther King, Black Panthers, George Floyd, and all the Brazilian Black movement, we all can't breathe. At the end Cristovam is also saying take your boots off of my neck, I can't breathe. That's why Memory House is one of the most important films of my life."
Cristovam is a complex character. Even as he battles the Austrians' discrimination, he clashes with the Black women who cross his path – strong women who reveal the old man's weaknesses. He veers between impassioned defender of an ancient faith and people to a stumbling old man, a warrior and someone who can't quite give up his patriarchal ways. "He's not a victim 100 percent," Maria agrees. "He is one character lost in time."
"Of course this is a closed, sad, observer character," Pitanga observes. "He is locked inside himself. He is invisible but he has witnessed many things. So much prejudice. He is a clicking bomb. He has been put in the center of this racist, full of prejudice society. And like him, many other Brazilians will identify themselves with him. He is not a lonely voice. Many in Brazil and around the world will find themselves in this explosion that is Cristovam."
In the movie, Maria offers the old Afro-Brazilian folklore as an antidote to the loss of culture and identity, the discrimination and disrespect. The religion and its practices came to Brazil with West African slaves. In a real world context, the Brazilian government has actively prosecuted practitioners of those religions. One of them, Candomblé, only became legal in the 1970s.
Cristovam's reawakening pride and sense of belonging on the land lead to escalating clashes with the blond-haired, blue-eyed inhabitants of the town. Without giving away the ending, as the action fades on screen, audiences will want to listen for the subtle sounds that continue to reveal the story's end.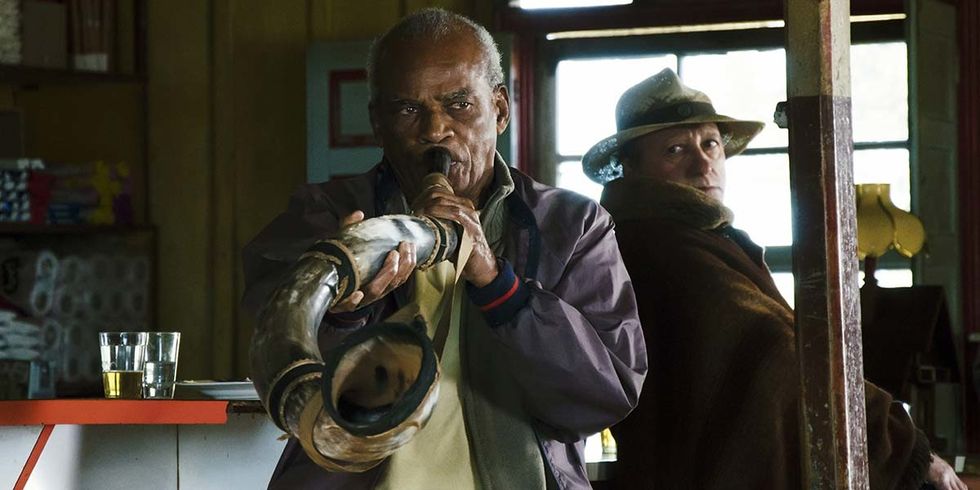 Photo courtesy of TIFF
Cinematographer Benjamín Echazarreta captures the script in absorbing visuals that range from the gleaming sterility of the dairy to the lush vegetation and rich colors of the forest. Maria cites Stanley Kubrick and Pier Pasolini as inspirations when it comes to cinematic language. He also pays special attention to the sounds, which he tinkered with until they fit his design for the movie.

Creating a sense of authenticity was important. In one scene, Cristovam appears with reddened eyes. Rather than CGI, Maria used special lighting that made them pop out of the darkness. "I can see the real blood in their eyes," he explains.
Memory House was to have screened at Cannes this year. While the festival was cancelled, Cannes distributed the seal of approval for use on Memory House, and all the movies that had been selected. The Toronto International Film Festival (TIFF) was held in a part online and partly in-person format this year, which provided important exposure. Still, Maria says he is anxious to see it on a big screen in front of a full house.
Memory House is a Brazil/France/Portuguese/German production, and is Maria's first full-length feature. Previous short films Command Action (2015) and The Girl Who Danced with the Devil (2016), screened at Cannes, the latter receiving a Special Jury Mention. Another short, Meninas Formicida (2017), was selected for the Orizzonti section at Venice Festival.
From TIFF, Memory House went on to screen at the San Sebastian Film Festival in Spain. The film is slated to continue screening on the international festival circuit, with a theatrical release planned for November 2020.