It took at least fourteen years for South African filmmaker John Barker to make The Umbrella Men, the crowd-pleasing heist caper that emerged as one of the highlights at last year's Toronto International Film Festival (TIFF). The sequel, The Umbrella Men: Escape from Robben Island took considerably less time, arriving at TIFF exactly a year after the first.
Screening in the festival's Industry Selects section, a curated selection of audience-friendly films for accredited buyers and industry guests, Escape from Robben Island reunites the core cast and crew from the original project for one more adventure.
The sequel co-written and directed by Barker, picks up from the events of the last film. The lovable gang of minstrels led by Jaques De Silva's Jerome have successfully pulled off a daunting bank heist. They return to their Bo Kap community as heroes, having managed to save their beloved Goema Club from being acquired by greedy capitalists. This honeymoon period does not last long as the long arm of the law promptly catches up with them. Jerome and his crew are dispatched to the famous Robben Island, newly reopened to address the state of congestion in the country's prison system. Over on the outside, it falls to Keisha (Shamilla Miller) to lead other returning characters like Mila (Bronté Snell) and Aunty Val (June van Merch) to envision an audacious plan to break the guys out of prison. Can they pull off the near impossible?
"Right from when we were shooting the first film, we realized we had something fantastic. Chemistry was great, characters were well-rounded, and the vibes were right," Barker tells OkayAfrica via Zoom. He and his producing team agreed on going ahead with a sequel almost immediately, and locked down cast and crew members who were only too happy to sign on. By the time the film was premiering at TIFF, Barker and co-writer Philip Roberts had a decent draft ready.
Umbrella Men: Escape from Robben Islandwww.youtube.com
"It was an immediate yes for me when John shared the story he was going to write for the sequel" says Miller, who was then handed the additional responsibility of leading the cast alongside De Silva. "I was particularly excited for the role the women were going to take. From being the love interest in the first film, Keisha takes more of a lead role in the planning and organizing. That was a very fun narrative to play with," the actress adds.

To a lesser degree, Escape from Robben Island continues to hone in on Jerome as he tries to find his way in the world as a man and as a leader. De Silva shares his motivations for revisiting the character even as he is asked to share space with other players, "On a very personal, selfish level, I am grateful that I was just starting to explore aspects of the character that I feel were on the cusp of blooming. For Jerome, it is a story of identity, who am I and what am I going to be leaving behind? To be able to tell that fun story in the context of this iconic space that has become such a huge part of our legacy and identity was exciting and rewarding."
The first film was set against the backdrop of the annual Cape Town Minstrel Carnival, celebrated since the early 19th century to mark the holiday that Dutch colonists would grant their enslaved captives from across the Indian Ocean. For Escape to Robben Island to emerge just as competitive, Barker seized on another iconic Cape Town landmark.
Most famous for hosting the now-shuttered maximum security prison that held Nelson Mandela for 18 of the 27 years of his imprisonment, Robben Island has a long and tortuous history going back to the 1600s. The island has served as a refueling station for colonial ships, an animal quarantine berth and a leper's colony, at various moments in its history. Barker was drawn to this rich tapestry of history that the island represents. "For us South Africans, Robben Island has a very long, very hardcore history," he says. "And though we were making a comedy we wanted to make it believable for our audience. There has to be something to it. We wanted to give the girls a challenge, out of their comfort space so we thought, let's reopen Robben Island."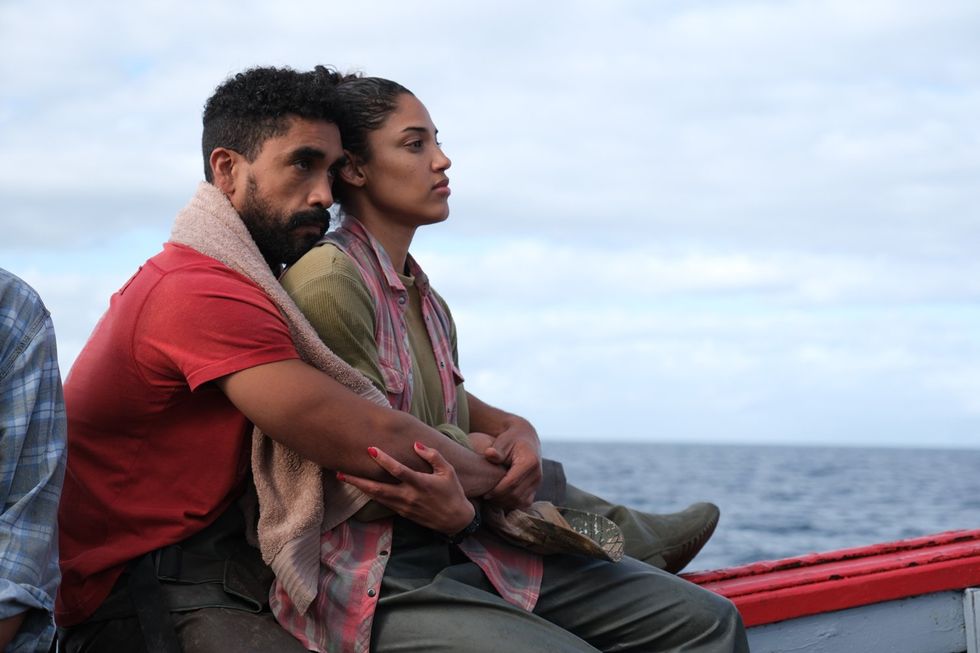 A still image from 'The Umbrella Men: Escape from Robben Island.' Photo courtesy TIFF.
Bronté Snell, whose character Mila is called upon to make some tough choices, always felt like there was room for the story to continue beyond the first film. She tells OkayAfrica, "It felt like there is so much more that needed to be told. That is why I said yes. I could not believe we were doing a prison break in Robben Island! It was great and empowering that the women could shine in this way."

It made narrative sense for Barker that the ladies were the ones to lead the charge. "We spent so much time with the guys in the first film that I think that we might have started getting tripped up asking them to do this," he says. "They cannot break into a bank vault successfully, then out of a prison. Those are different skills. But the girls could definitely be motivated to learn a new skill that would keep things fresh."
Making space for the ladies to shine also meant making it believable for the audience to feel that they possessed both the mental and physical toughness to go through with a prison break. The cast had to commit to physical training that included learning to swim in scuba gear. Barker and cinematographer Motheo Moeng also had to stretch themselves, learning to shoot for the first time on water, and utilizing anamorphic lens to capture a specific look for Robben Island.
Privileged to receive a bigger budget for the sequel plus more production time, Barker insists that Escape from Robben Island was just as tough to film, and this production arrived with its own set of unique challenges.
The key to avoid the trap of merely making a duplicate film was to switch up the genres and try for something different. In this regard, Barker looked to the Aliens franchise for reference as the films have been able to cycle across genres, from science fiction to action and horror. In the same vein, The Umbrella Men moves from the bank heist sub-genre of the crime drama to Escape from Robben Island's prison break territory. All the while striving to invoke the charm, color and liveliness of the Bo-Kaap community.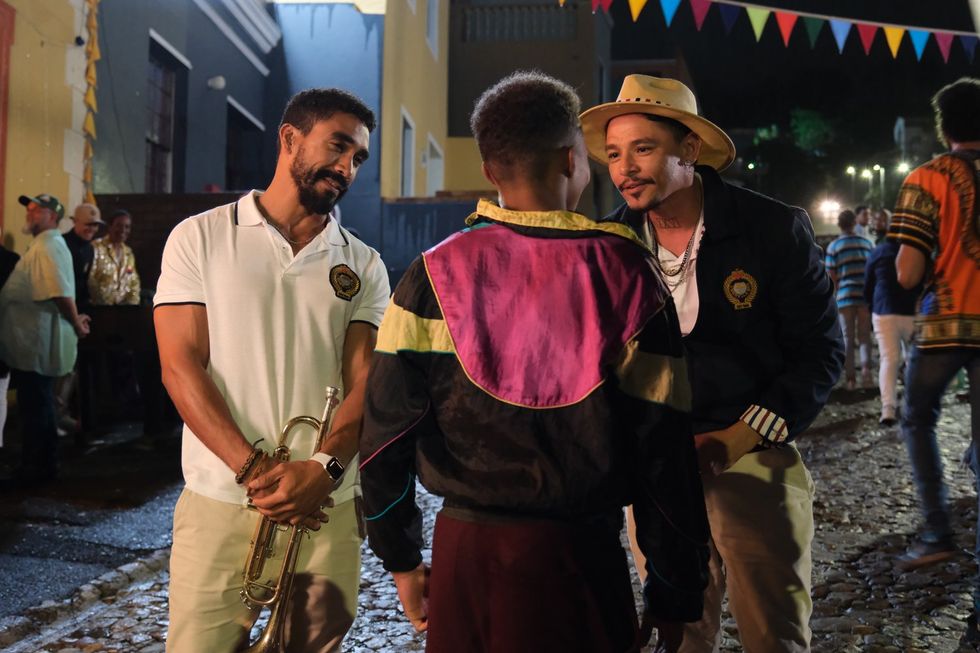 A still image from 'The Umbrella Men: Escape from Robben Island.'Photo courtesy of TIFF.
The sequel also introduces the Muslim part of the community that was largely absent from the first film. Composer Loukman Adams returns to take the lead, building out Arabic and east African soundscapes, again playing subtly into the Cape Malay history of slavery and migration. Referencing genre films like Papillon and Alcatraz, Barker injects blue and yellow color palates, creating a kind of retro look that makes the prison world more vibrant.

It is never too early to start considering opportunities for another entry in the budding Umbrella Men universe, and Barker and his cast are certainly eager to revisit this world. "I miss the family vibe," he says. If Escape from Robben Island works and people feel like they want to see more, and we feel like we haven't fulfilled the characters' potential, then we would love to do more. We all want to work together."