As police officers time and time again fail to be indicted for killing unarmed black men and women who have their hands up in surrender, cry out "Don't shoot" or "I can't breathe" or simply "looks like a bad [person]," they have become more emboldened, gunning down children and individuals with disabilities. It's sickening. It's exhausting. It's painful.
---
It doesn't matter which part of the African diaspora you hail from. And it's happened again.
Alfred Olango, a 38-year-old man originally from Uganda, has been shot and killed by police in El Cajon, California. His name, like the 216 other Black men and women who have been killed by police this year alone, began trending on social media late Tuesday night after a bystander posted a video clip of the shooting aftermath on Facebook, Al Jazeera reports. It's been viewed at least 78,000 times.
You can view it here. Please exercise self-care—if you decide to watch, the video is emotionally disturbing and contains profanity.
Police from the El Cajon suburb where the incident took place released a statement late on Tuesday night, several hours after the shooting outside a shopping center, announcing that Olango had died in hospital.
Here's how the incident unfolded:
Olango's sister called the police for help when she noticed her brother was acting strangely. Early eyewitness accounts suggested that Olango was having a seizure or some other sort of medical or mental-health emergency.
"I called three times for them to come help me," Olango's sister says. "Nobody came; they said it's not priority."
Police understood that they were responding to a 5150 call, which is employed "when a person, as a result of a mental disorder, is a danger to himself/herself or others or is gravely disabled," which is corroborated by from the police-scanner audio.
"The male subject paced back and forth while the officers tried to talk to him," El Cajon Police Chief Jeff Davis says. "At one point, the male rapidly drew an object from his front pants pocket, placed both hands together on it, extended it rapidly towards the officer, taking what appeared to be a shooting stance, putting the object in the officer's face," News10 reports.
"Why couldn't you tase him? I told you he is sick. And you guys shot him!" Olango's sister can be heard telling officers in the Facebook video. "I called police to help him, not to kill him."
However, several eyewitness allege "officers were unduly quick to open fire and suggested that their actions had been influenced by the fact that they were dealing with a Black man, one they described as mentally challenged," according to CBS8. Others say Olango had both of his arms extended outward when he was shot and begged police not to shoot him.
Police deny this.
The investigation just started, but based on the video voluntarily provided by a witness, the subject did NOT have his hands up in the air

— El Cajon Police (@elcajonpolice) September 28, 2016
The El Cajon Police Department released the image below to suggest Olango was a threat: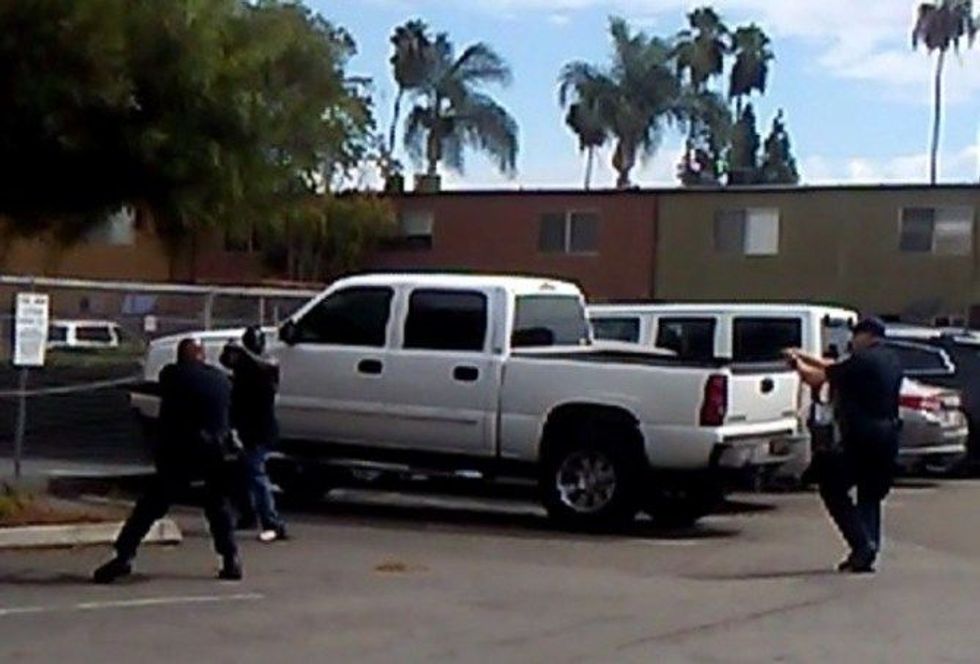 Image of Alfred Olango released by El Cajon Police Department
Davis confirmed that Olango was not holding a gun, although an unidentified object (early eyewitness say it may have been a vape pen) has been recovered from the scene.
Following Olango's killing by police, protesters gathered at the scene for several hours, alleging police brutality. Demonstrations were also held outside the police department.
Although the past cases would suggest otherwise, police at the news conference insist, "The truth will come out."