The melody merchant is back. And this time he's gone electronic, book-ending his third studio album, Starboy, with not one, but two songs—the title track and "I Feel It Coming"— produced by Daft Punk.
---
The hedonistic excess from which The Weeknd's always sourced material, far from being exhausted, has been retrofitted with electro-dance. That's not to say that 'mixtape Weeknd' isn't alive and well.
Last year's Beauty Behind the Madness brought him chart success and a string of awards of which one rankled. He addresses this on "Reminder" confounded that he "just won a new award for a kid's show/talking about a face coming off a bag of blow."
Such a "recognition" will sanitise and eventually defang what is most interesting about his music. "Goddamn bitch, I ain't no Teen Choice," he snarls perhaps pissed that his name is bracketed with Justin Bieber's too often.
Male R&B titans rarely mesh well on the same song (see, for example, R. Kelly and Usher's "Same Girl"), but the rappers have had less trouble doing so (Nas and Jay Z's "Black Republicans" or, more qualifying as a rap-twin, Rick Ross' "War Ready" featuring Jeezy.)
In this new album, Future and The Weeknd re-occupy the same smoke chamber after "Low Life" off Future's Evol.
"All I Know" is expansive in mood and length clocking in at 5:21 minutes. Midway through, The Weeknd's falsetto meanders as though he's summoning a presence. When it appears in the form of Future, that presence emerges something less-human and more spectral-being spouting images, half-phrases, incomplete thoughts and near-gibberish like, "Lamborghini make her creep walk."
Back in 2012, The Weeknd (Abel Tesfaye) had a public quarreled with Zodiac (formerly Jeremy Rose), a producer who claimed to have inspired and co-curated the pop star's dark aesthetic after getting production credits on some songs off his debut mixtape House of Balloons.
As if still reeling from that public spat, The Weeknd moans "too many people claim that they made me, if they really made me then replace me" in "Sidewalk" which features an expectedly dexterous verse from Kendrick Lamar.
Criticism that, thematically, Tesfaye has been tilling the same patch of land for years is true but for the wrong reasons.
Kanye West is capable of downsizing from the spectacularly baggy "Dark Fantasy" to the taut and industrial Yeezus, only to conflate those two opposing sensibilities in the supreme Life of Pablo. Very few humans are capable of this.
The Weeknd's own self-renewal project is to, yes, till the same patch of land (high grade drugs, lust, loneliness), but employing different and now-improved tools from art-house horror (Kiss Land) to the galactic (Starboy).
Heavily indebted to Michael Jackson, his biggest hit to date, "I Can't Feel My Face," was co-produced by Max Martin and Payami, who here made "Rockin," a beat which could have been credited to Disclosure, or more interestingly to Darkchild and Michael Jackson's "You Rock My World." In fact, "Rockin" sounds eerily like a cranked-up version of "You Rock My World." Other similarities abound.
"Starboy" and "I Can Feel It Coming" are lyrically less weighted than any other songs here, but they're also better welded to the Starboy vehicle than others.
Daft Punk's beats on "Starboy" are like beastly grumblings over which The Weeknd opens the song and album saying "I'm tryna put you in the worst mood," before going on to tell you the many ways in which he's out of your league having "made your whole year in a week too". He's less bullish on "I Feel It Coming," which finds him soothing a love-burnt lover not to shut him out.
"Ordinary Life" is the one song that is defiantly 'mixtape Weeknd'—but here enhanced with better drugs, heightened nihilism and grander references "Valhalla is where all the righteous are led." The hook is Sade's "No Ordinary Love" repurposed for debauchery (as he did with Mary J Blige's "Real Love" which became "Real Life," the opener on Beauty Behind The Madness).
But then Emeli Sande, another song writing majesty, retraced the melodic goodness of Tesfaye's "The Morning" to make the celestial "Selah," the first song off her recent album, Long Live The Angels.
Rather than being rife with it, the misogyny in The Weeknd's music is actually the normal state of play. Some of the women in his world are victims of course, but others are willful participants who share his neediness, fluctuating self-esteem and drug palette.
His sweet, sweet falsetto is then like a cough syrup which masks its bitter, more active agents. It is also one of the reasons why he's adored by many, a considerable amount of whom are women. Being tapped to record the lead soundtrack for Fifty Shades of Gray confirmed this on a much larger scale.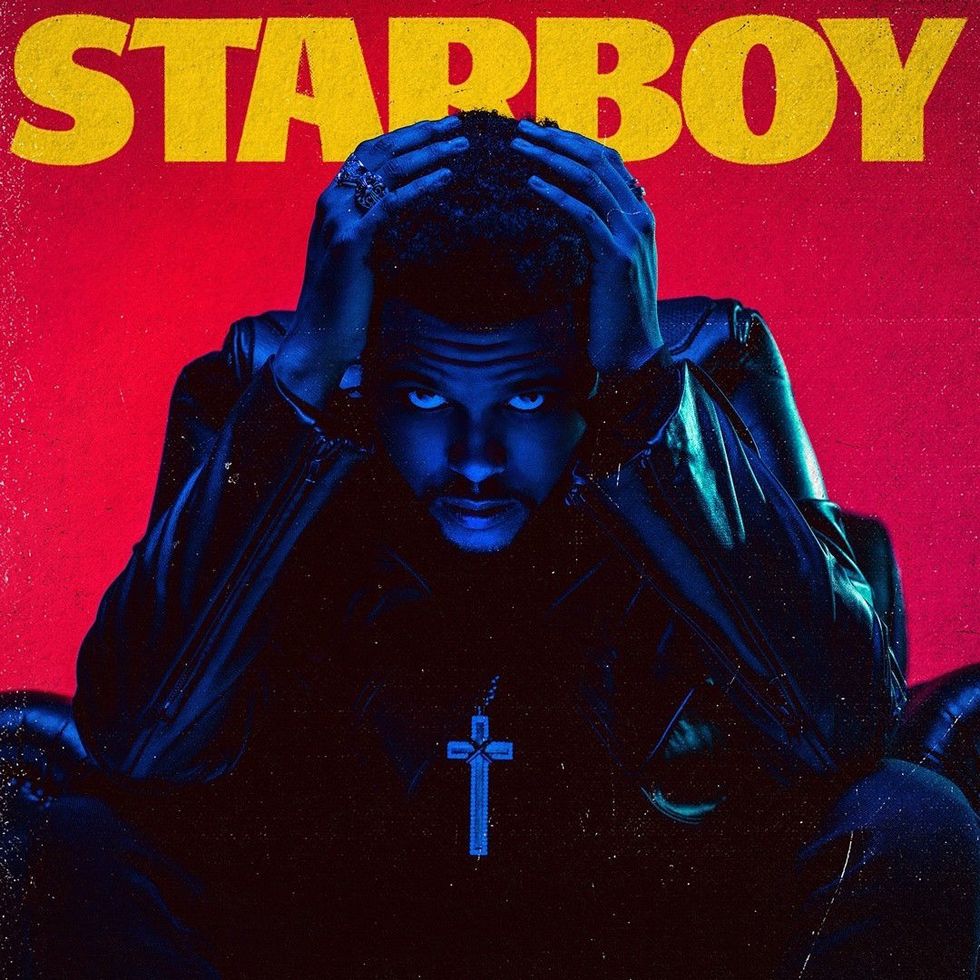 A surprising find on Starboy is that the self-indulgence has been complicated by what appears to be real feelings. Seven out the 18 songs on the album are evidence of, if not emotional growth, then emotional responsibility on his part. See some quotes below for proof:
'Love To Lay'
"I feel there's someone else worth your time from the start/ he's just one call away from your mind and your heart"
'Die For You'
"I'm scared that I'll miss you, happens every time/I don't want this feeling, I can't afford love"
'Secrets'
"I can see that you're not mine/I can see the lust in your eyes"
'True Colors'
"Baby girl, we all had a past/I'd much rather hear the truth come from you"
'A Lonely Night'
"I loved you on a lonely night/it was the only time and if I led you then I apologise"
'Nothing Without You'
"I was too busy trying to find you with someone else/ the one I couldn't stand to be with was me"
'Attention'
"Tell me how to love/it's been so long"
The copious quotes are not to combat the prevailing perception that he's sexist, and I doubt he had a stated aim to repair this image of him. I'll even go as far saying (but not to a conclusion) that these are not altogether conscious decision of his.
Neither would I venture into his sub-conscious as it is for fear of falling into an abyss. But if I were to aggregate them all into a whole, the sum is a significant improvement on the way him or Starboy see and treat women.
Sabo Kpade is an Associate Writer with Spread The Word. His short story Chibok was shortlisted for the London Short Story Prize 2015. His first play, Have Mercy on Liverpool Street was longlisted for the Alfred Fagon Award. He lives in London.