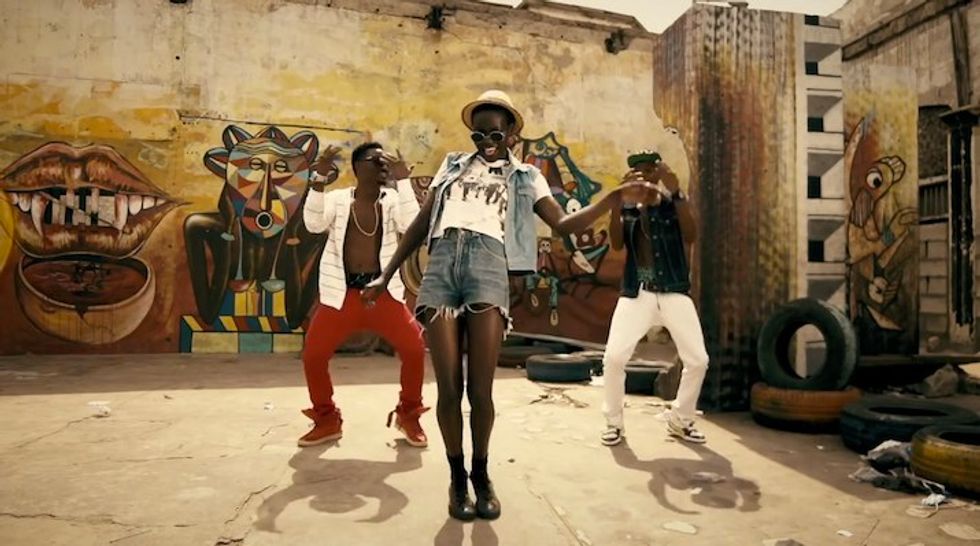 ---
Weird Together is the kiwi global dance octet who first caught our attention with their infectious, house-influenced "Karima's Story." Initially the studio project of Tokyo-based music journalist/TV presenter Nick Dwyer and Auckland-based producer/DJ Dick "Magik J" Johnson, the outfit became a full live band in 2012 with the addition of Karima Madut (vocals), Mavs Adegbite (percussion/vocals), Izak Chadderton (steel pan), Alesano Schuster (steel pan), The Gaza Tripp (guitar) and Yonier Cuevas Vega (MC). Last year the group signed with UK label Soundway Records, who put out their 5-track No Compromise EP in December. Last week the group shared the visuals for their title track, a bouyantly comic love story unfolding on Accra's bustling streets. Shot by Dwyer and producer/director/editor Tu Neill (the team behind Red Bull Music Academy's outstanding Japenese video game music documentary Diggin' In The Carts), the piece shows Weird Together's Sudanese vocalist Karima Madut announcing the release of "No Compromise" on live radio and then dancing to the song's jumpy beats as a rambunctious admirer goes after her. The music video also features cameos from Ghanaian highlife greats Gyedu Blay Ambolley and Ebo Taylor. Speaking about the new clip, Dwyer tells Okayafrica:
"Accra is such a beautiful place, I've been there a few times now and each time I just fall in love that little bit more. A large part of that beauty is the spirit and humour of the people and we really wanted to capture that in the video. Ghanaians are just so warm, witty and love and live life to the fullest and the team we worked with on the video made it such a joy to shoot. We'd made one of the longest flights you could possibly do - Auckland - Accra and we were jet-lagged, it was hot & myself and Tu managed to both get food poisoning, so it wasn't the easiest shoot ever but everyone we met was so super cool it ended up being the funnest. It was also Karima's first time back in Africa since she left when she was a child so for her it was a very special trip and most of that down to the hospitality & generosity of the locals that the Accra is renowned for."
Watch Weird Together's "No Compromise" video below. The No Compromise EP is out now on Soundway Records. For more, see the group's '90s-esque clip for "Gban Gban Lewa," which Okayafrica premiered here in September.