Singer Wendy Shay is the hottest female artist in Ghana right now. Since her announcement at the Ghana Music Awards (VGMAs) in April 2018 and the release of her debut single ''Uber Driver'' two months later, Shay shot straight to the mainstream and has consistently delivered hit after hit till date.

The circumstances of her introduction into the music scene were undeniably controversial. Wendy Shay was introduced as one of two artists during the 2018 VGMA Awards ceremony by her manager and Ruff Town Records CEO Bullet, at a time where the nation was still mourning the tragic loss of the beloved singer Ebony Reigns. The move by her management was deemed by many as insensitive. The moment also distracted from the coronation of Ebony Reigns as the '2018 Artiste of the Year.' This singular action, albeit unintended, has adversely affected the general public's perception of her as an individual, as well as Ghanaian music fans' reception of her as an artist.
Any other musician at her level of artistry would definitely be lauded in today's music scene as one of the best to do it. But due to the underlying circumstances, Wendy Shay isn't really accorded that recognition befitting her status in the industry. While some people have declined to take a liking to Shay's person due to the circumstances around her introduction, or are averse to her person due to her cocksure, outspoken nature and bold antics, there is one thing no one has been able to complain about: the music.
---
Photo courtesy of Wendy Shay.
Wendy Shay's career is something of a paradox, because in spite of all the negativity surrounding her she still thrives. One thing all the controversy didn't do is inhibit her growth. Despite the unrelenting fallout from her debut, the numbers tell the exact opposite story. She's a top tier artist as far as Ghanaian music is concerned, with her amassing over 50 million streams on digital streaming platforms and close to 24 million views on YouTube. The music has spoken for itself, from the fun afrobeats bop "All For You," to the lovestruck pop ballad "Emergency," right down to her latest offering, "H.I.T (Haters In Tears)" featuring top dancehall act Shatta Wale.

The fact is, Wendy Shay is the biggest female artist in Ghana right now. The numbers are there to back this claim. You may have your reservation with her antics. But, I think it's time we put the past behind us and embrace her for who she is: the queen. We sat down with Wendy Shay to speak about her music career and the controversy surrounding it, her international ambitions, working with Shatta Wale, and more. Check out the interview below.
How did you get into music?
So I always knew I wanted to be a musician. I always loved music. I even went to the music school in Germany for about four and a half years. When I decided to do music professionally, I met Bullet who is the CEO of RuffTown Records. It was then he signed me on his record label. So that's how I actually got into music professionally.
You've achieved a lot over the past two years you've been active in the music industry. What are the things you feel contributed to your success?
It's all by God's grace. It's definitely God. He's the reason why I'm here, so I give glory to Him. And I'll say hard work and determination. I've really worked hard. A lot of effort has gone into my career. And I'm blessed to have RuffTown Records—my management team and the record label that I'm signed onto. They've really been a pillar behind me in everything. And then I'll say the circumstance or the situation I also found myself in when I entered the music scene. Losing a great artist like Ebony, who was on the record label that I'm signed to, people were expecting a lot you know? There was so much attention on me. And you know when we got the attention, we didn't slow down. We gave them hit after hit. So I'll say firstly God, secondly my hard work, thirdly the record label that I'm signed to, and fourthly I would say the circumstances that I found myself in. I'll also say the hit songs that God has blessed me with.
Wendy Shay - H. I. T (Haters In Tears) ft. Shatta Wale [Official Video]youtu.be
You're the hottest female artist in Ghana right now, but not everyone acknowledges that. Why do you think that is?

You know first of all the thing is that I'm not expecting acknowledgement from people about if I'm the hottest female artist or not. What I want people to see, and what the majority of Ghanaians and my fans know is that I'm working very hard. Numbers don't lie. If you check my streams I have the biggest streams, if you check my fanbase I have the biggest fanbase here. And so they acknowledge the fact that I'm a very hard worker. And that is what is important to me, you know? For people to see that I'm the most hard working artist, not even female artist. I don't want to be tagged as a female artist, but the biggest artist, you understand. That is my focus, it's not about titles. I wanna make music, you know? Make money. So that I can care about those I love, those around me, and give my fans hit songs. Because that's food for the soul, music. So that's my focus, not the titles.
Is there anything you plan on doing differently?
What I'm trying to do right now is set an example for women. Because when I look around me and I'm looking for great women, it's hard. They're not a lot as compared to men. I wanna be great, and I wanna be someone who can stand and say "hey, I wanna help other women to be great and become great leaders". So I want to be that person who changes the perception of how the world sees women as, you know, weaker vessels. I want the world to actually see that women are very strong. We are actually the strongest and we run the world. So that's basically one of the things I want to do. Women embracing their womanhood and still being great and respected in the society.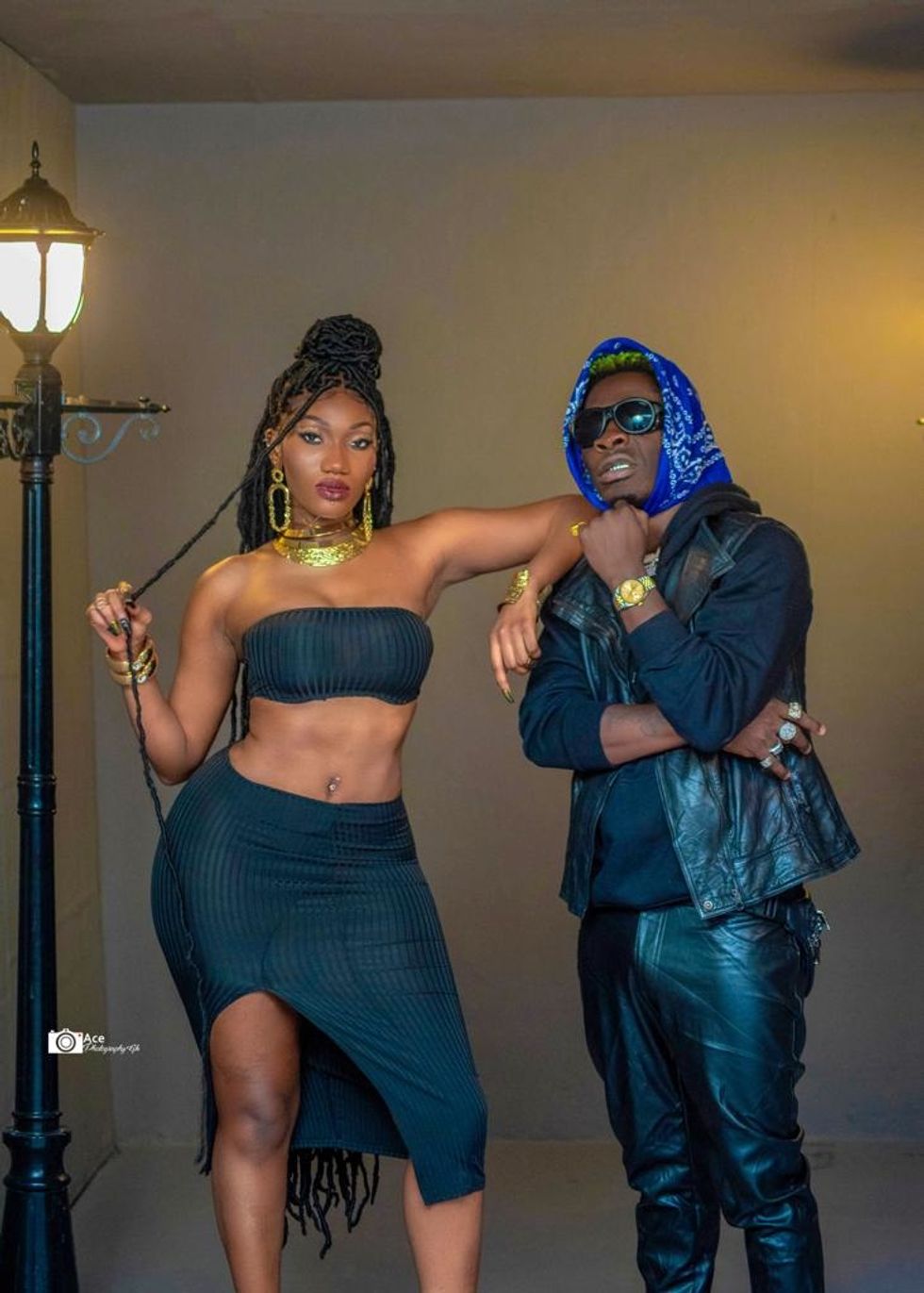 Shay and Shatta Wale.Photo courtesy of Wendy Shay.
Tell us about working with Shatta Wale on your latest single.

It was amazing, you know. Shatta Wale is my godfather. He's been very supportive and he's been encouraging me. Whenever we meet, it's nothing bad. Really intense friendship. Working with him has really taught me a lot too, you know. Shatta Wale and I share a lot of things in common. Like how we were received in the industry and the things we've been through and still being on top of our game. So whenever we meet it's about that connection and chemistry that we share, and that is what we put on the record. It's nothing bad, just pure chemistry and joy to bring out what we have in us for the world to enjoy with us.
Should we expect a project from you any time soon?
Of course, yes. I have so many things coming in the pipeline that are about to come out. It's on a time bomb and it has to explode. We're just waiting for the right time. But very very soon you will hear about the project that I'm bringing. I have an international album coming out, and you guys are gonna love it. I know my fans are gonna love it. And there's gonna be another album too. So we have an international album, when I say international I mean songs that are more appealing to the western audience. Not only to Africa, but then of course it's afrobeats.
Has the Covid-19 situation affected how you approach your craft in any way?
Yeah, it has. Performances especially. I miss the stage, I miss connecting with my fans through performances. And also financially too. We should be getting some money and cheques, you know. But because of the covid we can't really perform. But then it hasn't really slowed my music production, as in me bringing out songs. It hasn't really slowed it. I'm still bringing out music like I'm supposed to. For the fans, because like I said they need it.
What's next for Wendy Shay?
A lot of things. I'd say international steps now, because I think the world has to also see what we African musicians we have. To celebrate, and for the world to enjoy our talent and gifts. So I'd say the next step for Wendy Shay is taking over Africa and the world, with good music you know. Yeah that's the next step for Wendy Shay.