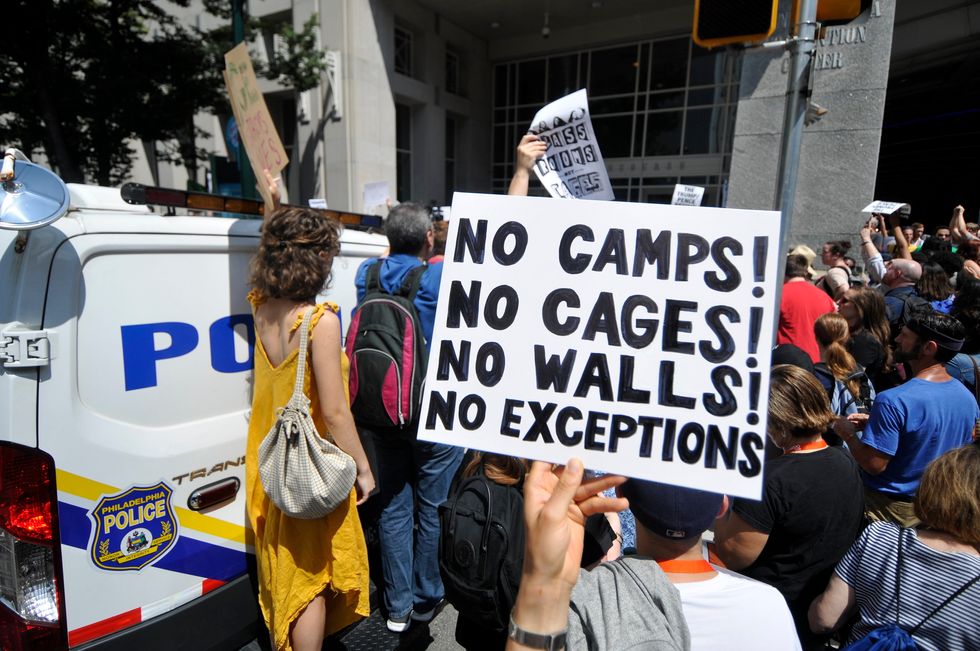 Hundreds demand to end white supremacy and an end of human concentration camps at the US border during a rally in Philadelphia, PA on July 12, 2019 as the Trump administration announced that ICE will follow up raids and deportations in the following days. (Photo by Bastiaan Slabbers/NurPhoto via Getty Images)
ICE is expected to begin crackdowns across the US on Sunday, putting thousands of undocumented migrants from Latin America as well as Haiti, Cameroon and DRC at increased risk of abuse and deportation.
Immigrants across the US are bracing themselves for planned ICE (Immigrations and Customs Enforcement) raids, expected to occur in several major US cities beginning on Sunday.
"Trump's delusional declaration of ICE raids this week is a serious threat to Black and immigrant communities," Abraham Paulos, the National Communications Director of the Black Alliance for Just Immigration (BAJI) tells OkayAfrica in a statement on behalf of the organization. "The real immigration crisis is the one created by the Trump administration's racist and xenophobic agenda and policies. This administration has made it a top priority to separate and incarcerate migrant families and to keep Black and Brown asylum seekers and refugees from entering the U.S."
Initial plans to round up groups of undocumented immigrants were halted last month by the Department of Homeland Security and the issue was brought before Congress. Now, authorities are pushing ahead, putting thousands of undocumented families at risk of deportation as ICE—with the backing of President Donald Trump—plan arrests in at least 10 major cities, including New York City, Chicago, Miami, Los Angeles, San Fransisco, New Orleans, Atlanta, Houston and Denver.
---
According to The New York Times, those being specifically targeted are migrants who recently crossed the border, and others who have previously been issued deportation orders. Trump confirmed the move on Friday, claiming that the government would be targeting "criminals" first, but others found to have entered the US "illegally" will be subject to arrests as well.
Despite mainstream media reports which frame the impending crackdown as a primarily Latin American issue, black immigrants—particularly those from Haiti and various African countries including Cameroon and Democratic Republic of Congo, entering the United States through Latin America—are equally vulnerable to ICE's efforts, and to dangerous anti-immigrant policies plaguing migrant populations in the nation. Since early June, it's been reported that a thousand Haitian migrants have been apprehended at the Central Texas border with Mexico.
Know you rights. ICE agents will be conducting deportation raids across the country. Learn more here:… https://t.co/dJtqpS9S2M

— Rep. Ilhan Omar (@Rep. Ilhan Omar) 1562884728.0
The news undoubtedly stokes anxiety for people within these communities, especially with increasing reports of forced family separations and detainees dying while in ICE custody. This is not the first time the government has carried out such raids, however many believe current waves are intentionally designed to foster fear within immigrant populations. In response, immigration lawyers are likely to reopen cases for families in order to prevent, or at least stall the process of deportation, according to The New York Times.
Advocacy groups are also preparing to respond to further intimidation form ICE as well as the growing threat of state violence against migrant populations, and have denounced the president's actions. "It is no secret that Trump and his administration view immigrants of color as less than human, revealing the cruelty behind his immigration policies," says Paulos. "He doubled down on his racist sentiments by not only stereotyping immigrants as criminals and referring to them as 'animals,' but by also codifying this disparaging language into White House doctrine."