1-54 Contemporary African Art Fairentered its fourth year in New York with a lively buzz that brought curious spectators—and rightfully so. Over 21 galleries from all over the continent, including Côte d'Ivoire, Tunisia, Kenya, South Africa, Morocco and Ghana, displayed strong works of art that drew on themes of oppression, women's empowerment and identity.
---
Director and founder Touria El Glaouirecently told OkayAfricathat this edition was a continuation of her mission to have a physical presence on the African continent and create channels of exchange between Africa, Europe, and North America. With a wide spectrum of practitioners, patrons, institutions, and audiences—the fair is widely attended in London and was well received in Morocco earlier this year. 1-54 NY welcomed over 9,000 visitors, including museum directors, artists, curators, and collectors affiliated with over 50 museums and nonprofit institutions.

A crowd favorite, Phoebe Boswell, showcased one of the most beautiful displays titled, I Need to Believe the World is Beautiful. The 36-year-old London resident hails from Nairobi, Kenya and studied at the Slade School of Art and 2D Animation at Central Martins, London. Her large hand drawings hung neatly on the wall as she explained the message and inspiration of her work.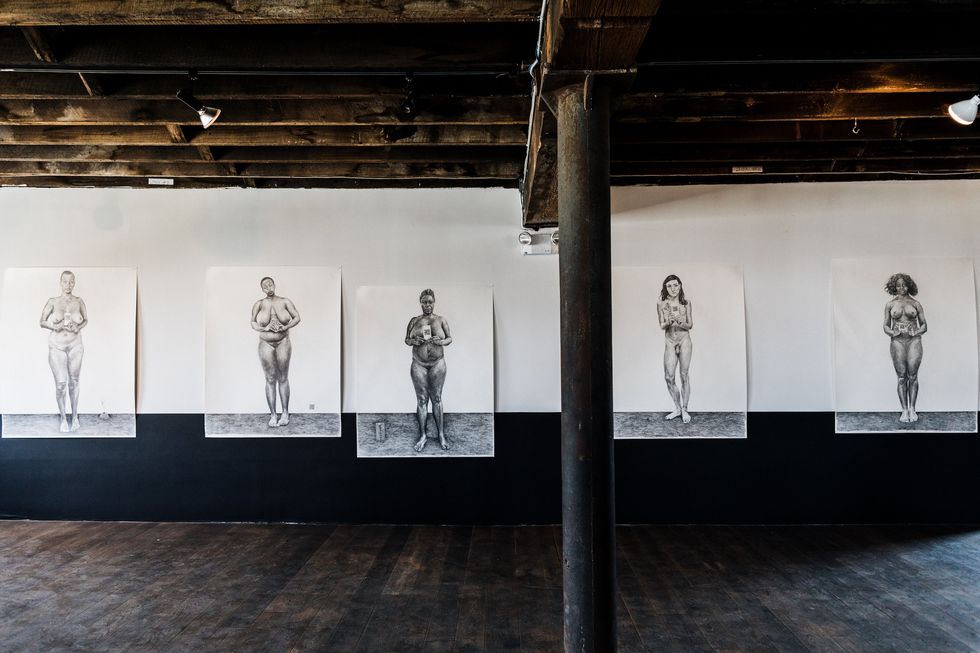 From Phoebe Boswell's installation at 1-54 NY. Photo by Katrina Sorrentino, courtesy of SUTTON.
"This particular project was inspired by work that I did two years ago which was called Mutumia, which means 'woman' or 'the one whose lips is sealed.' A friend sent a photo of women back home lying naked in front of men in protest of land ownership which they made developments with," Boswell says. "This sparked a revolution in me that made me research how women used their bodies to question authority, political power, or make a statement within society. With the help of my mother, books, and an army of women, I was able to embark on a journey on what it means to protest using the female body and I wanted to document those emotions which I later animated."
Along with Boswell, several artists exhibiting at the fair makes one question their knowledge about the struggles black people face all over the continent. SPOEK 1 by Ralph Ziman, who reclaimed a Casspir military vehicle to symbolize the oppression in the townships and urban areas of South Africa, was also one of them.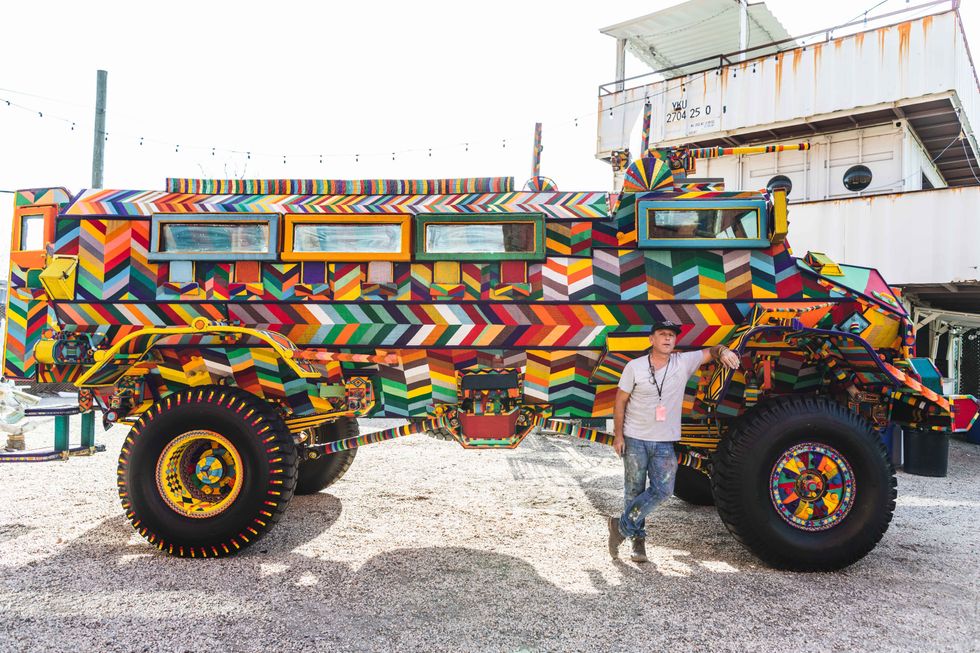 Ralph Ziman in front of SPOEK 1 at 1-54 NY. Photo by Katrina Sorrentino, courtesy of SUTTON.
The vehicle took two years to complete, as it's completely covered in panels of colorful glass beads, arrayed in traditional patterns made by artisans from Zimbabwe and the Mpumalanga province of South Africa. "It was a time of horror because these big vehicles were driven by young men who paraded the streets of Joburg asking for IDs, which often led room for whatever terror they wanted to unleash that night if you were up past curfew," Ziman says, as he recollects his childhood during apartheid. "So, it's very symbolic of fear during that time."
Moreover, the fair was well attended with a variety of visitors from all over the world. The backyard was opened for a glass of rosé or two, which created a flux of people coming in and out of the space. The gallery's preview night followed with an afterparty down the street.
1-54 London returns to Somerset House this fall on October 4 through October 7.
Ezinne Mgbeahuruike is multi-media storyteller with an appreciation for pragmatic style and design. A fluent Igbo speaker, she is proud of her egusi and okra soup, enjoys walks during sunset, thrifting and yoga. To keep up with her, follow her on Instagram and Twitter.