---
*Faith 47 "Avondster" 2012 
Contemporary African Art was at an all-time high in Miami as artists from across the continent and the diaspora descended upon South Florida for the 11th annual Art Basel (Dec 5-8, 2012). Among the estimated 2,000 artists were a number of African artists including South African Faith 47, Nigerian artists Toyin Odutola (she kept a good diary of events here), Yinka Shonibare, Doba Afolabi, Ghanaian artist Lynette Boakye, and Cameroonian artist Pascale Marthine Tayou. The Marian Goodman gallery (NYC) also showed a master work by Ethiopian artist, Julie Mehretu that is valued at over $1 million. NYC's Jack Shainman Gallery had arguably the best showing of artists from Africa and the diaspora. The Grio's Ludlow Bailey writes:
"It's not clear why Mr. Shainman has become the leading broker of contemporary Africana art in the U.S., but he certainly has a  keen sense for quality work... His booth felt more like the epicenter of the Basel universe and was visited by many leading contemporary collectors..." (read the full article here).
Above and below, are photos from Faith 47's public art called "Avondster". On the wall, Faith writes "Let he who tied the bell to the lion take it off". The wall is the first in a series of works where she'll reinterpret photographs taken by Beijing's Lakita Chan. Yinka Shonibare's "Homeless Boy" below showed at the Stephen Friedman Gallery space, and Toyin Odutola's "Was it all for naught?" showed at the Jack Shainman space.
*Faith 47 "Avondster" 2012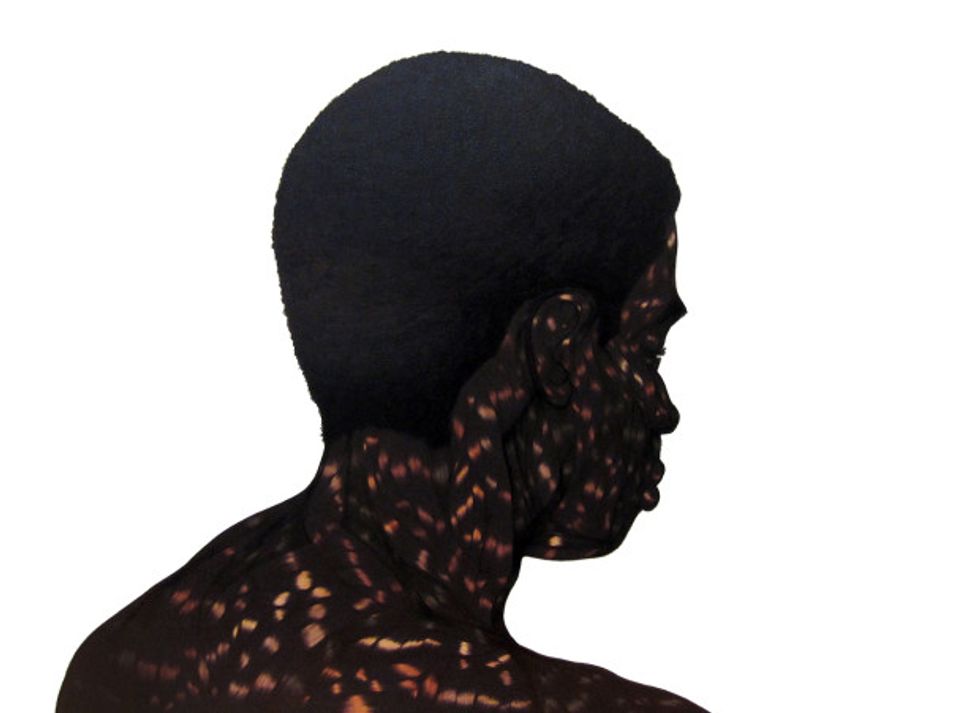 * Toyin Odutola "Was it all for naught?" 2012 
*Yinka Shonibare "Homeless Boy" 2012