26-year-old Ayanfe Olarinde, who goes by her first name, immortalizes a contemporary moment in time with her scribbling art. A process that turns crooked lines into something meaningful, her work is a metaphor that she believes relates to life, and the ability to embrace flaws and fractures, and turn them into feats of expression.
---
The self-taught visual artist art, who lives and works in Lagos, connects her ideas of self-exploration with the interrogation of society and governance, gathering inspiration from personal experiences, her immediate society, and music. Working with mixed media and photography, she's become one of the biggest creatives in Lagos, participating in multiple group exhibitions around Africa and in Europe. With the recent launch of her clothing brand WWYD, she gives us yet another way to understand her worldview.

WWYD is a community-led streetwear brand "by the people, for the people." An abbreviation for "What Would You Do?" it promotes a benevolent style and is highly committed to reshaping the notion that colors and fashion are gender-based. "We will consistently provide a safe space for free thinkers, nonconformists, and go-getters to explore and express themselves through streetwear fashion," Ayanfe tells OkayAfrica.
"WWYD is the people's canvas that listens to the consumers and recognizes the community's contribution," she adds. "It embodies a new era of being young, African, and free. It is a community where you can be whoever you want to be. With WWYD, there are no rules, you define the rules. After all, the question here is, 'What Would You Do?'"
Ayanfe will soon take up an art residency in Johannesburg, and will be having her first solo exhibition outside of Nigeria, at London's JD Malat Gallery, in April. She spoke to OkayAfrica about using scribbling as a form of voicing her experiences.
Interview has been edited for length and clarity.
Paint a picture of your childhood for us. What was peculiar?
Growing up was fun, I've also been the type of person who likes to build things from scratch, I like to break things and build them back, open remote controls, break TVs, wonder why cartoons are showing on TV -- are there figures inside? -- so most times I'll break things, and try to put it back together. I love puzzle pieces, too. I was just a curious kid, and would always try to figure out things and was super inquisitive. From there I kind of figured out art is something I'd really like to do, but I think I realized at a very late age -- not very late -- when I was getting into secondary school. People had to even tell me, but eventually I realized myself.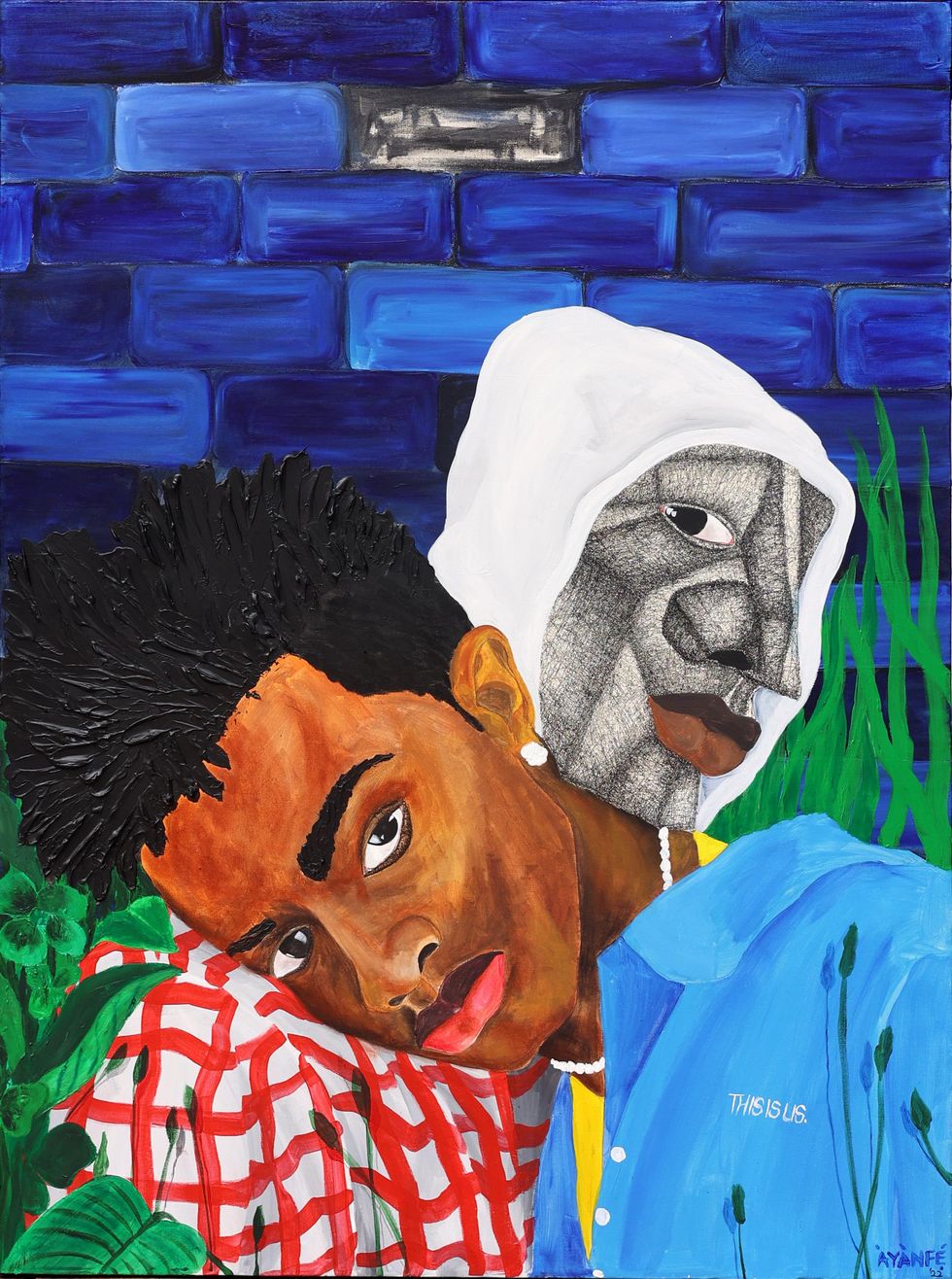 Ayanfe connects her ideas of self-exploration with the interrogation of society and governance, gathering inspiration from personal experiences, her immediate society, and music.
Photo: Ayanfe
How did you fall in love with art and the process of scribbling?
I'm still trying to figure out when exactly I started scribbling but I realized that right from secondary school my own approach to shading and creating things was actually by scribbling. The intention wasn't for them to actually take any form because I was just scribbling, and I realized that I could actually see things from what I was doing, and the moment I realized that, I started building on them. It wasn't a conscious thing, initially, but when I realized I could see something in them, I started consciously doing it. My first digital scribble is probably still currently on my page, I don't think I deleted it. It was the first one I ever did but I posted it late. My friend's brother had a health condition at the time, and we were really close so l was in class and I just wanted to do something.
How would you describe the style you have now and what would you say that form of expression is?
I figured out that my approach to scribbling is cubic now, and it wasn't intentional. I'm a very spontaneous person so I don't know why I do certain things until a minute or years after. Most times, I do first then try to figure out why I did that, by tracking back things I've done in the past or things I've listened to and trying to figure out if these things actually have an impact on why I do the things that I do now. Honestly, I'm still on that search. I'm still trying to figure out why my works are cubic. For now, I would say it's based on aesthetic purposes.
Although, I can always explain why my noses are prominent in my artwork. When I was in secondary school, people used to make fun of my wide nostrils and insult me, and this made me insecure about it. But I entered a state of self-acceptance so I started including big noses in my work in order to teach myself to love myself and be resistant to all the insults. I actually started incorporating big noses into my art before I started doing cubic work. My first cubic forms weren't even as rigid as they are today.
A lot of your work is tied to stories, and you've spoken about how art is therapeutic as well?
The process is therapy for me, the storytelling part is left for the viewer. It's not me trying to tell a story to make me feel better; the process of scribbling itself is just for me, the storytelling and other things about it is for every other person to pick from. I also see scribbling figures as a way of navigating through things, I describe it as finding harmony. It's just like breaking apart and putting together things. When you're scribbling, it's like building something from crooked lines, and by the time you're done scribbling you've formed something.
My stories are inspired stories I've heard of or things I dream of, or things I unconsciously pick around from experiences, so it's either in telling a story from scratch, something I made up or I'm picking up stories from other people, or something that happened in the past. Most times, when I create I always have to go back and look at the piece. Sometimes I don't know what inspired it, I just did it and then I'd have to figure out what truly inspired it. Most times, it's after I create pieces I figure out what inspired them. I'd say that my work serves as time stamps.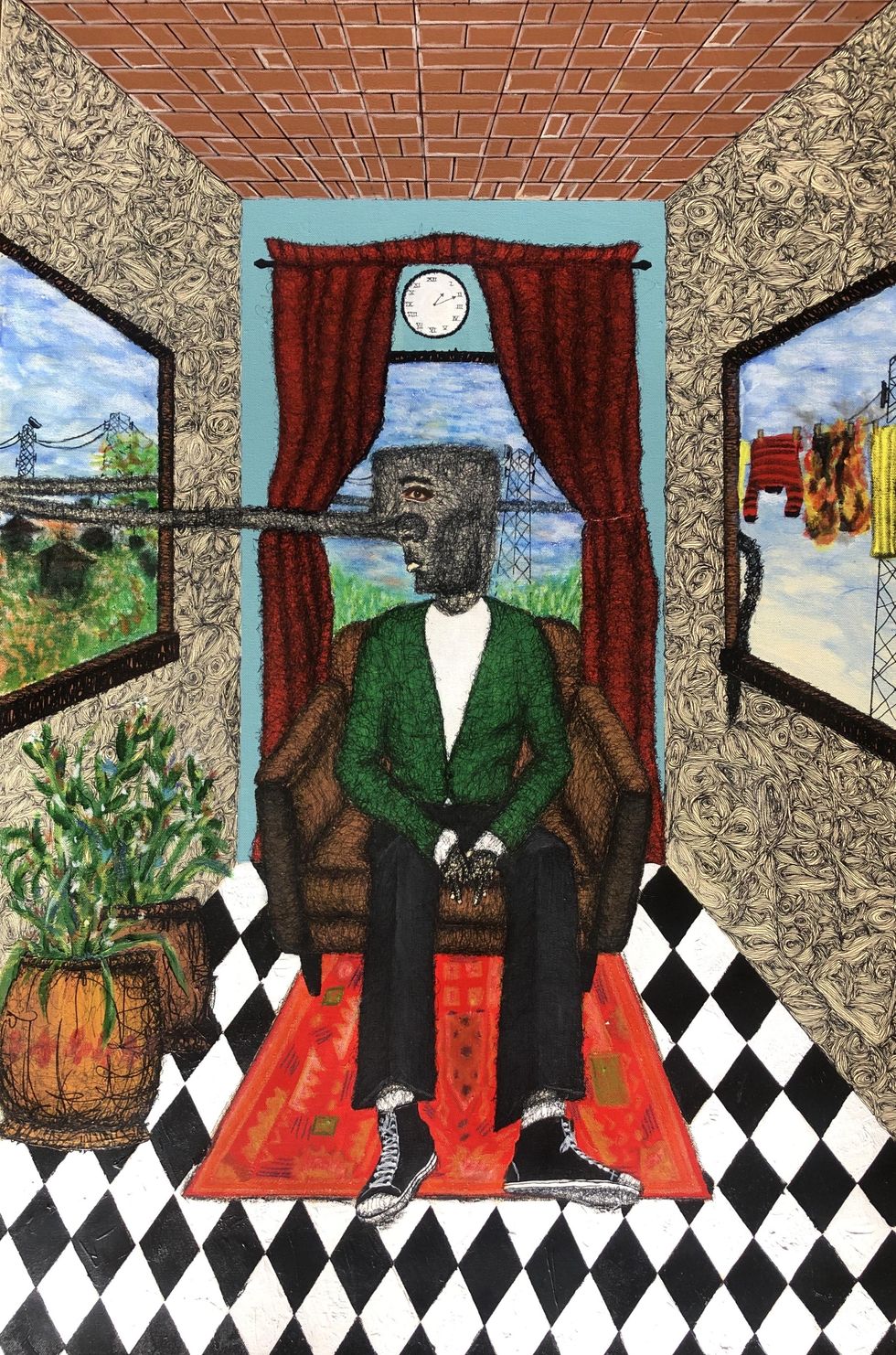 At first, scribbling wasn't a conscious thing for Ayanfe, but when she realized she could see something in her drawings, she started consciously doing them.
Photo: Ayanfe
What are your influences?
Music, I really like music, and I listen to every kind, music influences my work, collective history, and self-image. These are things I know that play a vital role in my work. Some of my pieces focus on Yoruba folklore, and, in some way, Yoruba culture. I describe the stories based on my own view of them, so it's a firm interpretation of things I've read or seen.
I'm working on some pieces right now that really delve into Yoruba folklore, and they're some stories that talk about the creation of man. There's a story that says that Obatala [a Yoruba spirit] was too drunk, and he started making people with disabilities, and this is not something I agree with because I think it's unkind to describe people as a result of somebody's drunkenness. So this piece focuses on taking away those things I feel are unjust, and talking more about the sides that they want to take out of our history. Like, a story that talks about Obatala being genderless, and how that has been completely erased from our history. But if more people knew about this, people that feel this way too [genderless] will understand that it's normal, and not a bad thing.
One of the main reasons I'm making this series is because I feel the people who can tell these stories and have direct contact with these experiences are dead, like our great-grandparents. And all the information we're provided on the internet is written by white people, and I don't think any white person can truly tell our history for us, so this is also a way to preserve history.
Can you speak about how and why your fashion brand WWYD came about?
The actual meaning is "What would Yanfs do" but it's known to people as "What would you do" because I didn't really want to put myself out there, and this is a phrase that my friends used to say because they see me as a solution provider. When people come to me with problems, my first thought is how to resolve it and fix it.
There was also me working on toxic masculinity. I explored it in different forms, music, sound, superhero forms, and I felt like there was a need for me to explore it in fashion and talk about how toxic masculinity had influenced fashion. It was just for test runs, and I wasn't making merch then; I'd just made pieces and I did a show in 2021. So it was more like an extended project on how colors impact fashion, growing up, society and just a medium to be able to express the masculine form in pieces and colors that society has said is not for them.