A week before Milan Fashion Week, Tokyo James had pulled out from the official schedule due to tragic reasons. It was disappointing news, only because the British-Nigerian designer had just started to show in Milan. His eponymous menswear brand had debuted for Autumn/Winter 2021, softening his tailoring, and with another sighting of the covetable Ata rodo bag.
On the brighter side, the Spring/Summer 24 show held from September 19 to September 25 still saw a contingent of African designers, both debutants and those returning, each with diverse manifestos on identity, belonging, and community.
While some came from Nigeria (Maxivive, Nkwo) and Cameroon (Zenam), more than 1o brands came from South Africa, arguably the country's biggest overseas delegation in a fashion season.
The Mzansi Takeover
South Africa's design emissaries descended on Milan in numbers. They include Bam Collective, Refuse Clothing, Michael Ludwig Studio, Viviers Studio, Abantu, Connade, E.G. Jewelry, Floyd Avenue Apparel, Inga Africa, Laaniranni, Lizah Chanda Crochet Collection, Sash South Africa, Shweshwekini Active Wear, Wanda Lephoto, and Molebatsi.
The first three aforementioned brands were part of a small exhibiting group for a showroom that kicked off on September 19. It fell under Afro Fashion Week Milano, the flagship event of the Afro Fashion Association that creates exposure for Afro-Italian designers and Africans in the diaspora through catwalks and curated showroom events, bringing them to Italy's fashion capital.
These brands were selected by Á-Propos, a new platform focused on promoting emerging design talents from South Africa. For their first outing, they took Bam Collective, Michael Ludwig Studio, and Refuse Clothing, showcasing at the !GloLoCo! Exhibition at the Palazzo Morando, a historic landmark in Milan.
For Jacques Bam of Bam Collective, a gender-fluid brand which they launched in 2019, it was their second time back in Milan. The first was still an exhibition two years ago, a Fashion Bridges program that saw them collaborate with fashion students of Polimoda, one of Italy's top fashion schools.
This time, their collection was a singular affair, a celebration of the vibrancy and spirit of South Africa. The brand's signature details were present, from polka dots, 3D pattern making to prints and textile manipulation.
"The collection is called Extraterrestrialism and it's inspired by the idea that there is a Bam Collective universe," says Jacques Bam, on a phone call from Milan, "It's a conceptual space where we create from, where my clients live. It's the idea that when they arrive Milan from this universe, what will they be wearing?"
It's a conceptual proposition. Besides, the brand's whimsical flair fits into the theme of galactical or otherworldly visitors.
Garments by Bam Collective displayed during Milan Fashion Week SS '24.Photo credit: Bam Collective.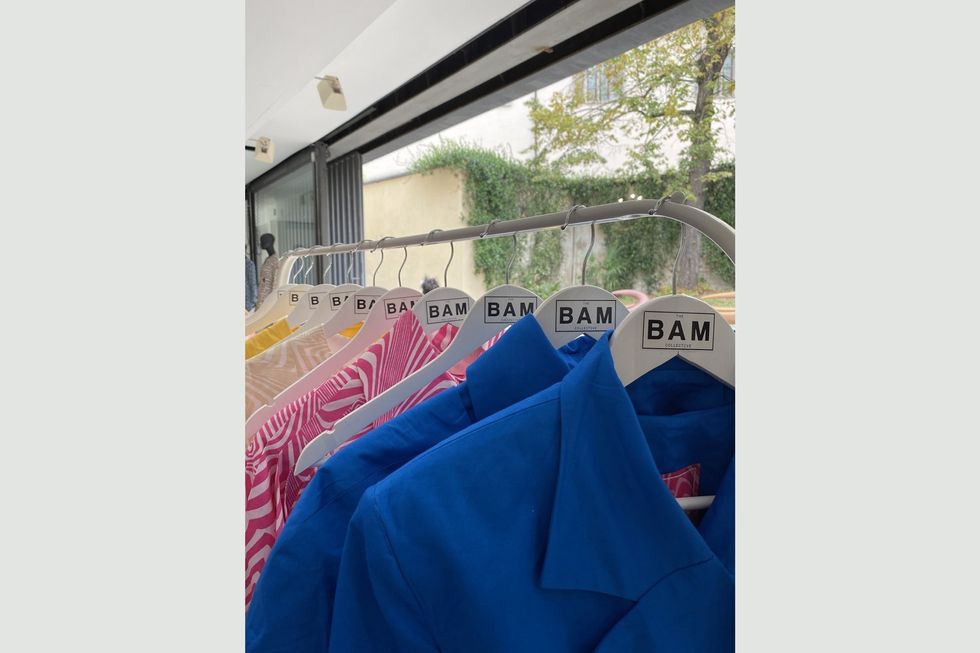 Garments by Bam Collective displayed during Milan Fashion Week SS '24.Photo credit: Bam Collective.
Bam Collective wasn't the only one exploring extraterrestrial paradigms. Viviers Studio presents an even bolder vision of this, launching an inquiry into human origins and the cosmos, in a way that ties myth, science, art, spirituality, and cultural heritage.

Titled Re-Trace, Re-Memory, Re-Set, Re-Culture, the collection sells a compelling narrative about searching for connections between the physical and meta-physical, merging the past, present, and future.
In other words, it asks that we see how clothing can emerge as a bridge that connects our shared history. Founded by Johannesburg-based designer Lezanne Viviers in 2019, Viviers Studio is a concept brand making garments only in limited edition and made-to-measure, collaborating with artisans in South Africa.
Presented at the Fondazione Ambrosianeum, the brand continued its sustainable practice of using natural fibers and materials like ostrich feathers, ostrich leather, Merino wool, and mohair.
Johannesburg-based artisans like Hannelie Bekker of Wrapt Knitwear made all the lightweight deconstructed tops. There was also Stephanie Bentum's handmade wool felt textiles, inspired by the stars and galaxies. The SA Marbling Company reimagined their Suminagashi technique with natural ochres and lake pigments that explore intergalactic origins.
The upcycling label, Nutcase, created signature Viviers chains made from reclaimed aluminum cap lids. Collected from streets in Johannesburg, the lids were grouped in colors and selected for the lightweight integrity. The small metal trinkets on models, which can be worn as jewelry, were hand sculpted in wax in a continued collaboration with James Barry Slabbert.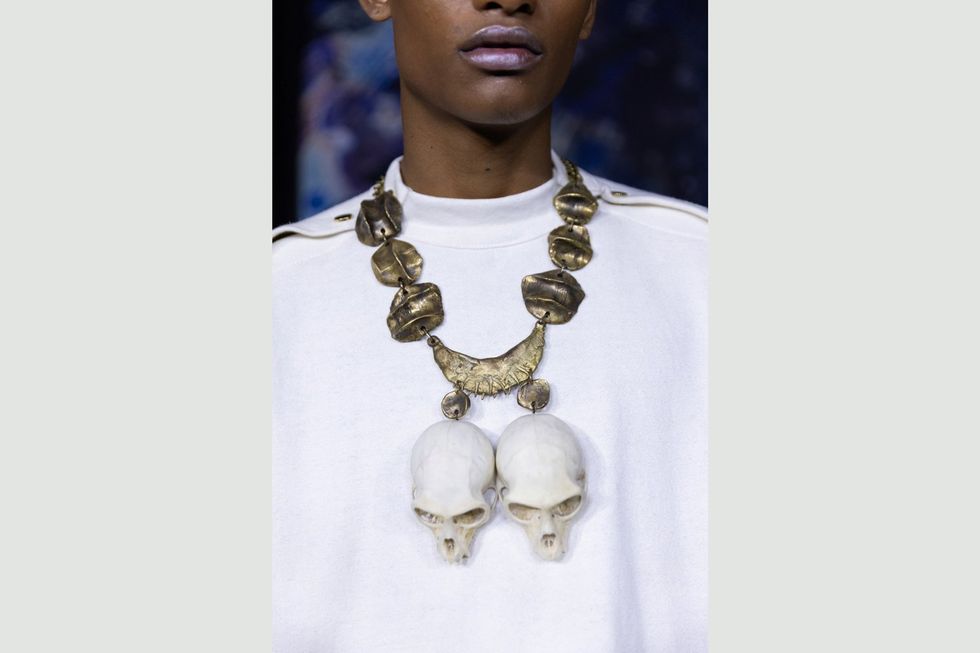 Photo by Eva Losada.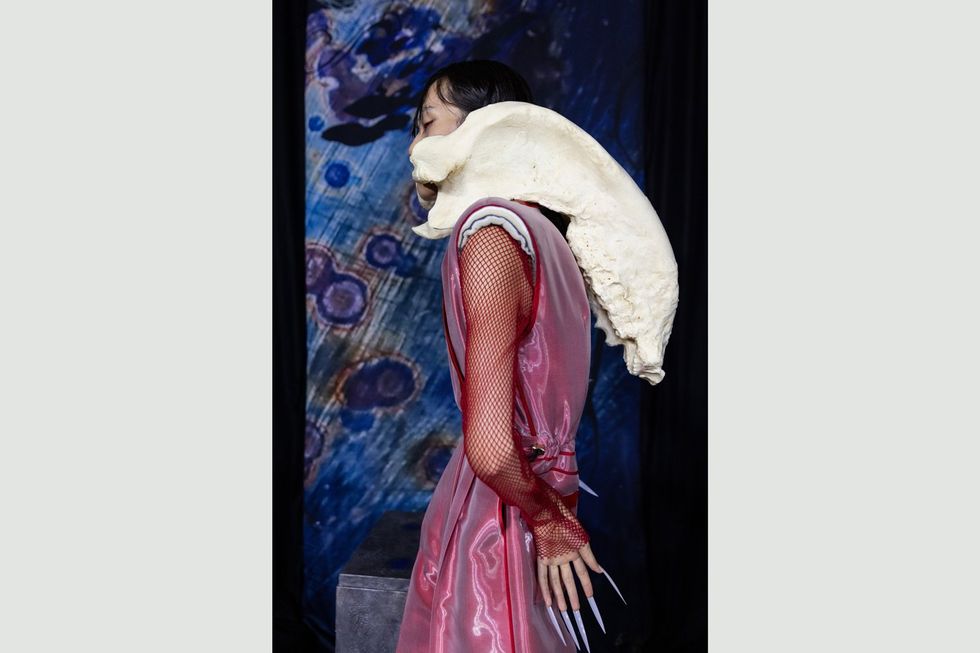 Photo by Eva Losada.
Photo by Eva Losada.
Elsewhere, Michael Ludwig Hittinger, the founder of Michael Ludwig Studio, says his new collection titled "Indelible Individuality" is based on our identities evolving over time due to experience and age, and earlier versions of ourselves are still there to be accessed. "It's the concept of identity not being erasable," he adds.

To that effect, he references elements from his 2017 graduate collection at STADIO (formerly LISOF), where he had used the reverse side of upholstery fabric to create a look in embroidered jacket in red and black with a Damascus motif.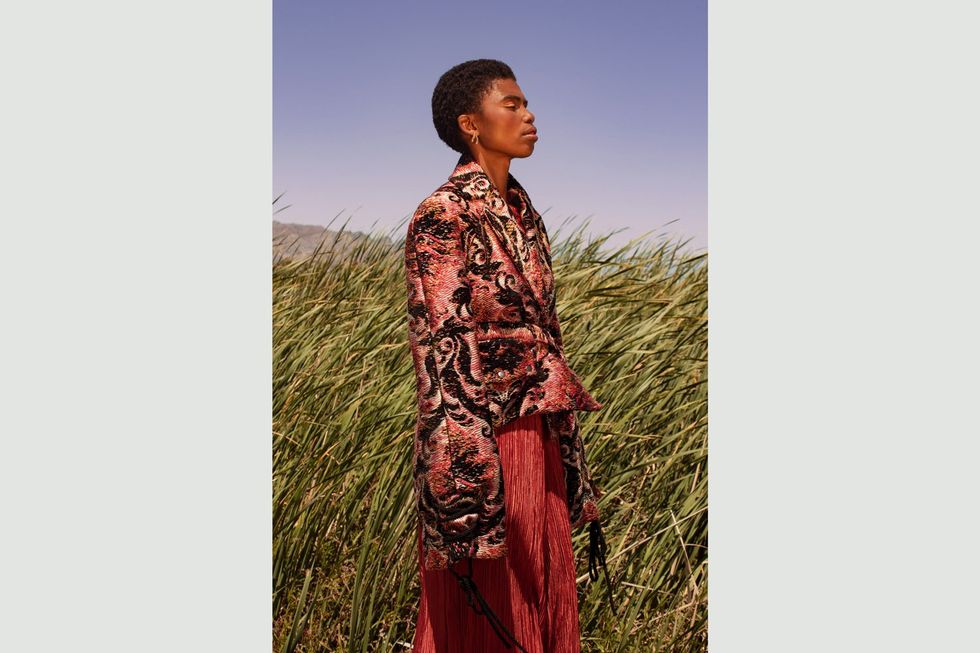 A look from Michael Ludwig's graduate collection: an embroidered jacket in red and black with a Damascus motif.Photo by Michael Ludwig Hittinger.
He continues, "This season, we purchased deadstock fabric from factories that's used for couches and curtains and repurposed it for coats and jackets. We are using cotton percale normally used for bedding for our clothing. It's high quality cotton that's comfortable, soft and breathable, which can be used for apparel."

The collection also employs roller prints, made in Cape Town. Using abstract artwork of faces printed on curtains, it was then repurposed in bright colors to represent a rich and vibrant approach to identity.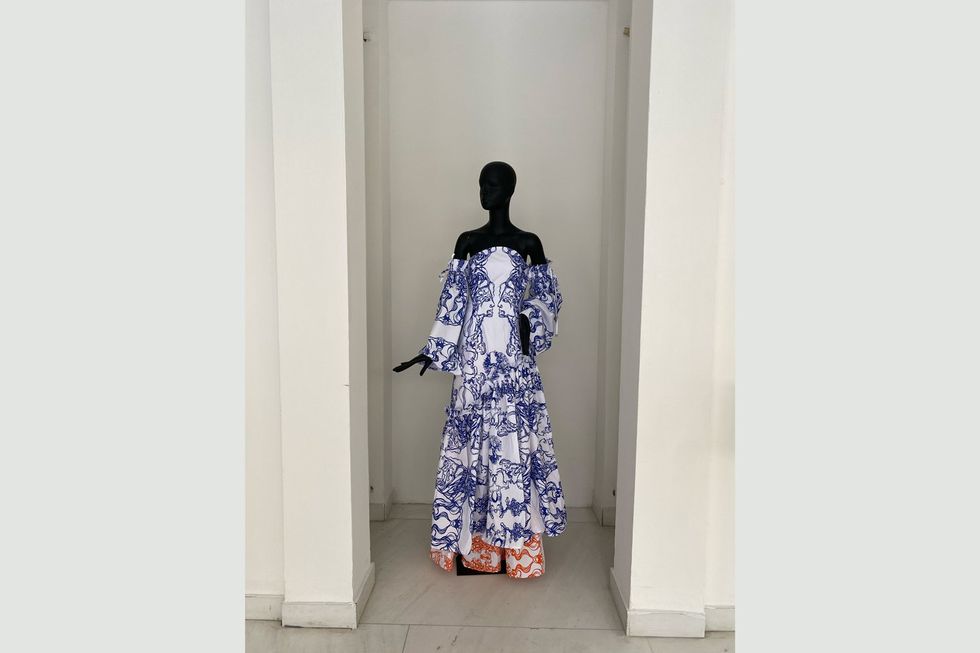 Photo by Michael Ludwig Hittinger.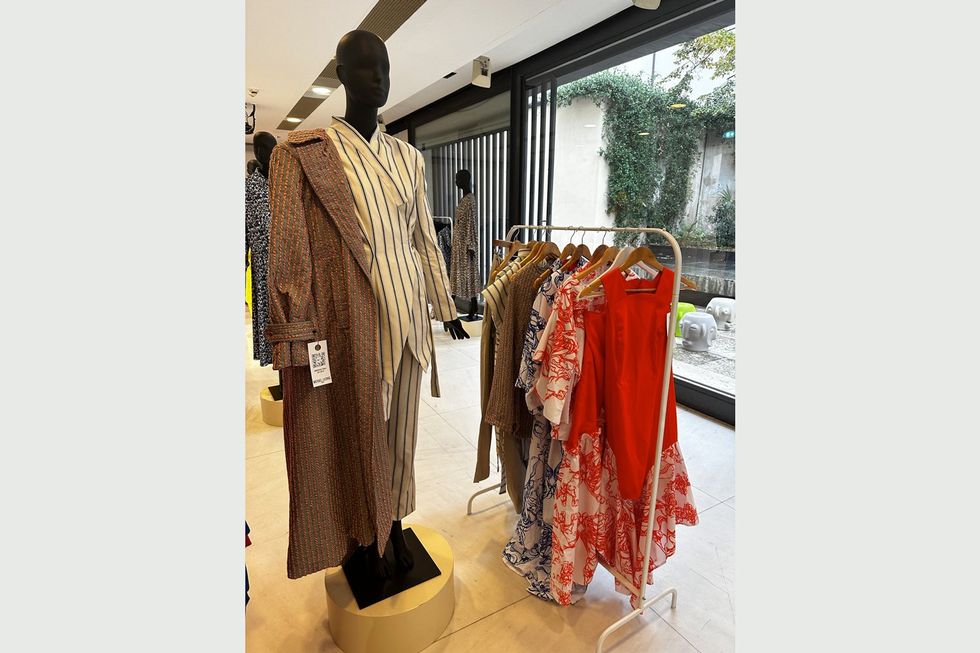 Photo by Michael Ludwig Hittinger.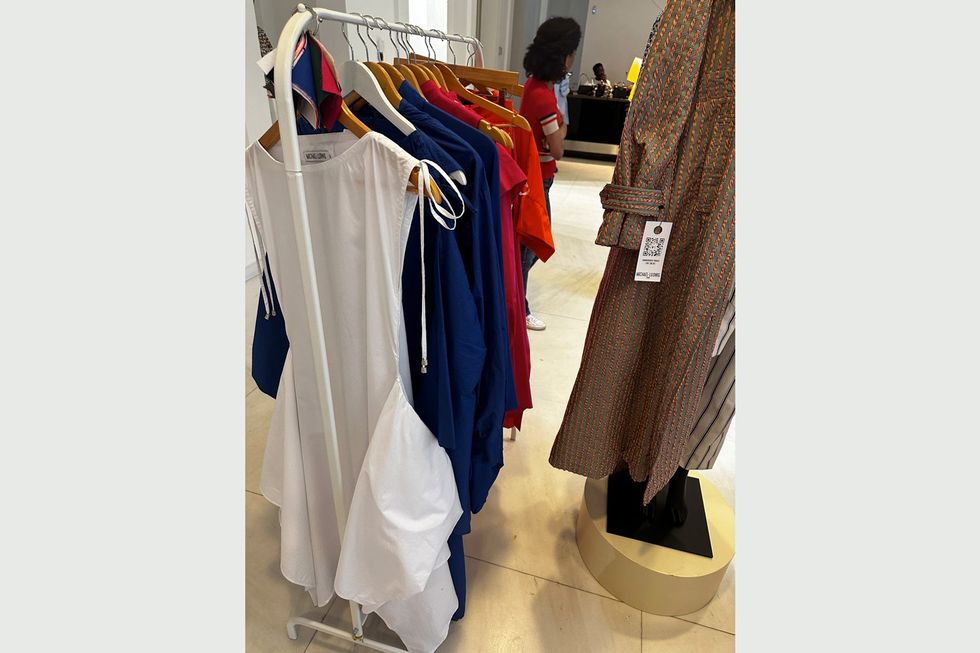 Photo by Michael Ludwig Hittinger.
Refuse Clothing, the African-inspired streetwear brand created by Malcolm Mokgope and Minenhle Memela in 2016, reinforced the same sentiments on identity through their own perspective. The brand looked to the founders' ancestors, creating a collection inspired by the process of building a hut (Iqhugwane, which is plural for hut in Zulu).

Invoking the feeling of centering "home," there were Nguni/Zulu textile patterns adapted for streetwear pieces, tribal motifs on pullover tops with screen printed techniques. "We also screen printed on a T-shirt an African boy with dyed hair and tattoos," Mokgope says, "Our brand is about modernizing the African aesthetic for streetwear."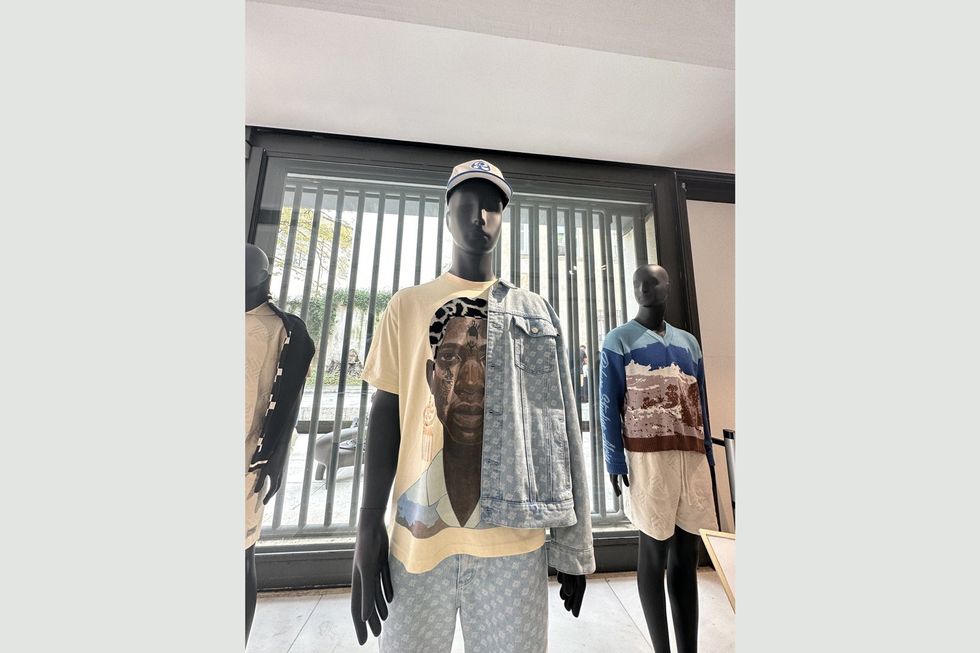 Photo courtesy of Refuse Clothing.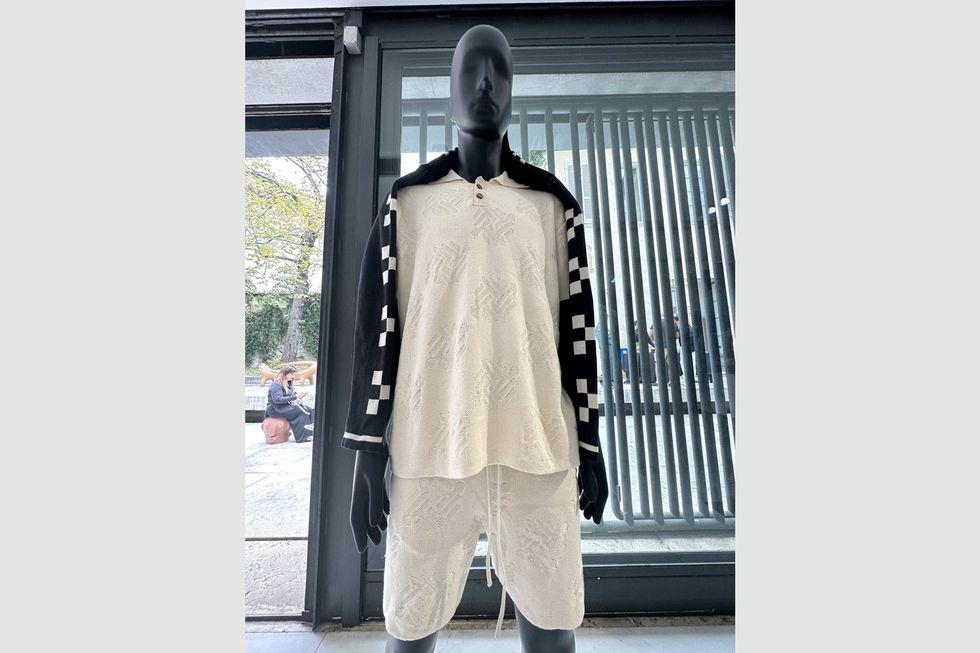 Photo courtesy of Refuse Clothing.
Other brands like Wanda Lephoto, Floyd Avenue Apparel, Abant, Laaniraani, and Shweshwekini showed under The Fashion Firm SA in partnership with The White Show in Italy's Tortona District. Wanda Lephoto, who is from South Africa, has been tapping into Ghana's cultural sensibilities with the use of the iconic red-white-blue plaid bag (or Ghana-Must-Go). He's called the print "Me Fie," which is from Akan, a Ghanaian language.

With its underlying meanings of displacement and migration, Lephoto showcases the "Me fie" plaid pattern in polo sets, trench coats and knitwear.
"We used the essence of people to recontextualize its meaning and power in fashion, expressing who we are while paying homage to those who have shaped our cultures, attitudes, and style," Lephoto says.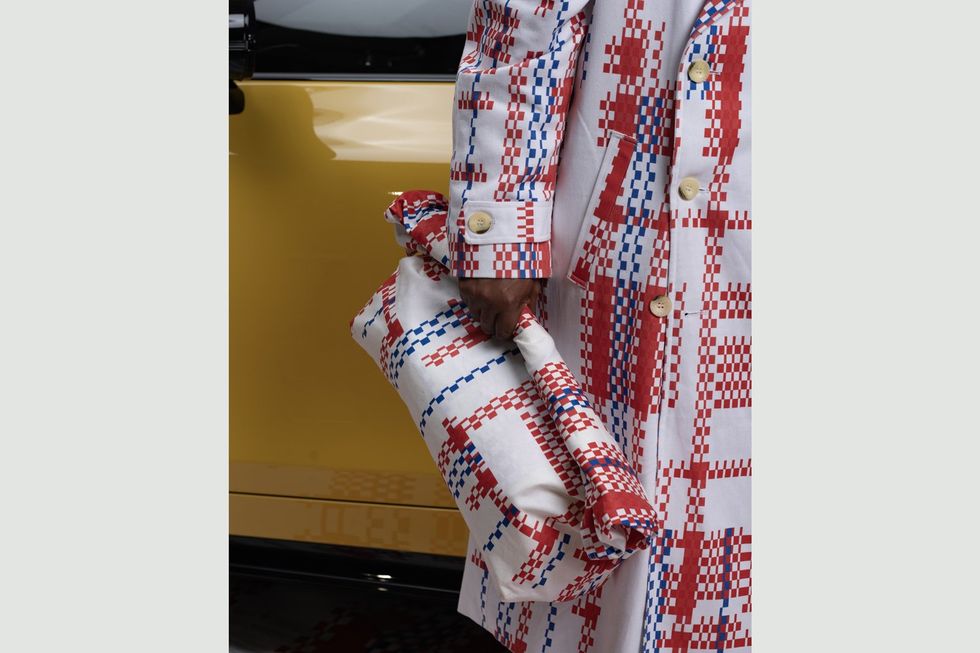 Photo courtesy of Refuse Clothing.
Accountant-turned-designer, Shamyra Moodley, crafted her brand Laaniraani with sustainability and conscious consumption in mind. Seeing the world through her Irish, Indian, and African heritage, the brand situates itself between art and fashion, producing garments from reclaimed t-shirts,yarn, vintage clothing, sarees, and remnant fabric waste.

At Milan Fashion week, one on mannequin for the White Show, saree scarves are stitched together and belted, with a chiffon hood in bubblegum pink.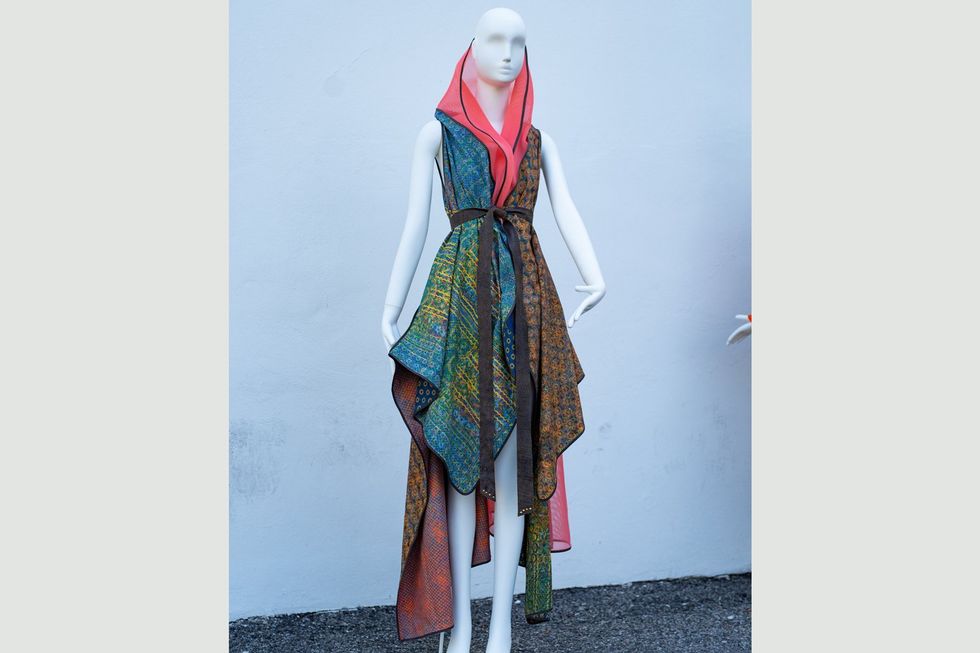 Photo courtesy of Refuse Clothing.
"For our White Show trip, I personally spearheaded the creation of a variety of garments with a strong emphasis on versatility," Thandazani Nofingxana says, founder of Abantu Africa. "Alongside the wool-cashmere knits, we designed stylish vests and incorporated satin silk fabrics into our collection. Additionally, we proudly introduced a brand new print, which we affectionately named abantwana bomgquba. These prints were inspired by the rich elements of Xhosa culture, a constant source of inspiration for me."

The phrase abantwana bomgquba means "children of the soil," and it carries deep cultural and historical significance in various contexts around the world. It is often used metaphorically to refer to individuals who have a strong connection to a particular land or region. For Nofingxana, that particular region is the Eastern Cape and the rich culture of AmaXhosa.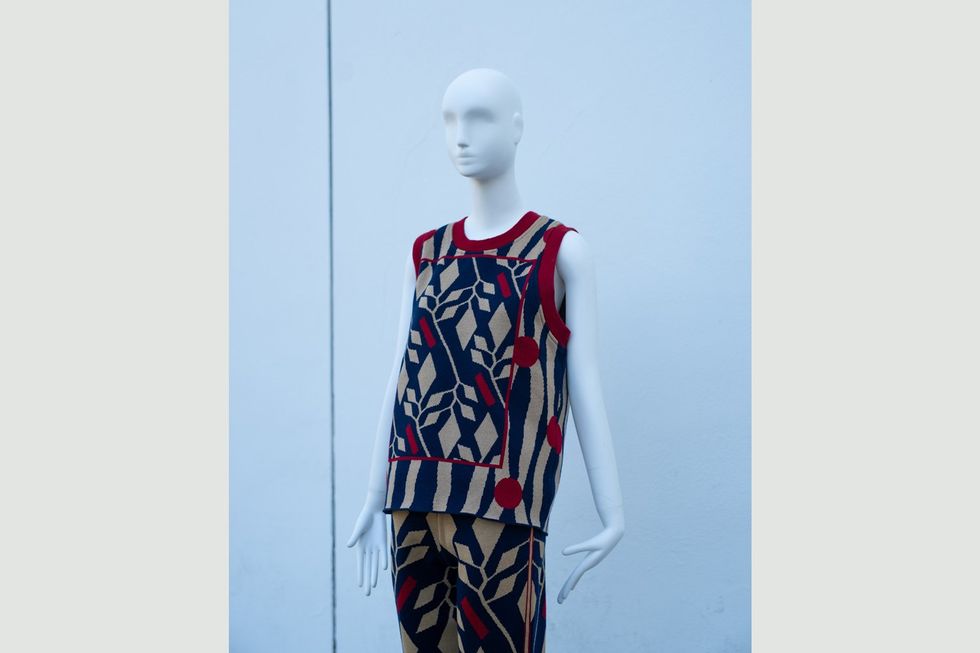 Photo courtesy of Refuse Clothing.
Swimwear and activewear brand, Shweshwekini, reworked their popular Shweshwe prints (which is Basotho-inspired) to showcase for The White Show. "The collection I brought to Milan is basically celebrating the African sunset. As you can see it embraces the colors and hues of the sun. We still made use of the Shweshwe print but have modified it just a bit for this collection," Mapito Thaisi says, who had founded the brand in 2016.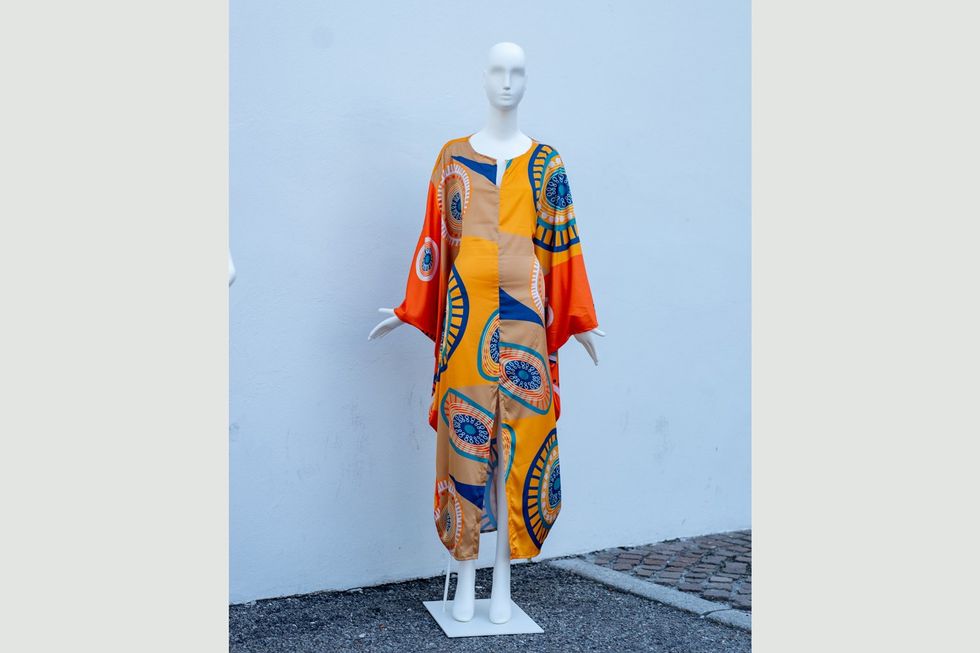 Photo courtesy of Refuse Clothing.
"The heroes of this collection is our rendition of a trench coat, kimonos and utility samurai pants, serving versatility and encapsulating the fluidity in fashion," says Floyd Morapedi, founder of Floyd Avenue Apparel.

Based in Johannesburg, the brand's unisex appeal marries functionality and sophistication. At their Milan Fashion Week showroom exhibition, their collection takes cues from traditional workwear packed with urban-adopted wardrobe staples.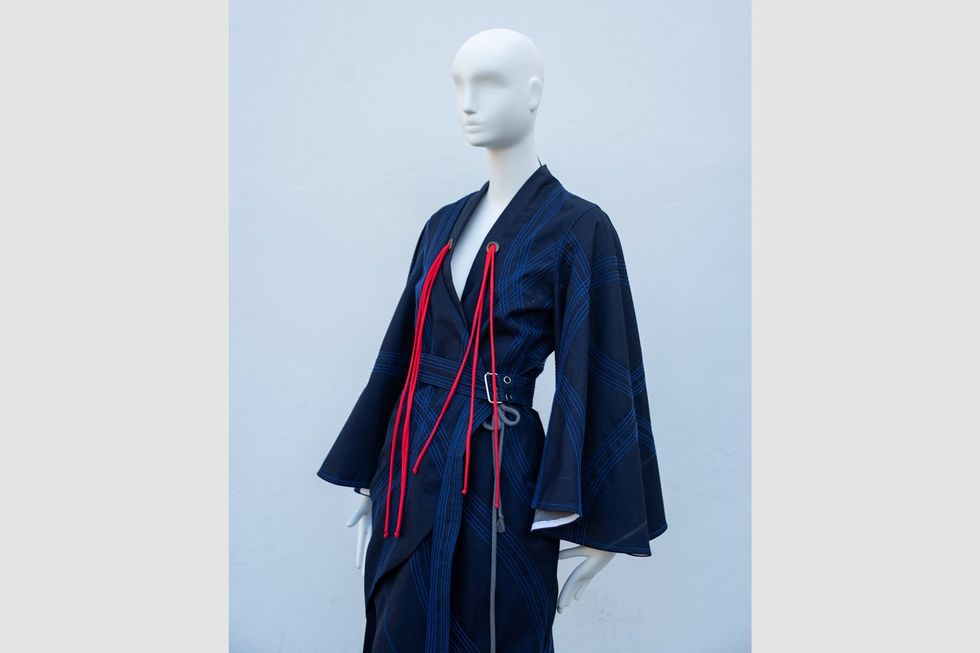 Photo courtesy of Refuse Clothing.
This robust slate of South African designers in Milan didn't happen in a vacuum. It's part of continued efforts by industry platforms like South African Fashion Week, collaborating with the National Chamber of Italian Fashion (Camera nazionale della Moda Italiana) and the Florence Centre for Italian Fashion (The Centro di Firenze per la moda italiana) to build relationships between the South African and Italian fashion industries through cultural and design exchange.

Additionally, there is The Fashion Firm SA, founded by Tumi Buys in 2015. The platform has been playing a vital and necessary role in stocking South African brands in international retail stories and also helping local designers showcase collections at the White Show during Milan Fashion Week.
In 2019, The Fashion Firm opened a pop-up store in Brera with five designers, taking two designers to school at one of their partner schools in Milan. They continue to see growth in current previous designers they have worked with, who have become lecturers and owners of CMT companies producing for other designers.
In 2013, they took 10 designers, making it their second show.
"The Fashion Firm participated at The White Show for the first time in 2022 starting with six designers," Buys says, "In 2023, we took on designers who needed very little developmental intervention but market access. This allowed us to partner with the likes of Wanda Lephoto, Floyd Avenue and Shelley Mokoena, designers who are market-ready in terms of craftsmanship, visions and trends."
Another South African designer who showed in Milan was Jessica Jane Molebatsi. A top talent, Jessica and her partner Wandile Molebatisi founded the brand JessicaJane in 2010, then rebranded as just Molebatsi this year. African designers, generally, don't have powerhouse support when it comes to accessing market opportunities and international showcases.
But platforms like Fashion Week Studio have been trying to fill in that gap. Molebatsi's Milan show was facilitated by them, and it took place at the Palazzo Serbelloni, a new collection titled Rakgadi. It's a continuation of the brand's previous collection titled Noluthando, filtered through Jessica's cultural and racial experience and her interracial marriage.
Fusing Wandile's Tswana/Xhosa heritage and Jessica's Scottish, French, Norwegian, British, and German ancestry, the outcome finds a sartorial sweet spot between cultures. The color palette is inspired by the traditional Mogagolwane fabric (blue checked blanket), popular amongst people with Tswana heritage from Botswana and South Africa.
On a male model, it is refashioned as an asymmetrical tailored suit paired with a kilt, with a handmade macrame shoulder shawl. Another model wears a white jumpsuit and opera coat with a Toile de jouy print of wildlife animals like a crocodile, buffalo, and anteater.
"Rakgadi is a Tswana word which means ant, and it's an ode to all the powerful women that have been in Jessica's life through my Tswana background," Wandile says. "The House of Molebatsi is driven primarily by the agenda of social cohesion and celebrating our united heritage as Africans."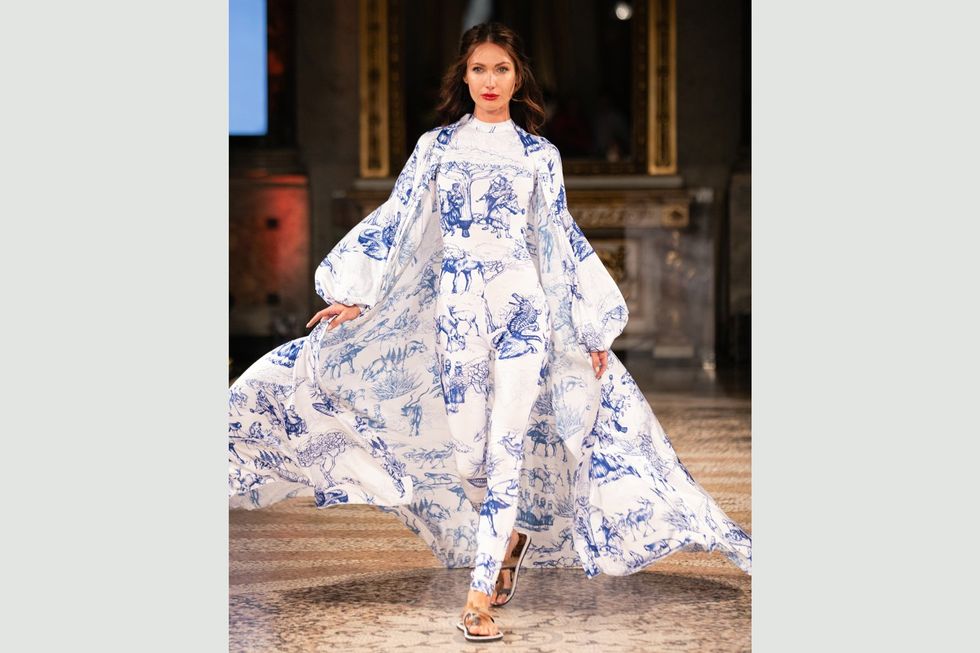 Photo by Emily Russel.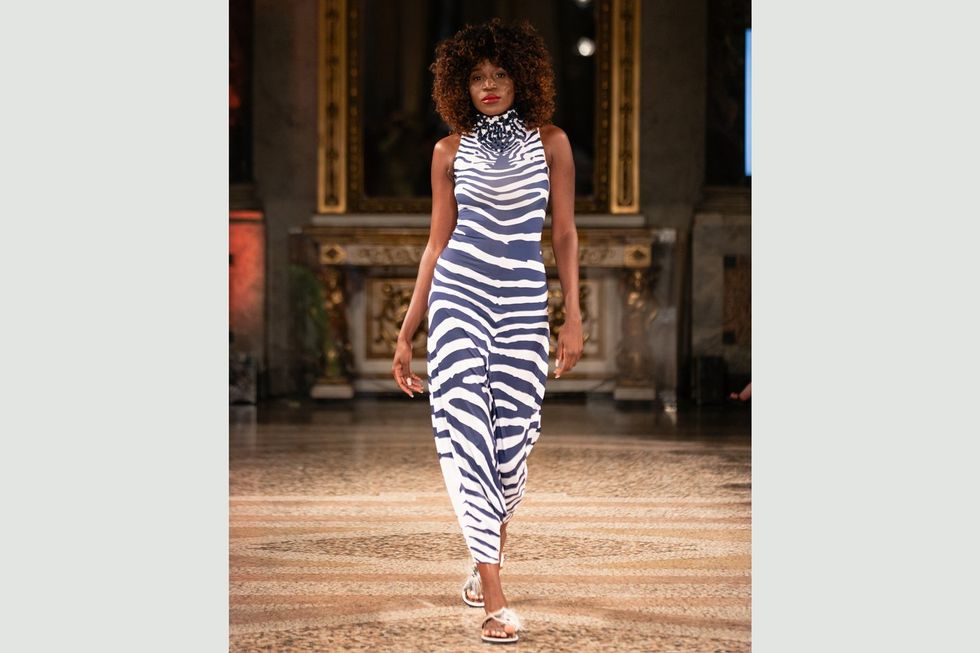 Photo by Emily Russel.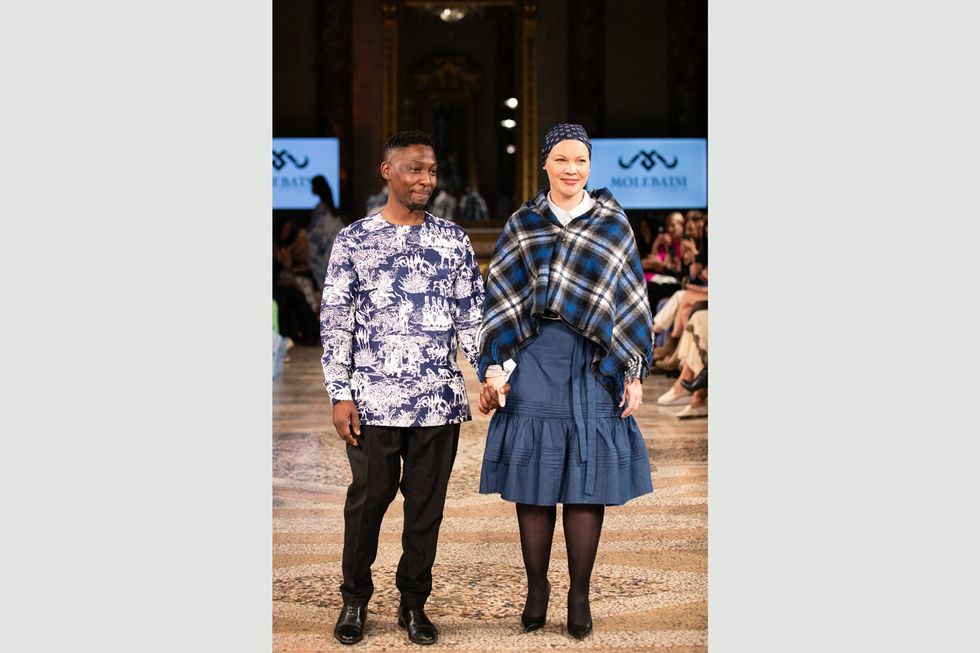 Photo by Emily Russel.
During Milan Fashion Week, South Africa marked Heritage Day on September 24. It's a day officially set aside to celebrate the country's heritage and culture. In hindsight, it felt timely, these designers from South Africa taking their culture and identity to Milan in a celebration of fashion.

Zenam's African iconography
At the Palazzo Morando, Cameroon designer Paul Roger Tanonkou showcased his familiar signatures of African masks and symbols printed on silk blouse tops and gowns. His menswear merges Italian tailoring with African prints, and we see that same methodology replicated in the creation of this womenswear range.
After the Palazzo Morando showcase, the collection was displayed in Modes, an Italian luxury retails store. Zenam, which means "ray of sunshine" in Tanonkou's Bamileke dialect, has been a conduit of African sartorial expression and identity.
From working with artisan women to create his first capsule collection in 2011 to debuting in Pitti Uomo in Florence in 2016, Tanonku has seen his brand grow. Now based in Italy, he hopes to continue using African motifs in his designs to always remember where he's from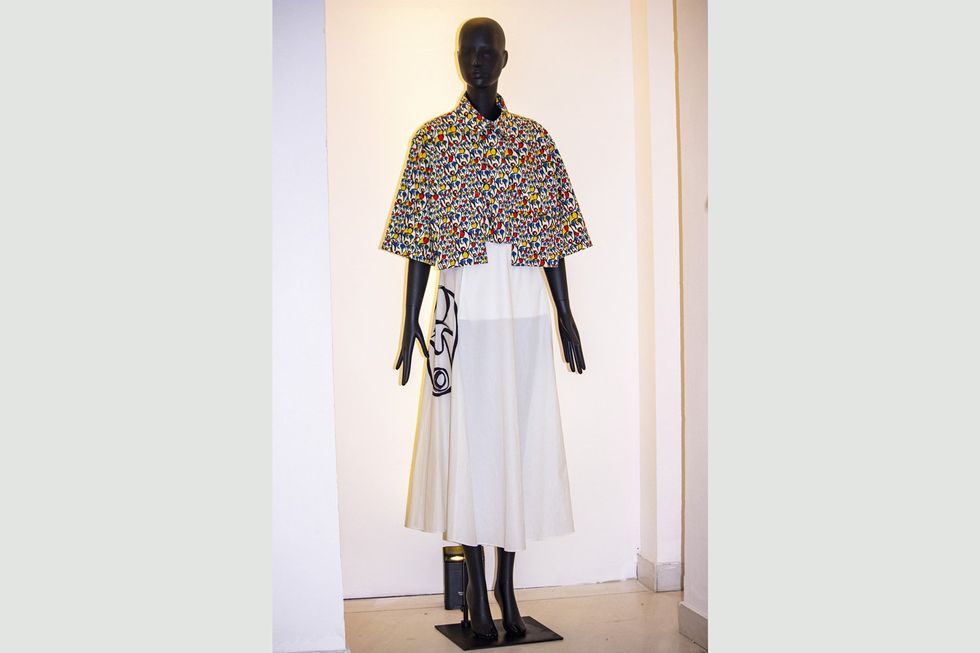 Photo by Vatsalya Trivedi.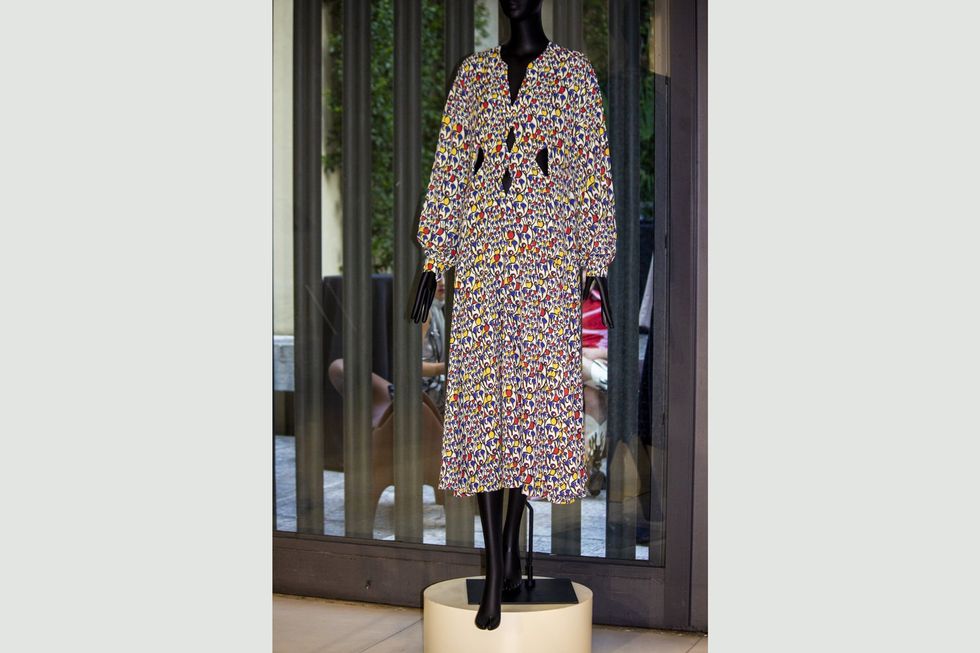 Photo by Vatsalya Trivedi.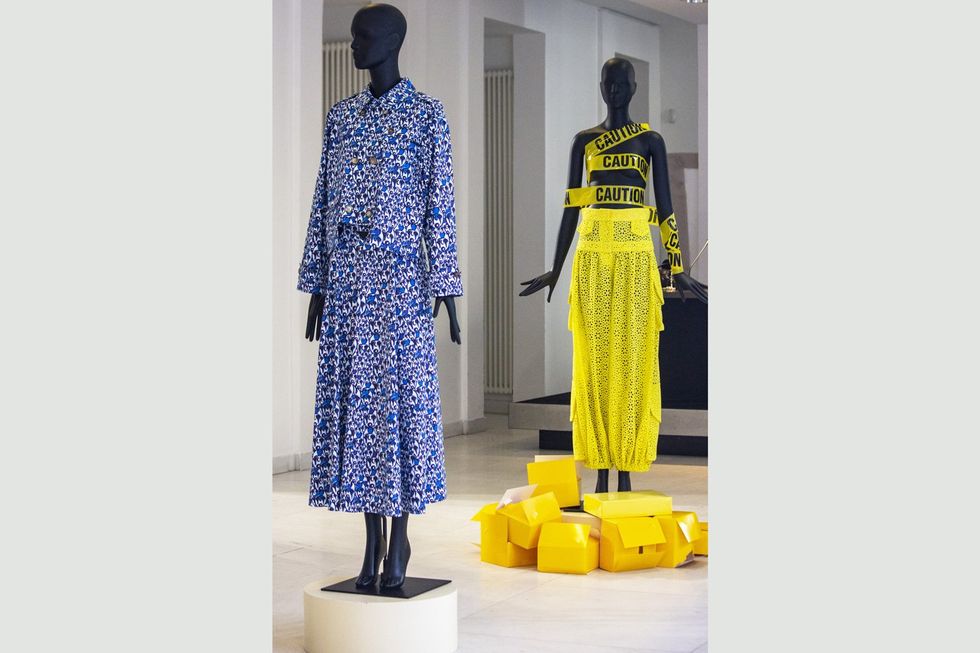 Photo by Vatsalya Trivedi.
The Maxivive Show

Maxivive has been showing at Milan Fashion Week since making its debut with a digital presentation in 2021. Its founder and creative director, Nigerian designer Papa Oyeyemi, has been unapologetic about the brand's nonconformity, extending to queer imagery and going against fashion's hegemonic programming.
Beyond its gender-expansive designs, Maxivive was the first Nigerian brand (arguably African) to abandon fashion's season cycle of autumn/winter and spring/summer, opting for "dry/wet" seen through the climactic prism of West Africa.
Bagging a place in the official catwalk lineup for Sunday, September 24, Maxivive returned to Milan, staging its Women's Dry/Wet show (a collection titled Ms Doherty) inside the hallowed walls of the Piazza del Duomo. Maxivive has perfected a design lexicon of textile experimentation and artisanal techniques, and on the runway, models strutted down in season-compliant clothes, that is, sticking to the "dry/wet" theme.
Ms. Doherty, now late, was Papa Oyeyemi's caregiver and mentor when he was a child. As such, the collection recreates a wardrobe drawn from personal archives, memory, and family photos in honour of her. A Mackintosh-like trench coat, with the neckline exposing shoulders, was finished with embroidery work. There were hoodies in sheer materials, including long jackets and a buttoned cardigan paired with knitted shorts. But things also got sexy, as seen on a model wearing a tight, skimpy dress in hot pink leopard print.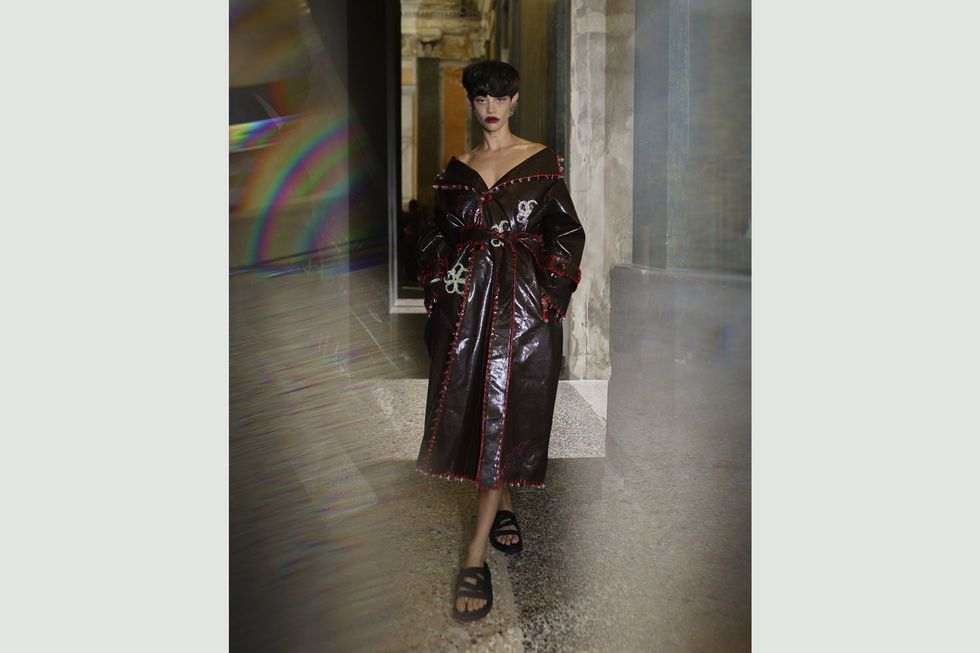 A model wearing a Maxivive Dry/Wet 24 look from the Ms Dohery collection during Milan Fashion Week.Image credit: Ernest Em/19tones.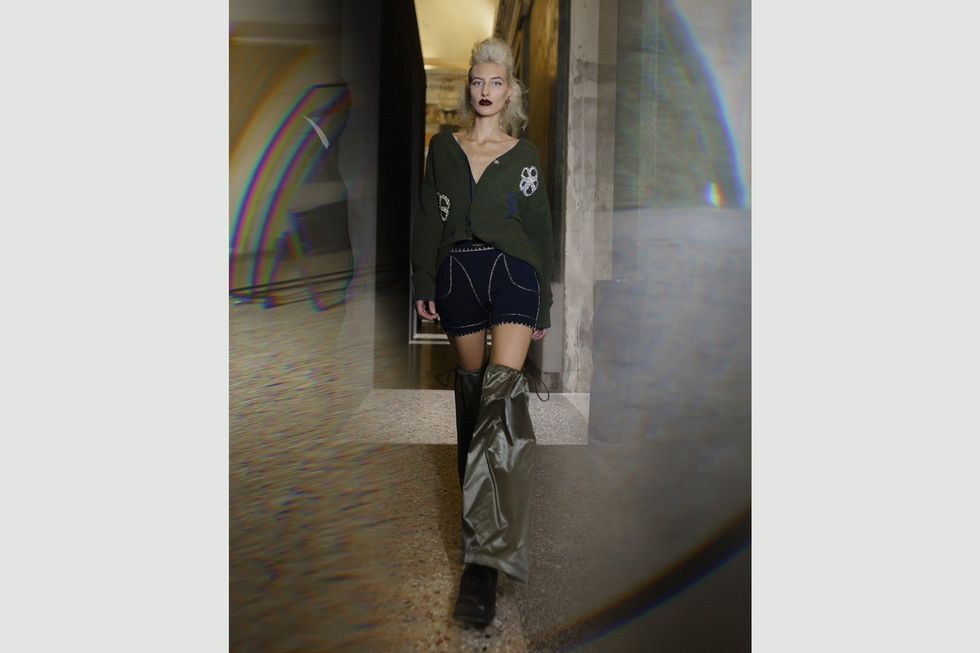 A model wearing a Maxivive Dry/Wet 24 look from the Ms Dohery collection during Milan Fashion Week.Image credit: Ernest Em/19tones.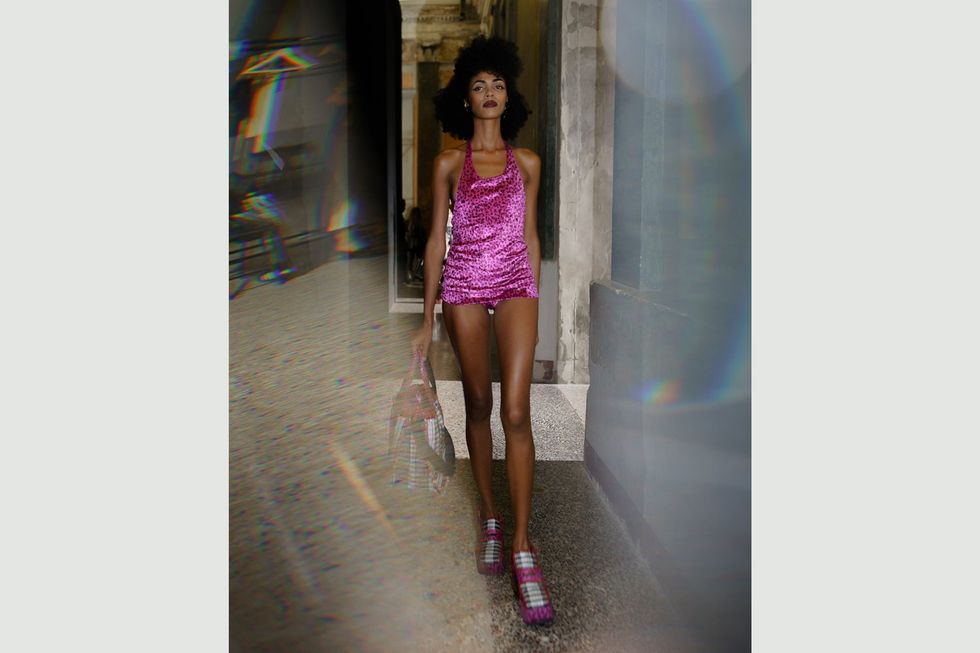 A model wearing a Maxivive Dry/Wet 24 look from the Ms Dohery collection during Milan Fashion Week.Image credit: Ernest Em/19tones.
Nkwo still spearheading sustainability

Elsewhere, Nigerian brand Nkwo continued its theme of sustainability. Founded by Nkwo Onwuka in 2012, Nkwo as a designer is supremely concerned about repurposing textile waste, especially with its textile innovation of the denim-based Dakala cloth. It's no surprise that she won the Bicester Collection Award for Emerging Designers at the 2022 CNMI Sustainable Fashion Award held in Italy.
Nkwo Transformables, the brand's social innovation project, was launched last year, inviting customers to send in denim that they no longer use to be repurposed into a piece of their choice from the collection. The collection was unveiled at Milan Fashion Week, held at Palazzo Giureconsulti in partnership with CNMI.
The garments brought to the fore Nkwo's commitment toward zero waste, using offcuts and other upcycled materials. Displayed, also, are indigenous strip woven textiles and Dakala web panels woven on traditional handlooms, showing the brand's textile craftsmanship.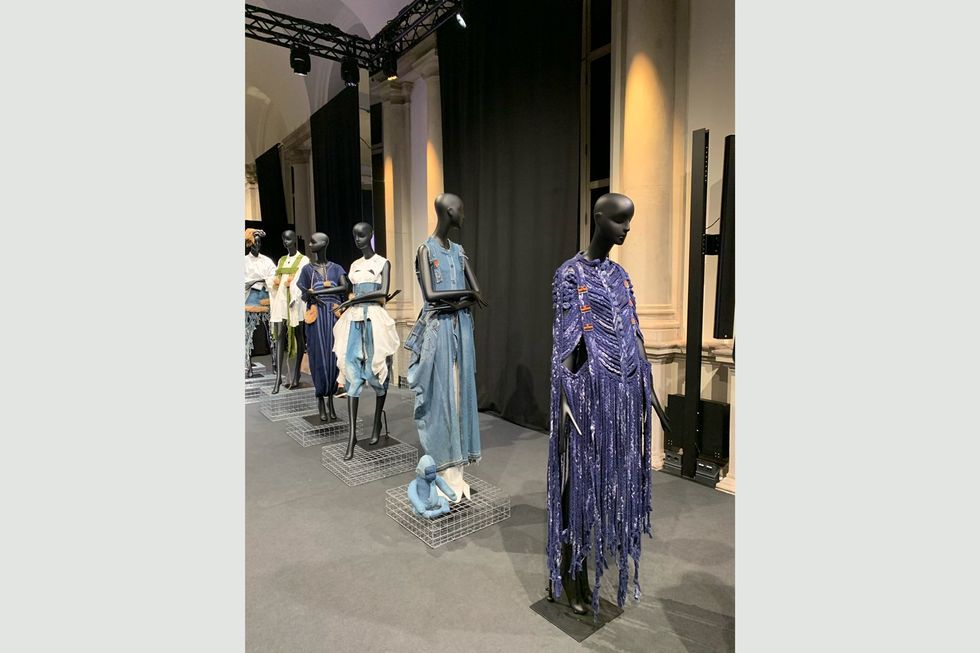 Image credit: Nkwo Design Studio.
Image credit: Nkwo Design Studio.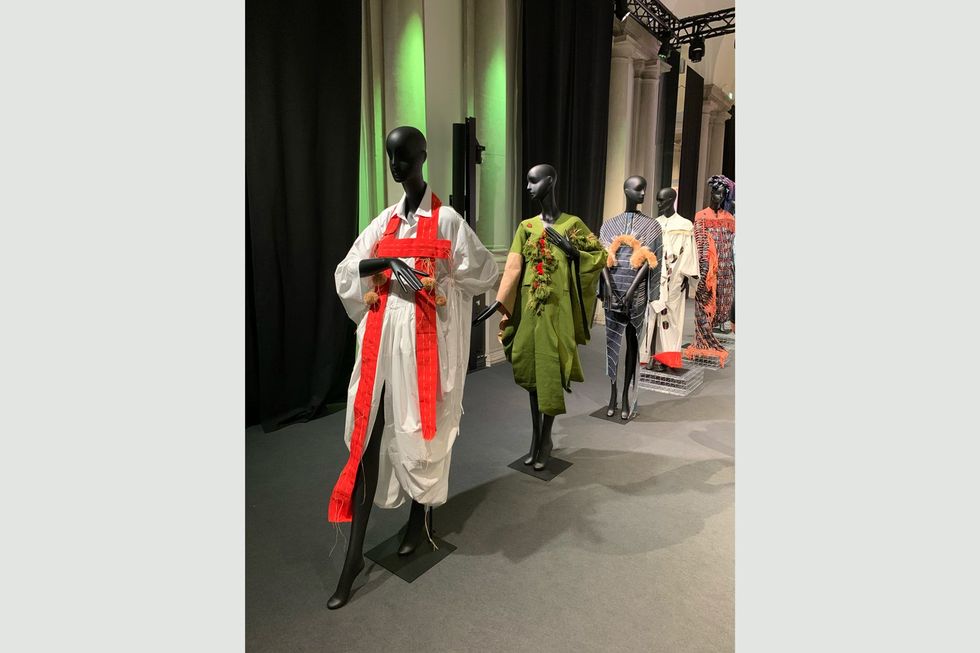 Image credit: Nkwo Design Studio.