Cameroon, Ghana, Morocco, Senegal and Tunisia are the five African teams in the World Cup in Qatar, but there are at least 54 players on other teams who were born in Africa or have African ancestry.
This is, of course, the result of the African diaspora, the movement of people from the continent towards the rest of the world. But the stories of how African players or their families got to the other side of the world are not always so stereotypical as one might imagine. The world cup, besides a month of football, is also a way to find out about how humans move through the world. Here are a few:
One of the most talked about stories in this tournament is that of Breel Embolo, who was born in Yaoundé, Cameroon, but represents the Swiss national team and refused to celebrate after scoring against his country of birth last week. Embolo scored the only goal in the 1-0 Switzerland victory. It was the first goal he ever scored in a world cup, and the video of it went viral. But it wasn't because of his technique, it was because he refused to celebrate.
Embolo moved to France when he was six years old because his mom, who had separated from his dad, went to study there. She met a Swiss man and married him, and the family eventually moved to Switzerland when the now Monaco forward was still a kid. So when he scored for his adopted country against Cameroon, he decided to stop and hold his arms up while his teammates celebrated around him.
---
USA forward Timothy Weah is the son of current Liberian president George Weah, who himself was a decorated footballer for Liberia.(Photo by Jewel SAMAD / AFP) (Photo by JEWEL SAMAD/AFP via Getty Images)
The United States team also featured a memorable goalscorer: Timothy Weah, son of George, scored the US's only goal in their 1-1 draw to Wales. George Weah, the current president of Liberia, in 1995 became the first (and only) player to win the Ballon d'Or while representing an African nation. Timothy was born in New York in 2000, while his father was playing for English side Chelsea. And when he scored, it was inevitable to think of his famous father, who many consider the best African footballer ever, and never could reach a world cup with Liberia.
A pair of brothers of Ghanaian descent born in Spain are together at this world cup, but separated by their international footballing allegiance. Iñaki and Nico Williams were born in the Basque region and both play for Athletic Bilbao, a team famous for only allowing Basque players on their roster.
Their parents left Ghana, crossed the Sahara and made it to Melilla, a Spanish city in northern Africa, before settling in Pamplona. They both grew up playing together, going to the same academies, and have been instrumental in Athletic's success this season in La Liga. However, Nico decided to represent Spain while Iñaki decided to play for the Black Stars, for whom he made his debut only this September. Iñaki almost created a legendary world cup moment in his game against Portugal when, with a few minutes left, he stole the ball from Portuguese keeper Rui Patrício, but slipped before being able to score a goal.
Other, more famous, footballers were also born in Africa, or have African roots. Such is the case of Barcelona's Ansu Fati, who was born in Guinea-Bissau but plays for Spain. Canadian superstarAlphonso Davies, who plays for Bayern München, and was born in Ghana. England's and Arsenal's Bukayo Saka was born in London to Nigerian parents. Ten of France's 23 players can trace their origins back to Africa. But some players in the tournament have a complex relationship with their connection to the continent.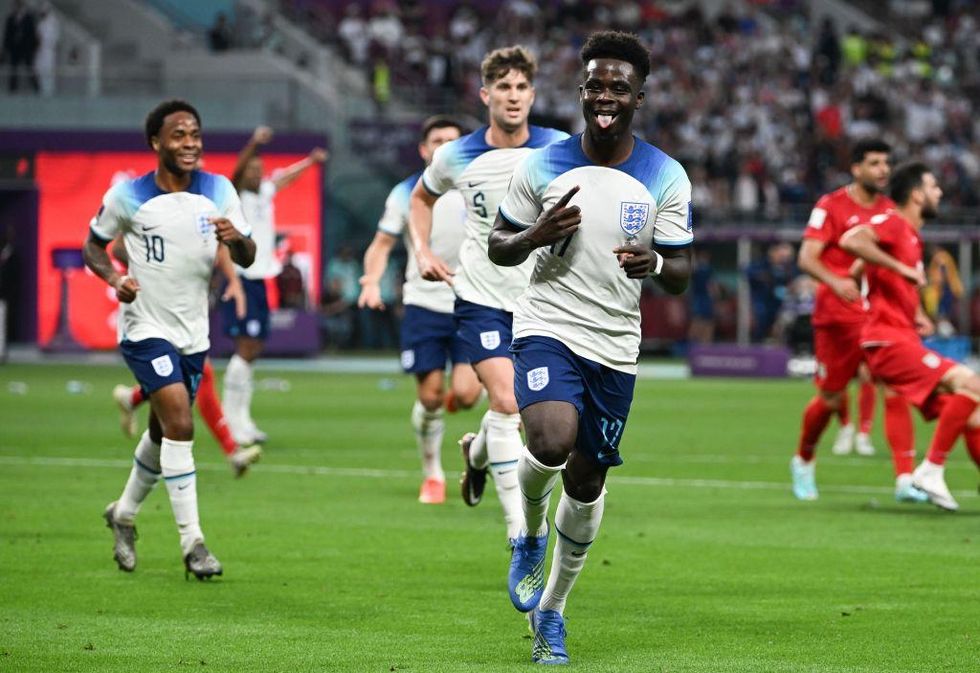 Englad and Arsenal's Bukayo Saka was born in London to Nigerian parents.(Photo by Li Ga/Xinhua via Getty Images)
Barcelona forward Memphis Depay, who represents the Netherlands, was born to a Ghanaian father and a Dutch mother. However, his father was absent in his life, and Memphis had asked to be referred by his name only. In an interview this year, though, he said he had forgiven his father and that they were "cool." He also visited Ghana this year and, as part of his musical career, has collaborated with Ghanaian musicians, such as the track "From Ghana," from his 2020 album Heavy Stepper, for which he collaborated with Dutch musician Rass King and Ghana's Bisa Kdei.
For their part, Australia features a trio of players who were born to South Sudanese refugees but were born in different African countries. The Central Coast Mariners forward Garang Kuol was born in Egypt, while the Cádiz winger Awer Mabil and the Albirex Niigata defender Thomas Deng were born in Kenya. All of their families were fleeing from the violence of the Second Sudanese Civil War. Kuol's family lived in a refugee camp in Egypt for a year before moving to Australia. Mabil was born and grew up for ten years in Kenya's Kakuma Refugee Camp, where he learnt to play football. Deng was born in a refugee camp in Nairobi, where he lived until he was six years old. Both Deng's and Mabil's families resettled in Adelaide, where the two Socceroos met when they were teenagers.
The hosts, Qatar, who have already been eliminated, are infamous for their practice of naturalizing foreign-born players so they can be called up for the national team. This time, they featured five players born in Africa, but not all of them fit the bill of being mere footballing imports. Forward Ahmed Alaaeldin was born in Egypt but moved to Qatar with his family when he was 10 years old. Qatar's top-scorer Almoez Ali was born in Sudan, but moved to Qatar when he was a child.
Other African-born Qatari players followed a more common route of moving to Qatar to play professional football and then receiving their new country's nationality. This is the case of Mohammed Muntari, who was born in Ghana; Musab Kheder, born in Sudan; and Boualem Khoukhi, who was born in Algeria but moved to Qatar when he was a teenager (and played for the Algeria U-23 team before switching allegiances).