Each season MAC, the iconic beauty brand that's spread across the world and is now widely sold throughout the continent, debuts striking new makeup colors and shades for its legion of devoted fans.
In our latest editorial, we unveil some of the line's most stunning new products on arguably the best canvas ever: bold and beautiful male models from Africa and the diaspora. Because, why not? After all, makeup is genderless, and these men look absolutely stunning rocking this season's hottest shades.
Check out the electric hues below.
Mohamed Ouedraogo of BMG Models  wearing MAC Pigment in Gold.
Tylique Walters of BMG Models, wearing Mac Lipstick Royal Hour and Mac Aeros Blue Pro Longwear Fluid Line.
Brendan Washington of Independent Management, wearing Pro Longwear Fluidline in Chromat Aeros Blue and Mac Dazzleglass in Comet Blue. Sunglasses-Headphones by Mercura NYC.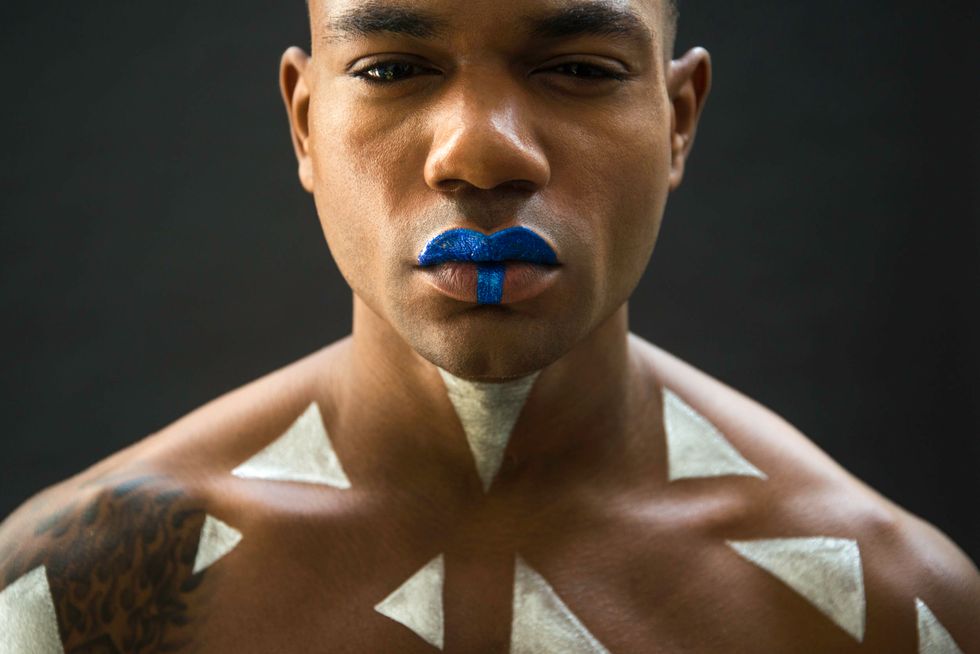 Brendan Washington of  Independent Management, wearing Pro Longwear Fluidline in Chromat Aeros Blue and Mac Dazzleglass in Comet Blue
Gregory Lyttle of Chase Models, wearing MAC Cream Color Base in Premeditated and Mac Pigment in Gold
Gregory Lyttle of Chase Models, wearing MAC Cream Color Base in Premeditated and Mac Pigment in Gold
Lionel Nichols of EMG Models wearing Mac Pigment in Naval Blue
Desmond Blanding of EMG Models wearing Mac Glitter Reflects in Rust and Mac Dazzleglass in Date night
Mac Stephens of iKon Models wearing MAC Pigment in Steel Blue, MAC Lipstick in Coral Optix and MAC Pigment in Gold
Mac Stephens of iKon Models wearing MAC Pigment in Steel Blue, MAC Lipstick in Coral Optix and MAC Pigment in Gold
---
Credits: 
Photographer: Leon Williams
Stylist: Tyson Perez-Harris
Body Paint: Travis Chantar
Makeup: Pam Somuah
Market Editor: Janelle Grimmond