Damilola Adejonwo didn't expect that his TikTok makeup video would go viral on Twitter back in June. Full glam look with extra lashes, the video's outsize exposure feeds into the digital catalysis peculiar with this coronavirus times. And although the makeup artist and YouTuber was pulled into the supportive and approving pockets of makeup communities and queer subcultures online, there were still dissenting opinions asking why a man would choose to wear makeup.
Interestingly, this is Adejonwo's beauty manifesto: to be visible enough wearing makeup so that men can see that its completely genderless and, indeed, something they can wear too. Especially for Black men, whose masculinity is under constant patriarchal surveillance. Born in the UK, the 26-year-old makeup artist moved to the U.S. at the age of 10, then came back to the UK at 18 to study. Visiting Nigeria just twice, Adejonwo never wore makeup while growing up, but was fascinated by how his mother would wear it flawlessly. It was in college he decided to give it a shot, watching YouTube tutorials and then working a retail job at MAC Cosmetics UK between 2014 and 2018.
---
Adejonwo would later fall in love with a range of MAC products, using them religiously, even till now. Coming out as a gay man at the age of 19, saw Adejonwo dealing with both homophobia and the societal disdain towards men wearing makeup so extravagantly. With it though, he found the confidence to love and express himself to the point where no one could break him down. His YouTube channel, aside from offering entries on beauty and grooming, also delves into the complex issues within the queer community and broader interactions with the outside world.
OkayAfrica caught up with Adejonwo in an interview about navigating the beauty industry as a Black gay makeup artist, wanting men to fell free to wear makeup, and his hopes of owning his own cosmetic line. Read our conversation below.
How has it been like navigating the industry as a Black queer makeup artist and YouTuber? Does the intersection of your race and sexuality make it difficult or easier?

My experience as a Black gay makeup artist has been a challenging journey as we live in society that judges people for everything that they do. I have received a lot of backlash for being gay and wearing makeup on social media. It has been so daunting that there were times when I didn't even want to be a part of the industry anymore, hence taking a hiatus from YouTube for a while. The fact that I am gay and Black makes it harder for me to progress because the world doesn't accept me being the way that I am, but we thank God that it is getting better everyday.
In the wake of the #BlackLivesMatter protests where fashion and beauty brands are performatively pledging support but still retained systems that perpetuated racism as seen in their workforce etc. What went through your mind?
Following the Black Lives Matter Movement, this opened my mind to the thoughts regarding systematic racism and the effects it has on Black people, including myself. This affects me mentally, because I am in an industry that praises white supremacy. Although many brands spoke on their solidarity towards the Black lives matter movement, this didn't reflect in the way many beauty companies are led in house—that is the lack of Black representation of executive staff. I was very disappointed but I am hopeful that things will improve.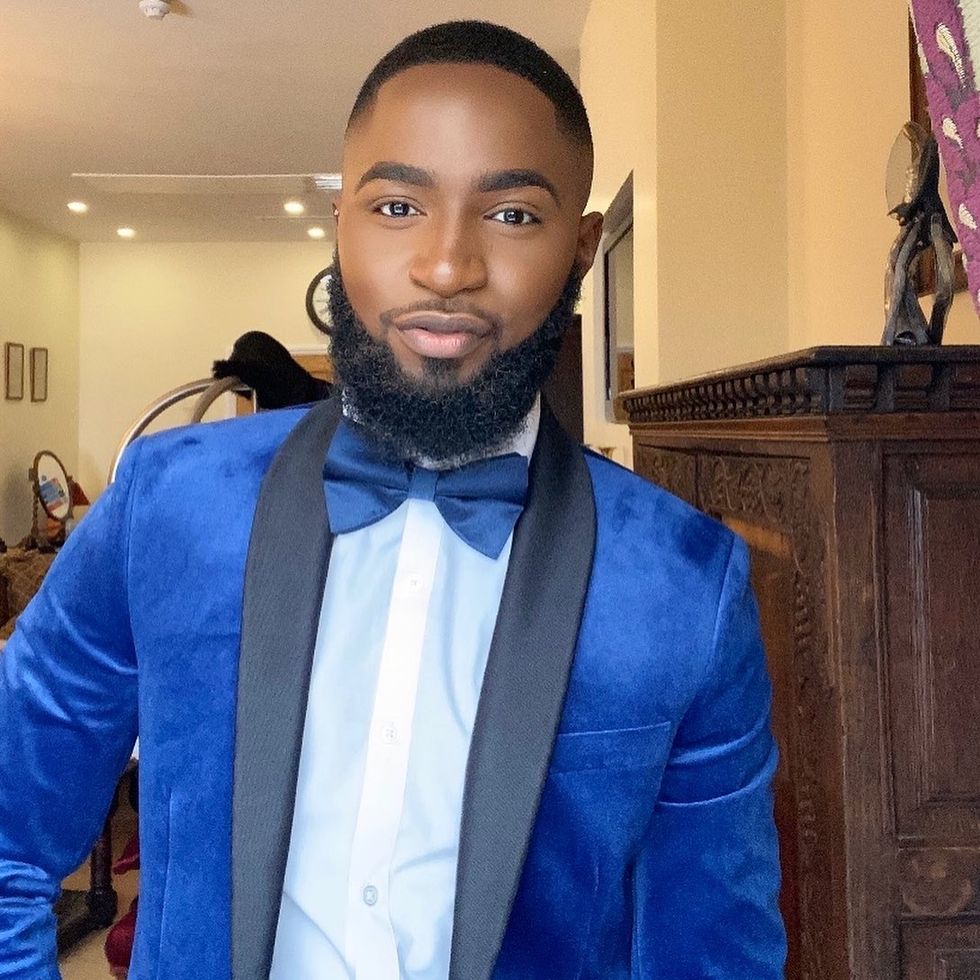 Photo courtesy of Damilola Adjeonwo
YouTube has become the de facto platform for beauty vloggers and influencers to grow their profile and portfolio, as well as generate revenue for their content. Do you still think YouTube is the best digital model for this today?

Yes, I believe YouTube is an amazing platform for content creators to gain more traction, and it has helped a lot of people grow their social media platforms by engaging with people all around the world. However, it can be improved by the algorithms being a better formula to help source out videos to people. At the same time, it isn't just YouTube that can help with growing popularity, there are many different platforms such as TikToK, Instagram and even Twitter.
There have been cases of popular influencers stealing makeup looks from smaller creators, especially Black women and those from marginalized communities. What can be done to combat this?
We need to stay united and support one another, especially our Black people. I find by reposting and sharing content that my peers are creating, gives them a bit of recognition for their hard work.
What approach are you taking to present make up as something that men can apply?
My main approach that I am currently taking to normalise makeup for men is by educating men that makeup can be worn in subtle ways that might be more comfortable for men to wear. I have started a series on my YouTube that shows me applying male grooming and makeup techniques to men that have never worn makeup before. I love this series so much because it is opening beauty standards among men that aren't accepted especially for Black men.
How to: Natural Male Groomingwww.youtube.com
What are makeup essentials for men to have?

Face cream to prepare the skin for makeup, any concealer which is great for covering blemishes. A face powder—as men tends to get oiler so it's good to have a powder to keep the face fresh—and smooth, lip balm for moisturising the lips, a face mist to keep the face nice and glowy, a mascara to help the beard appear darker, or you can also put on lashes to lift up the eyes. If they like a bit of drama, [they can add] a cream highlighter to give sheen to the skin.
Past or present, what is your favourite celebrity makeup look?
I can't pick a favourite makeup look because that is so difficult, but I will say that the best celebrity, who does amazing makeup is RuPaul. His makeup is immaculate, flawless and snatched! I enjoy watching him transform on his show RuPaul Drag Race.
How do you keep up with makeup trends?
[Through] social media, especially Instagram. Social media is always showing the new trends in the makeup industry. Also following some of the top makeup artists in the world such as Samer Khouzami and Mario Dedivanovic keeps me up to date.
Photo courtesy of Damilola Adjeonwo
Are you into big makeup/cosmetic brand names or do you just go for products that can do the job?

Being that I am very passionate about makeup, I strongly believe in the application and not the product. Although there is a difference between quality makeup and non-quality makeup, I feel as though you can always make a beautiful look regardless. I love all makeup brands and I go for both high-end products and drug store products. My favourite brands can range from NARS to Maybelline to LA girl cosmetics and I love supporting my Black-owned makeup companies such as Juvia's Place and UOMA beauty.
What would having your own cosmetic line mean to you?
My biggest dream is to, one day, have my own cosmetic line and I want my makeup line to cater to all genders, all races and all ages. I want my makeup line to speak equality. This means a lot to me because I have fought so hard to be able to go out and wear a full face of makeup while not caring about anyone's opinions and thoughts. Also to inspire people to be comfortable within themselves. I believe my makeup brand will stand out differently from any other brand because I want to show that makeup is one.