It's no secret that Africa has been an inspiration to the global fashion industry, leading trends and styles across the world. Over the past two decades, several African models have found success as in-demand names, with their mix of elegance, wit and grace – showing that the continent is full of talent to be reckoned with.
These African beauties have sparkled on the runways of New York, London, Paris, and Milan, dazzled on several magazine covers, and crushed campaigns and ambassadorial deals – with many of them shining a spotlight on burgeoning designers in their home countries. As the February British Vogue cover showed, African models have not only come to rule catwalks and dominate campaigns but "have shifted the lens through which fashion is seen the world over."
Last year, as the fashion world endeavored to get back on track, after the COVID-19 pandemic, and slew of missed shows, 2021 showcased several African models, both established and up-and-coming. These names walked for luxurious brands, from Balmain to Versace to Gucci to Burberry, and 2022 brings more opportunities for these African faces to rise to even greater heights.
OkayAfrica spoke to 5 African models with big hopes for the months ahead.
Mayowa Nicholas
Mayowa Nicholas is having the time of her career. The Beth Model star became one of the fashion industry's most sought-after names when she walked shows for Balmain, Balenciaga and Calvin Klein in the first year of her career and within 6 years, she had become a Victoria Secret star, covered the issues of several magazines including Vogue, Elle and Harper's Bazaar. 2021 was no exception.
In 2021, you graced several runways and walked for many top names - from Balmain to Burberry to Moschino - what was it like for you?
Last year was absolutely incredible. Not just for the achievements, but the impact I was able to make. Seeing young girls from all over the world messaging me about how I've inspired them makes it even more special. Beyond grateful to everyone that has believed and supported me all the way.
What are your hopes for 2022?
2022 is the year of abundance. There's so much to look forward to, so many impacts to be made. So much history to be made. I'm so excited!
What advice would you give to young models who wish to move into the global modeling scene?
My advice is to be true to yourself, tap into your essence by embracing everything that you are, your culture, your roots. Be patient, knowing great things take time. And never forget your dreams are valid!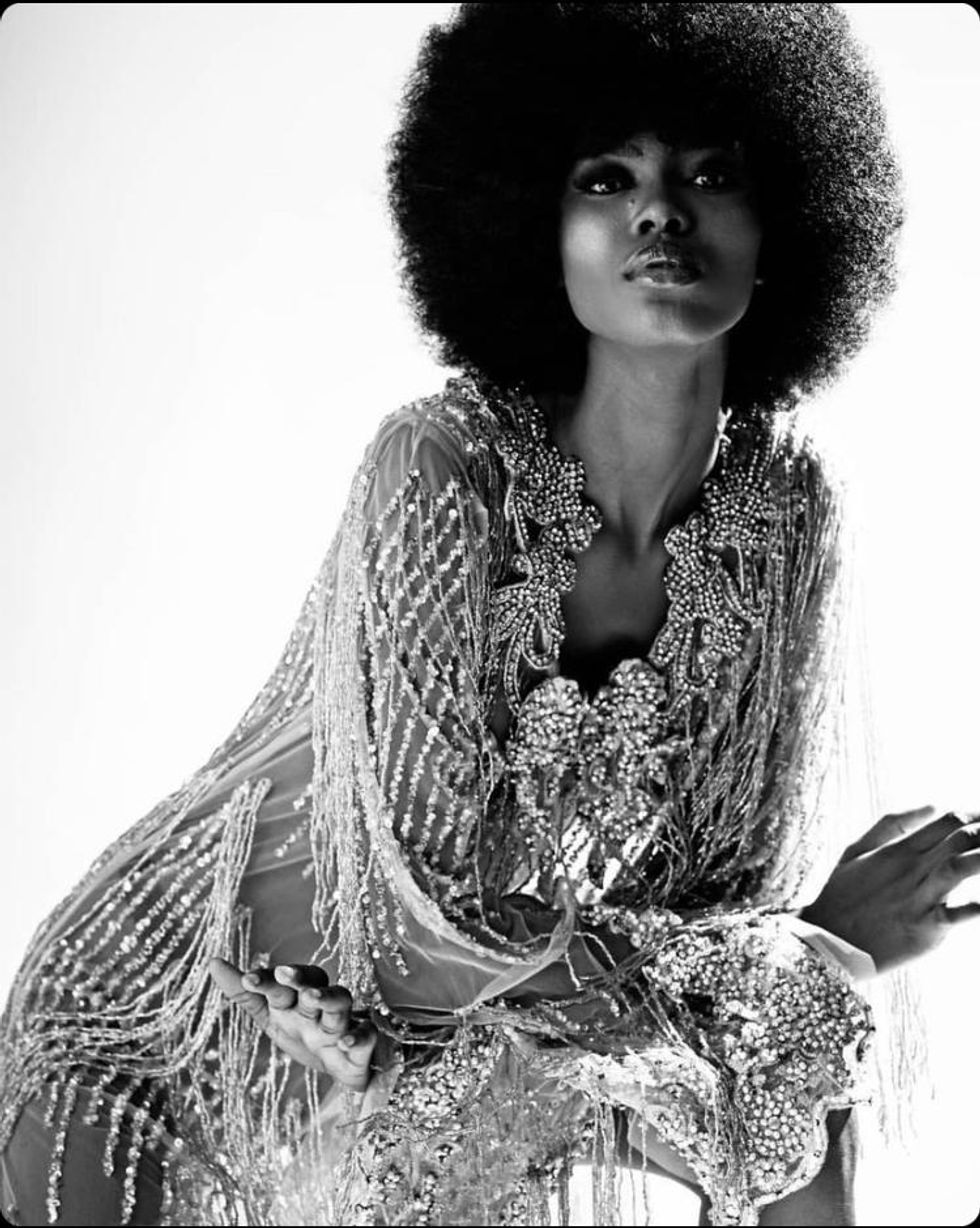 Tobi Momoh aims to walk London and New York Fashion Weeks this year.
Photo: Jolaoso Wasiu Adebayo
Tobi Momoh
It didn't take long for Nigeria's Tobi Momoh to soar – after winning the 2017 Elite Model Look, she rose to the spotlight, landed campaigns for several brands, including Leonard Paris, and began walking in a number of shows. Over the years, she's traveled to major fashion cities and walked for brands like Messina Paris, Benetton and Tods.
You graced the several runways, including Messika Paris and Rick Owens, last year - what was the highlight for you?
It was an honor walking all these shows – a dream come true. I'm glad to say that it's a milestone in my career, though there were ups and downs and hard times, but, above all, God made me pull through. I walked the runway of Leonard Paris, Yoji Yamamoto, Messika and Rick Owens. 2021 was good to me, it was great but that's just a glimpse of what Tobi has to offer. The world has yet to see all of it!
What are you expecting from 2022?
I hope to keep working for these designers and also to make new memories with more designers. To go further in my career and to show the world more of Tobi and what I have to offer. To represent the Black Africa community in the modeling industry. I'm here to stay, I'm here to make sure they feel my presence wherever they are! 2022, I expect to see more Black models taking charge of the world around them. I expect to represent them and to work among my Black beautiful brothers and sisters. And not forgetting my goals which are: to walk London and New York Fashion Week, to get some big endorsement for makeup brands, and to do more editorial and campaigns.
Any tips for newcomer models who want to reach greater heights?
It's going to be rough and tough but with heads high, trust the process. Pray to God every single day cause that's the master key to unlock whatever you want! Make sure you are the best version of yourself, Do you, be you at all times, no matter the situation or circumstances. Don't settle for less at all! Work on your personal growth, be open to learning, you don't know it all. Become a master at your own craft, so work on yourself every day. Build your self confidence every day cause as a model you have to be confident. May God guide your path, in Jesus name (Inshallah).
Adhel Bol aims to keep bringing Africa to the world stage of global fashion.
Photo: Jeremy Bernard
Adhel Bol
In only 2 years, South Sudanese model Adhel Bol has achieved so much. After walking the Balenciaga runway in 2020, she was enlisted for Alexander McQueen, Marni and Valentino shows, and starred in Louis Vuitton photo shoots and campaigns for Net-A-Porter. But she is quick to pinpoint that her greatest achievement is bringing people's attention towards social issues with the platform she has.
You showcased your youthful exuberance on the runways of Alexander McQueen, Marni and others last year – what stood out to you?
2021 for me was a year of reinvention and introduction. I had an immense sense of self improvement and was very proud of all the little steps I took and huge milestones I achieved. I particularly enjoyed meeting new people through work and making great connections. Being on set and incorporating dance and fashion to make art. I loved being able to travel even with the uncertainties of the pandemic, and really enjoyed my time in Spain for work and ended the year on a high note with my family and friends in Kenya for the holidays.
What are you hoping for in 2022?
My expectations for 2022 are, first and foremost, to have great health and to reap the fruits of my hard work. Concretely reinforcing myself in the industry. Set a great example for 1 or 2 people to look up to me. My hopes for the year are to send out good intentions into the universe and get great rewards in return. I hope to work with some of my favorite brands, Versace, Fendi, Mugler, McQueen, amongst others, to shoot and brainstorm with some of the most creative people out there and achieve greater success in my career and prosperity in every field I thrust myself into. And to play my part in bringing Africa into the world stage through fashion.
Any advice for other budding African models?
To models working towards their goals, the trick is to never give up. You will probably hear more nos than yeses but it only takes one yes, one person to believe in you, to elevate your career. So be kind to yourself and the people around you, for everyone is fighting a battle, and don't lose sight of where you want to be and work towards that.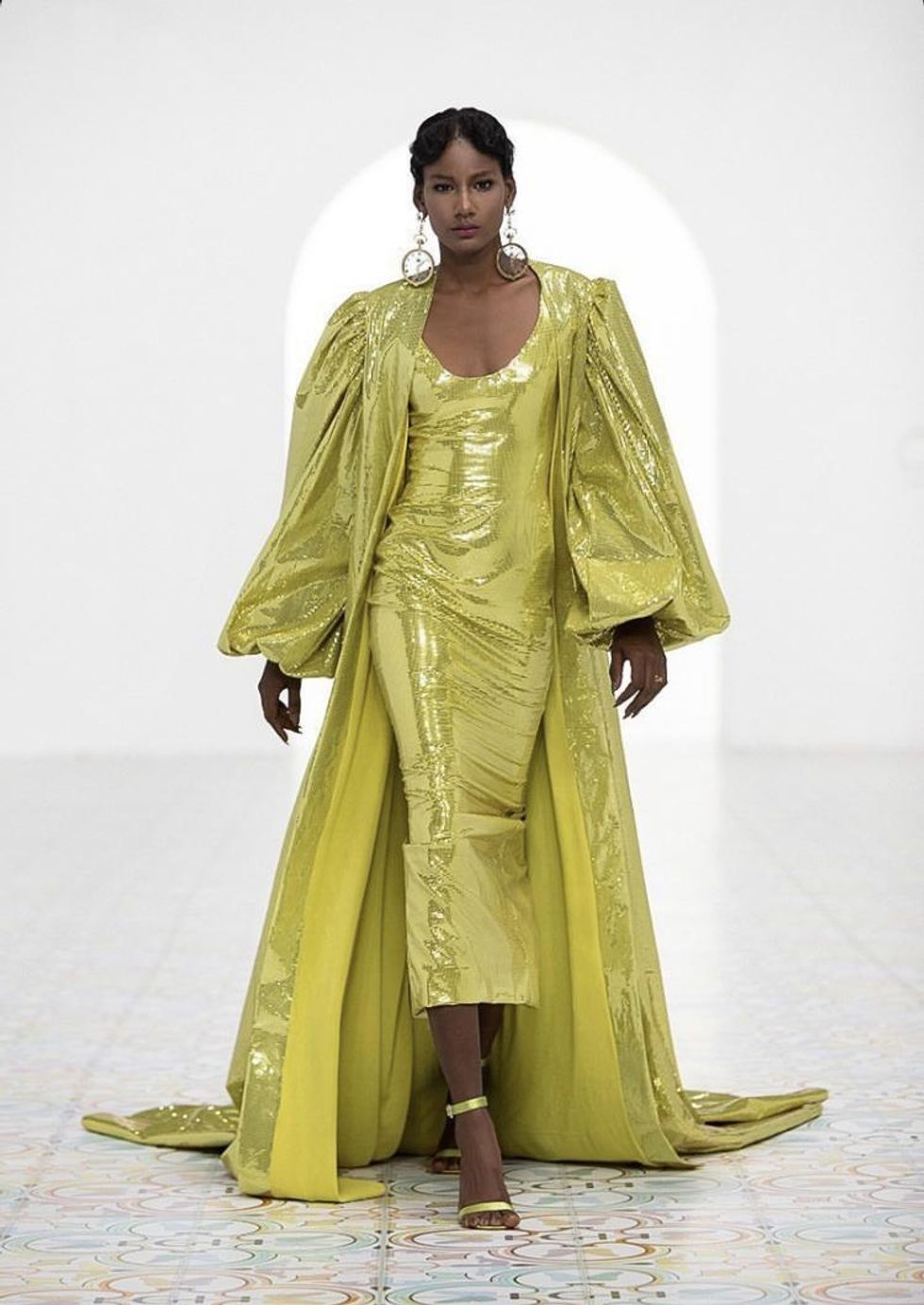 One phone-call changed Myriam Pouloh's whole 2021. "Just believe in yourself," she says.
Photo: Patrick Sawaya
Myriam Pouloh
The first thing one notices about Myriam Pouloh is her fierceness – that focused yet energetic look when she slays the runway. After getting discovered by a French photographer who signed her to NEXT and BETH agencies, she has sought to put Mali on the map in all she does.
You slayed the runway of George Hobeika — what was the best part of 2021 for you?
Both 2020 and 2021 weren't easy for me as a model. When I first started modeling, I wrote down my goals, and for a long time, I placed my focus towards those goals and worked so hard to achieve them, but in the mix of several epic moments, the pandemic happened and changed the world's routine. No travel, no fashion shows – it felt like a heartbeat that just stopped. But faith keeps us moving as humans, and I have mine, which indeed is strong, as well as my family's support, and the fact I believe in my hard work means anything could be possible. 2021 was great. I walked the runway of Georges Hobeika three times, which was a haute couture fashion show and it was an amazing experience. Thinking about it now, I remember that I was so tired of so many things, and then one day a Senegalese photographer called me asking for my polaroid pictures. I didn't even know for what but yeah, he called back, telling me I was going to Lebanon for Georges Hobeika. It was really amazing seeing all those beautiful people from different countries.
What are you hoping these next few months bring?
Certainly many things. I hope to walk shows, feature in great campaigns and, above all, I hope 2022 looks great.
Any advice for aspiring models?
Yeah – just believe in yourself. Have a consistent faith that leads you through. There is nothing as energetic as having people who inspire and motivate you, so choose your role models. Lastly, be focused. I know it won't come now but soon enough, you will be wowed by what your faith got you.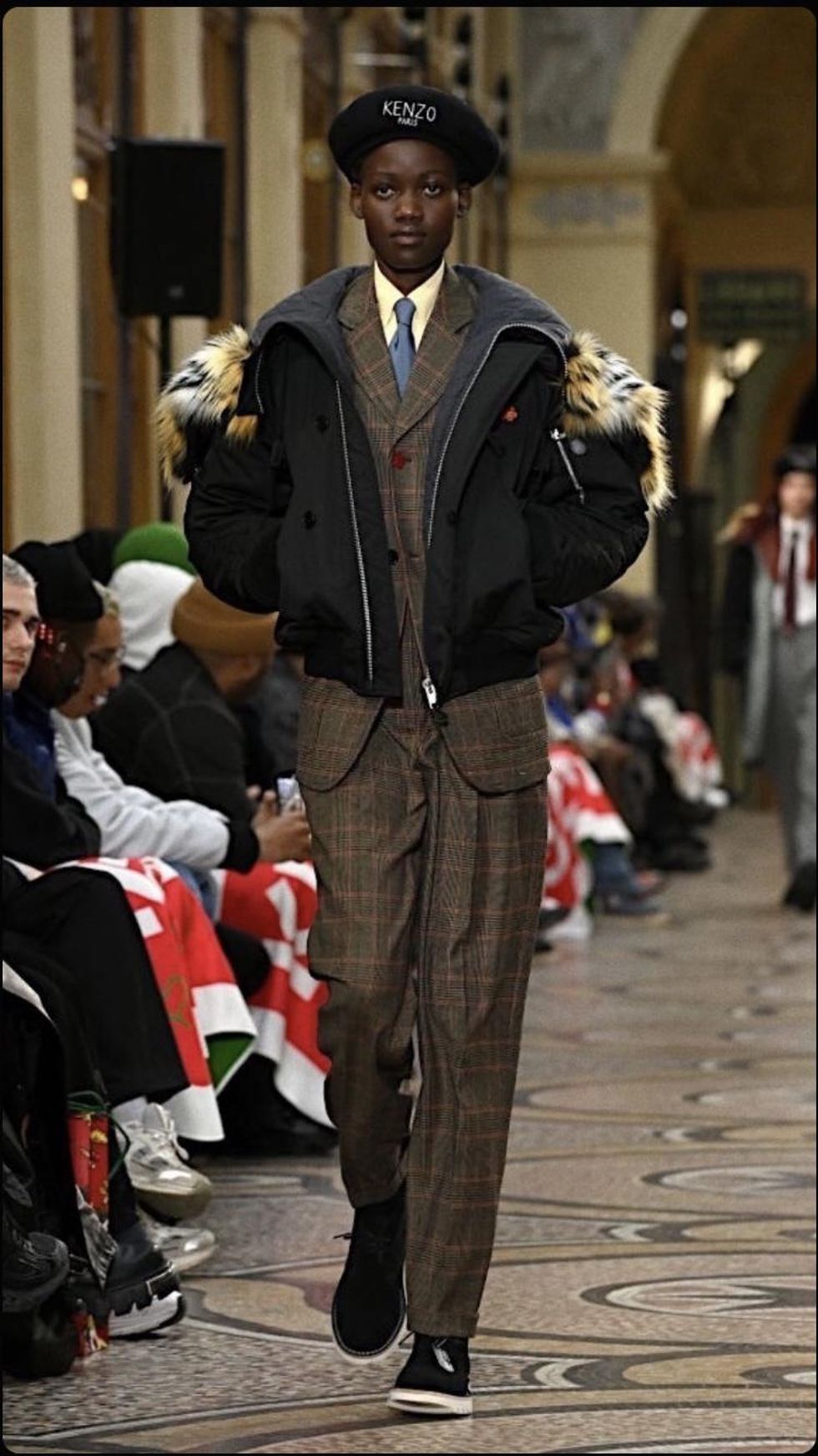 She landed a Vogue Italia cover last year, but Caren Jepkemei is only just getting started.
Photo: Kenzo
Caren Jepkemei
Kenya's Caren Jepkemei has become a firm favorite among fashion editors and designer houses alike, having walked almost every notable show in 2021, from Balmain to Valentino and Alberta Ferretti, and landing a Vogue Italia cover.
From Erdem to Alberta Ferretti to Balmain, you were on some of the most coveted catwalks last year. What stood out most for you?
Last year was such an amazing year for me. When the year began, I didn't know how much I was gonna achieve by the end of it, but at the end, I had worked for the most amazing brands and ended up having such an amazing breakthrough.
What do you hope to achieve this year?
I'm wishing that it becomes an amazing year. There's those brands that I've been wishing to do as a model, and I'm hoping that this year I achieve my dreams and also grow even bigger as a model.
Any words of wisdom for new models?
To the new models who want to reach greater heights, all I can say to them is, being a model comes with lots of sacrifices and commitment.