Victor Ndigwe, Mayowa Nicholas, Damilola Okunola, Funmilayo Akinjiola, Obennebo Davidson – these are just a few of the stars that have been made through the modeling contest, Elite Model Look Nigeria. The Nigerian leg of the world-famous event that discovered the likes of Cindy Crawford and Gisele Bündchen has found new life in a rebranding and a different name, Future Face Africa – with an eye to making the event more Pan-African in its approach.
---
After securing a franchise deal with Elite Model Management Paris to organize Elite Model Look Nigeria in 2008, Elizabeth Elohor Isiorho has spent the past 15 years shepherding Nigeria's finest modeling talent. Under Isiorho, the models who've taken part in Elite Model Look Nigeria, and now Future Face Africa, have gone on to become in-demand names working for luxury fashion brands like Fendi, Tom Ford, Marc Jacobs, Balmain, Versace, Hermes, Givenchy, and many others, and have graced major runway platforms at the likes of New York Fashion Week, London Fashion Week, and Paris Fashion Week.
For this year's event, which took place at the end of January, casting was done across the major cities of 8 African countries: Ghana, Nigeria, Cameroon, Rwanda, Kenya, Senegal, Burundi and Angola. One of the major aims of the rebrand is to continue to give opportunities to young creatives who are looking to explore the modeling in the fashion industry, but Elohor also wanted to use the event as a medium to raise, train, teach, and add value to the lives of young men and women across the African continent in other facets of the industry, too. It has served as a template of endless possibilities and reach. The prize this year came with a number of benefits, including a chance to win a 2-year modeling contract with Elite Model Look Management and a cash prize of $5,000.
18-year-old Ken Nziza from Rwanda and 22-year-old Ana Bela Domingos Campos from Angola won the male and female categories of the newly-rebranded competition, also making them the first models outside of Nigeria to win the competition. Their wins followed a series of rigorous vetting processes from a team of judges, which included premium fashion designer, Lanre Da-Silva Ajayi, popularly called LDA, fashion stylist and actor, Denola Grey, womenswear designer, Tsemaye Binitie, and 2001 Miss World winner, Agbani Darego. "In my mind, seeing how it all started, I really never thought I was going to win," Nziza told OkayAfrica. "I walked in with an attitude that I just wanted to harness my skills and become a better model. I never really thought about winning,"
"Winning the male category of this competition validated a lot of things for me. I first had my doubts because I was non-Nigerian and I really had no idea I was going to win," Nziza says. "I went there just to gain as much knowledge as I could get, and also to network as much as possible so I could go out there and compete in the industry. But I guess the judges saw something else in me that I had not seen, making me come to the realization that maybe I was thinking too little of myself," he adds.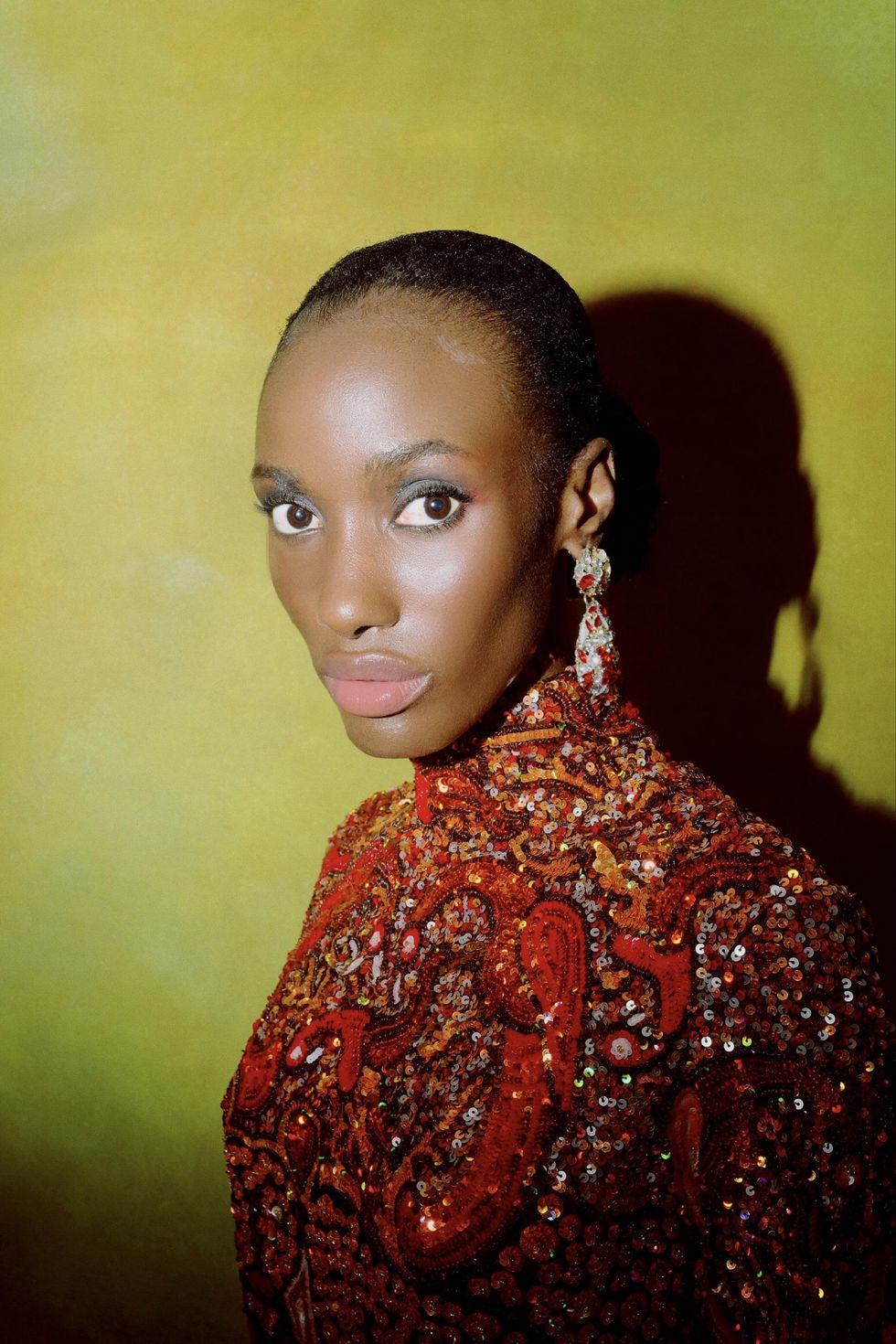 22-year-old Ana Bela Domingos Campos from Angola won the female leg of the Future Face of Africa competition.
Photo: Victor Eddeh
For Campos, winning the competition has been the validation she needed to know that location is not necessarily a barrier when passion and a strong-belief system interweave. "I believed in myself, but in these competitions, anyone could be a winner," she says. "The fact that I didn't speak English was a drawback for me, and planted some doubts in my mind, but I'd entered the competition with a spirit of victory, and fulfilled a dream that for a long time seemed very far away from becoming a reality."
The young models want their wins to further inspire a next generation of competitors looking to follow similar routes, but still have doubts. "Grab every opportunity you get and believe in the process. Listen to the coaches because they want what's best for you," says Nziza. "One more thing, ask for help whenever you need it. Also, have self esteem, stay focused and be disciplined."
For an industry that continues to thrive on the exploitation of those who are new to the game, the Future Face Africa platform wants to encourage young competitors to use their platforms to champion radical changes, and contribute to the ever echoing voices of those who've gone before them.

"A bigger protection by the industry of the rights of the models that would forbid and penalize the abuses and exploitation, especially for the new incoming and inexperienced models, is something I'd like to see change," says Campos. She'd also like to see better opportunities being given to newcomers like herself, who are from less-developed countries, further away from the centers of fashion, to enter the industry."
With next year's event to look forward to, this is something Future Face of Africa is striving to do.