They've worked hard, some having studied for years, hoping to fulfill their dreams of higher education, improve their family situations, and contribute to the future of their countries and beyond. They left their homes and families to receive a good education that medical schools in Ukraine could offer. Now, a war that has little to do with them, has interrupted their education and forced them to flee for their lives towards an uncertain future.
---
Before the conflict between Russia and Ukraine started last month, African students made up nearly a quarter of the over 80,000 foreign students in Ukraine. The reasons foreign students travel to Ukraine to study are varied and can be a combination of the quality educational opportunity, a better economic situation than at home, and a chance to open up their world. These last two are the reasons psychology student Oluwatosin Ajayi from Nigeria chose school in Ukraine. "I felt it was going towards a more open ground for me to experience a life outside of where I've always been," Ajayi said. "Besides, the economic situation back home is not really encouraging and I had to get out of there and into a community where I feel I will be able to manifest better."
The trauma of these students is multifaceted. Like most in Ukraine, they found themselves quickly fleeing to avoid the dangers of bombs and missiles. Like some, their hard-fought education has now been interrupted. Unlike most, some Black and brown students from Cameroon, Nigeria, India, Jamaica, and other countries found this trauma compounded with their treatment during their flight, which ran the gamut of being no more traumatic than all of the other refugees to being simply identified as a non-citizen by their skin color to outright racism and threats of violence.
Students have testified to experiences with prejudice and bigotry even before the war. The problems were magnified for some while attempting to evacuate. Some students have shared stories of thugs with knives at the doors of trains, preventing people of color from boarding, Ukrainian border guards turning away some who tried to exit, Poland refusing entry to some, and even reports of violence against Black and brown students.
Clavier and Tempocole are students from Cameroon who arrived in Kiev, Ukraine five years ago to study medicine. Clavier has one more year remaining before becoming a pharmacist and Tempocole has two more years to complete his degree in internal medicine. On the day we spoke, they, along with Tempocole's Ukrainian girlfriend, had only hours before arrived at an evacuation center and were resting on one of thousands of cots filling the multiple rooms of a building normally serving as a shopping center.
The general order of exit from Ukraine they witnessed was Ukrainian women with children, and then other nationalities, including Chinese and Belarussian. As most Ukrainian men haven't been permitted to leave, the foreign men were last. "When we finally got up front, we still waited for hours as they kept bringing more people in front of us," Tempocole said. "Still, we understood, women and children first."
Once they exited the Ukrainian border, they had to wait in line to enter Poland. "You had to enter a gate but the queue was long," Tempocole said. "We could see the gate but it was like, you move a step and then you wait for hours." Clavier gives a biblical analogy. "For me, I felt like Moses seeing the promised land without entering it."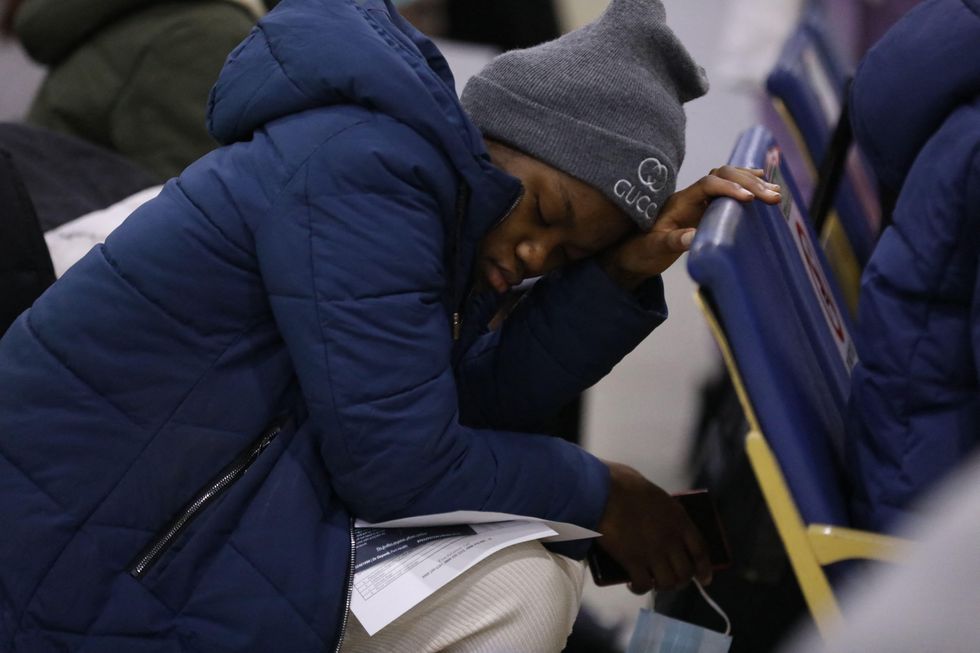 A Nigerian student who just got evacuated from Ukraine amidst the ongoing war between Russia and Ukraine.
Photo by Kola Sulaimon / AFP via Getty
Clavier explains his thoughts. "Let's be clear, it's been a very, very tough journey. From exit to entry, the experiences are very uncomfortable. But the truth is, if you really look at it, you understand that everything that happened, happened based on the circumstances under which we are going through, because it's a difficult time not just for Ukraine, but for the world…So, yes, the experiences were terrible, but let's not base it on judgment. Let's base it on the situation we are facing, and I think that if we base it on that, we can have a better way to move forward and also help other people still in this [situation], and not just in Ukraine, but in the world."
Giselle Frederick, owner of tech startup Sonaaar and worker within the African diaspora has testimony from Black women and children who were pulled off trains and buses in Ukraine. "I also saw a video of a black woman and two-month-old baby being pulled off the train. It was heartbreaking."
When they finally make it across the border, except for some rare occurrences, they are finding welcoming communities offering food, shelter, donated items, and a soft place to land.
"I'm an African and I've been in a war zone but I've never seen anything like this," Tempocole said. "There's enough food and people can't even eat it all." So why don't we see the same effort and amount of volunteerism to help displaced people in Africa? While Tempocole also wonders this, Clavier offers up his thoughts. "African countries don't have the resources to help each other." Giselle Frederick agrees. "Africa is filled with young countries. Compared to Europe, African countries are babies."
Now safe and looking forward to traveling to Germany, Clavier and Tempocole's journey out of Ukraine was far from easy. A Ukrainian friend advised them not to come to the Polish border because it was "hell." Waits at some borders were sometimes estimated at up to 80 hours. The trio was able to get a taxi for the 77-kilometer ride from Lviv to the border city of Krakovets, which cost them more than 8,000 Ukrainian Hryvnia (approximately $344 U.S. at the time). "It's extortion at the highest level," Tempocole said. "The driver took us to this border because he didn't want to drive too far and he said it was better this way. But when we got there it was a mess, with a 14-hour wait just to exit the border. It was crazy out there because we saw women with little kids crying. It was freezing out there."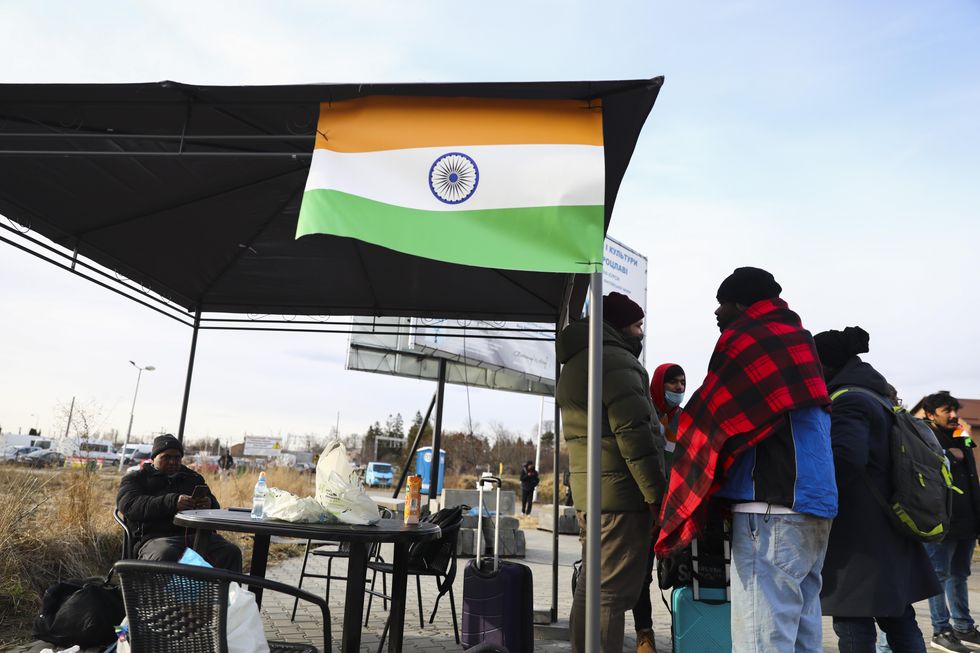 Students now face another hurdle — getting enrolled in a school in another country so they can finish their hard-fought-for education.
Photo by Anadolu Agency / Contributor via Getty
Bisola Ehi Ogolowa experienced the best and worst of people during this crisis. While trying to leave Dnipro, she and her friends weren't allowed on a train without tickets but were told at the ticket window that no tickets were being sold to foreigners. They were pushed back by security guards at various stages of their journey. Ogolowa notes that, as she and her fellow students waited in lines blocked by Ukrainian police, white women were brought to the front of the line. These students were also trying to get to Hungary as they, too, had been warned of negative experiences for Black and brown people at some Polish borders.
It's important to note that experiences at borders and beyond in multiple places have been positive. Miriam Ekiudoko, a Special Mandate Holder at the United Nations Human Group of Experts on People of African Descent says, "Africans who fled Ukraine and are in certain parts of Poland should be careful, but generally the reception by the population is friendly. I've also been told that Romanians are very helpful and welcoming. And regarding the Hungarian border, border guards are acting fair and not discriminating. The trains are very full but the community is quite organized."
As far as finding accommodation when they arrive in their new country, "There are groups of volunteers, including many members of the African diaspora helping them to find accommodation," Ekiudoko said. "Lots of universities opened their dormitories and many local governments have been very welcoming."
For now, these students face another hurdle. Getting enrolled in a school in another country so they can finish their hard-fought-for education. There are many challenges as transcripts from Ukraine are difficult to obtain at the moment, housing is needed and, of course, students are concerned about tuition fees. Various people and groups are working on this challenge and these students seem to have little doubt that, after coming this far, they will find a way to complete their education.